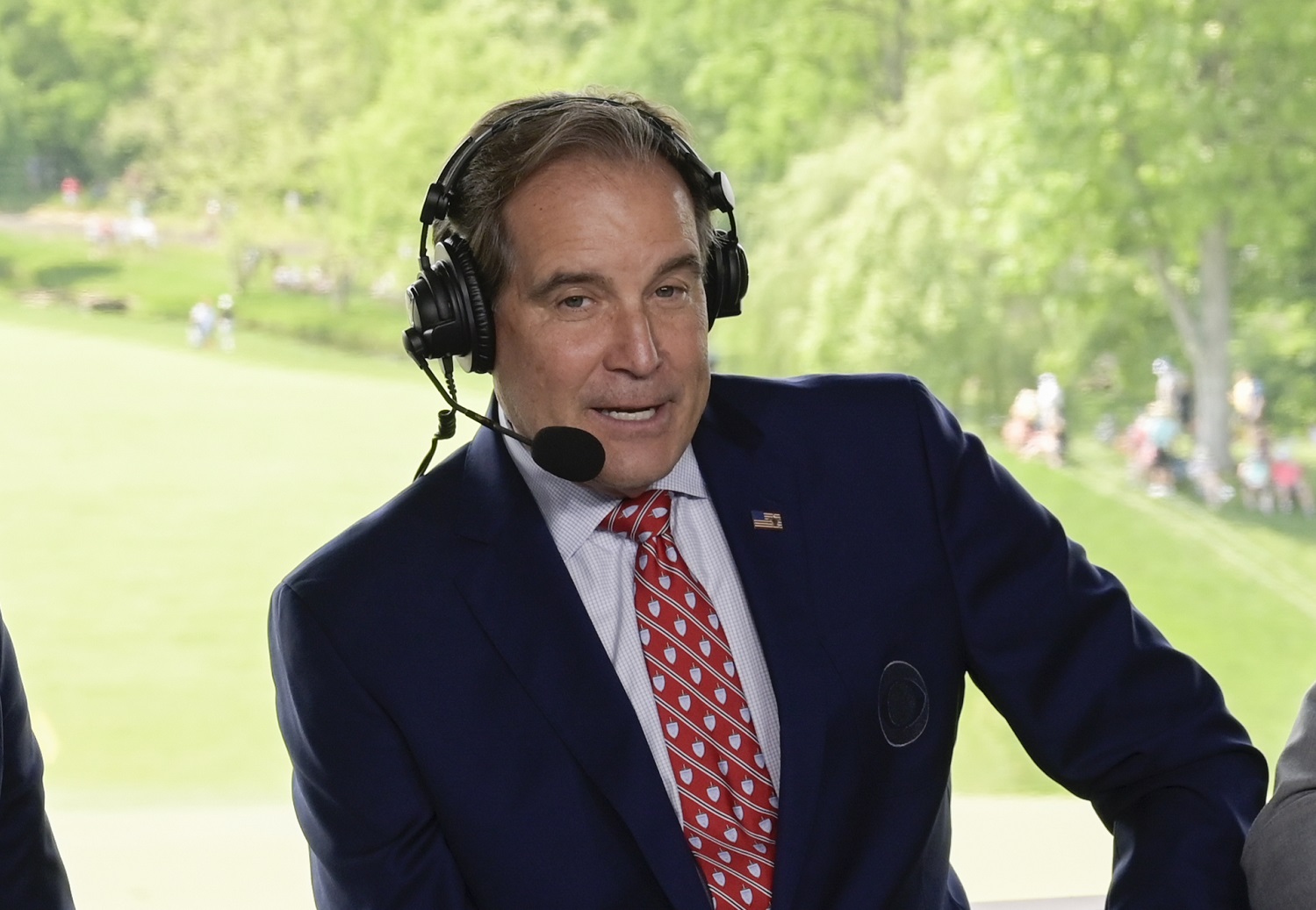 Jim Nantz Will Make More Than Triple Lamar Jackson's Salary Next NFL Season
Jim Nantz didn't get the money he sought but has agreed to a new contract with CBS, where he hosts The Masters and forms a popular NFL broadcast crew with Tony Romo.
When Jim Nantz made a pitch for a salary to match an NFL quarterback, Jared Goff wasn't the signal-caller he had in mind. And although Nantz isn't getting the Tony Romo salary he desired, he reportedly is coming away with a nice consolation prize to remain at CBS.
Jim Nantz is a versatile play-by-play talent and golf host
In a line of work in which network hopping is common – Jason Whitlock, for instance – Jim Nantz has been a rock-steady presence at CBS Sports. Nantz earned his degree from the University of Houston and worked for local affiliates there and in Salt Lake City for a few years. When CBS came calling in 1985, he began with studio work for college football and basketball. The responsibilities grew as time went on, and he's never left.
Nantz has hosted coverage of The Masters Tournament since 1989, been heavily involved in the NCAA Tournament in college basketball since 1991, and has provided the play-by-play of the top weekly NFL games since 2004. He has called six Super Bowls, including two with Tony Romo.
Tony Romo set a high bar on salaries
Quarterback Tony Romo retired from the Dallas Cowboys after the 2016 season and slid directly into the role of the No. 1 NFL game analyst at CBS, replacing Phil Simms. Such a rapid ascent raised eyebrows, but Romo has become a viewer favorite for his ability to predict plays and easily pick out what made other plays work or fail. Romo has also shown a sense of humor, a quality drawn out in part by play-by-play announcer Jim Nantz.  
With free agency looming for Romo and ESPN looking to shake up its Monday Night Football broadcast booth, CBS moved to lock Romo into a long-term contract in February 2020. Precise details of the deal are not known, but it has been widely described as a 10-year deal worth $17 million to $18 million per season.
The deal easily blew past what more experienced analysts Cris Collinsworth (NBC) and Troy Aikman (Fox) command in the same role. Romo has set the industry ceiling for at least the next several years.
Jim Nantz will make more than triple Lamar Jackson's salary
Once Tony Romo landed the whale of all contracts from CBS, it was Jim Nantz's turn to consider his future. According to the New York Post, he angled for money comparable to what Romo is earning on the basis of handling the same number of NFL broadcasts but also covering golf and basketball.
That was going to require nearly tripling the $6.5 million a year Romo reportedly earned – a jump that wasn't in the cards for a network that just spent wildly to retain its AFC portion of the NFL contract. So, rather than matching the salary of the retired quarterback, Nantz is "only" going to earn something in the $10.5 million range.
At that level, Nantz will be on a par with Jared Goff, who was just traded to the Detroit Lions and is scheduled to earn $10,325,000 this fall.
Still, Nantz will earn a lot more than multiple other starting quarterbacks. That includes Lamar Jackson ($3,013,708) and Josh Allen ($6,910,507), according to Spotrac.com. That's not a bad deal for a guy who won't have to take any of the physical punishment.
Like Sportscasting on Facebook. Follow us on Twitter @sportscasting19.