Goodbye, Friends? Jim Nantz Reveals When He Wants To Stop Calling The Masters
You know you're doing something right as a broadcaster when people look forward to hearing your voice at one of the biggest sporting events in the world. Such is the case with Jim Nantz at The Masters.
Every year, millions of golf fans wait for his famous "Hello, friends" intro at Augusta National and it seems as if we'll be hearing that signature phrase for quite some time as Nantz has revealed just how long he wants to continue calling The Masters.
How long has Jim Nantz done The Masters?
Born in 1959, Jim Nantz began his career at CBS Sports in 1985. He was a studio host for college football and basketball and also helped with the network's coverage of the PGA Tour as an on-course reporter.
Nantz worked his first Masters in 1986 and was assigned the par-3 16th hole, which has played a major role in the tournament's finish for decades. As most golf fans are aware, the '86 Masters is one of the most famous tournaments in history as it was the sixth and final win for Jack Nicklaus at Augusta National. And the 16th played a big part in that victory.
Following an eagle at the 15th during his final round, Nicklaus, who began the day four shots back of the lead, came to the 16th two shots behind Seve Ballesteros. The Golden Bear proceeded to hit his tee shot at the 16th to three feet and made the subsequent birdie putt, prompting Jim Nantz to make his first legendary call at The Masters: "The Bear…has come out of hibernation." Brilliant.
Nicklaus went on to win the tournament by one shot after shooting 30 on the back nine. Jim Nantz began anchoring CBS' coverage of The Masters three years later and has made so many more great calls over the years.
He's responsible for so many great calls at Augusta National
Jim Nantz has made some of the most famous calls in the history of The Masters, many of which have obviously involved five-time champion Tiger Woods. In 1997, Nantz called Woods' historic victory "a win for the ages." When Tiger completed the "Tiger Slam" in 2001, Nantz said his victory was "as grand as it gets." In 2019, when Woods won his first Masters in 14 years and his first major championship in more than a decade, Nantz called it "the return to glory."
Phil Mickelson has also been the subject of a few of the great calls from Jim Nantz at The Masters. When Lefty had a putt in 2004 to win his first major championship after so many close calls, Nantz was on the call: "Is it his time? Yes — at long last!" Six years later, he called Mickelson's victory at Augusta "a win for the family."
However, there may not have been any call that Jim Nantz has made at The Masters that meant more to him than the one he made in 1992 when his good friend and former teammate on the University of Houston golf team, Fred Couples, won his lone green jacket. "It's a perfect fit…Fred Couples…Masters champion."
Jim Nantz has no plans to stop calling The Masters anytime soon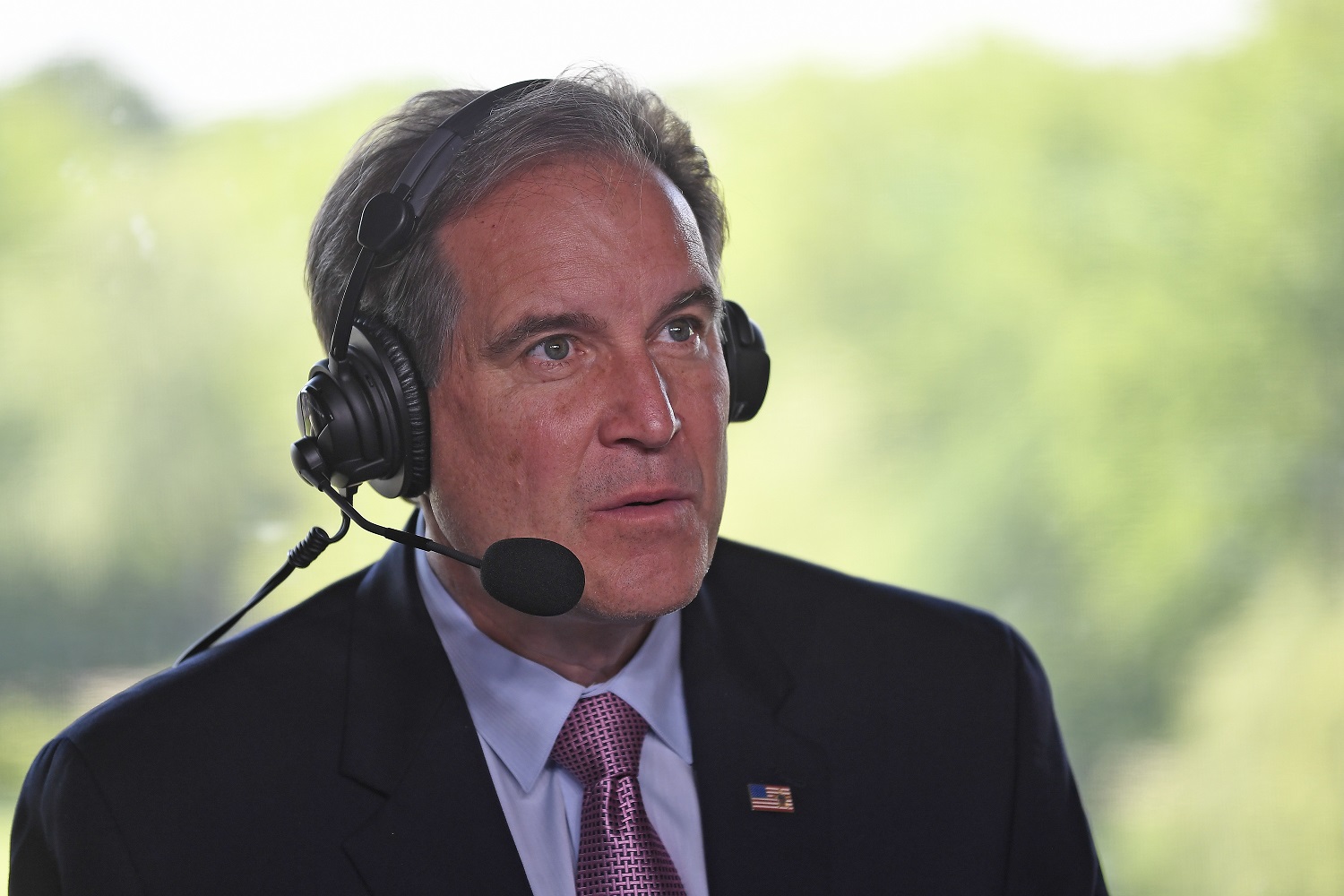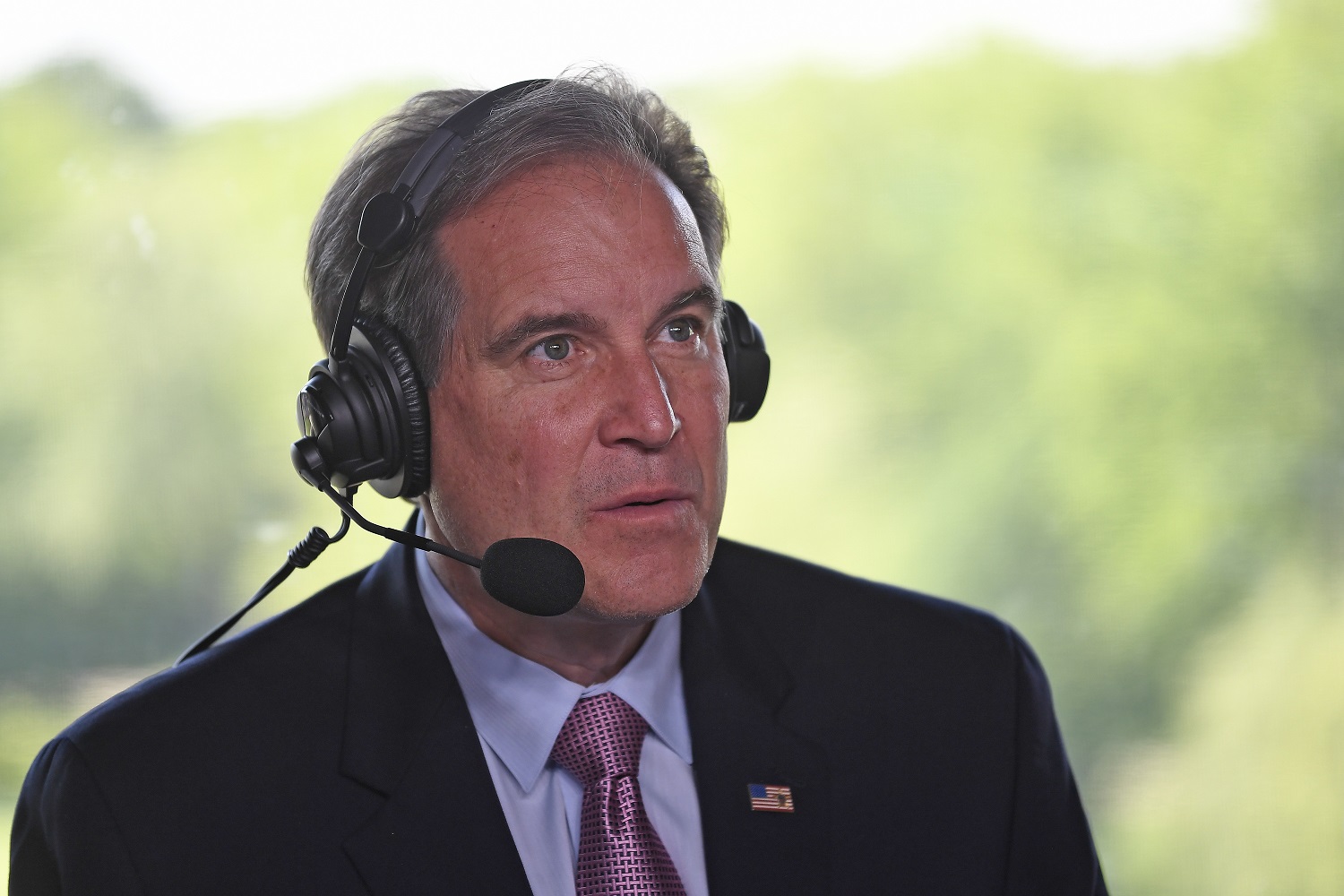 So just how long does Jim Nantz want to continue calling The Masters? He's talked for quite some time about how perfect it would be to end his career at Augusta National in 2035. He'd be 75 years old at that time and that would be his 50th Masters. But according to Front Office Sports, that's no longer the goal as Nantz apparently wants to continue calling the action from Augusta well beyond then.
"I used to joke around in speaking engagements: I know my retirement date already. God willing, my health stays well, and CBS willing, that April 8, 2035, would be the way I would love to close out my career. 

"But here we are all of a sudden and that's now well within sight. I'm feeling really young. Got a couple of young kids who are four and six years old. That date is way too close for me to be talking about retirement. So I would like to push it out for another, who knows, several years at least."

Jim Nantz
One would be hard-pressed to find many people that don't want Jim Nantz to continue calling The Masters for as long as he possibly can. But it seems as if we won't have to hear "Goodbye, friends" for quite some time.