Tony Romo's Net Worth: How Much Is the Quarterback Turned Sportscaster Worth Today?
As the former starting quarterback for the Dallas Cowboys, Tony Romo was a beloved part of the Texas-based franchise. Following his retirement in 2016, fans were thrilled to see him turn up in the booth as an NFL broadcaster.
After 14 years in the NFL, he accumulated career earnings totaling more than $127 million. And his newly signed record-breaking contract with CBS makes fans wonder: What is Tony Romo worth today?
Tony Romo transitioned from a star quarterback to a respected sportscaster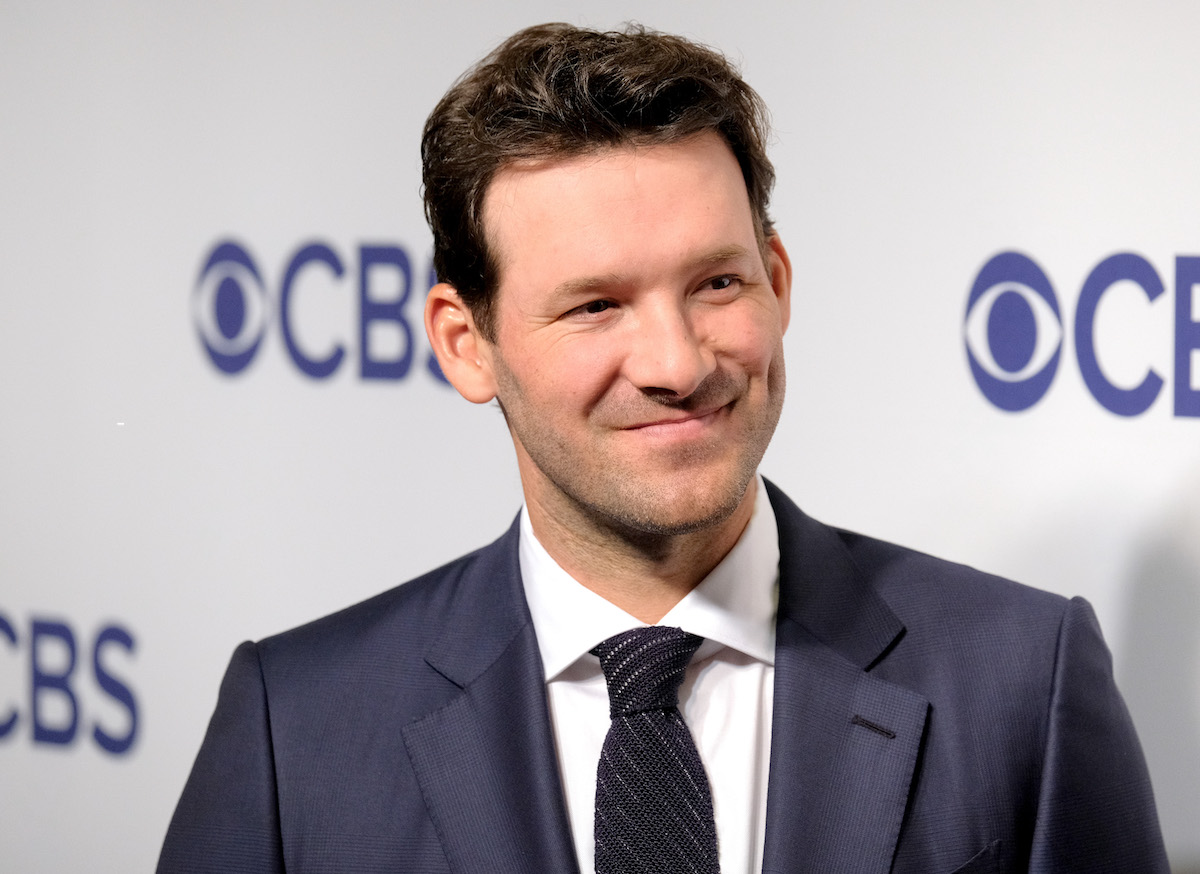 Romo is a California native born on April 21, 1980. He moved with his family to Wisconsin, where he played many sports in high school, including football. Romo attended college at Eastern Illinois University, leading the division in passing accuracy as a starting quarterback. Graduating with All-American honors, the young player dreamed of making it to the NFL.
In 2003, the Dallas Cowboys picked him up as an undrafted rookie, making him their third-string quarterback and giving him a $10,000 salary. For the next two years, Romo sat on the bench.
In 2006, he finally got his first shot at throwing the ball as the backup for Drew Bledsoe. The following year, Romo earned the starting position after signing a contract extension valued at $67.5 million. In 2013, the starting QB renewed his contract with a six-year, $108 million deal.
He remained with the Cowboys until 2016, when he retired after a 14-year career. Despite breaking several records, Romo never made it to a Super Bowl game. According to Sports Illustrated, he "retired with 34,813 passing yards and 248 touchdowns along with 117 interceptions on a 65.3% completion rate."
A year after retiring from the NFL, Romo signed a contract with CBS to become the lead color sports analyst. SI reported he quickly became "one of the best announcers in all of sports."
Romo is the highest-paid NFL analyst in sportscasting history
Celebrity Net Worth called Romo a "genius commentator" with an estimated net worth of $70 million.
As a broadcaster, Romo earned $4 million annually in a three-year contract with CBS. In 2020, when the contract was set to expire, ESPN began expressing interest.
Romo stuck with CBS after the network offered him a $100 million contract with a $17 million annual salary. That made him "the highest-paid sportscaster in history," Celebrity Net Worth reported.
In 2008, he secured a $10 million endorsement deal with Starter. Since then, Romo has partnered with other brands, including DirecTV, Topps, Corona, Pizza Hut, Frito-Lay, and Under Armour.
The legendary QB is an integral part of the CBS Sports team
With a knack for predicting plays, Romo quickly became a fan favorite as viewers connected to his style of sportscasting.
Paired with play-by-play caller Jim Nantz, the former quarterback breaks down offensive formations with ease. Repeatedly ranked the best NFL broadcast team, the duo has a style that "feels like you're kicking back with your pals enjoying a cold brew with the game on. Everyone's having a good time," SportsNaut said.
Referring to the father of three as "Romostradamus," SB Nation said his ability to telegraph plays sets him apart from other former QBs-turned-sports analysts such as Phil Simms and Troy Aikman.
Romo is "just having fun in a sincere way. It's nothing that sounds forced or pre-planned — it's authentic, which isn't that easy to find in broadcasting," SB Nation said of his comedic timing.
RELATED: Tony Romo Revealed That He Changed a Signature Part of His Broadcasting Skill Set During the 2020 NFL Season