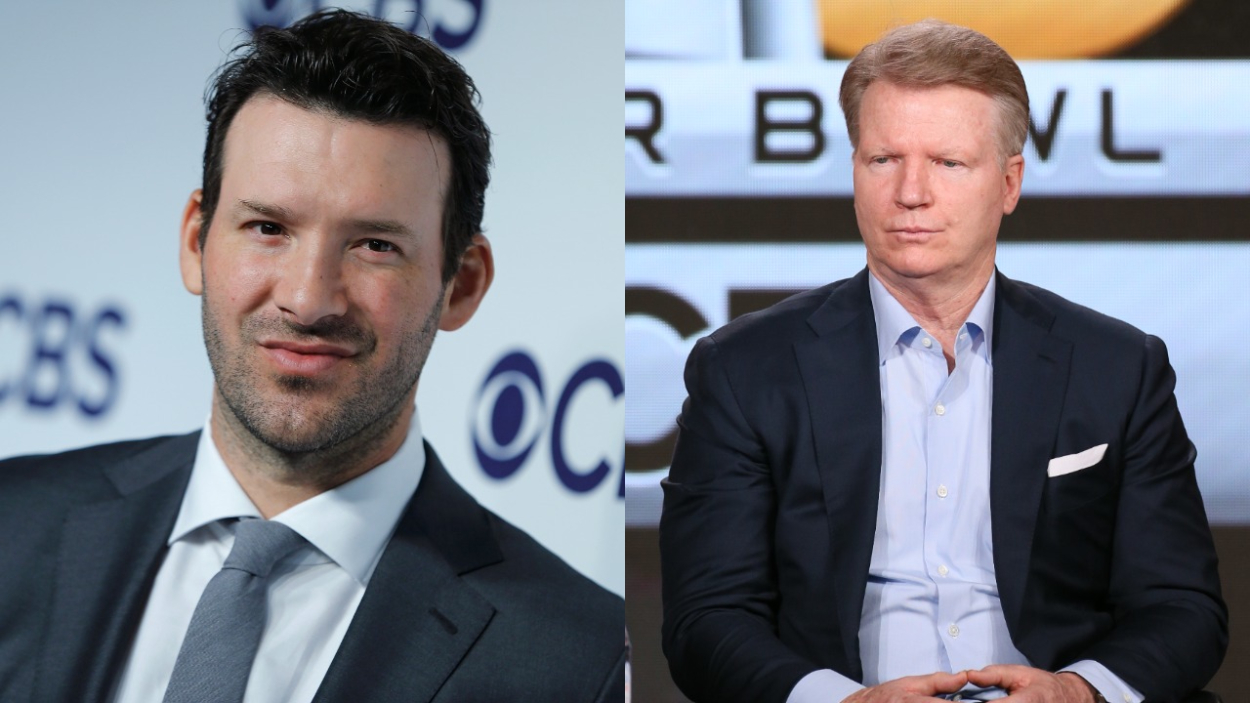 Tony Romo Sadly 'Hurt' Phil Simms' Pride When He Joined CBS Following His Successful Cowboys Career
Tony Romo has been very successful on CBS. However, his move to the network following his Cowboys career ultimately hurt Phil Simms' pride.
After an excellent career as an NFL quarterback, Tony Romo has ultimately been very successful in his new gig at CBS. His insightful analysis during every game he calls has helped him become one of the most well-respected broadcasters in sports media. However, while it appears that he has enjoyed the move to the broadcast booth, CBS's decision to put him in his current position didn't initially sit well with everyone. This specifically includes former NFL quarterback and current CBS analyst Phil Simms.
Tony Romo has become a successful broadcaster on CBS
Tony Romo played in the NFL for over a decade. After signing with the Dallas Cowboys as an undrafted free agent and then not throwing a single pass in his first three seasons, he became a star for Dallas in 2006. He ultimately earned a Pro Bowl selection that year, as he threw for 2,903 yards, 19 touchdowns, and 13 interceptions in 10 starts.
Romo then went on to start in 127 games for the Cowboys from 2006 through 2015 before retiring after the 2016 season. He earned four Pro Bowl selections in his career while also putting up spectacular stats on a yearly basis. Romo threw for as many as 4,903 yards in 2012 and as many as 36 touchdowns in 2007.
In total for his career, Romo threw for 34,183 yards, 248 touchdowns, and 117 interceptions.
However, in April 2017, Romo joined CBS as the network's lead game analyst. He has been paired with Jim Nantz, and the two have potentially become the most well-respected broadcast duo in sports. In fact, Romo's skills even led to him earning a new contract in 2020 that reportedly pays him $17 million per year, according to the New York Post.
When Romo got his job, though, he replaced another former quarterback who had been in his position for the previous 19 seasons: Phil Simms.
Phil Simms has been at CBS for over 20 years
Phil Simms also had a successful career as an NFL quarterback. He went to the New York Giants with the No. 7 overall pick in the 1979 NFL draft. He then not only earned two Pro Bowl selections while playing with the Giants from 1979 through 1993, but he also helped lead New York to two Super Bowl titles. He even won the Super Bowl 21 MVP award.
In his career, Simms ultimately threw for 33,462 yards, 199 touchdowns, and 157 interceptions.
Then, in 1998, Simms joined CBS and became the network's lead analyst, per his CBS bio. Simms worked alongside Greg Gumbel from 1998 through 2003, and then from 2004 through 2016, Simms called games with Jim Nantz.
However, after being replaced by Romo in 2017, Simms has since been on The NFL Today studio show on CBS with James Brown, Nate Burleson, Boomer Esiason, and Bill Cowher.
Tony Romo's move to CBS 'hurt' Phil Simms' 'pride'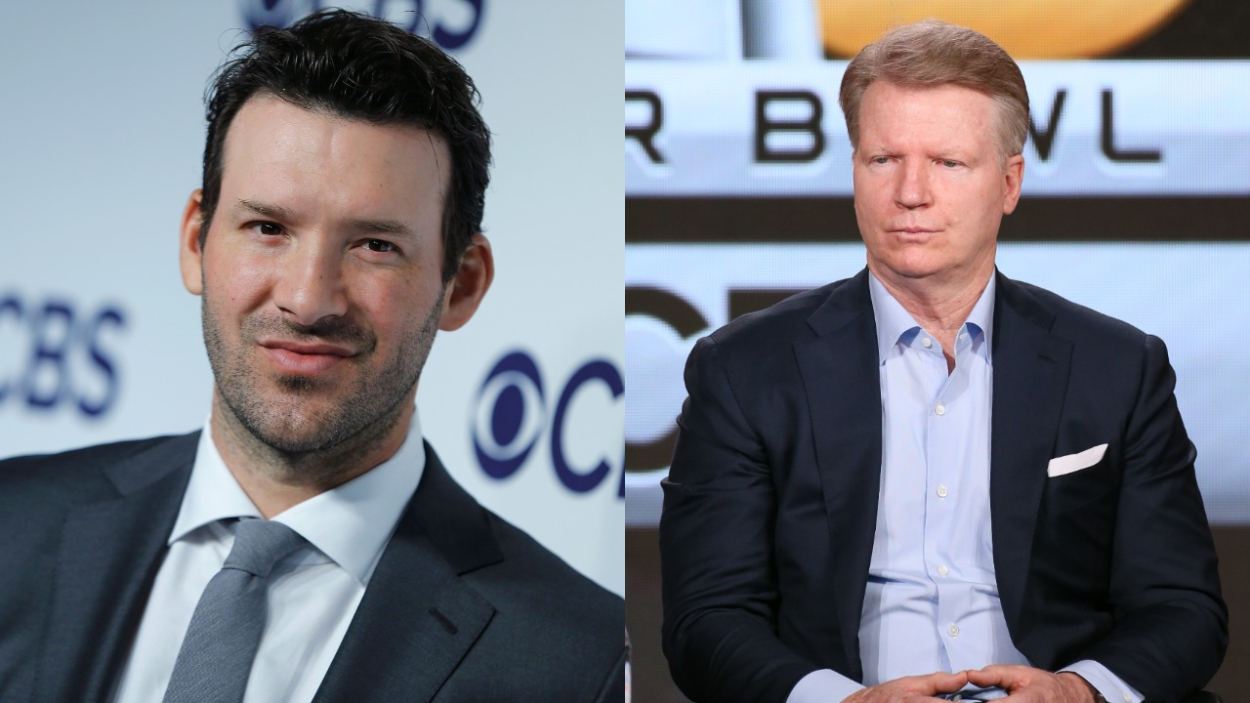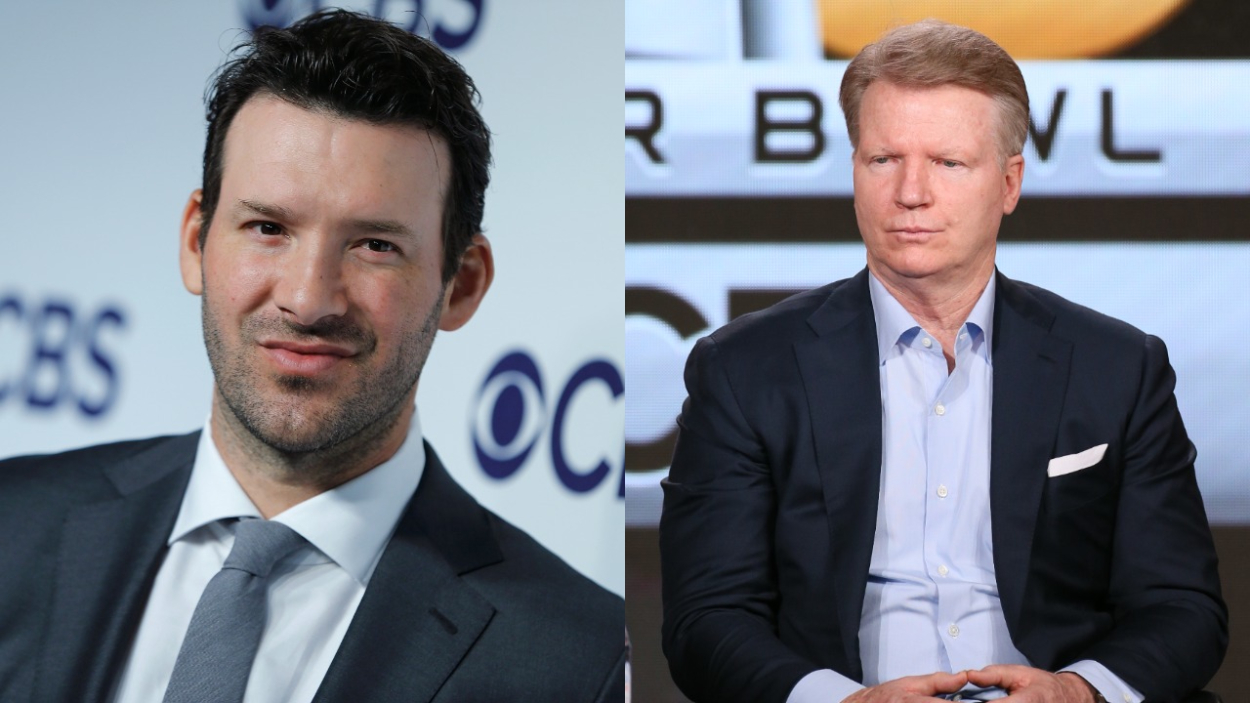 Simms ultimately replaced Tony Gonzalez on The NFL Today, as Gonzalez didn't want to travel from the west coast to New York anymore, according to Sports Illustrated.
However, the move for Simms was essentially a demotion, which ultimately hurt his pride.
"Initially was my pride hurt? Absolutely. Of course it was," Simms, who also works on Showtime's Inside The NFL, said in 2017, according to Sports Illustrated.
He continued: "So it took a little bit. Not long. I started thinking about it in a positive way and then I became excited about it. [CBS Sports Chairman] Sean [McManus] had talked to me over the years about maybe going into the studio. I now get to follow the league like I want to. That was probably the most frustrating thing about my job. You do one or two games a week, you can't really pay attention to the other teams like I wanted to do. When you do games, you are all-in on those games. On Inside The NFL, I get to say things about stuff that I never get to say in a broadcast."
It appears that everything has worked out for both Phil Simms and Tony Romo. Getting replaced by Romo, though, was still probably a pretty tough pill for Simms to swallow.
Stats courtesy of Pro Football Reference
Note: An earlier version of this story said that Phil Simms led the Giants to two Super Bowl titles. He, however, did not play in Super Bowl 25. Simms ultimately went 11-3 as a starter that season, though, so he still helped them during that championship year.