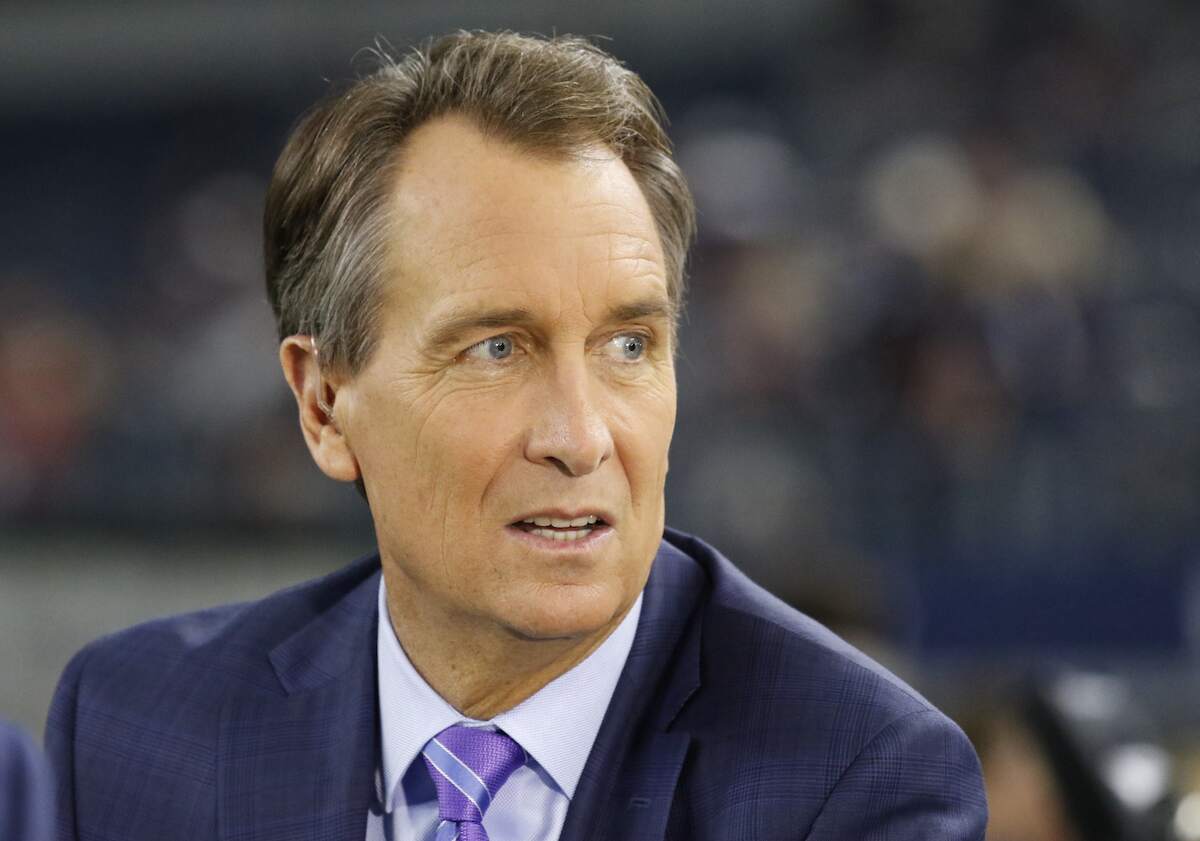 Cris Collinsworth Once Tried Canceling a Media Responsibility Because of a 'Massive Zit'
Cris Collinsworth was a star for the Cincinnati Bengals. However, he once tried to cancel a media responsibility because of a pimple.
Cris Collinsworth has become one of the most well-known faces in sports media. The former Cincinnati Bengals wide receiver has had a ton of success on Sunday Night Football. However, that well-known face hasn't gone without having a blemish on it from time to time.
In fact, Collinsworth once almost canceled a cover shoot with Sports Illustrated because of a massive zit.
Cris Collinsworth had a great rookie season with the Cincinnati Bengals
Cris Collinsworth proved to be a productive wide receiver in college for the Florida Gators. This led to him going to the Cincinnati Bengals in the second round of the 1981 NFL draft.
Collinsworth immediately became a star with the Bengals, too. In his fourth game, he had 10 catches for 111 yards and a touchdown. He also had several other big games throughout the year, including one against the Houston Oilers, where he had five catches for 82 yards and a touchdown. He also had five catches for 128 yards and a touchdown in a win over the Atlanta Falcons.
Collinsworth ultimately caught 67 passes in his rookie season for 1,009 yards and eight touchdowns, which helped him earn Pro Bowl honors. The Bengals were really good that season, as they went 12-4 and reached the Super Bowl before ultimately losing to the San Francisco 49ers. Collinsworth caught five passes for 107 yards in the Super Bowl, too.
He might have been young, but Collinsworth proved he had the potential to become a great receiver for the Bengals. This then led to him getting some media attention.
Cris Collinsworth tried canceling a photo shoot because of a zit
During his rookie season in 1981, Collinsworth had a cover shoot with Sports Illustrated. He, however, almost canceled because of a massive pimple.
"As only can happen to me, I wake up that morning with one of those prom zits. I'm not kidding. It looks a little like Australia on my chin," Collinsworth said on The MMQB Podcast with Peter King in 2017, according to Sports Illustrated. "I go down there, and I go, 'Listen, I don't want to do this.' I've got Clearsil on it, I've got makeup, I've tried to do everything I can, and it just keeps looking worse. It is awful. They say you gotta do it."
Collinsworth ultimately did the shoot, but he later learned the power of Photoshop, even in 1981.
"So I take this picture. I'm not lying to you — they tell me the cover is out, so I got to find it here somewhere," he said, according to Sports Illustrated. "I am literally dreading; I am going to take so much abuse for this massive zit on my chin; I can't stand it. I'm dying. I go down, and I have my hand over my eyes, and I look at this cover for the first time. And it looked beautiful."
He continued: "There's no zit! I couldn't believe it; I said, 'How did they do that?' I had never heard of, like, Photoshop or touching up or anything like that. So to this day, that's one of the great pictures I've taken in my entire life."
Collinsworth had a great career with the Cincinnati Bengals
Collinsworth went on to have a great career with the Bengals. He earned three consecutive Pro Bowl selections in his first three seasons, gaining as many as 1,130 receiving yards in 1983.
Collinsworth ultimately had four different seasons with 1,000 or more receiving yards. He finished his career with 417 catches for 6,698 receiving yards, and 36 touchdown catches. 
Additionally, after the Bengals lost in the Super Bowl during his rookie season, they only made the playoffs one other time until his final season in 1988. They then made the Super Bowl again that year, too. The Bengals, however, lost to the 49ers again, but Collinsworth still led the Bengals in receiving yards in the game.
He maybe doesn't have a Super Bowl ring, but Collinsworth, at least, still has that great Sports Illustrated photo to look back on.
Stats courtesy of Pro Football Reference