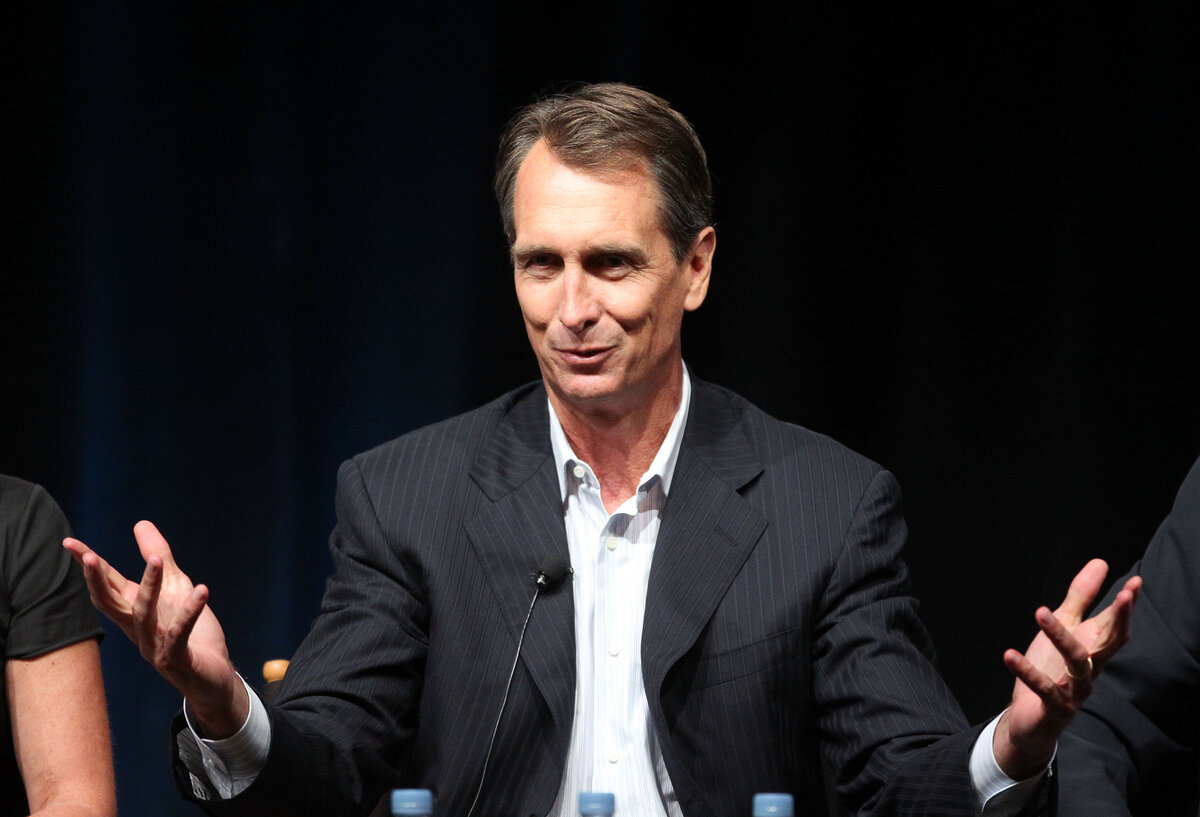 NBC's Cris Collinsworth Nearly Died When the Restaurant He Was Eating in Started Floating
Cris Collinsworth is a longtime announcer on NBC's 'Sunday Night Football.' Collinsworth could have died when his restaurant floated into the river.
Longtime NFL announcer Cris Collinsworth has had a memorable 40-plus years in football.
Collinsworth first starred for the Cincinnati Bengals in the 1980s, growing into one of the most productive receivers in franchise history. After several broadcasting jobs, Collinsworth returned to national prominence when teamed up with the legendary Al Michaels on Sunday Night Football in 2009.
While they have since split up, the duo of Collinsworth and Michaels became a beloved one. However, the partnership nearly ended after two seasons because Collinsworth could have died in a 2011 restaurant incident.
Cris Collinsworth had an impressive NFL career
A second-round pick in 1981, Cris Collinsworth had an extremely productive tenure in Cincinnati.
Collinsworth hauled in 417 catches for 6,698 yards and 36 touchdowns across 107 games in eight seasons. In seven career postseason outings, Collinsworth snagged 21 passes and turned it into 354 yards and a touchdown.
Collinsworth made the Pro Bowl in each of his first three seasons and had four total campaigns with over 1,000 yards.
Collinsworth still ranks among the top receivers in Bengals history. Through September 12, 2022, Collinsworth ranks fifth in receptions and receiving yards.
Collinsworth's 36 touchdowns are tied for seventh-most in team history.
Collinsworth has worked on Sunday Night Football since 2009
Although he has been a full-time NFL broadcaster — both for games and studio analysis — since 1990, Cris Collinsworth truly rose to prominence in 2009.
John Madden retired after the 2008 season, his third year on NBC's Sunday Night Football. NBC promoted Collinsworth, who did studio coverage at the time, to the color commentary role alongside Al Michaels.
Michaels and Collinsworth remained together until the close of the 2021 campaign, when the former man moved to Amazon's NFL coverage. The pair worked three Super Bowls together.
Collinsworth had previously been involved in four other Super Bowl broadcasts, both at NBC and Fox, as a studio analyst. He also called Super Bowl 39 in February 2005 at Fox alongside Joe Buck and Troy Aikman.
Cris Collinsworth could have died in a 2011 flood
Cris Collinsworth's time in the Sunday Night Football booth could have ended after two seasons — and by no fault of his own.
In March 2011, a Kentucky restaurant titled the Waterfront fell into the river it was located above. According to the Orlando Sentinel, Collinsworth and over 80 other people floated downstream when the restaurant broke from its moorings above the river. 
Thankful for all involved, emergency crews quickly arrived and rescued everyone. The restaurant avoided severe damage, and people didn't suffer any life-threatening injuries, because it eventually reached a nearby bridge.
If not for the bridge, the idea of the restaurant suffering more damage — and even collapsing — is frightening to think about. 
Collinsworth was already familiar with the venue and its owner, Jeff Ruby. The menu had a $40 entree called the "Steak Collinsworth."
According to The Business Journals, Ruby eventually had the Waterfront demolished in 2014 because it had other issues with breaking free from its moorings.
Like Sportscasting on Facebook. Follow us on Twitter @sportscasting19 and subscribe to our YouTube channel.