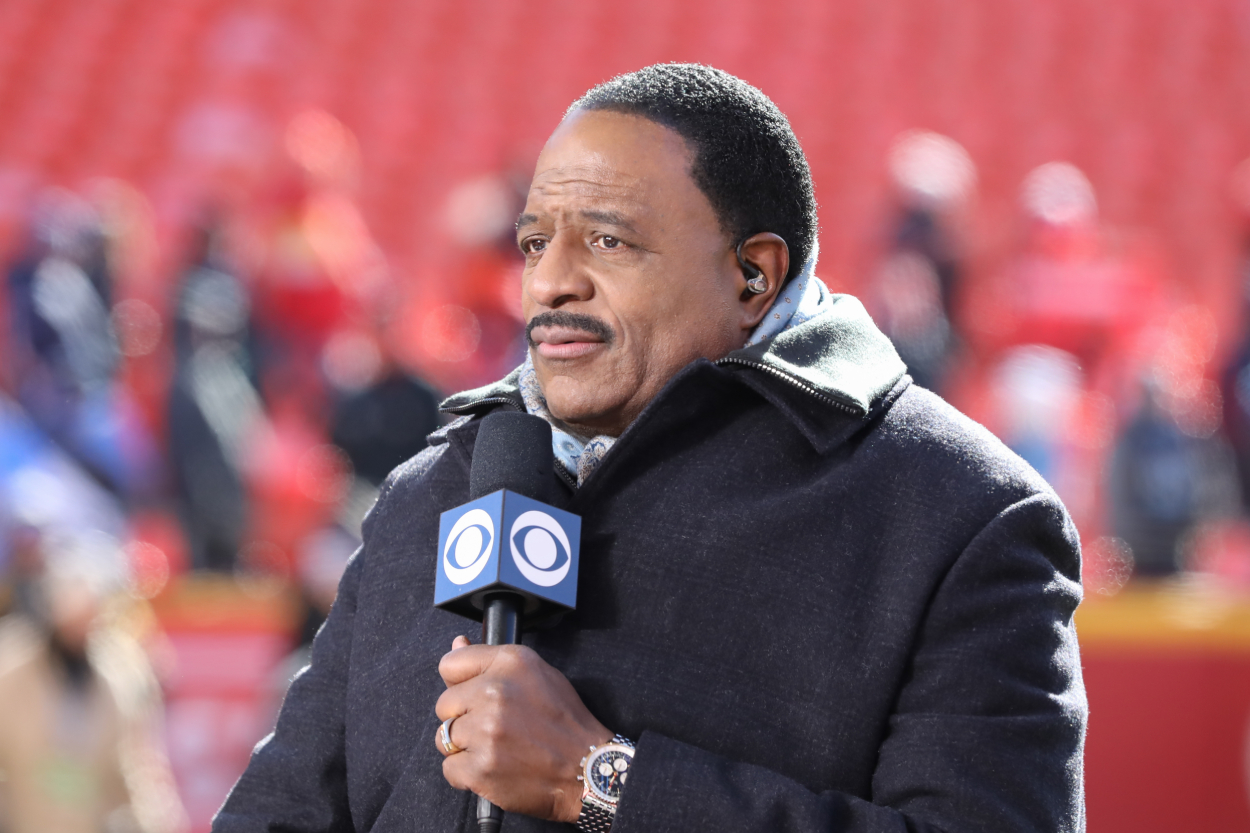 CBS Broadcaster James 'JB' Brown Has Made So Much Money Covering the NFL That He Owns an MLB Team
James Brown has been a familiar face on CBS for years, as he is known for hosting NFL coverage. However, he also owns the Nationals.
For years, NFL fans have watched James "JB" Brown host pregame shows on CBS. His voice, for many fans, symbolizes Sunday mornings in fall. Because of all of the success Brown has had on TV covering the NFL, he has become pretty wealthy. In fact, he has become so wealthy that he is a minority owner of the Washington Nationals.
James Brown is a successful broadcaster
James Brown currently hosts The NFL Today on CBS and Inside The NFL, which airs on Showtime. He has ultimately hosted NFL coverage for years. According to the bio on his site, Brown has even hosted coverage of the Super Bowl nine times. In addition to the work he has done covering the NFL on CBS over the years, which includes previously hosting Thursday Night Football, Brown also co-hosted FOX NFL Sunday.
He has ultimately been honored for the work he has done, too. Sports Illustrated named him the Best Studio Host of the Decade in 2010, and, in 2016, he received the Pro Football Hall of Fame's Pete Rozelle Award. According to his CBS bio, Brown has also earned multiple Emmy awards and was inducted into the Sports Broadcasting Hall of Fame in 2020.
Football isn't the only area where he has excelled, though. Brown has also worked on CBS News, 48 Hours, and 60 Minutes.
He has ultimately earned a lot of money for the work he has done, too. Celebrity Net Worth estimates that Brown is worth $16 million.
He is a minority owner of the Washington Nationals
Brown is mostly known for his football coverage, and maybe his excellent college basketball career at Harvard. However, he is also a founding partner of the Washington Nationals.
"Baseball was my first love," he said, in a 2019 interview on WUSA9, a CBS affiliate in Washington D.C. "Back when I was weighing about 175 pounds and my uniform looked like it was hanging on a hanger. … [My neighbors], they knew the Lerner family, and they introduced me to [current Nationals principal owner] Mark Lerner; we became friends."
Brown then became a part of the Lerner's advisory council as they attempted to buy the team.
"[Former MLB commissioner] Bud Selig said, 'Look, if you guys are serious about going after a Major League Baseball team, you must have minority participation, and they need to have skin in the game," Brown said in 2019 on High Heat, according to MLB.com.
Now, the rest is history as he has been a part of the ownership group since 2006.
Brown has made it clear that his ownership stake is not that much at all compared to how much of the team that the Lerner family owns. However, he has been able to see the team have a significant amount of success since joining the ownership group.
The Washington Nationals have won a World Series with James Brown as an owner
The Montreal Expos became the Washington Nationals in 2005, and they have since had a decent amount of success. After missing the playoffs in their first seven seasons in D.C., the Nationals made the playoffs for the first time in 2012. They have since made the playoffs in five of nine seasons from 2012 through 2020.
They couldn't get past the NLDS in any of their first four trips to the postseason. In 2019, though, after starting the season 19-31, the Nationals went on an incredible run to make the playoffs. They then won in the wild-card game over the Milwaukee Brewers before beating the LA Dodgers in the NLDS and then the St. Louis Cardinals in the NLCS.
Washington then met the Houston Astros in the World Series, and James Brown's team ended up winning it all in seven games.
So, while James Brown has been honored for the great work he has done as a broadcaster, he is also a World Series-winning owner.
What a life that must be.
Stats courtesy of Baseball Reference