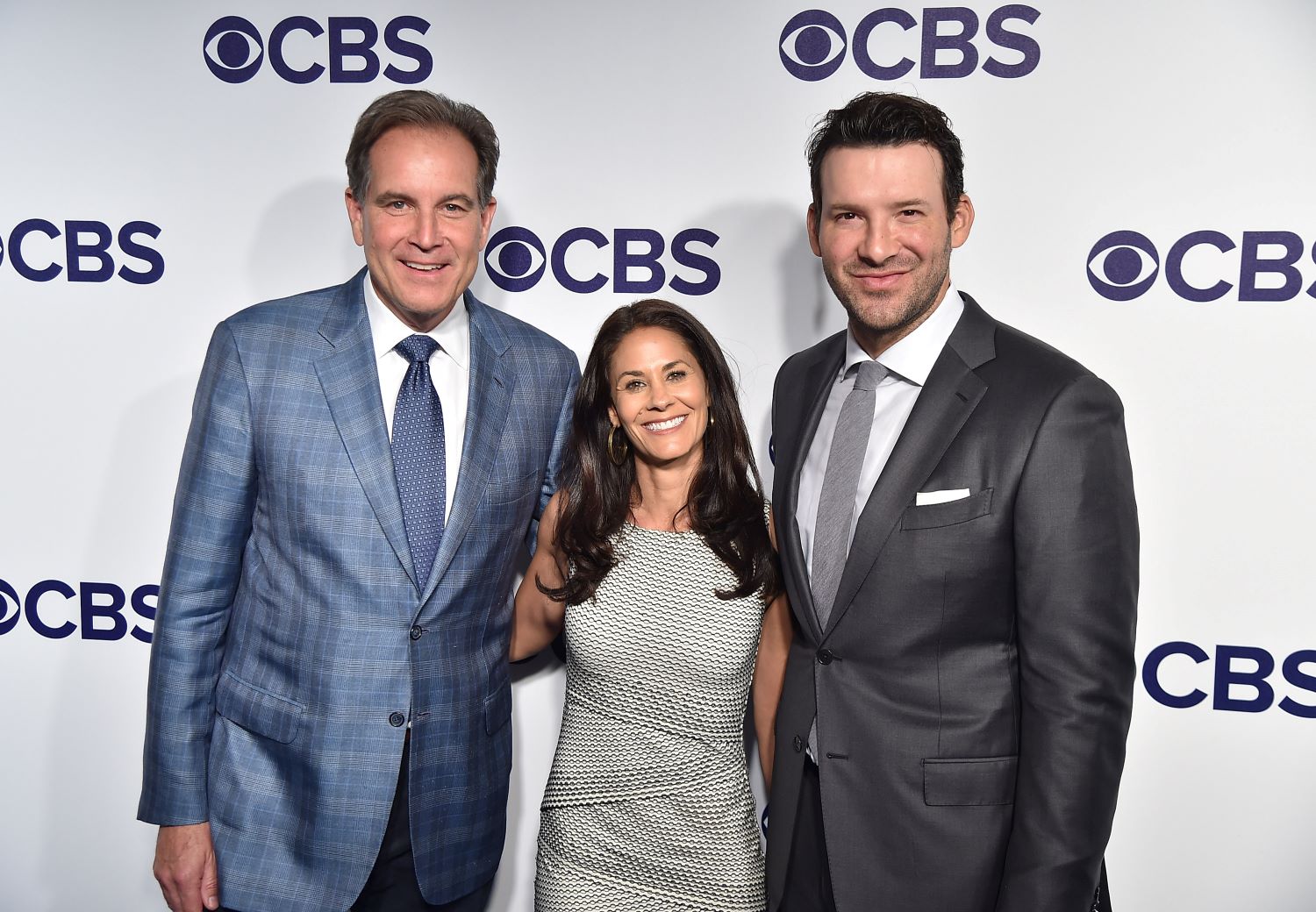 Jim Nantz Has Used Tony Romo to Back CBS Into a $17.5 Million Corner
Legendary broadcaster Jim Nantz is putting CBS on a $17 million hot seat thanks to superstar partner and former Cowboys QB Tony Romo.
For nearly 40 years, Jim Nantz has graced television screens for CBS Sports. Yet, his time with the company could be coming to an end. In fact, the legendary broadcaster has put CBS on a $17.5 million hot seat thanks to Tony Romo.
Will the former Dallas Cowboys quarterback be the reason Nantz leaves the network? Or will CBS find a way to retain one of its most popular and successful stars of all time?
Jim Nantz has been a star at CBS for decades
At 61 years old, Jim Nantz is certainly on the back end of his career. But the longtime face of CBS Sports continues to provide top-notch coverage for sports fans around the world.
Nantz joined the network in 1985 after spending his early years working in Houston and Salt Lake City. Since then, he has garnered widespread respect for his professionalism and skill. Nantz has served as the host of the Masters since 1989 and has been the lead man for the network's NFL coverage for more than 30 years.
But after calling games alongside former New York Giants quarterback Phil Simms for years, the legendary broadcaster got a new partner in the booth in 2017.
Tony Romo has transitioned from Pro Bowl quarterback to highly-paid TV star
From 2007-2014, Tony Romo put up terrific numbers as the starting quarterback for the Cowboys. However, injuries brought a rather swift end to the four-time Pro Bowler's NFL career.
That didn't deter the charismatic California native from continuing to make a living through sports. After retiring from the NFL, Romo landed the lead NFL color analyst role for CBS Sports to work next to Jim Nantz.
The former Cowboys QB proved to be an instant hit. In particular, he drew praise for his ability to provide fans with specific insight into the X's and O's of the game. In fact, Romo has correctly predicted plays on multiple occasions from his spot in the booth.
CBS made sure to hold on to its breakout star by breaking the bank earlier this year. In February, the New York Post reported that Romo signed the largest sports analyst contract in TV history. After making about $3 million annually on his rookie deal, the former NFL star now makes about $17.5 million per year.
Ironically, his record-setting contract is having a major effect on his partner's career plans.
Nantz has made it clear to CBS where he stands on Romo's contract
With his contract set to end next summer, Jim Nantz faces an uncertain future with CBS. And now, it looks like he has made it clear to his bosses where he stands on Tony Romo's contract.
According to the New York Post, Nantz wants to top his broadcasting partner's annual salary in his new deal. He reportedly makes about $6.5 million per year on his current contract.
Despite his age, Nantz does not seem ready to call it quits anytime soon. He recently made it clear that he wants to keeping calling the Masters past his previously-stated goal of 2035.
Still, he may not succeed in topping his partner's lucrative annual salary. According to the Post, CBS views Romo's contract as an aberration rather than a benchmark.
Ultimately, it will be interesting to see who wins this contractual showdown. Will Jim Nantz get CBS to meet his asking price? Or will the network remain firm that its biggest star's record-setting deal won't be the starting point for future negotiations?
Not even Tony Romo can predict how this situation will end.
Like Sportscasting on Facebook. Follow us on Twitter @sportscasting19.