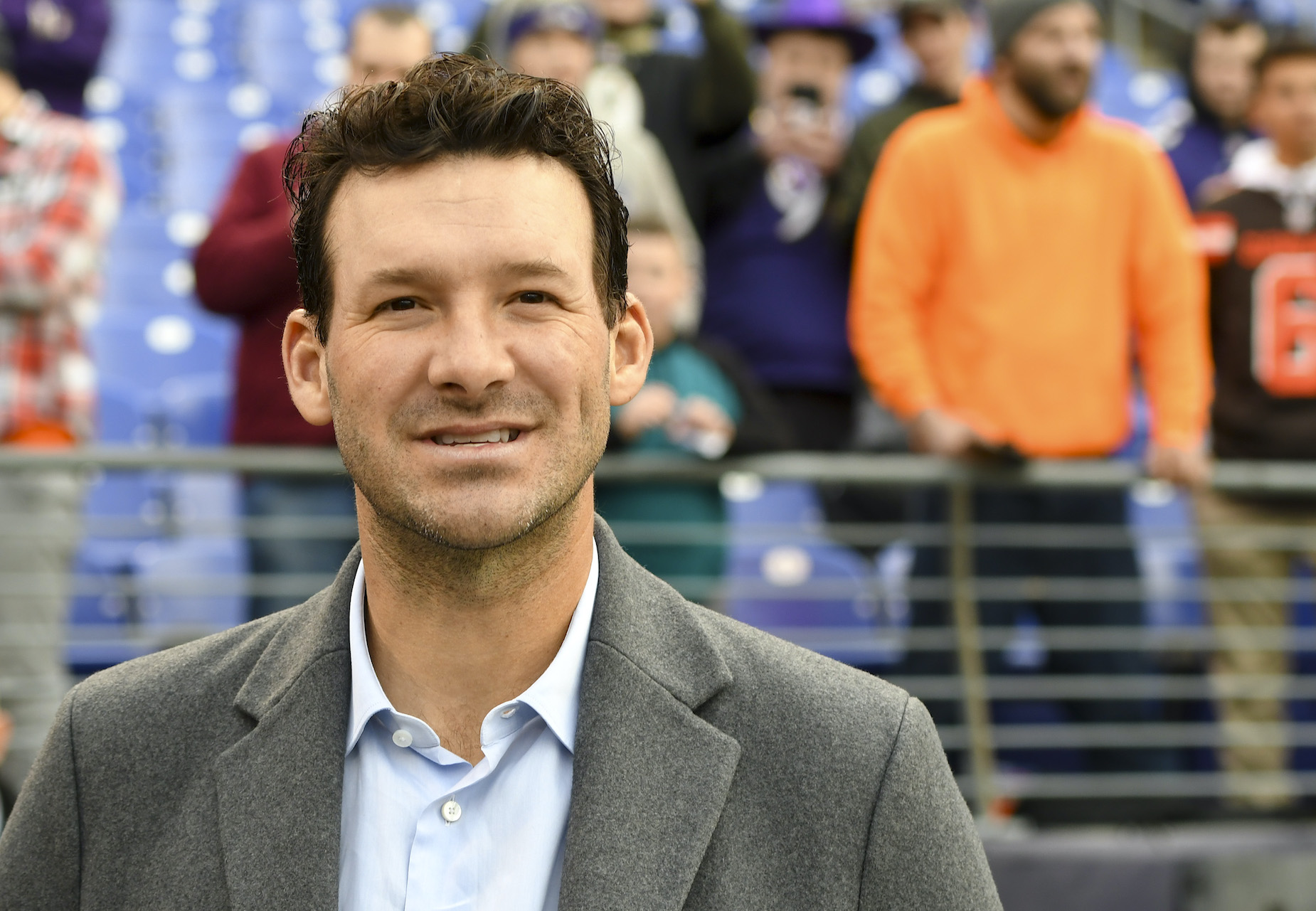 Tony Romo Revealed That He Changed a Signature Part of His Broadcasting Skill Set During the 2020 NFL Season
While Tony Romo has already proven himself to be quite the talent in the NFL broadcast booth, he tried to make a big change during the 2020 season.
Whether you love him or hate him, just about every NFL fan knows Tony Romo. He first made a name for himself as the Dallas Cowboys starting quarterback; in retirement, Romo has established himself as one of sports media's rising stars. That success, however, doesn't mean he's resting on his laurels.
During his time in the broadcast booth, Tony Romo has shown a knack for predicting what will happen on a given play. While that's been a signature part of his skill set, the color commentator has actually made an effort to dial things back during the 2020 campaign.
Tony Romo has found NFL success as both a player and a broadcaster
It takes a pretty specific skill set to play quarterback at the NFL level; the same can be said for calling a football game on live TV. Tony Romo, however, has done pretty well in both of those disparate roles.
Romo played his college football at Eastern Illinois University and posted big numbers during his three seasons under center. Despite posting some big numbers with the Panthers, though, the quarterback didn't receive much NFL attention; he went unselected in the 2003 draft and eventually joined the Dallas Cowboys as an undrafted free agent.
Despite starting out at the bottom of the depth chart, Romo eventually took control of the Cowboys offense and established himself as the franchise quarterback. While he couldn't get America's Team over the hump, he still played pretty well, throwing for 34,183 yards and 248 touchdowns in 156 NFL appearances.
While injuries and the emergence of Dak Prescott ended Romo's playing career, his football work was far from done. He joined CBS shortly after retiring and has since become one of football's most popular—not to mention highest-paid—broadcasters.
Predicting the play before it happens
While calling an NFL game might seem easy, it can be a pretty tough gig; filling three hours of air time without saying something stupid is easier said than done. Tony Romo, however, hasn't had any problems adjusting to life in the broadcast booth.
Although everyone has their own preferences—some prefer passionate broadcasters, while others want a more objective view—Romo manages to toe the line fairly well. He has no problem getting fired up and becoming audibly excited, but he's also able to use his years of quarterback experience to break down defensive coverages or nuances of a receiver's route.
Romo has also shown an uncanny knack for making pre-snap predictions, telling the viewers exactly what will happen on a given play. Although there have been some notable misses, like the Kansas City Chiefs going for it on fourth down against the Cleveland Browns, the color commentator is usually a pretty good success rate.
Tony Romo intentionally tried to make fewer predictions in 2020
During his time in the broadcast booth, making pre-snap predictions has become Tony Romo's signature move. Despite that reality, though, he intentionally tried to dial things back during 2020.
"Yeah, I think I've probably done it less on purpose a little bit," Romo told Richard Deitsch of The Athletic. "I don't consciously try and do it or not do it. I like to be able to do multiple things, and it goes back to what I think people at home want to feel or hear about their team. I'm telling them the truth about everything I see, and you're not always going to say the right thing or do the right thing. But I do feel like I care and want them to enjoy their game."
In the former quarterback's mind, it's all about striking a balance. While he doesn't want to overdo it, we'll still hear a signature Romo pre-snap prediction when the situation calls for it.
"I take into account anything I do when something might be too much or too little," he continued. "It's just a feel. It's just instinctual. You might be right in the sense that I probably have throttled that back a little bit. But there's always a time I'll bring it out, especially if it's a fun time to do it."
Stats courtesy of Pro-Football-Reference