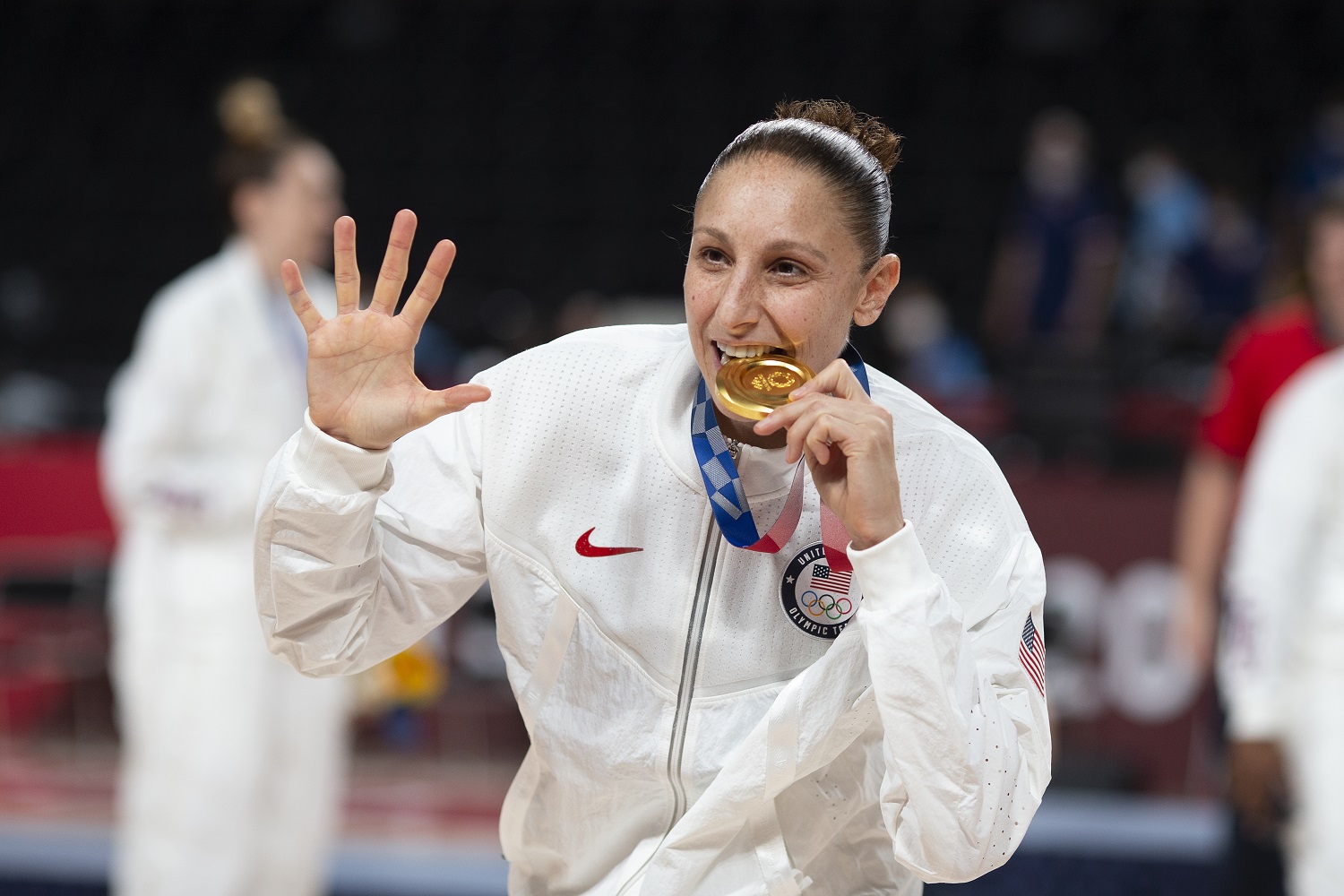 WNBA Great Diana Taurasi Is the True GOAT if Winning Counts for Anything
Diana Tarausi's five gold medals at the Olympics are only the beginning. The WNBA's career leader in scoring possesses a resume full of championships.
Veteran WNBA guards Diana Taurasi and Sue Bird just earned their fifth gold medals in women's basketball last week by helping Team USA to the championship in the Tokyo Olympics. Merely participating in five Olympics is a rare accomplishment. Coming home each time with a gold medal makes it an outlandish feat.
Diana Taurasi and Sue Bird make a formidable duo
Taurasi and Bird hold the distinction of earning Olympic gold medals at Athens (2004), Beijing (2008), London (2012), Rio de Janeiro (2016), and Tokyo (2021). They've also played on three FIBA World Championship teams together, with Bird picking up a fourth gold by getting a head start in China in 2002.
Their collaboration on the world's biggest stage is only natural, given that they started out together at UConn. Bird was a two-time NCAA Division I champion while playing for the Huskies from 1998-2002; Taurasi won three titles there from (2000-04).
Although Taurasi has played her entire WNBA career for the Phoenix Mercury while Bird has stayed with the Seattle Storm, they have a history as teammates overseas, beginning with Dynamo Moscow in 2005 and Spartak Moscow in 2006. Taurasi detoured through Turkey after that, but the pair reunited with UMMC Ekaterinburg in the Russian Premier League beginning in 2012.
An amazing body of work adds up to GOAT status
While representing their country in basketball at the international level is a matter of pride, it's playing for clubs at home and abroad that pays the bills for Taurasi and Bird.
Bird, who missed the 2013 and '19 seasons along the way due to injuries, has earned four WNBA championships with Seattle to Taurasi's three in Phoenix. It is overseas where Taurasi pulls away from her longtime friend when it comes to championships, in part because she continued to play in Russia during WNBA offseasons through 2017 while Bird left after they won their second Russian Cup together in 2014.
Taurasi, 39, earned her third Russian Cup in 2017 and holds a 7-5 advantage of Bird in league championships there. She also picked up her sixth EuroLeague Championship in 2016 to Bird's five, and Taurasi earned a Turkish National League championship and a Turkish Cup while taking her brief leave from Russia.
All in all, it makes for an astonishing collection of hardware for Taurasi in pressing the case for her status as the Greatest of All Time in women's basketball. And it's not as though Bird is that far behind.
"They are two of the greatest teammates in the history of sports," UConn coach Geno Auriemma said, according to ESPN. "Even if you only used UConn, or only the Olympics, or only Europe. Throw in all three, and no one even comes close."
Diana Taurasi is rightfully a WNBA legend
Aside from the team titles she has captured with the Mercury, Taurasi's personal achievements in Phoenix are staggering. That begins with her 9,040 points through Aug. 11, 2021, easily overwhelming Candice Dupree (6,822) and Bird (6,490) among active players.
Though she only ranks eighth in league history in games played as the WNBA restarts its season following the Tokyo Olympics, Taurasi is the career league in field goals, 3-pointers, free throws, and points. She is also fifth in assists, and Basketball Reference rates Taurasi third in win shares.
It adds up to the resume of a future inductee into the Naismith Memorial Basketball Hall of Fame. The only question is whether her plaque will mention five Olympic gold medals or six.
Like Sportscasting on Facebook. Follow us on Twitter @sportscasting19.