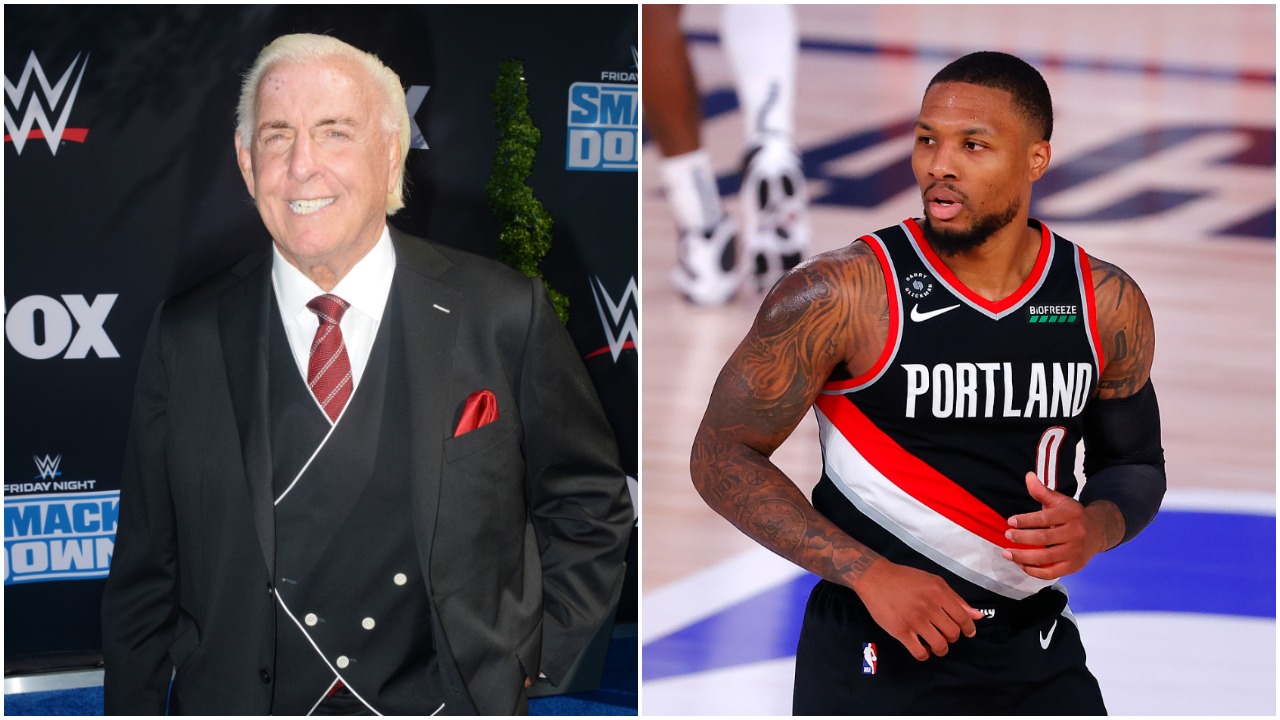 WOOOOO! How the Amazing Damian Lillard-Ric Flair Sneaker Collaboration With Adidas Came To Be
A look at how the Adidas sneaker collaboration between Portland Trail Blazers star Damian Lillard and WWE Hall of Famer Ric Flair came to be.
Damian Lillard has never made it a secret that he's a huge fan of professional wrestling. The Portland Trail Blazers star once showed up to a game dressed like Stone Cold Steve Austin, WWE title belt and all, and has even used that love of pro wrestling in his signature line of sneakers with Adidas. Earlier this year, Adidas released a version of the Dame 6 inspired by Austin as "Dame 3:16" appeared across the bottom of the shoe, a play on the "Austin 3:16" phrase that helped sell millions of T-shirts back in the day. But Damian Lillard now has a new tag team partner for a version of the Dame 7, none other than two-time WWE Hall of Famer Ric Flair.
So how did this amazing collaboration come about?
Damian Lillard is a huge fan of professional wrestling
As mentioned, Damian Lillard has long been a huge fan of professional wrestling. Born in 1990, he would have been five years old when the "Monday Night War" between WWE and WCW started, which, as every wrestling fan knows, was one of the greatest eras in pro wrestling history. WCW poached a number of WWE stars and began airing a much edgier product than what WWE was doing at the time, forcing Vince McMahon to change things up, which led to the creation of the Attitude Era.
Damian Lillard, like so many others, would do his best to watch both Monday Nitro and Monday Night Raw and was just fascinated by the business. He had the figures and the rings and the title belts and just saw these wrestlers as larger-than-life stars. One of the big stars of that era…or really three or four different eras for that matter…was 16-time world champion Ric Flair. Little did Dame know back then that he'd later collaborate with one of his childhood heroes.
'The Nature Boy' joined Dame at Adidas in 2019
The sixth overall pick in the 2012 NBA draft out of Weber State, Damian Lillard has been with Adidas since his rookie season and wore a variety of the brand's shoes over his first two seasons in the league, In 2014, Lillard signed a monster extension with Adidas worth $100 million and was given his own signature line of sneakers, a line first called "D Lillard" before becoming "Dame" when the third edition was released.
Over the last few years, Adidas has signed a number of celebrities from outside the sports world with whom to collaborate, including Beyonce, Kanye West, Kylie Jenner, and Donald Glover. Knowing Ric Flair's popularity among athletes, the company again went the unconventional route and signed "The Nature Boy" to an endorsement contract in 2019, which led to Flair cutting an amazing, WWE-style promo on Nike (video seen above). And given Damian Lillard's love for pro wrestling, the collaboration with Ric Flair just made sense.
Adidas' new Damian Lillard sneaker honors Ric Flair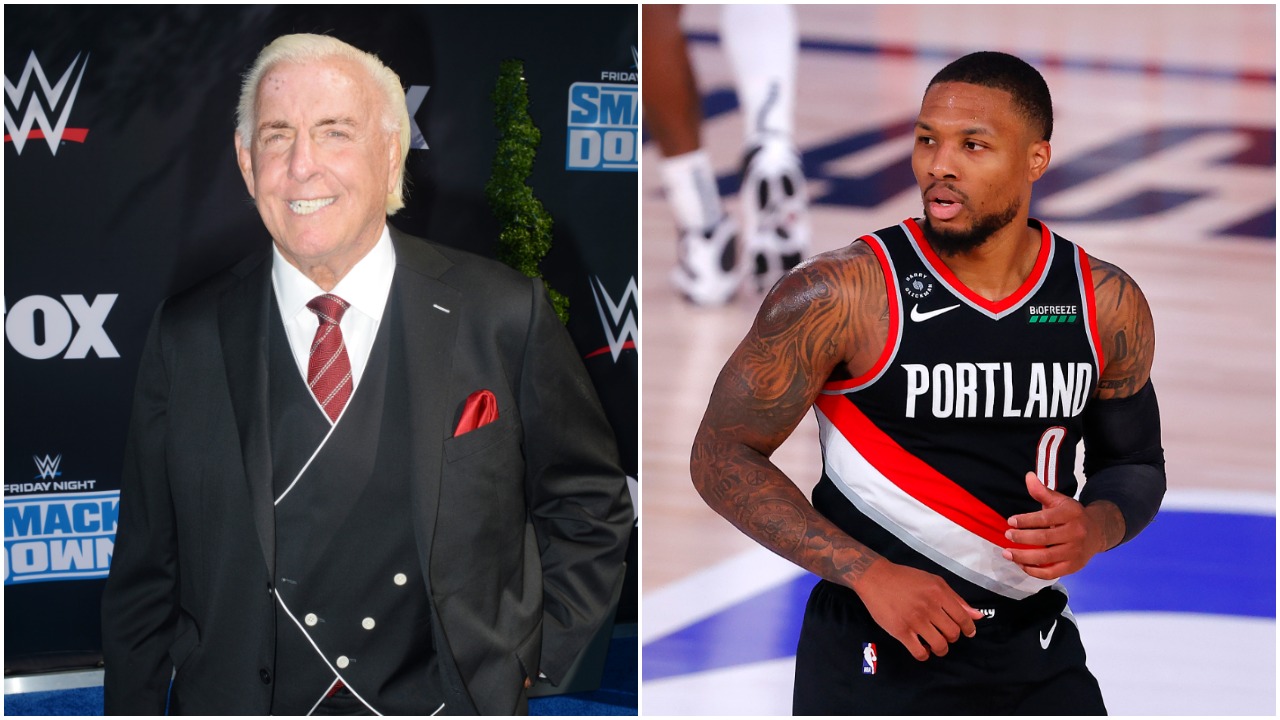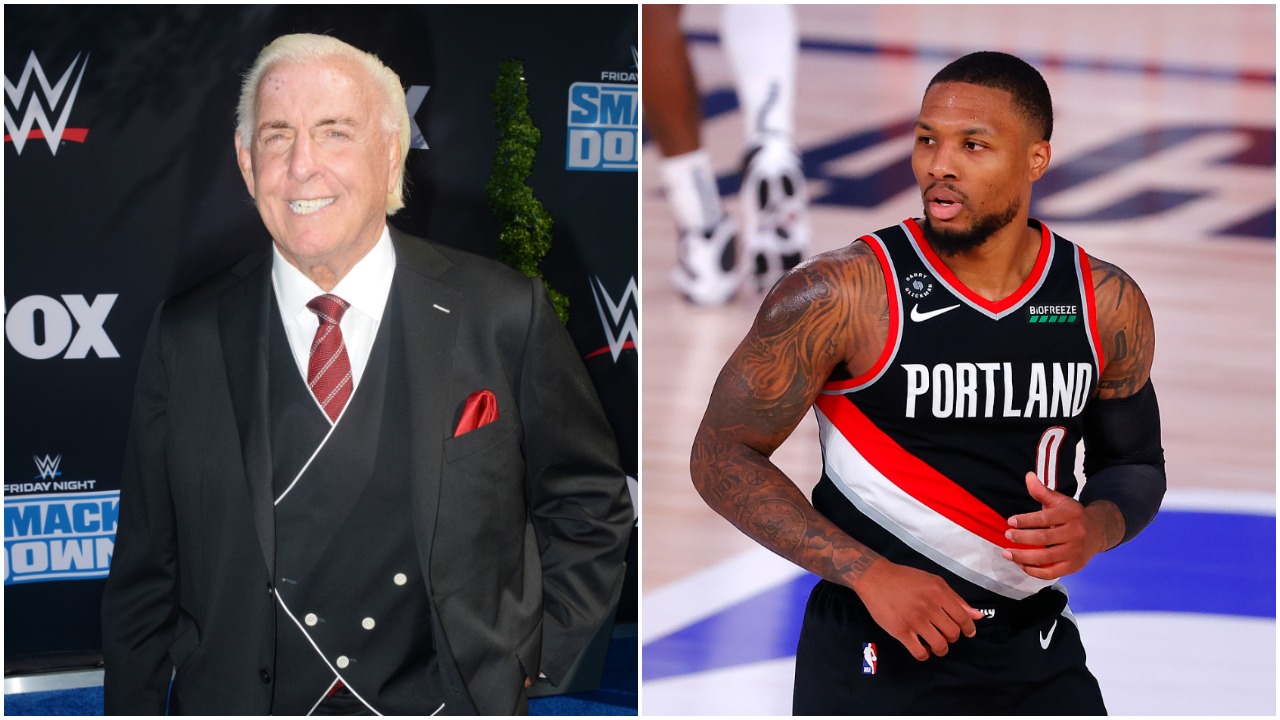 For those who know Ric Flair, you know that one of his trademarks was wearing flashy robes to the ring, a practice that's being continued by his daughter, Charlotte Flair, in WWE today. Adidas and Damian Lillard also wanted to get in on the style and just recently dropped an edition of the Dame 7 inspired by those flashy robes. Here's how the new sneaker is described on Adidas' official website.
"The Dame 7 x Ric Flair channels the Nature Boy's spectacular, limousine-ridin' energy with an all over white and gold print inspired by Flair's flashy ring entrance robes. WOOOOO!"

Adidas' description of the Damian Lillard-Ric Flair sneaker
Just fantastic. Flair posted pics of the new sneaker on Twitter and was clearly excited about the collaboration.
So which WWE superstar will Damian Lillard channel for the Dame 8?