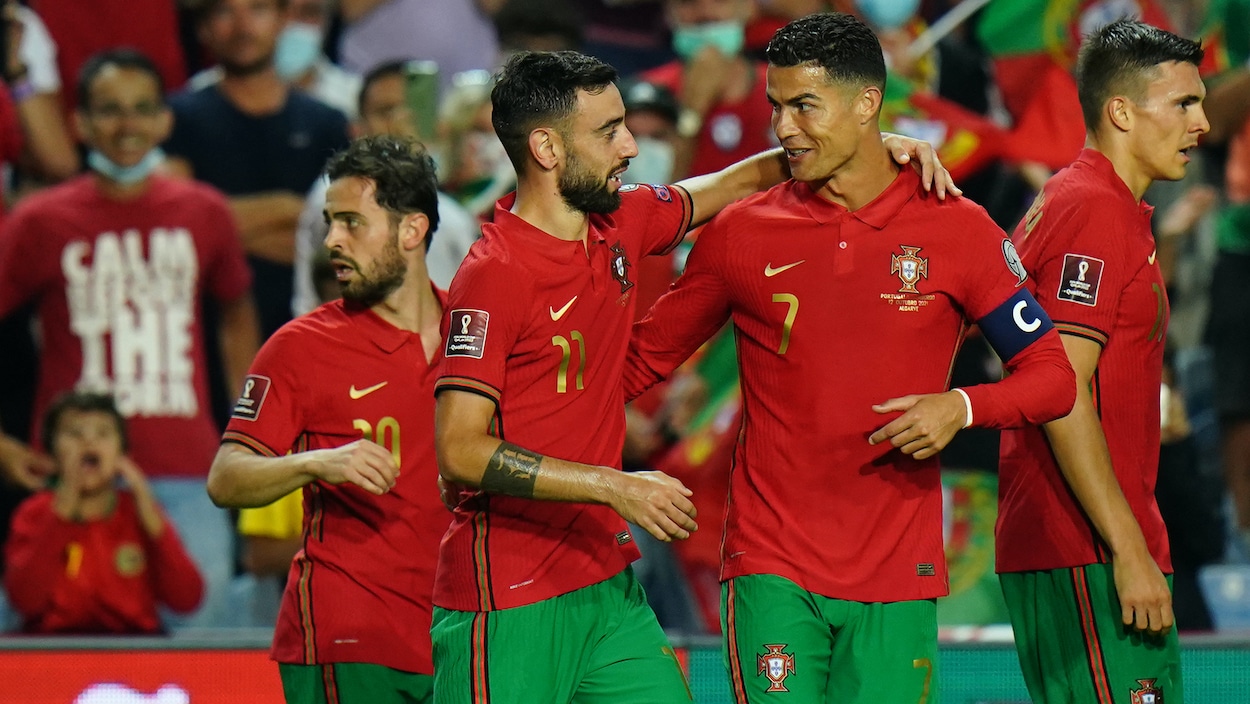 World Cup 2022: How Will Cristiano Ronaldo Go out for Portugal?
The Portugal World Cup 2022 experience will be interesting but ultimately all about the last ride for superstar Cristiano Ronaldo.
There is a lot to talk about with the Portugal team at World Cup 2022 in Qatar. However, the entire soccer universe will focus on Cristiano Ronaldo's last World Cup run. The global icon is on the outs with his club team, Manchester United, and it doesn't seem like many other teams around the globe are interested, so this tournament could be his last chance at glory. Players like Bernardo Silva, Bruno Fernandes, Joao Cancelo, and young goalkeeper Diogo Costa are all interesting players who will have a major effect on this World Cup but make no mistake, 2022 is all about Ronaldo.
Portugal's World Cup 2022 squad
Goalkeepers: Diogo Costa (Porto), Rui Patrício (Roma), Jose Sa (Wolves)
Defenders: Joao Cancelo (Manchester City), Diogo Dalot (Manchester United), Ruben Dias (Manchester City), Raphael Guerreiro (Borussia Dortmund), Pepe (Porto), Danilo Pereira (PSG), Nuno Mendes (PSG), Antonio Silva (Benfica)
Midfielders: William Carvalho (Real Betis), Bruno Fernandes (Manchester United), Joao Mario (Benfica), Ruben Neves (Wolves), Matheus Nunes (Wolves), Otavio (Porto), Joao Palhinha (Fulham), Bernardo Silva (Manchester City), Vitinha (PSG)
Forwards: Joao Felix (Atlético Madrid), Ricardo Horta (Braga), Rafael Leao (AC Milan), Goncalo Ramos (Benfica), Cristiano Ronaldo (Manchester United), Andre Silva (RB Leipzig)
Diogo Costa supplants Rui Patrício
Roma's Rui Patrício was Portugal's first-choice goalkeeper for the last two World Cups. That changed when manager Fernando Santos started 23-year-old Porto keeper Diogo Costa during high-leverage World Cup qualifying matches.
Those worked out well, and now Costa is the team's No. 1, the youngest regular No. 1 in the entire tournament. He is aggressive, has a big leg, and is a solid shot-stopper.
The biggest plus for Costa is that he is a penalty specialist. Porto opponents convert 57% of penalties vs. Costa, which is almost 20% lower than the sport's average conversion rate. So, if Portugal gets in a shootout during the knockout stage, Costa gives them a serious advantage.
Pepe, a Manchester City duo, and a decision to make 
The defensive meeting room for Portugal has a wide age range. From the 39-year-old Pepe to 19-year-old Antonio Silva, the backline of Portugal is a nice mix of youth and experience.
The unit is led by two Manchester City stars in their prime, though. CB Ruben Dias (25) will play next to the veteran Pepe, and RB Joao Cancelo (28) will play next to his Premier League teammate, leading the transition from defense to offense as arguably the best two-way full-back in the world right now.
The question is, who will start at LB on the other side of Pepe? The options are 28-year-old Borussia Dortmund full-back Raphaël Guerreiro or 20-year-old PSG LB Nuno Mendes. Raphaël is a more traditional, safer, defensive-minded LB, while Mendes is a dangerous offensive player going forward.
Both players will see action during World Cup 2022, and who plays will likely depend on the tactical needs of the team for a given opponent.
The Portuguese midfield is the strength of the World Cup 2022 squad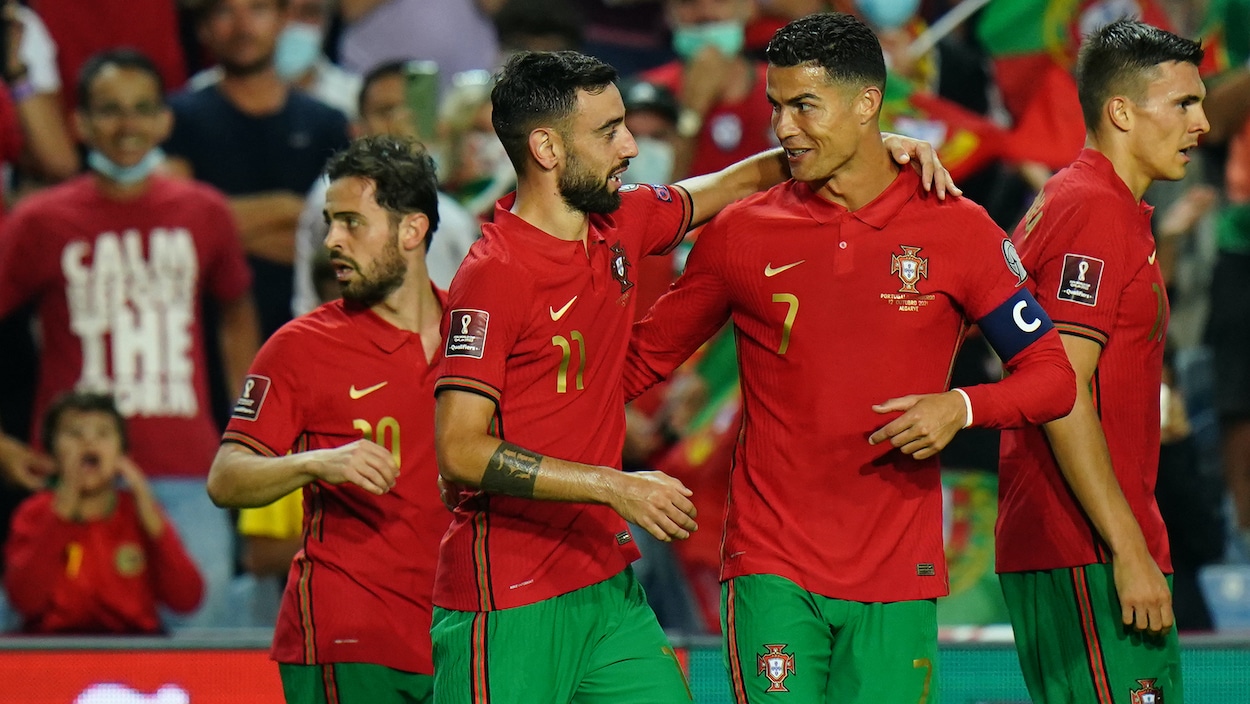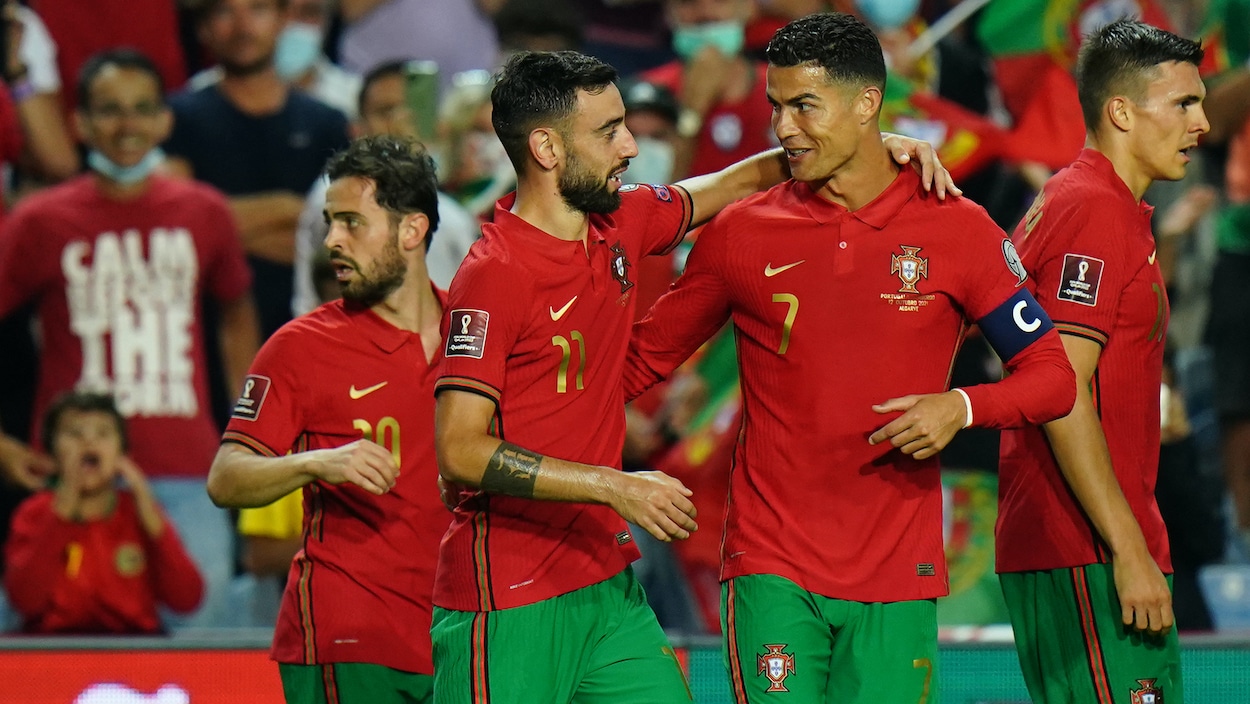 If Portugal goes far in World Cup 2022, it will be on the backs of the team's midfield. The players in the middle of the pitch for the Portuguese are the players who were the youngsters on the tea six years ago when they won Euro 2016.
Now squarely in their primes, players like Bernardo Silva, Bruno Fernandes, William Carvahlo, and Ruben Neves are as good as any midfield unit in the tournament and can control the game in the center of the pitch.
Whether the forwards can convert the chances, the Portugal midfield creates, or the defense can hold strong if they get caught out is still unknown. What is known, though, is that this group is the spine of Portugal and should dominate at times in this tournament.
Ronaldo will play whether it's best for Portugal or not
Cristiano Ronaldo is the story here, but let's talk about who else is upfront with him. On the right will be Bernardo Silva, playing a hybrid midfield/winger role as he does at Manchester City.
On the other side, Liverpool forward Diogo Jota is missing the tournament with an injury, which means promising youngsters Rafael Leao and Joao Felix will likely rotate on the left side. These two could be among the breakout stars of the tournament.
Behind Ronaldo is RB Leipzig striker Andre Silva, who is a solid, if unspectacular, point-man who might actually fit better than Ronaldo tactically with the dynamic Portugal midfield.
The issues with Ronaldo are that he isn't content to sit in the box and wait for chances. He goes and gets the ball when he wants it, throwing off the Portuguese shape. He also isn't a willing or able presser at 37, which hurts the team's ability to be aggressive and dominate the ball.
Under the right conditions, though, Ronaldo can still score goals in bunches, and that's what Portugal is hoping for in Qatar.
What will the Portugal lineup look like in Qatar?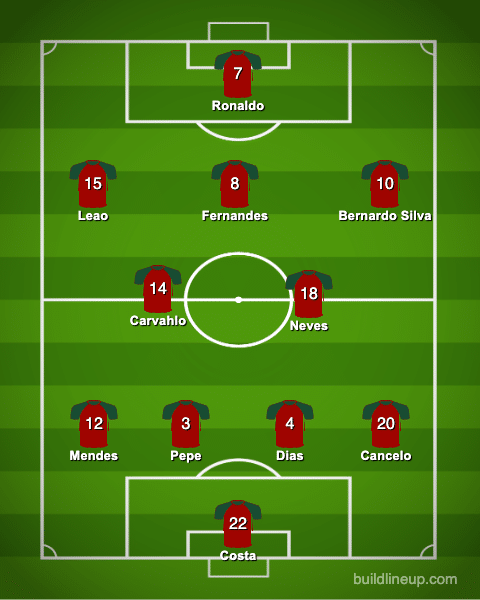 There's not a lot of intrigue as to who will be starting outside of left-back. It's how the team coalesces on the field that will be more interesting in World Cup 2022 for Portugal.
The primary question is at left-back, and against Ghana in the opener, Portugal will likely go with offense over defense and play Nuno Mendes there. Although, that will probably change against Uruguay, and Raphael will get some run.
After that, it's all chalk. Cristiano Ronald is upfront with Rafael Leao, Bernardo Silva on the right, Ruben Neves, William Carvahlo, and Bruno Fernandes in the center, with Joao Cancelo, Ruben Dias, and Pepe with the LB in front of Diogo Costa.