There Are 1,293 Golfers in the World Better Than Tiger Woods, at Least According to the OWGR
Tiger Woods is arguably the greatest golfer to ever walk this earth. If he's not No. 1, he's a clear No. 2.
But according to the Official World Golf Ranking, there are currently than 1,293 golfers in the world better than Tiger. That's right, after taking the last six months off, Woods has fallen to the lowest spot in the OWGR of his entire career. Thankfully, the 82-time PGA Tour winner will be returning to the golf course this weekend for the Genesis Open at Riviera Country Club, and he'll have the chance to prove he's better than William Nygard, Ranjit Singh, and hundreds of golfers down in the depths of the OWGR.
You won't believe how low Tiger Woods is ranked in the OWGR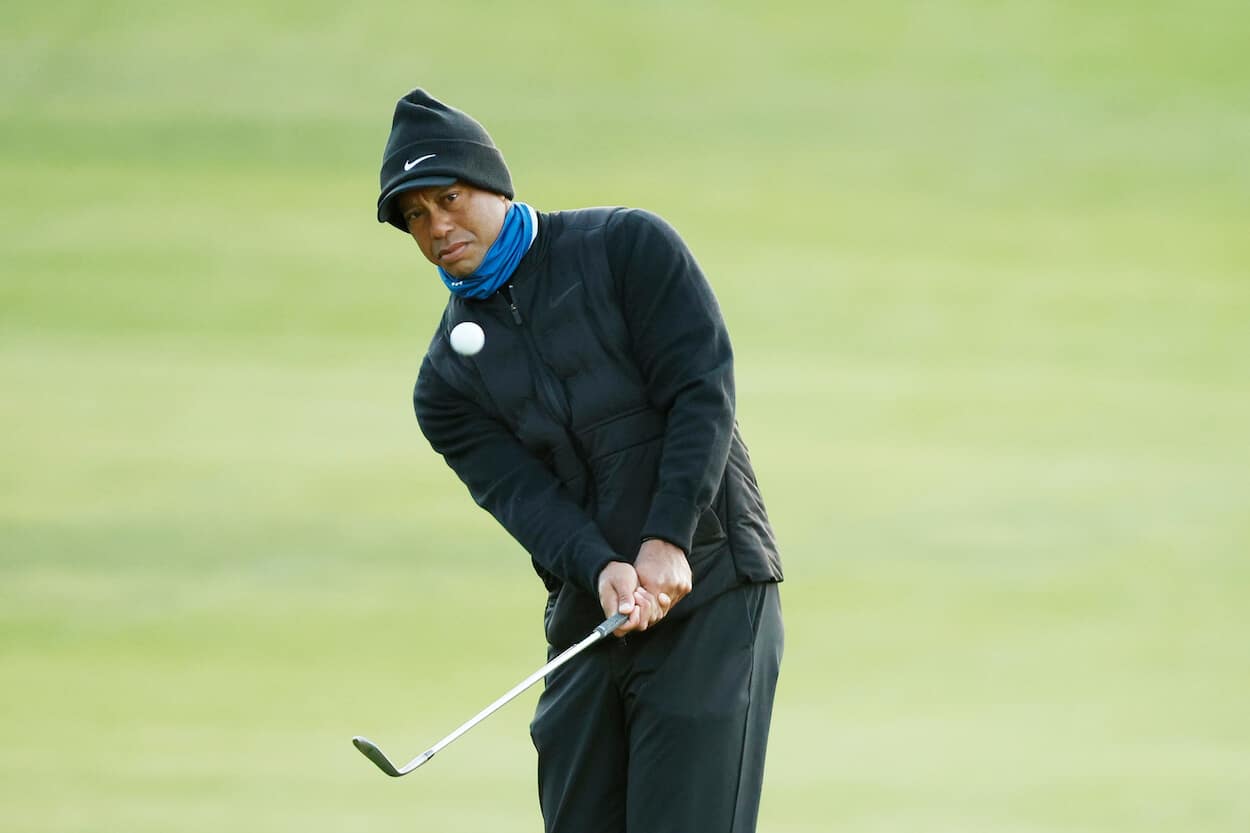 Most remember Woods as an unbeatable force in golf throughout his prime years. In the 2000s, the OWGR may as well have been called the "Chasing Tiger Rankings."
From 2005-2010, Woods was ranked No. 1 in the world for a record 281 consecutive weeks. He spent a total of 683 weeks — or 13 years — at the top of the OWGR, which is unfathomable considering the next-best mark is held by Greg Norman with 331 weeks at No. 1.
Those days are long gone, though. Woods has only played three PGA Tour events in the last 26 months. The thing about the OWGR is you have to play tournaments in order to rack up points, so Woods has been gradually slipping down the rankings for three years. As of February 2023, Tiger is ranked No. 1,294 in the OWGR, which is the lowest mark of his entire career.
Here are some players better than Tiger right now, according to the OWGR.
William Nygard -1,293
Ranjit Singh -1,292
Camilo Aguado – 1,291
David Kim – 1,290
Felix Jordansson – 1,289
Pattaraphol Khanthacha -1,288
Sam Bennett -1,287
Steven Brown – 1,286
Timo Vahlenkamp -1,285
Masayuki Yamashita -1,284
Aoki Takano -1,283
Brett Coletta – 1,282
Samuel Evans – 1,281
Chris Wood – 1,280
Tiger Woods returns to the PGA Tour at the Genesis Invitational
The last time we saw Tiger on the PGA Tour, tears were running down his face as he made what was likely his final competitive walk over the Swilcan Bridge at the Old Course at St. Andrews. That was back in July. After six months off, the Big Cat will return to competition this week.
Woods will make his season debut this week at the Genesis Invitational at Riviera Country Club. He doesn't have much of a chance to contend in the loaded field, but don't tell him that.
"I would not have put myself out here if I didn't think I could beat these guys and win the event. That's my mentality," Woods told reporters this week, per Yahoo Sports. "If I wasn't ready to win at this level — I am very rusty, but I've come off a rusty situation before and I've done well."
Whether he contends or not, we're just excited to see the World No. 1,294 back on the course again. Enjoy it while you still can.