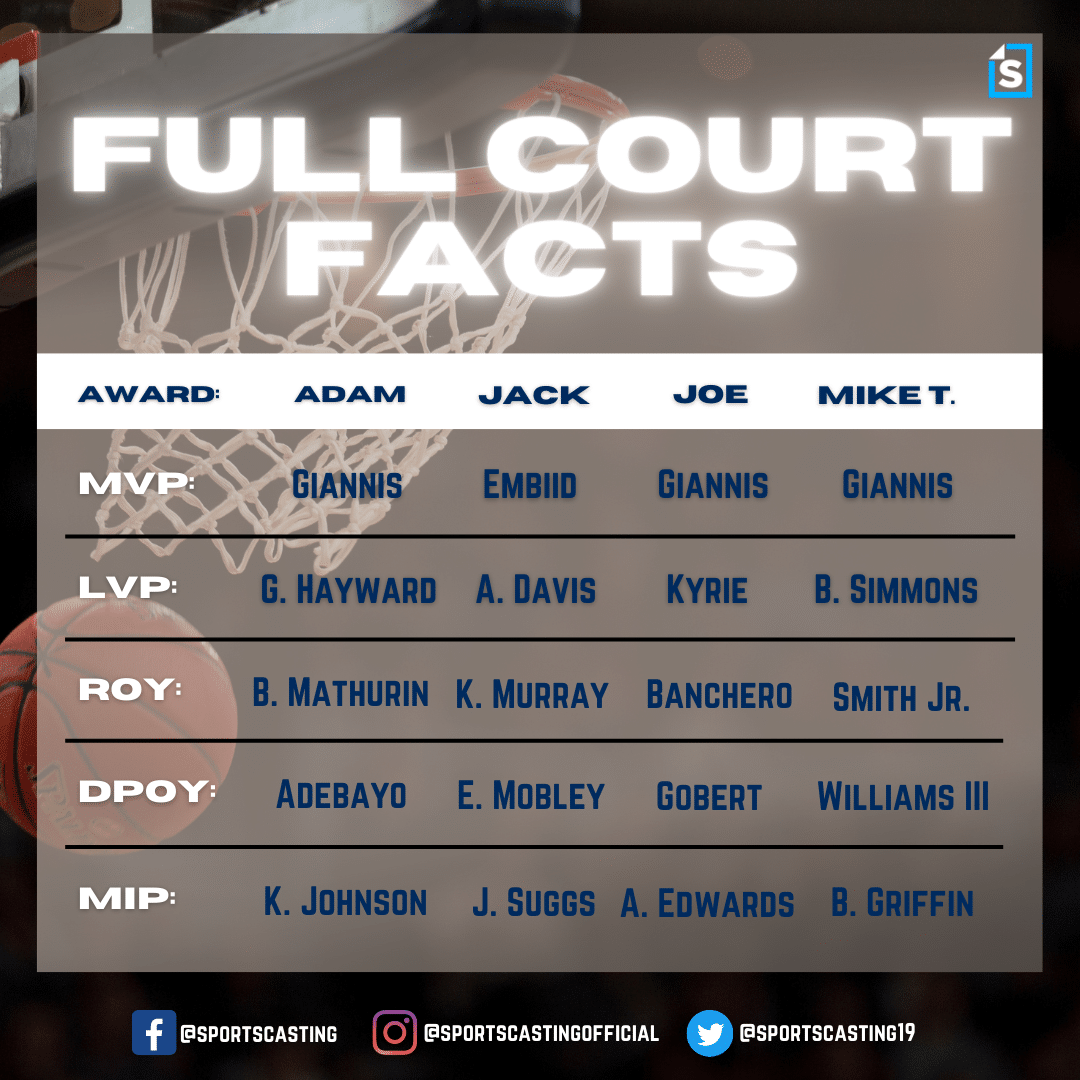 2022-23 NBA Awards Picks: Giannis Antetokounmpo Emerges as Early-Season MVP Favorite and Much More
Predicting which players will win the major awards at the end of the 2022-23 NBA season.
At long last, the 2022-23 NBA season is finally upon us. We can't wait to get the new season started here at Sportscasting, so our panel of four NBA experts will be providing their picks for league MVP, league LVP, Rookie of the Year, Defensive Player of the Year, and Most Improved Player on an updated basis throughout the year. Check back in every month to see how our predictions change (or stay the same) as the season progresses and we learn more about every team.
But first, here are Sportscasting's preseason NBA awards picks for the 2022-23 NBA season.
Sportscasting's NBA awards picks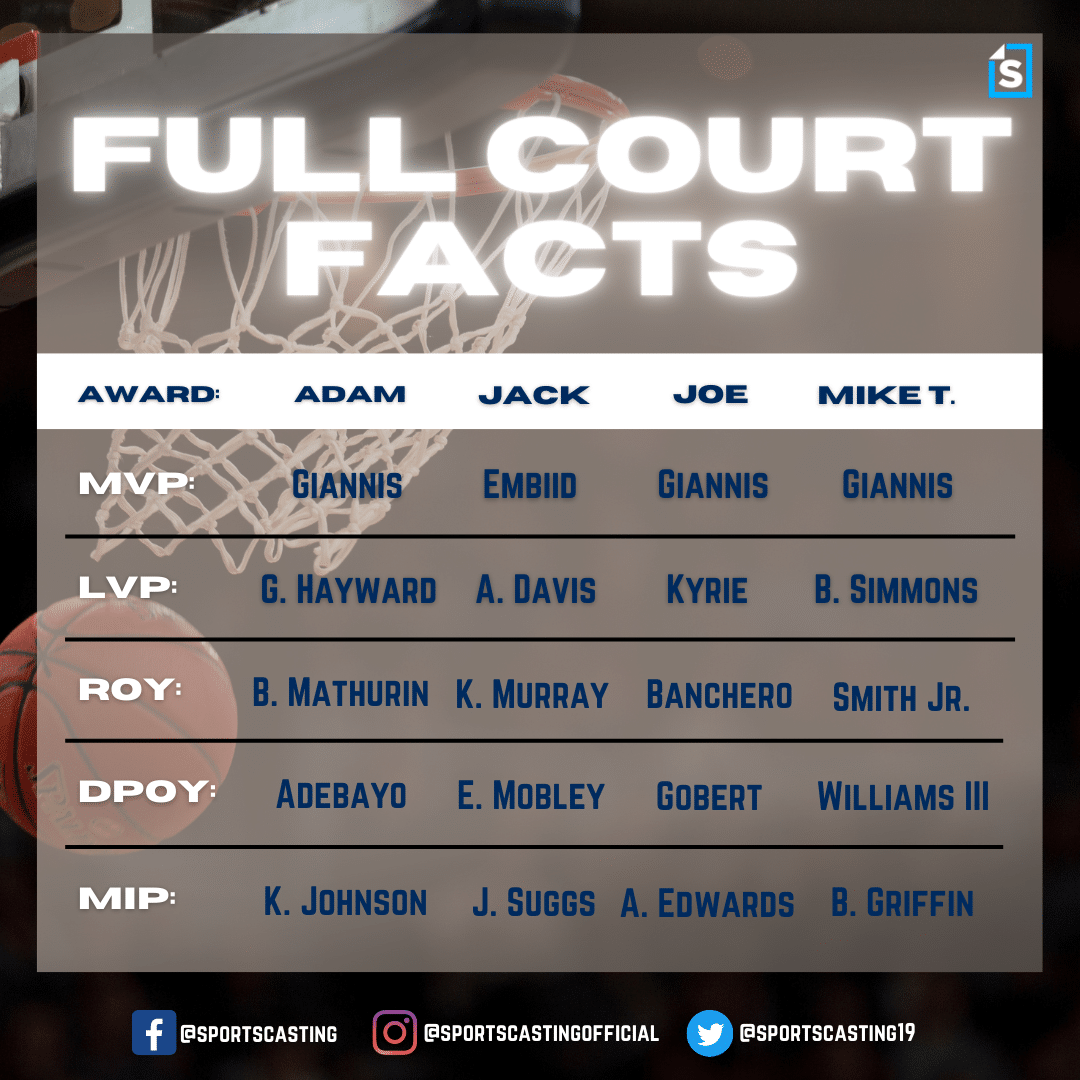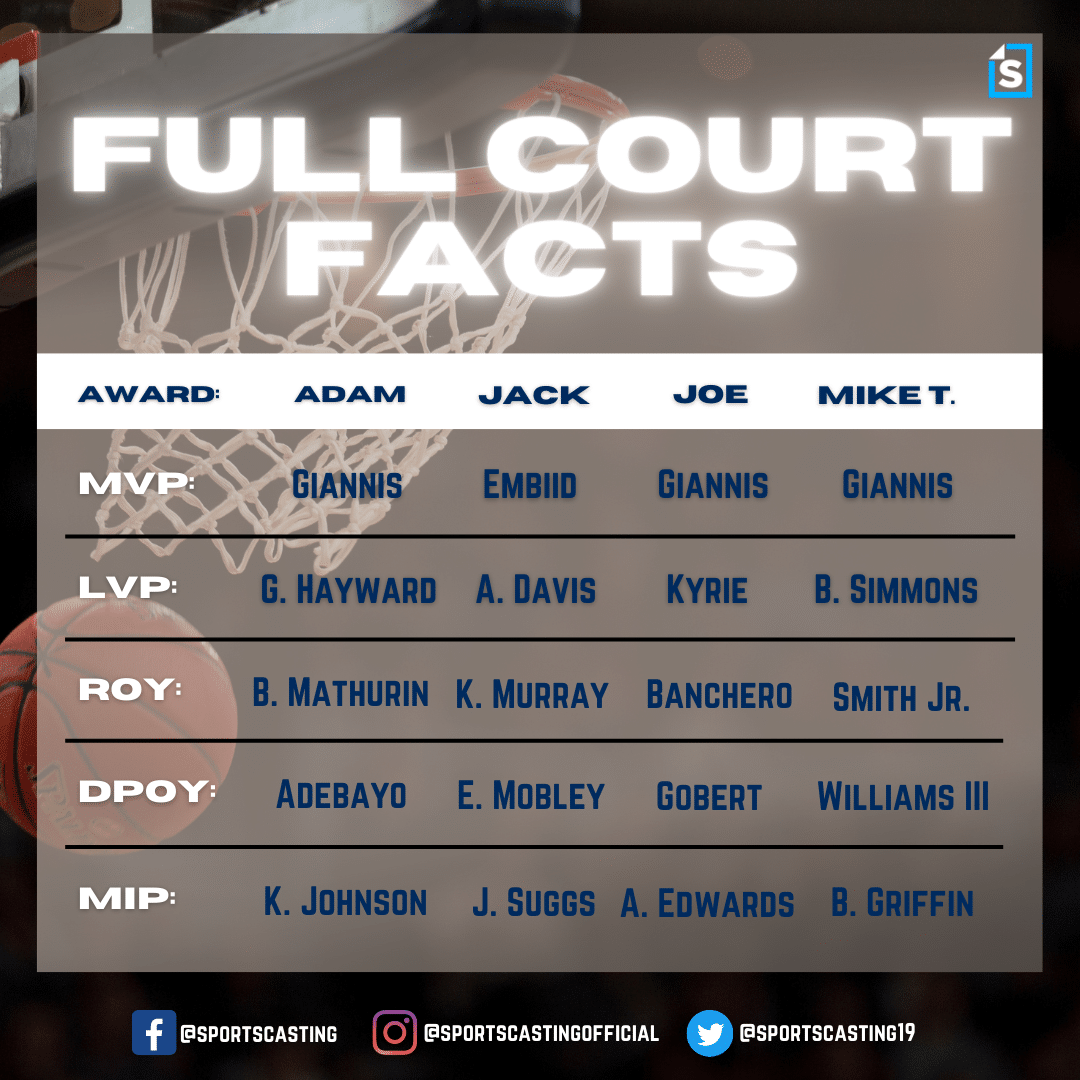 MVP
Adam Fromal: Giannis Antetokoumpo
What do you get when you blend together the best player in the NBA with a driven, motivated 27-year-old who's ready to earn back the top level of respect after a year sans championship or individual hardware? It's a trick question because both descriptors apply to Giannis Antetokounmpo, whose all-around skill set should help him lead the Milwaukee Bucks through a difficult Eastern Conference slate en route to another dalliance with the Maurice Podoloff Trophy.
Jack Dougherty: Joel Embiid
This has to be the year, right? After two straight seasons of finishing second in the MVP race to Nikola Jokic, Embiid is primed to make a leap in 2023 and secure the long-awaited trophy he deserves. This will be the best Sixers team of Embiid's career, but the offense will still operate through the big man night in and night out. If Embiid leads the NBA in scoring again and powers the 76ers to a top-two seed in the East, the voters will have no choice but to finally award him the MVP.
Mike Thomas: Giannis Antetokoumpo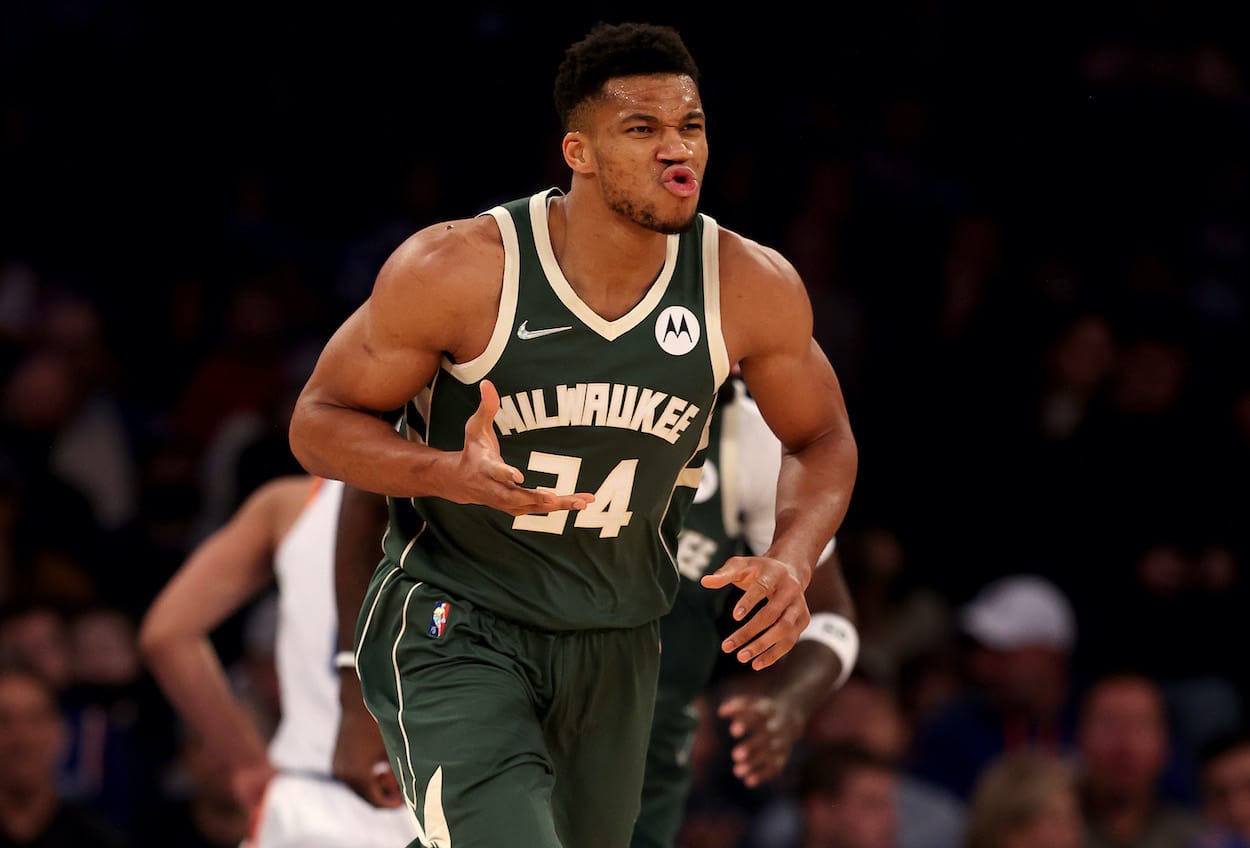 He's flat-out the best player in the NBA and will prove it once again. He showed what he can do in the playoffs without his co-star Khris Middleton. With all the attention on him in the postseason, he still dominated. Middleton is back, and Giannis will have less pressure on him to do it all.
Joe Kozlowski: Giannis Antetokoumpo
While I actually think Joel Embiid has a really good chance to take this one, I'll leave that to Jack (at least for now). Instead, I'll focus on raw talent. Giannis is capable of doing virtually everything on the court, and the Bucks will go as far as he takes them. There are different ways to define "value," but I'd argue the Greek Freak checks all the boxes. He has the stats, his team wins, and Milwaukee would fall off the metaphorical map without him playing.
LVP
Adam Fromal: Gordon Hayward
It's not that Gordon Hayward is a bad player. He's not. (He does, however, have a questionable haircut to start the season.) It's that he's making $30.1 million for a Charlotte Hornets team fast-tracked to nowhere after a nightmare offseason filled with off-court issues and a lack of discernible improvement. Hayward played decent basketball last year, but decent ain't enough for a team projected by FiveThirtyEight — somewhat optimistically, I should add — to finish at .500.
Jack Dougherty: Anthony Davis
We all know how dominant Anthony Davis can be on both sides of the court when he's healthy, but that's become much more of an if than a when in recent years. AD has missed 78 combined games over the last two regular seasons, and his numbers have been down across the board even when he has seen the court. Unsurprisingly, the soon-to-be-30-year-old is already dealing with back soreness that held him out of LA's preseason finale. This is simply the new norm for Davis, and the Lakers will struggle to make the playoffs once again because of it.
Mike Thomas: Ben Simmons
I just have zero hope this guy will get his act together on the court. He's expected to help take some pressure off Kyrie Irving and Kevin Durant this season, but he'll be more of a distraction than an asset.
Joe Kozlowski: Kyrie Irving
Kyrie tests the limit of my Duke bias. While I'm sure he'll post strong numbers, I just don't have confidence that the controversial guard will be able to last the entire season without making things more complicated for himself and the Nets. Like it or not, Brooklyn is in championship or bust mode; I don't trust they'll make it over the hump, so, through that lens, Irving is more of a disaster waiting to happen than an asset.
Rookie of the Year
Adam Fromal: Bennedict Mathurin
Rookie of the Year isn't just about being the "best" first-year player. It's about accumulating massive counting stats and breaking into the national consciousness, and that requires opportunity. Talented as Paolo Banchero, Jabari Smith Jr., Keegan Murray, and the other top picks of the 2022 NBA Draft may be, no player has a better chance to excel from day one than Bennedict Mathurin, who should capitalize on the Indiana Pacers' ineptness/Victor Wembanyama-related drooling and put up more 20-plus-point games than any other rookie.
Jack Dougherty: Keegan Murray
Volume, volume, volume. Keegan Murray should see a ton of it in his first season with the Sacramento Kings. The No. 4 overall pick flashed in two preseason games with 32 points on 12-of-17 shooting and 7-of-10 from three. Murray should be an everyday starter and stat-stuffer for this below-average Kings team, and the Rookie of the Year award is more about individual statistics than team performance, anyway.
Mike Thomas: Jabari Smith Jr.
He's been hobbled lately by an ankle injury that isn't expected to keep him out of the season opener. In Houston's preseason opener, he showed what he can bring to the table, racking up 21 points and eight rebounds in 25 minutes. The 6-foot-10 forward is a strong two-way player, who can also light it up from three-point land. He went 5-for-8 from long range in his first pro game.
Joe Kozlowski: Paolo Banchero
I'm biased as a Duke fan, but I'm all-in on Paolo Banchero. We saw his shooting – and confidence to step into an in-rhythm jumper – toward the end of his college career, and I'm excited to see that translate to the pro level. He also has a bigger, stronger frame than you might think at first glance and has shown signs of being a sneakily good passer; imagine what he can do on a team where he's surrounded by exciting, young talent.
Defensive Player of the Year
Adam Fromal: Bam Adebayo
With Rudy Gobert learning a new scheme and Draymond Green, well, you know, the time is right for Bam Adebayo to assert himself as the next play-destroying force on the defensive end. His versatility makes everything easier for the Miami Heat as he can both shut down the interior and display the lateral quickness to stick with smaller players on the perimeter. This is the year Adebayo bets go Bam.
Jack Dougherty: Evan Mobley
As a rookie last season, Evan Mobley finished fifth in the NBA in blocks per game (1.7). I expect that number to jump above 2.0 with Donovan Mitchell now in town to lighten the load offensively and allow Mobley to focus more on protecting the paint. At 7-foot-0 tall with a 7-foot-4 wingspan and the ability to jump out of the gym, Mobley will be a defensive force in this league for the next decade.
Mike Thomas: Robert Williams III
This pick, like Williams, is a bit of a risk. He's expected to miss a month or two after knee surgery. When healthy, Williams is a game-changer, forcing opposing teams to alter their game plan. He's a ferocious shot-blocker and strong rebounder and will tighten up an already-strong Celtics defense if he can make his way back onto the court and stay there.
Joe Kozlowski: Rudy Gobert
I grew up loving dominant centers like Shaq and, after passing over Joel Embiid, I had to give the five spot some love. While you could make the case that other DPOY candidates are more versatile, I've got this as a "Don't overthink it" pick. When someone wins the title three out of the past five times, you give him the nod.
Most Improved Player
Adam Fromal: Keldon Johnson
Someone has to score for the San Antonio Spurs, and we might as well make "Someone" Keldon Johnson's middle name. Twenty pounds lighter and noticeably quicker during a dominant preseason, Johnson is ready to keep the upward trend going after improving his scoring average from 12.8 to 17.0 points per game last season. He's an increasingly capable marksman from beyond the arc, thrives attacking the basket, and is ready to play his natural wing position with full confidence from head coach Gregg Popovich. Keep your eye on him early in the season … and in the middle and latter portions of it.
Jack Dougherty: Jalen Suggs
I was high on Jalen Suggs coming out of Gonzaga, but he struggled on the offensive end throughout his rookie year. The Orlando Magic guard played in just 48 games and shot 36.1% from the field and 21.4% from three. He's a prime candidate to break out in what should be a healthier Year 2.
Mike Thomas: Blake Griffin
We've seen good Blake Griffin and we've seen bad Blake Griffin. Bad Blake struggled mainly because he wasn't getting much of a chance. He played a total of 82 regular-season games in his two seasons with the Brooklyn Nets. With Robert Williams III out early, Griffin will get an opportunity with the championship-hungry Celtics. Griffin finds new life in Boston and makes a difference.
Joe Kozlowski: Anthony Edwards
Most Improved Player can be tricky – At the risk of going galaxy brain, how much can you really improve when you were already supposed to be a star? – I feel comfortable starting the year with Anthony Edwards. He took a step forward last season, especially in the postseason, and I'm willing to bet that continues. Could the presence of Karl-Anthony Towns make things a bit more complicated? Sure, but what better way to prove your stardom than taking over the team and making it your own?
Have thoughts on this topic? Keep the conversation rolling in our comments section below.