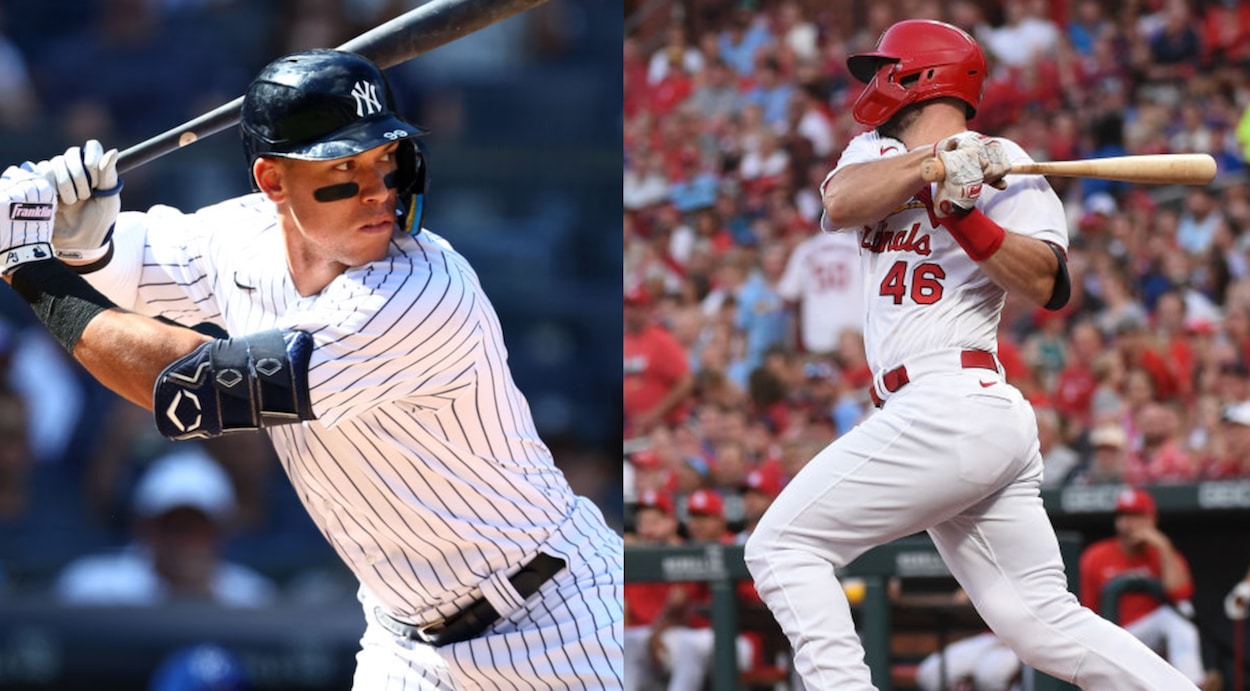 2022 MLB MVP Rankings: Aaron Judge and Paul Goldschmidt Just Keep Mashing Amid Star-Studded Field
Now that we've entered the dog days of summer, let's break down the top candidates for AL and NL MVP honors.
The 2022 MLB regular season has officially entered the dog days of summer. The All-Star Game has come and gone, while another frantic trade deadline has passed. Now, all that's left are teams and players preparing for the stretch run with the playoffs on the horizon. 
This is also a time for players who enjoyed a hot start to continue cementing their case to be considered for individual accolades in the offseason. But where do they currently stand with about two months of games left to play? We'll be doing a power ranking for both American League and National League MVP races below, detailing who we think are among the top three right now, along with a couple of honorable mentions. 
American League MVP power rankings
Honorable Mentions: José Ramírez and Rafael Devers
There are just a few constants in this life: death, taxes, and José Ramírez lighting it up for the Cleveland Guardians. He's only needed 430 plate appearances to record his fifth season of 20-plus homers since 2017, and the infielder's 4.7 FanGraphs WAR (fWAR) is the seventh straight year it's been above 3.2. Ramírez had consecutive seasons of 6.0 fWAR from 2017-18, both of which included third-place finishes in AL MVP Award voting. After 6.7 fWAR in 2021, he's on his way to hitting that number again. Unfortunately for him, the AL MVP field is absolutely stacked with stiff competition. 
Meanwhile, Rafael Devers still hasn't turned 26 years old yet, and he's on his way to securing the third season of 30-plus homers in his career. He's slashing .326/.380/.612 through 384 plate appearances, all of which are on track to be career-high marks. The 4.7 fWAR he's accrued during this time (in just 88 games played) has already surpassed what he did in 156 games in 2021 (4.3 fWAR). 
3. Yordan Álvarez
We know Yordan Álvarez is not only one of the game's premier sluggers, but his career production to this point also has him on an impressive path. If you want to get an idea of exactly how tough it'll be for him to eventually crack the top two of our AL MVP power rankings moving forward, the following will help. 
Álvarez has already slugged 30 homers with 71 RBI in just 368 plate appearances. He's slashing .307/.413/.663, and his 199 Weighted Runs Created Plus (wRC+) is the best in baseball. That's incredible, and for him to even be in the MVP conversation moving forward, that's a pace he'll need to keep up over the final two months. 
Outside of a slow start at the beginning of August (57 wRC+ in eight plate appearances so far), that doesn't seem like it'll be a problem. Here's what the left-handed slugger's monthly wRC+ numbers have looked like from April through July:
April: 179
May: 152
June: 274
July: 209
2. Shohei Ohtani
Shohei Ohtani is a human cheat code, folks. It's a shame the Los Angeles Angels have no idea how to take of advantage having both him and Mike Trout on the same roster. Since he's proven to be both an elite starting pitcher and hitter, Ohtani only must stay healthy over a full season to remain a serious MVP contender. The two-way star has done just that while attempting to win this honor for a second consecutive year. 
His power at the plate has taken a slight dip, which is evidenced by his Isolated Power currently sitting at .239 (it was .335 last year). Ohtani has still slugged 22 homers while stealing 11 bases, which has helped him produce a 135 wRC+ and 2.1 fWAR as a position player. 
Although his offensive numbers have taken a small step back, he's more than making up for it on the mound. The right-hander posted a 3.0 fWAR in 130.1 innings last season. Through 99.1 innings in 2022, he's already surpassed that number (3.3). His ERA has significantly improved (3.18 to 2.81), and the same can be said about his strikeout rate (29.3% to 36.4%) and walk rate (8.3% to 5.8%). 
1. Aaron Judge
What's the key to overtaking Ohtani in any MVP race? Clearly, the recipe for Aaron Judge is to hit as many home runs as humanly possible. That strategy is working out so far. 
As he prepares to enter free agency and get paid handsomely, Judge leads the league in home runs (43) and RBI (93). His 6.7 fWAR is also easily leading the Junior Circuit, with Álvarez checking in a distant second right now with a 5.0 fWAR. 
May, June, and July were particularly ridiculous for Judge, and it'll be the basis of his MVP case. After hitting six dingers in April, he followed it up with 12 in May, 11 more in June, and 13 in July. 
Do you know how many hitters have produced three straight months of 11-plus homers in a season? As Jim Passon noted on Twitter, Judge became the seventh player to do it, joining Babe Ruth (twice), Jimmie Foxx, Roger Maris, Mark McGwire, Barry Bonds, and Jose Bautista. That's an exclusive club. 
National League MVP power rankings
Honorable Mentions: Freddie Freeman and Nolan Arenado
It's been a weird few months for Freddie Freeman after finally capturing his first World Series title last October. Outside of feeling emotional about not returning to Atlanta via free agency and firing his agent, he's found a way to keep producing at an elite rate on offense. Entering action on August 3rd, Freeman's 5.0 fWAR is tied with old teammate Dansby Swanson for the NL's third-best mark among qualified hitters. 
Would you like to venture a guess at who has produced the most fWAR in the National League right now? That'd be St. Louis Cardinals third baseman, Nolan Arenado. Between yet another year of 20-plus homers, a 150 wRC+, and his typically stellar defense at the hot corner, he's a stat-accumulating machine. That fWAR number has already surpassed what he accomplished in 157 games played for St. Louis last year, too (4.1). 
3. Manny Machado
The San Diego Padres were just a *little* busy during the MLB Trade Deadline. So much so that their World Series odds took a huge jump.
Acquiring Juan Soto – and just about every other huge trade target – will do that. With the reinforcements that general manager A.J. Preller brought in, and Fernando Tatís Jr. returning from injury at some point, Manny Machado will have ample lineup protection around him. 
With a 142 wRC+ and 4.6 fWAR through 407 plate appearances, Machado is on track to have his best offensive performance since 2018 when he split time with the Baltimore Orioles and Los Angeles Dodgers. Through 709 plate appearances that season, the infielder accumulated a career-high 7.0 fWAR with a 141 wRC+. 
He'll need to pick things up if he wants to stay in the top three, though. A scorching-hot start to the season is the reason why he's still here. But with each passing month, his wRC+ and OPS have consistently decreased: 
April: 199 wRC+, 1.067 OPS
May: 156, .918
June: 132, .840
July: 98, .694
August (so far): 30, .486
His best chance to break this trend is right now with guys like Soto, Josh Bell, and Brandon Drury there to take the pressure off him on offense. 
2. Austin Riley
The Atlanta Braves just committed 10 years and $212 million to Austin Riley, and for good reason – the guy is a great baseball player. For an organization that had stability at the hot corner for many years with Chipper Jones, it appears Atlanta has found that again in Riley.
Since debuting in 2019, his year-long wRC+ has increased with each passing season, going from 85 in 2019 to 88 in 2020 and then jumping up to 135 last season. It's currently at 162, with his 4.6 fWAR on the verge of becoming a new single-season career-high mark. Riley is also on the cusp of surpassing his personal-best mark for homers in a season. After hitting 33 in 2021, he's already at 29 in 221 fewer plate appearances. 
Riley's power numbers were consistent between April and June, hitting six dingers in each month. It was what he did in July that not only got him a well-deserved All-Star Game selection but also a spot near the top of our power rankings. Through 104 plate appearances last month, the third baseman slugged 11 homers with 25 RBI and 21 runs scored, along with slashing .423/.459/.885 while posting a ridiculous 267 wRC+ in the process. 
1. Paul Goldschmidt
Whenever I'm asked who some of the most underrated MLB players are in today's game, one of the first names that come to mind is always Paul Goldschmidt. He's just an unassuming dude who mashes the ball at the plate and vacuums anything up that comes near him at first base. His 5.1 fWAR entering action on August 3rd is second in the NL behind Arenado, but Goldy's 188 wRC+ easily leads the National League. 
And because that's not enough, Goldschmidt also leads qualified NL hitters in batting average (.332), on-base percentage (.412), and slugging percentage (.611). He's added 25 home runs, 81 RBI, and 70 runs scored to these ridiculous numbers. It's amazing he's there after seeing his numbers at the end of April. Through his first 88 plate appearances, the right-handed hitter had just one homer, 10 RBI, and 11 runs scored. That's one heckuva pace since the start of May. 
Goldschmidt has had many close calls with winning an MVP Award, but he's never come out on top. He's finished within the top-10 five different times. Three of those were in the top three, and he's placed second on two occasions (2013 and 2015). With two months to go in the regular season, it feels as if the award that's eluded him for the past decade is his to lose. 
All stats courtesy of Baseball-Reference and FanGraphs and are accurate as of 8/3/2022.