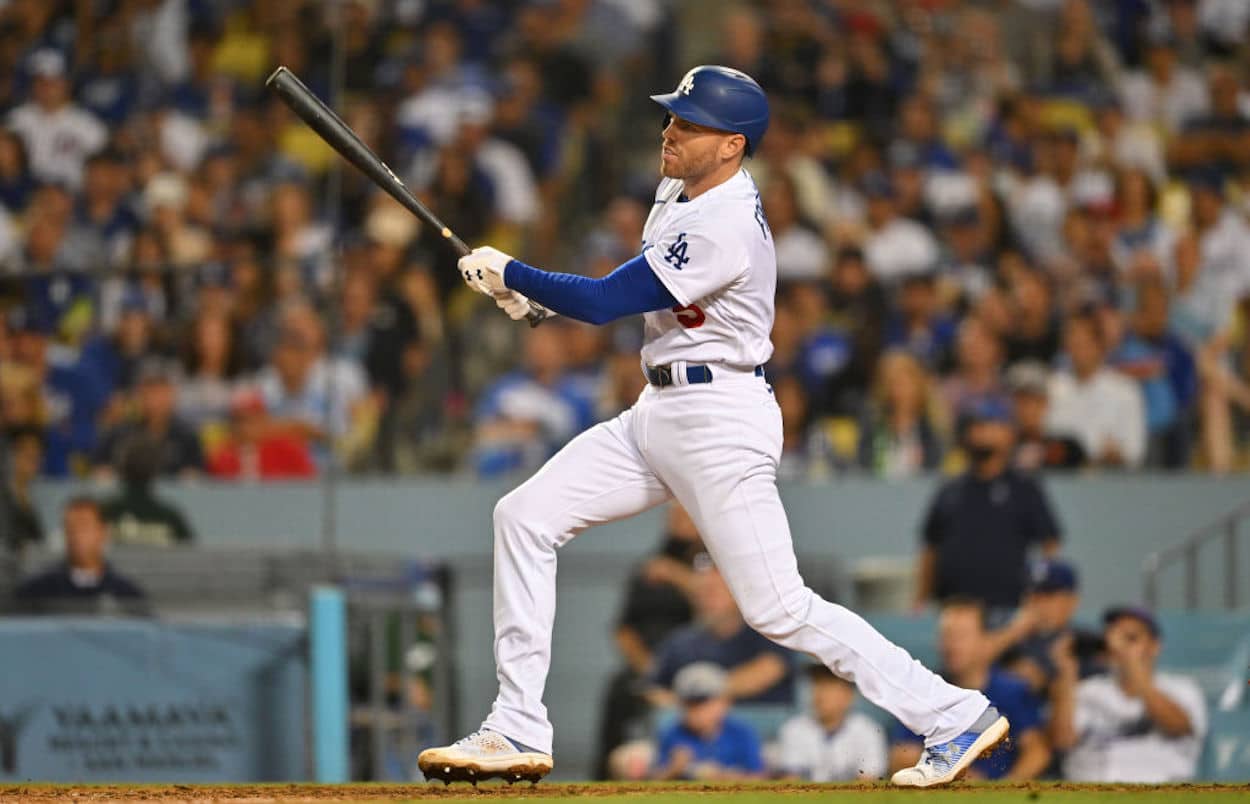 Freddie Freeman Fired His Agent and Then Began a Tremendous Hot Streak
Ever since parting ways with his agent, LA Dodgers star Freddie Freeman has been on an impressive hot streak.
Freddie Freeman's first season with the Los Angeles Dodgers is just over halfway done, and it's gone pretty much as expected. The club is among the National League's heavyweights as the regular season continues creeping toward the playoffs, and LA's new first baseman has contributed in all facets of the game. 
He's contributed so much, in fact, that the 2020 NL MVP Award winner earned his sixth career All-Star Game selection. Judging by his track record, Freeman will likely rack up at least a few more All-Star campaigns during the life of his current contract, which runs through 2027. 
Another thing that's true about the left-handed hitting first baseman is that his trip to free agency last winter wasn't at all what he was hoping for and/or initially thinking it'd be. 
Freddie Freeman's free agency and the eventual fallout 
Freeman was drafted by Atlanta in the second round of the 2007 MLB Draft and made his big-league debut three years later in 2010 as a 20-year-old. He crossed paths with Hall of Famer Chipper Jones, and once the third baseman hung up his spikes, it felt like Freeman was next in line to be the face of the franchise. 
That's exactly what he was for the majority of his 12-year tenure with the Braves. He signed a $100-plus million extension and racked up All-Star Game selections, Silver Slugger Awards, a Gold Glove, an NL MVP Award, and most importantly, a World Series title. On the emotional side of things, it was easy to see what Freeman meant to this franchise – on the field, in the clubhouse, and with the fan base. 
So, even though there were some sticking points with both sides during Freeman's trip to free agency, it was weird to think of him playing anywhere except Atlanta. A deal couldn't be reached before the lockout went into effect, leaving the face of their franchise in limbo for months. 
And before he even signed elsewhere, the Braves moved on by trading for Matt Olson and giving him an eight-year, $168 million extension, which, as The Athletic noted, "blindsided" Freeman. Those feelings bubbled up again when the Dodgers made a trip to Truist Park for the first time toward the end of June. 
Freeman was clearly in his feelings all weekend. While it could've been coming for a while, the first baseman fired his representation just days after Los Angeles' trip to Atlanta, sparking plenty of rumors and theories on social media. One perpetuated by Doug Gottlieb of FOX Sports was that Freeman was never told about Atlanta's final offer by agent Casey Close, which the agent has since disputed vehemently (h/t Sporting News).
The first baseman has ironically been on fire ever since…the firing of his agent
News of Freeman firing his representation at Excel Sports broke on June 28th. Prior to that day, he was having himself a solid start to his Dodgers career. Through 325 plate appearances, he owned a .304/.388/.488 line with eight home runs, 46 RBI, and 47 runs scored. This also included an 11.4% walk rate, a 17.5% strikeout rate, and a 147 Weighted Runs Created Plus (wRC+). 
Even though his power numbers were down a smidge, anyone would take this for a first impression at the start of a six-year contract. But then Freeman fired his agent, and he's been on a whole other level ever since.
Through his most recent 133 plate appearances prior to action on August 2nd, the first baseman is slashing .388/.444/.672 with seven homers, 22 RBI, and 25 runs scored. His walk rate has dropped slightly to 9.8%, but his strikeout rate has improved dramatically, checking in at 8.3%. 
Oh, and his wRC+ went from that already well-above-average 147 mark all the way up to 207. 
What's been the biggest difference? There hasn't been a huge change in his batted-ball statistics between these two periods. Check out how certain numbers have progressed:
Line-drive rate: 28.1% to 30.6%
Ground-ball rate: 36.8% to 39.8%
Fly-ball rate: 35.1% to 29.6%
Soft-hit rate: 8.3% to 8.3%
Hard-hit rate: 35.1% to 39.3%
There also weren't huge changes in his plate-discipline numbers from before and after the firing, either. Could it just be that he's getting some more good fortune? That's possible. However, it's hard to deny how much his overall production has increased since cutting ties with Excel Sports and Casey Close. 
What does the future hold for Freeman and the Braves?
Could there be an eventual reunion between Freeman and the Braves before he retires? Olson is guaranteed to be in Atlanta until 2029 and could stay through 2030 if Atlanta picks up the $20 million club option that's available. But by this time, it'd be much easier for both to co-exist on the same roster. 
Freeman's deal with the Dodgers will take him through the 2027 campaign, meaning he'll hit the open market again prior to his age-38 season. Since there's a clear connection that'll never be broken between Freeman and the Braves (and especially the fan base), it certainly wouldn't be out of the realm of possibility for him to return to the organization for at least one more season in Atlanta. 
After all, that's exactly what Albert Pujols has done with the St. Louis Cardinals as he continues his own farewell tour. 
In an ideal world, Freeman would've been with the Braves for life. However, he didn't listen to Chipper Jones' warning, and now he's with the Dodgers. Even if it still feels weird, the first baseman's production makes it look as if he's completely comfortable in LA. That's good since he's not going anywhere in the foreseeable future, but maybe Freeman can eventually be back in Atlanta one final time down the road before riding off into the sunset. 
All stats courtesy of FanGraphs. All contract information courtesy of Spotrac.