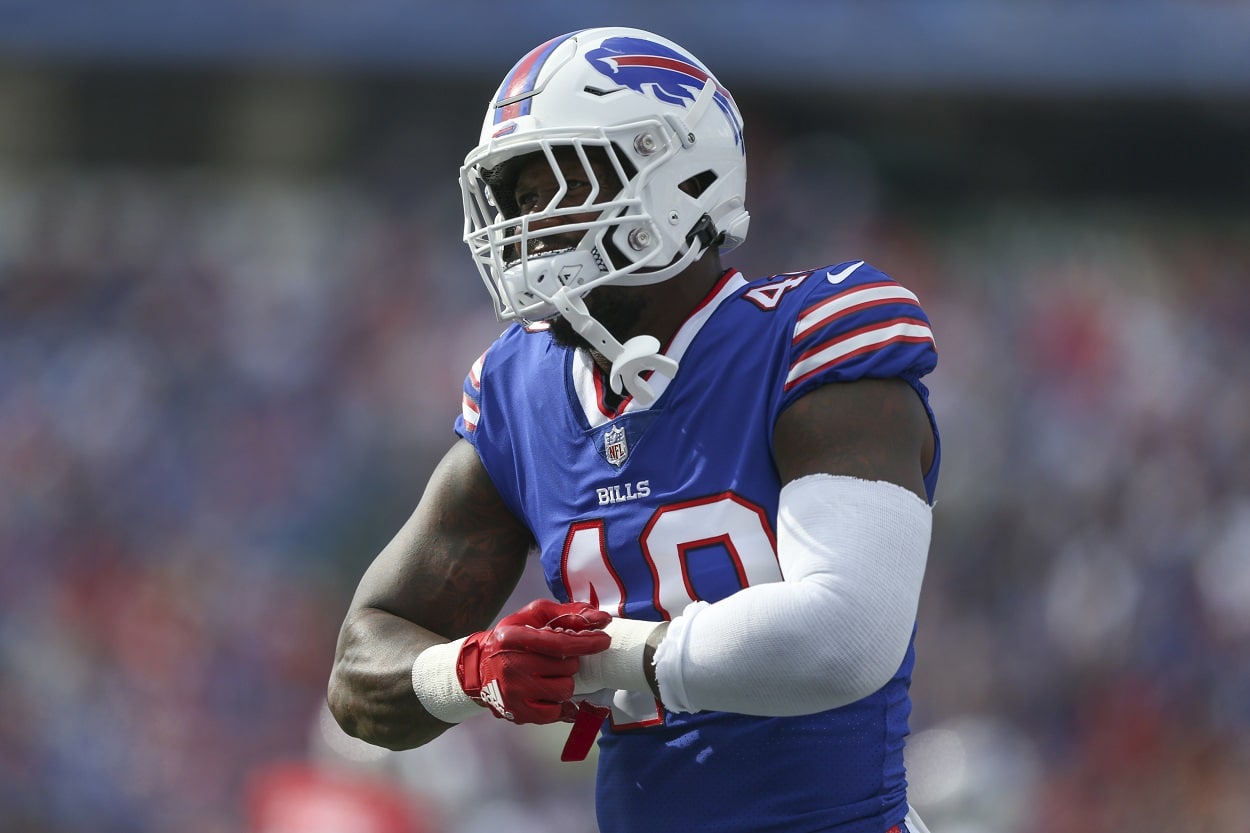 2022 NFL Predictions: 5 Free-Agent Additions Who Are Bound to Disappoint
A look at five free agents who are bound to disappoint with their new team in 2022.
Typically, the best NFL franchises utilize free agency to supplement largely homegrown rosters. After all, a strong draft-and-develop model allows you to have young, cheap talent coming through the pipeline on an annual basis. Still, signing veterans can be a viable solution to fill any gaps or potentially put a team over the top. 
However, as is the case with the draft, NFL free agency is an inexact science. For every success story–like the Cincinnati Bengals' decision to ink pass rusher Trey Hendrickson to a four-year, $60 million back in 2021–there are plenty of signings that simply haven't panned out. 
Looking at the 2022 free-agent class, who seems destined to deliver underwhelming results? Here are five players who face an uphill battle to justify their pricey contracts.
5. Christian Kirk, WR, Jacksonville Jaguars
Former team: Arizona Cardinals 
Contract: 4 years, $72 million ($37 million guaranteed at signing)
Through no fault of his own, Christian Kirk has tremendous pressure on his shoulders heading into what will undoubtedly be the most pivotal season of his career.
A second-round pick in 2018, the former Texas A&M standout enjoyed a breakout campaign in 2021, totaling personal bests in catches (77), receiving yards (982), and catch percentage (74.8).
However, considering he spent four years playing in the Arizona Cardinals' pass-happy offense, his career totals of 236 receptions for 2,902 yards and 17 touchdowns don't exactly jump off the page. 
Yet that didn't stop one of the NFL's worst-run franchises from making Kirk one of the highest-paid players at his position. Desperate to give 2021 No. 1 overall pick Trevor Lawrence a bonafide No. 1 receiver, the Jacksonville Jaguars shockingly signed the 25-year-old to a contract with an average annual value of $18 million.
Needless to say, the odds of Kirk providing the type of production that warrants such an expensive salary are low, given what we've seen across his first four NFL seasons. Oh, and the fact that he plays in Jacksonville, a team that's had one receiver reach 1,000 yards since 2016, doesn't help.
4. Foyesade Oluokun, LB, Jacksonville Jaguars
Former team: Atlanta Falcons
Contract: 3 years, $45 million ($28 million guaranteed at signing)
Shocker: The lowly Jaguars vastly overpaid for not just one but two free agents. Like his new teammate, Foyesade Oluokun entered the league in 2018, and just like Kirk, the linebacker landed an eye-popping raise by taking his talents to Jacksonville.
And as much as his league-leading 192 total tackles may look impressive on the surface, the fact remains that Oluokun simply doesn't bring enough to the table to justify a free-agent deal that puts him behind only Shaquille Leonard, Fred Warner, and C.J. Mosley in terms of AAV for inside linebackers. 
After serving as a part-time starter during his first two NFL seasons in Atlanta, the 6-foot-2, 215-pounder became an every-down player for the rebuilding Falcons. But between his struggles in coverage (he's allowed 100 receptions on 129 targets since 2020) and lackluster pass-rush stats (just five sacks and 18 quarterback hits for his career), Oluokun doesn't have any business making $15 million a year. 
For the Jaguars' sake, the former Falcon hopefully finds a way to make a more significant impact against the pass. Otherwise, they'll be locked into paying a run-stopper like he's a do-it-all linebacker.
3. Will Dissly, TE, Seattle Seahawks
Former team: Seattle Seahawks
Contract: 3 years, $24 million ($10.34 million guaranteed at signing)
Does anyone have any idea what the plan in Seattle is? During an offseason in which they traded their best player and unquestioned face of the franchise, the Seahawks' power tandem of Pete Carroll and John Schneider elected to keep one of Russell Wilson's little-used targets around for years to come.
Without even considering that Geno Smith will start at quarterback, the Will Dissly signing is doomed to disappoint. 
A fourth-round pick in Seattle's dreadful 2018 NFL Draft class, the 6-foot-4, 265-pound tight end has never played more than 58% of the offensive snaps in a single season.
While Dissly deserves credit for his 79.2% career reception rate, the fact he's garnered just 96 targets across four seasons doesn't exactly suggest he's viewed high on the pecking order. After totaling 45 catches for 482 yards and three touchdowns in his last 31 games, can the athletically limited tight end develop into a bigger threat as a pass catcher? 
Based on all the changes in Seattle and Dissly's production to this point, it's difficult to see him living up to his three-year, $24 million contract.
2. Randy Gregory, OLB, Denver Broncos
Former team: Dallas Cowboys
Contract: 5 years, $70 million ($28 million guaranteed at signing)
On paper, Randy Gregory boasts all the qualities teams look for in a dominant edge rusher. However, the 2015 second-round pick enters the 2022 season with a mere 16.5 sacks to his name.
Much of that has to do with off-field issues that prevented Gregory from suiting up in both 2017 and 2019. But, ultimately, his production doesn't match up with the lucrative contract he signed with the Denver Broncos. 
Finally a full-time starter for the first time in his career, the 6-foot-5, 255-pound pass rusher recorded six sacks and 17 quarterback hits for a Dallas Cowboys defense that finished seventh in points allowed. Those are solid numbers but certainly not what you'd expect from someone who's set to make an average of $14 million a year in Denver.
With his 30th birthday rapidly approaching, will Gregory defy Father Time and deliver double-digit sacks as he enters his third decade of life? 
Stranger things have happened in the league. Yet it's hard to imagine the former collegiate star turning into a Pro Bowl-caliber player in the eighth year of his NFL career.
1. Von Miller, OLB, Buffalo Bills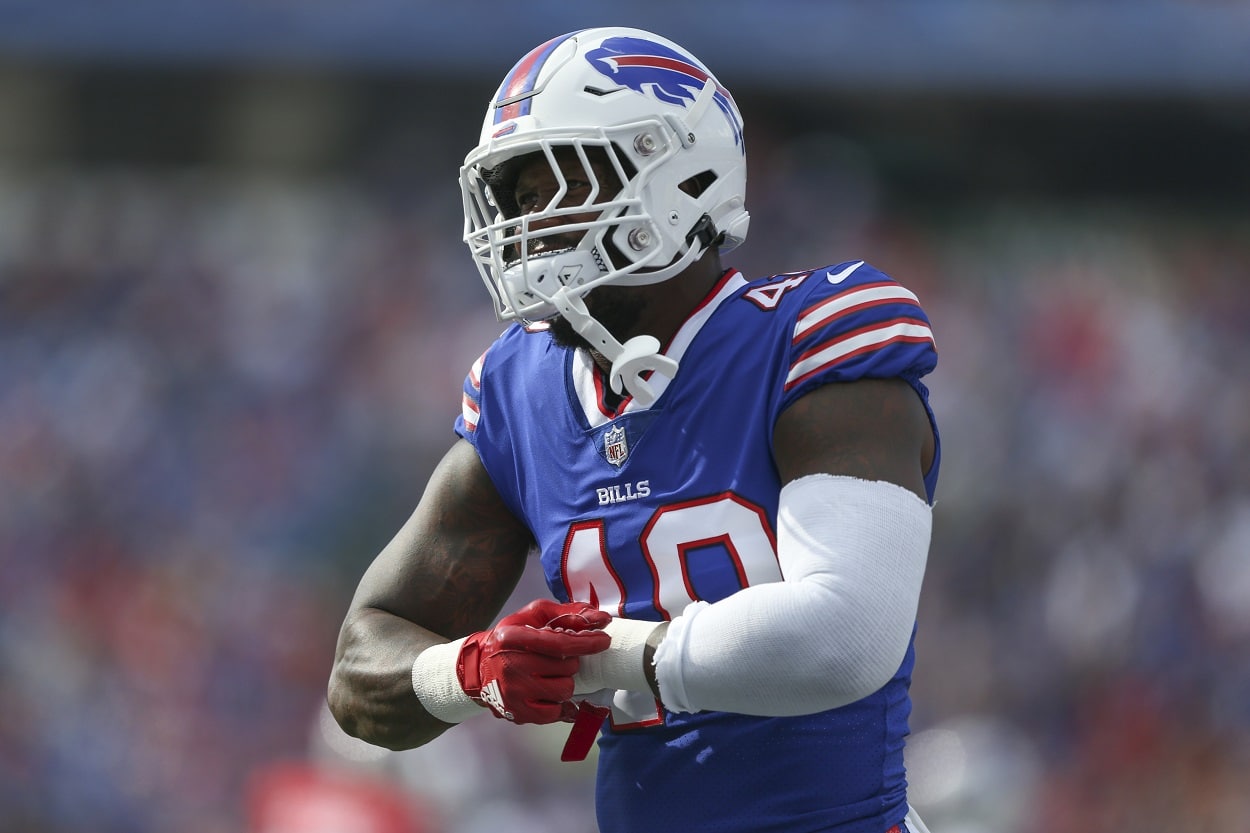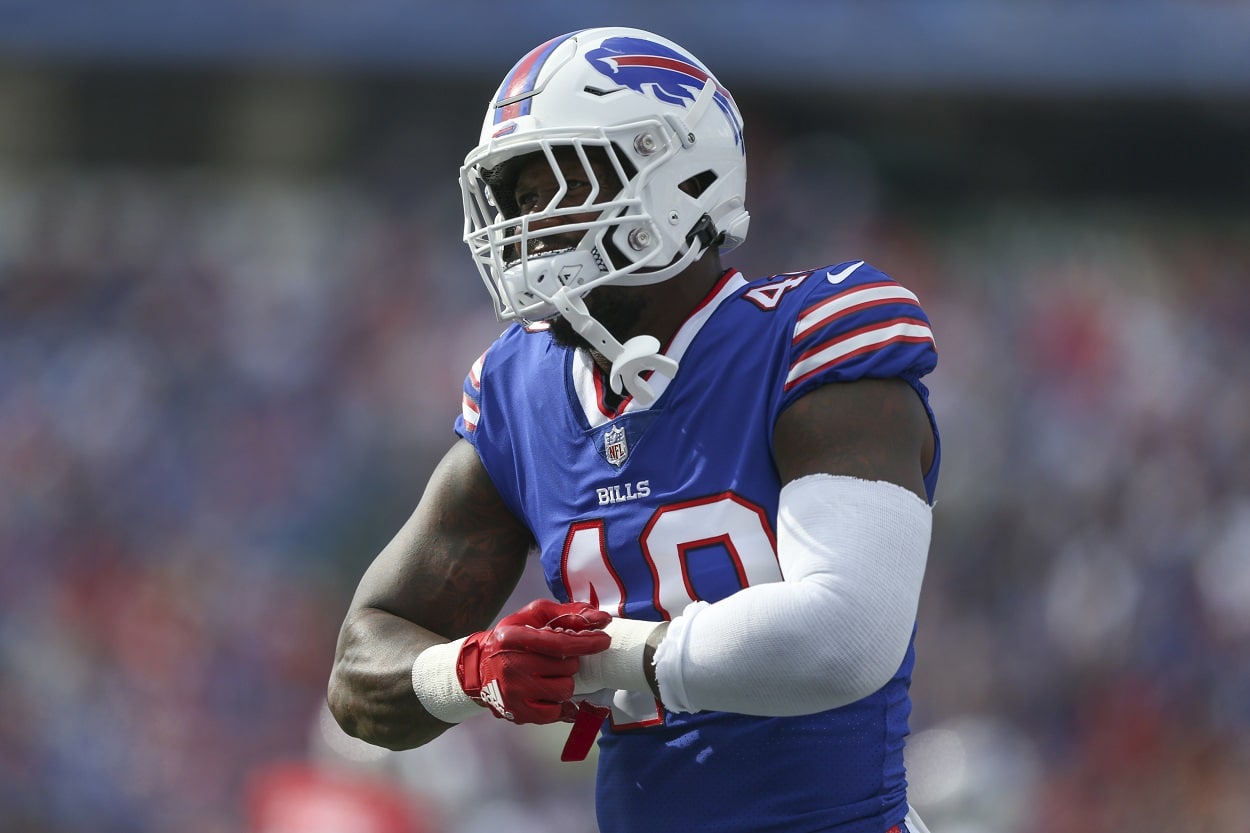 Former team: Los Angeles Rams 
Contract: 6 years, $120 million ($45 million guaranteed at signing)
Unlike the other four players on this list, Von Miller actually has a well-documented history of putting up astounding numbers. A shoo-in for the Pro Football Hall of Fame, the tenacious edge rusher played a pivotal role in helping the Los Angeles Rams capture their first Super Bowl title in more than two decades.
And thanks to his big-name recognition and ability to put pressure on quarterbacks, Miller secured a massive payday from one of the top contenders in the AFC. 
Did the Buffalo Bills set themselves up for disappointment, though? On the one hand, overpaying for Miller may not have been the worst thing for a team that looked bound to play for the Lombardi Trophy before Patrick Mahomes spoiled that dream.
On the other hand, locking themselves into a deal that will pay an aging pass rusher $20 million annually seems like a major risk, too. Let's not forget that Miller hasn't reached double-digit sacks since 2018, and the eight-time Pro Bowler hasn't played a full season since then, either. 
At that price point, Buffalo better get the vintage version of the 2011 NFL Defensive Player of the Year. At 33 years old and without Aaron Donald and Leonard Floyd commanding attention from opposing offensive lines, Von Miller has a tall task ahead to live up to the biggest free-agent deal in Bills history.
Stats courtesy of Pro Football Reference, Contract info courtesy of Spotrac
Like Sportscasting on Facebook. Follow us on Twitter @sportscasting19 and subscribe to our YouTube channel.