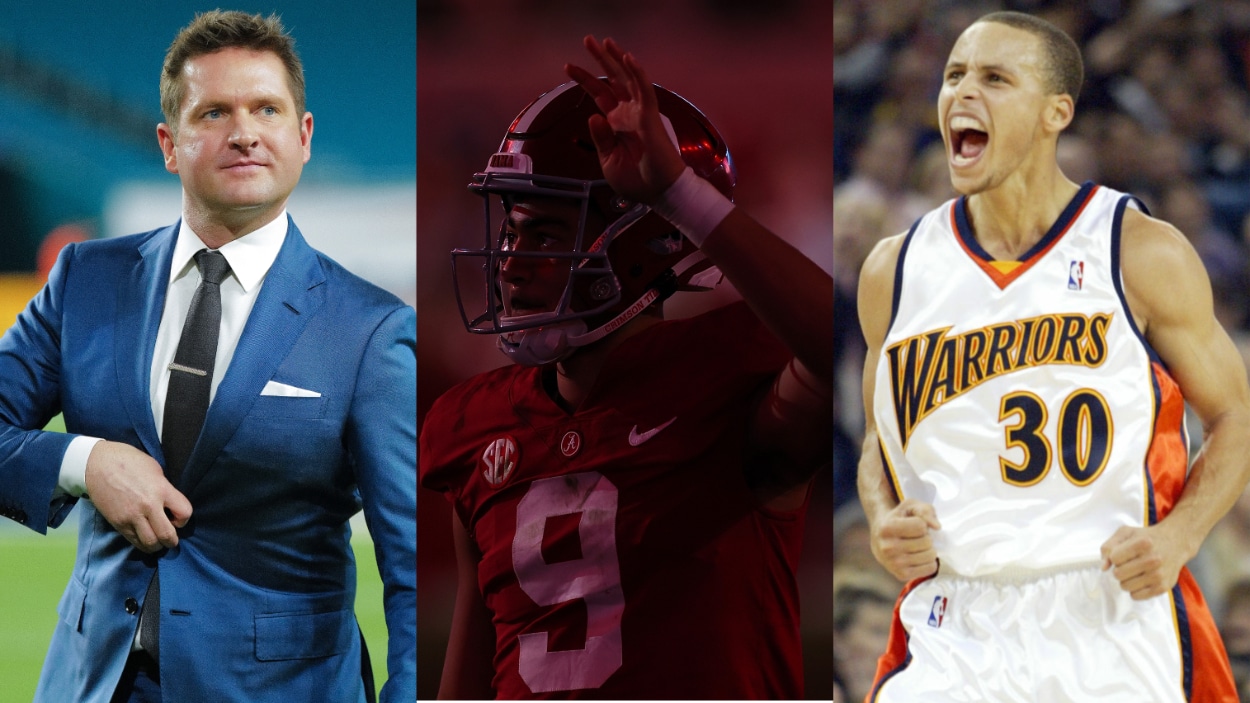 2023 NFL Draft: Todd McShay Predicts QB Prospect Will Be 'Steph Curry' of the NFL
The 2023 NFL Draft has four QB prospects at the top and Todd McShay predicts one will become the Steph Curry of football.
It is 2023 NFL Draft season, and as always, the hottest topic of draft-related conversation is the quarterbacks. This year, we could have four QBs — Alabama's Bryce Young, Ohio State's C.J. Stroud, Kentucky's Will Levis, and Florida's Anthony Richardson — go in the first round with three looking earmarked for the top five picks. The interesting thing in this draft is that there are no Trevor Lawrence or Andrew Luck-level picks. In 2023, QB beauty is truly in the eye of the beholder. ESPN draft guru Todd McShay, for example, is so enamored with one of these QB's he's already calling him the Steph Curry of the NFL.
Todd McShay predicts Bryce Young will be the 'Steph Curry' of the NFL
In 2009, a scrawny, undersized point guard came out of Davidson and into the NBA. Despite Stephen Curry's deadeye shooting and slick passing ability, Blake Griffin, Hasheem Thabeet, James Harden, Ricky Rubio, Tyreke Evans, and Jonny Flynn went ahead of him.
This isn't a perfect analogy because Bryce Young went to Alabama, won the Heisman, and will likely go No. 1 or No. 2 in the 2023 NFL Draft. However, draft experts questioning his size and his ability to succeed in the NFL at that short and slight size (6 feet, 192 pounds) is similar to Curry.
And the reason ESPN's NFL draft guru Todd McShay likes the comparison is that he thinks Young is going to prove all the doubters wrong and become great in the pros, just like the Golden State Warriors star.
"This dude is special. Bryce Yong is so different than any other quarterback I've seen," McShay told Mel Kiper Jr. and Field Yates on the ESPN First Draft podcast.
"I see [Young] as the next generation type of guy," McShay raved. "Steph Curry [comparison] is perfect. I was sitting in the GameDay bus with Kirk Herbstreit. We were talking about it — he is Steph Curry of college football and will be in the NFL. Throw out the measurables. He's just going to find a way to avoid contact and always be able to create and make that play that most quarterbacks can't."
And because of that, Bryce Young is the No. 1 QB on Todd McShay's 2023 NFL draft board for QBs.
Comparisons for 2023 NFL Draft prospects C.J. Stroud, Will Levis, and Anthony Richardson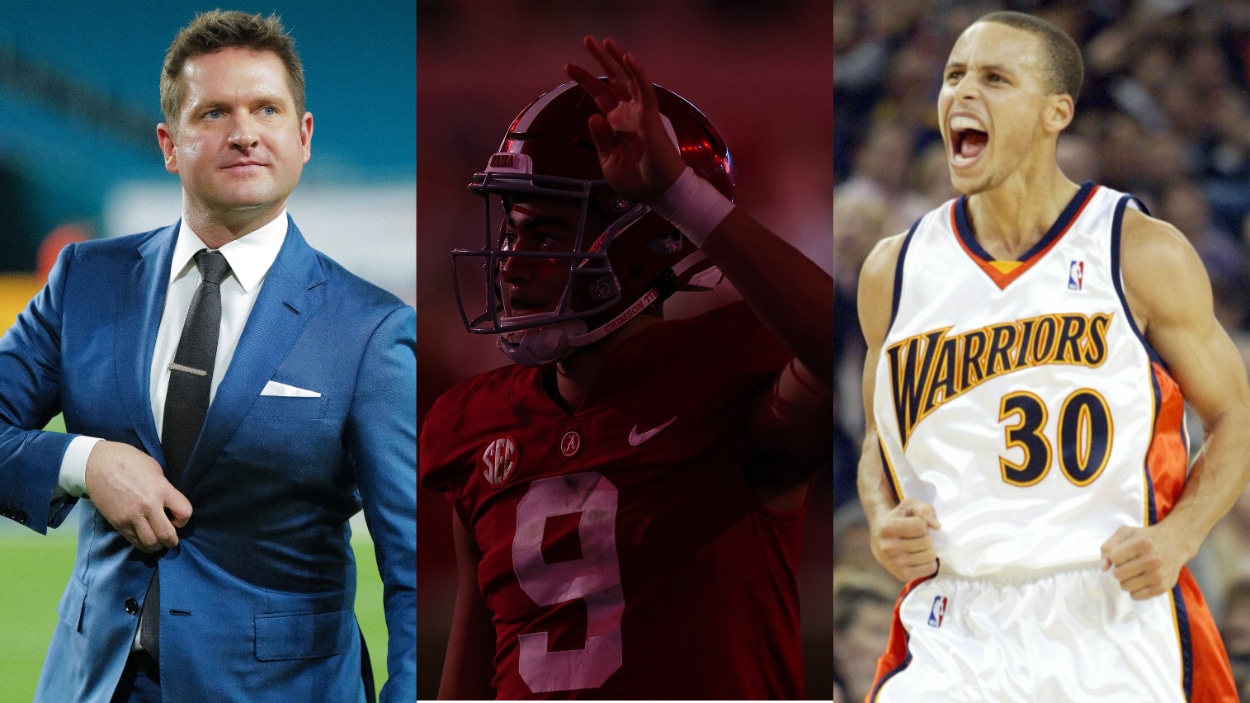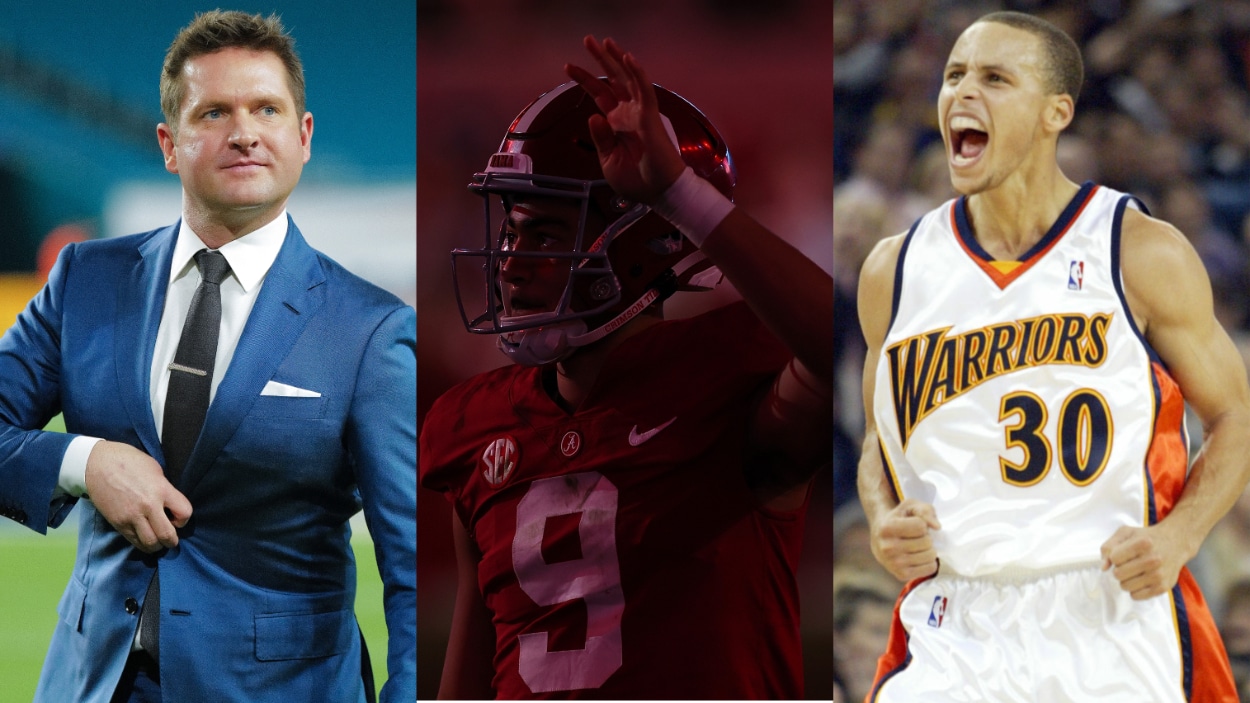 As noted in the intro, beauty is in the eye of the beholder for the 2023 NFL Draft quarterback class. Each of the top four prospects presents a unique set of pros and cons that each team will have to consider before picking him.
We already know Todd McShay thinks Bryce Young is the NFL's answer to Steph Curry. So, here are some other comps for the rest of the top 2023 NFL Draft QB prospects:
Justin Fields 2.0 
Ohio State quarterbacks are, well, Ohio State quarterbacks. They've historically had precious little success at the NFL level. However, it looks like Justin Fields could buck that trend with the Chicago Bears. And whether he does or not, C.J. Stroud seems like the upgraded version of Fields.
The 6-foot-3, 218-pound California native has the arm strength and accuracy Fields doesn't yet. Stroud completed 69.3% of his passes in college for 8,123 yards in two seasons. He also could have nearly the open-field athleticism his Buckeyes predecessor does, but he didn't show it often in college.
Against Georgia in the college football playoffs, Stroud finally used his legs like NFL talent evaluators hoped he would and showed glimpses of what he could be at the next level.
The Next Josh Allen
Will Levis is a physical specimen at 6-foot3, 232 pounds who can move and throw and knows how to play the quarterback position. He'll draw a lot of comparisons to Josh Allen, and that's not just because of his build or playing style.
Levis had a great junior season with a solid Kentucky squad around him in 2021, just like Allen excelled in his junior season at Wyoming. However, for their final college campaigns, a lot of their supporting cast left, causing inconsistent play ahead of their draft years.
Allen came into the league and took it by storm, proving that his final college season was weak because of the talent around him. Is the same true for Levis?
Another Josh [Allen or Rosen?]
The 2023 NFL Draft QB with the highest ceiling also has the lowest floor. Florida's Anthony Richardson has more physical tools at 6-foot-4, 232 pounds than any QB in this draft. He has a rocket arms and legs that can outrun even NFL defenders.
However, can he play quarterback at the next level? As a Gator last season, Richardson had two games where he threw for over 400 yards. And seven where he went for under 200. There were four games he completed over 60% of his passes and four he went under 50%.
To make the Class of 2018 comparison, Anthony Richardson will either turn out to be Josh Allen or Josh Rosen, with seemingly no outcome in between.