2023 WGC-Match Play Predictions: Winners, Sleepers, Busts, and Holes to Watch at Austin Country Club
Sportscasting's golf experts make their predictions for the 2023 edition of the WGC-Match Play at Austin Country Club.
Golf's version of March Madness is upon us as this week brings an end to the World Golf Championships era with the final edition of the WGC-Match Play, which was first played in 1999.
As the PGA Tour and Austin Country Club, which has hosted the only match-play event on the schedule since 1999, were unable to reach an agreement on a contract extension, the WGC-Match Play is simply being canceled instead of being moved to another locale, which is unfortunate.
But things are what they are, and this final edition should be quite entertaining as 64 of the top 79 golfers in the world are in the field this week to compete for $20 million in total prize money. Noticeably absent from the field this week is Justin Thomas, who's choosing to skip the event for personal reasons.
And then you've got those who've defected to LIV Golf, many of whom would be eligible for this final WGC-Match Play given their current standings in the OWGR. And while a few did actually register, including Patrick Reed, all were denied entry.
Leading this field, of course, is world No. 1 and defending champion Scottie Scheffler, who actually vaulted into the top spot for the first time following his win here a year ago. A victory this week would make him just the second back-to-back champ in WGC-Match Play history, the other being Tiger Woods, who accomplished the feat in 2003 and 2004. Woods added a third title in 2008.
So how will this final edition of the WGC-Match Play turn out? Let's take a look.
2023 WGC-Match Play predictions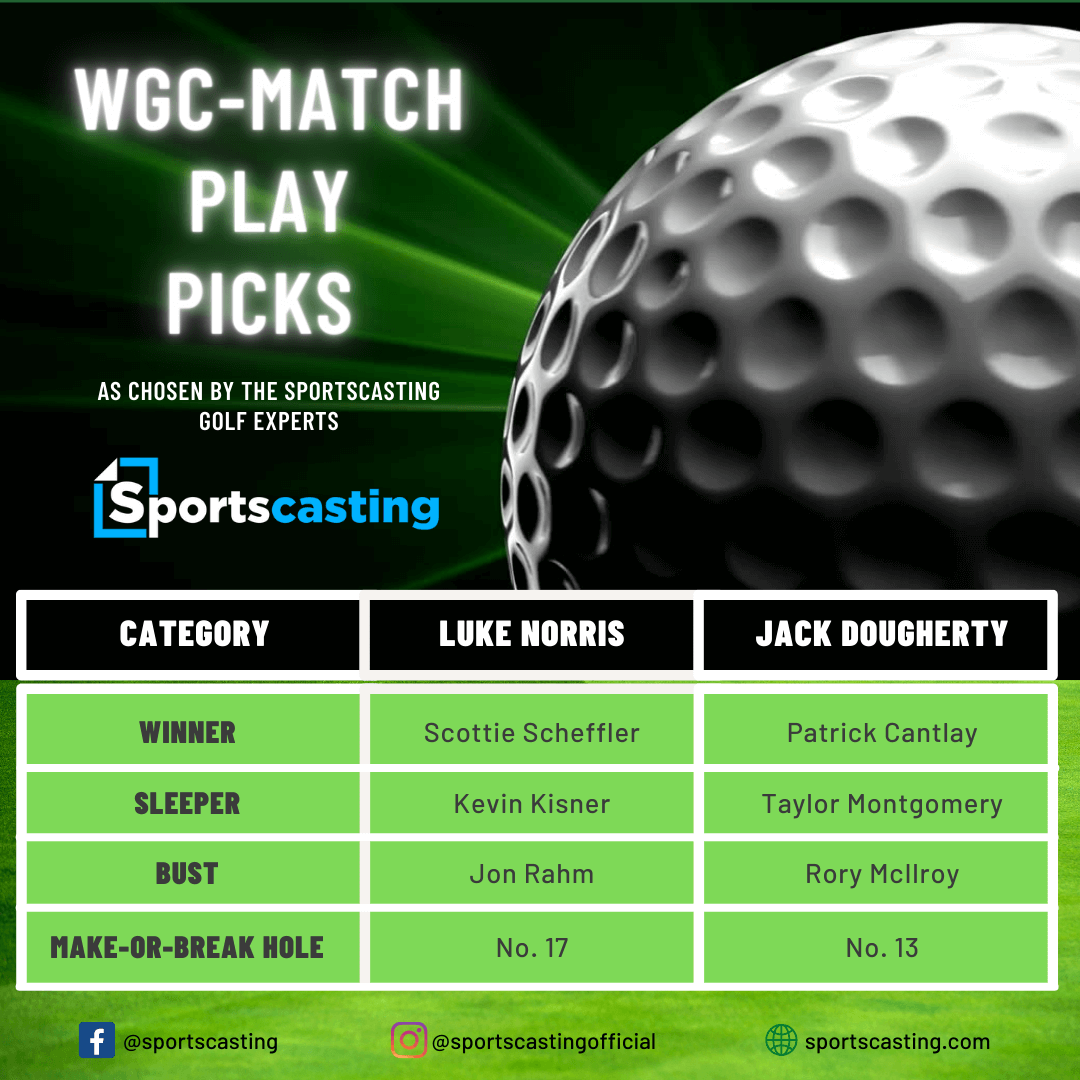 Here are a few predictions for the 2023 edition of the WGC-Match Play event from Sportscasting golf experts Luke Norris and Jack Dougherty.
Winner
Luke Norris: Scottie Scheffler
Forgive me for taking the easy route in Scottie Scheffler. But how am I supposed to bet against the best player in the world right now, especially given his record in this tournament?
In two appearances at the WGC-Match Play, he has a runner-up finish and a win. Again, how am I supposed to bet against that?
In 2021, Scheffler went 1-0-2 in group play and then defeated Ian Poulter, Jon Rahm, and Matt Kuchar in the knockout stage before losing to Billy Horschel in the final. And last year, the Texas product went 2-1 in group play, losing only to Tommy Fleetwood, and then knocked off Horschel, Seamus Power, Dustin Johnson, and Kevin Kisner to win the tournament, which, as mentioned, moved him to No. 1 in the OWGR.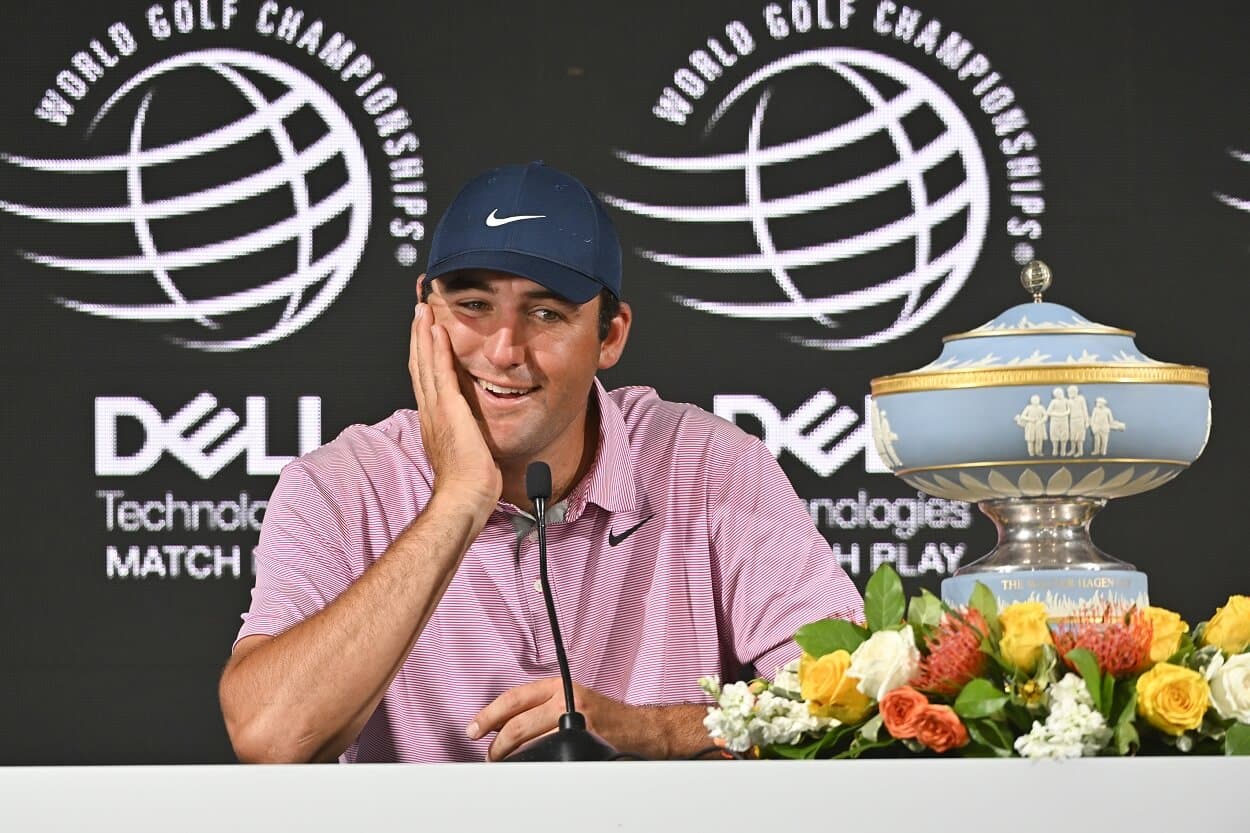 There's no reason to think he won't make out of his pod this year as well, one that also features Tom Kim, Alex Noren, and Davis Riley. And when he does, it's going to be hard for anyone to beat him.
Jack Dougherty: Patrick Cantlay
Don't look now, but Patrick Cantlay is starting to play his best golf of the season with The Masters just three weeks away.
The world No. 4 has finished T19, T4, and solo third in his last three starts, and he's shot even par or better in 11 of his last 12 rounds. Cantlay also ranks second on the PGA Tour this season in birdie or better percentage (29.5%), which is the most important stat I look for when trying to predict a WGC-Match Play winner.
If the birdies keep piling up for Cantlay this week, he should be able to make a deep run and grab his first win of the 2022-23 season.
Biggest sleeper
Luke Norris: Kevin Kisner
So let me get this straight. In his last four starts at the WGC-Match Play, Kevin Kisner has finished second, 18th, first, and then second again. And he's going off this week at 65-1? Sure, he's got a tough group featuring Max Homa, Hideki Matsuyama, and Justin Suh. But he obviously knows his way around this golf course and clearly excels in these match-play situations. So I could certainly see Kisner making another run toward a title.
Jack Dougherty: Taylor Montgomery
Remember that stat I just told you about? Well, rookie Taylor Montgomery ranks eighth on the PGA Tour this season in birdie or better percentage (26.4%), and he also ranks second in total birdies with 234 in 14 starts.
Montgomery is a deadly accurate putter, which always translates to success in the match-play format. He ranks second on Tour this season in strokes gained from putting, first in putts per round, and first in one-putt percentage. That's the kind of player that can make a run in this unique tournament, and at 100-1 odds, Montgomery is well worth a sprinkle.
Most likely bust
Luke Norris: Jon Rahm
Of the top 16 seeds at the WGC-Match Play, world No. 2 Jon Rahm has arguably the toughest draw in group play as his foursome also includes Billy Horschel, who won this tournament two years ago, Keith Mitchell, who's been one of the hottest players on the PGA Tour recently, and Rickie Fowler, who seems to have finally found the form that he had when he was one of the best players in the world.
Has Rahm performed well at Austin Country Club in the past? Sure. In five starts, he's finished ninth or better three times, including a runner-up. But don't be surprised if he doesn't even make it out of his own group.
Jack Dougherty: Rory McIlroy
Rory McIlroy isn't where he'd like to be three weeks ahead of his annual trip to Augusta National Golf Club, where the elusive green jacket will be waiting.
The Northern Irishman missed the cut at The Players Championship after over-par rounds of 76 and 73, and he blamed the poor performance on his lack of confidence in the new driver he recently put in play. So far this season, McIlroy ranks 186th on Tour in driving accuracy.
I just don't like where McIlroy's head is at right now, and he's already made his way to Augusta this month for a practice round. The 33-year-old's focus is clearly on next month's Masters, not the upcoming WGC-Match Play.
Make-or-break hole
Luke Norris: No. 17
Pete Dye just loved his par-3s, didn't he? And while the 17th at Austin Country Club certainly isn't as famous as the island green at TPC Sawgrass, it's definitely just as treacherous.
Perhaps it doesn't get the love that some other holes on the course do because some matches don't even reach it. But if a match does reach the 17th, it's obviously a close one, and this gem could certainly turn the tide.
While not lengthy in the slightest, as it plays roughly 150 yards at the longest, the 17th plays along a ravine that falls off into brush and trees on the left and extends out toward the front of a shallow green. And that putting surface angles away from the tee, making for an awkward shot.
There are also a couple of pot bunkers in the front that can enter your mind. In addition, as the hole is set along a hillside, the wind can play plenty of tricks with the golf ball, which isn't helpful when you've got a wedge in your hand.
Jack Dougherty: No. 13
The signature hole at Austin Country Club, the 13th is a driveable par 4 measuring 317 yards. It's a flawless hole for the match-play format because of its risk-reward nature. Players going for the green off the tee will have to carry their drives more than 290 yards over water.
The alternate route is hitting an iron down the right side and playing a wedge shot to the narrow green. This one is always fun to watch in close matches when the pressure is on.