Scottie Scheffler Accused of Cheating During His Players Championship Victory
With the biggest win at The Players Championship in 17 years, Scottie Scheffler reclaimed the No. 1 spot in the Official World Golf Ranking on Sunday, earning his sixth victory in 13 months and taking home the largest single paycheck in PGA Tour history.
Finishing at 17-under for the week, five shots better than Tyrell Hatton and seven clear of Viktor Hovland and Tom Hoge, Scheffler was nearly flawless at TPC Sawgrass, making just five bogeys for the week.
And one of those bogeys actually agitated a few folks over the weekend, so much so that some accused Scheffler of cheating, even going so far as to compare him to Patrick Reed.
Scottie Scheffler was accused of cheating during the third round of The Players Championship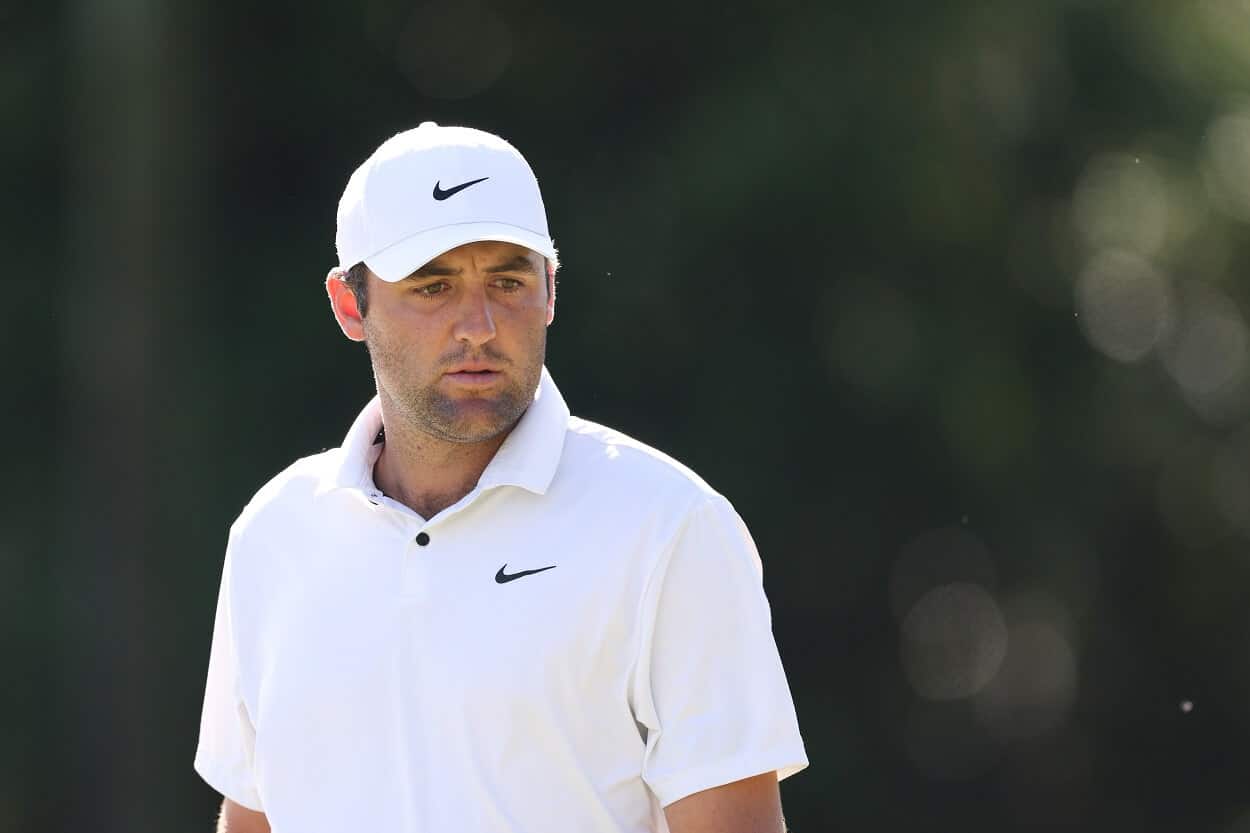 So here's what went down.
On the seventh hole of Saturday's third round at The Players, Scheffler miscued and hit his tee shot at the 434-yard par-4 into the water on the left. After dropping his ball near the bunker, he reached down to seemingly remove a loose impediment before hitting his third shot.
And some were certain that the ball moved.
A penalty stroke obviously wasn't assessed, and Scheffler went on to make a five, his lone dropped shot of the day. He then birdied the next two holes and made two more birdies on the back nine en route to finish with a 7-under round of 65.
But many weren't ready to just let the seventh slide. And trust me, "He moved his ball when he touched it" was pretty tame compared to some of the other thoughts out there.
One tweet said, "Remember this if the cheating dog wins tomorrow." Again, some were a bit harsher. The general consensus of those accusing Scheffler of cheating was that his ball had indeed moved and that if this had been Patrick Reed or Bryson DeChambeau, a penalty would have been called.
But here's the deal. Even if Scheffler's ball did move — and there's no clear evidence that it did given that angle — it didn't move enough for a penalty. The rules of golf clearly state that a ball can oscillate when attempting to remove an impediment. It just can't come to rest in a different spot. And if you look at that footage, the ball is clearly in the same spot before Scheffler reached down.
And seriously, to compare this to any of Reed's obvious infractions over the years is simply ridiculous. In addition, it's not as if Scottie Scheffler is the type of guy who won't call a penalty on himself. And if you need proof of that, look no further than the 2021 Northern Trust.
Playing the par-4 15th at Liberty National during his first round, Scheffler hit his tee shot in the thick rough to the left of the fairway and hit his second shot even further left into even thicker rough. He eventually found it, but knowing he'd taken longer than the allotted three minutes to do so, he called a stroke on himself.
That's just who he is.
And besides, even if he had called a shot on himself at The Players, it's not as if it would have mattered anyway. As mentioned, the guy won by five strokes. Some people will just look for anything to tear a guy down, won't they?