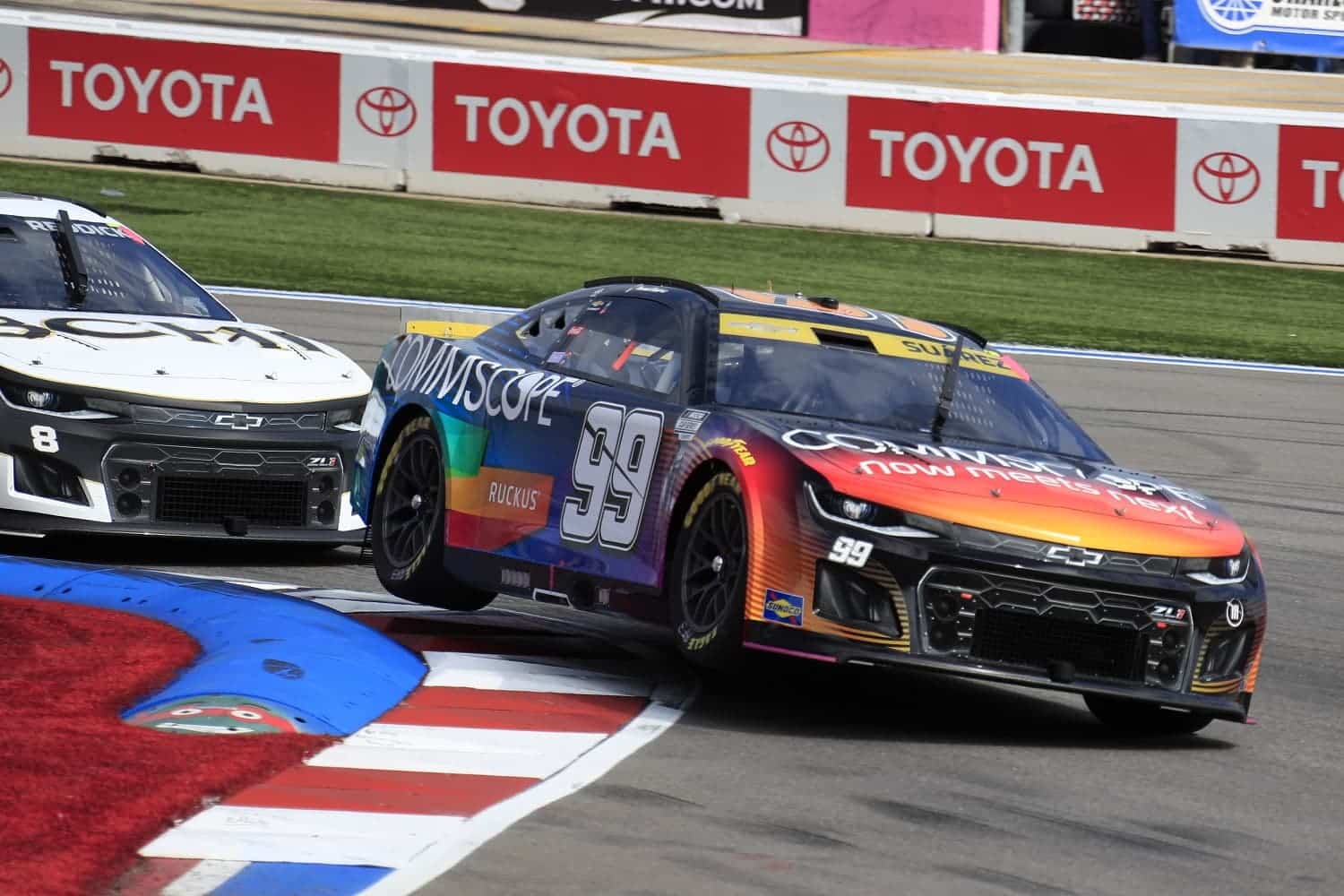 The 2024 NASCAR Schedule Problem No One Is Asking About Yet
NASCAR hasn't released its 2024 schedule yet, but a major international event could throw a wrinkle into an already tight calendar.
We know the bookends of the 2024 NASCAR schedule and nothing about the races in between. NASCAR President Steve Phelps deftly ducked specifics on Sunday while discussing the Cup Series schedule, nevertheless teasing fans with the possibility of the Bristol dirt race not returning, at least not on Easter.
That revved up the speculation machine, particularly since there wasn't much else to discuss during the off week. It's understandable that people latched onto the fate of Bristol, given the history of the track and novelty of the dirt race.
However, the more important aspect of the 2024 NASCAR schedule that people should be thinking about is a quadrennial conundrum dead ahead.
The 2024 NASCAR schedule will continue to feature an Easter Sunday race
NASCAR moved its early-season Cup Series race at Bristol onto dirt in 2021, and the past two installments have been night races on Easter Sunday. That's been somewhat controversial among racing fans even though MLB and the NBA have scheduled games on Easter for years.
In discussing the 2024 NASCAR schedule with Fox last weekend, president Steve Phelps pointed to the NFL making Thanksgiving football a tradition and the NBA turning Christmas into a day-long parade of games. It's why he's bullish on continuing to race on Easter. However, Phelps wouldn't go so far as to commit to a Bristol dirt race next March 31.
Whether that means racing on pavement at Bristol or somewhere else entirely is anyone's guess.
NASCAR operates on a tight schedule
We already know the Daytona 500 will kick off the list of points races next season on Feb. 18. Additionally, the Championship 4 at Phoenix is set for Nov. 3. That leaves 36 weekends in between to accommodate 34 more points races, the All-Star Race, and (presumably) a week off once again on Father's Day.
Under ordinary circumstances, that's a non-issue. In fact, it's exactly the way this season's schedule is set up. Certainly, the order of races can change, and NASCAR has also been trying to figure out how to replace Auto Club Speedway while that oval is reconfigured into a short track. And, of course, there has been speculation that the Brickyard 400 will replace the road course at Indianapolis Motor Speedway.
Sports Business Journal reported NASCAR could return to Circuit Gilles Villeneuve in Montreal, which would be especially useful if conjecture by The Athletic that the Roval playoff race might move onto Charlotte's oval is accurate. That likely would mean moving another road course into the playoff mix.
The 2024 NASCAR schedule needs to factor in the Olympics
The aspect of the 2024 NASCAR schedule that no one seems to be mentioning is the potential effect of a major NBC project: coverage of the Olympics. The competition in Paris runs from July 26 to Aug. 11, encompassing three weekends.
The original 2020 Cup Series schedule, which got blown up by COVID-19, made no provision for NASCAR taking weeks off. But when the Tokyo Olympics were postponed a year by the pandemic, NASCAR blacked out July 25 and Aug. 1 on the 2021 schedule to help the network maximize Olympic coverage.
The precedent was set during the 2016 Rio de Janeiro Olympics as the Cup Series skipped a week in August, and it's reasonable to assume that NBC will seek NASCAR's cooperation again this year, especially since they're currently in negotiations on the TV contract that begins in 2025.
Whether it's one week or two, any additional break in 2024 would mean removing a race from the schedule, doubling up on a weekend (which NASCAR did at Pocono in 2021), and/or racing on Father's Day. Any of those options would be a significant departure from this year's schedule, at least as impactful as ditching the dirt race or restoring the Brickyard 400.
Got a question or observation about racing? Sportscasting's John Moriello does a mailbag column each Friday. Write to him at [email protected].