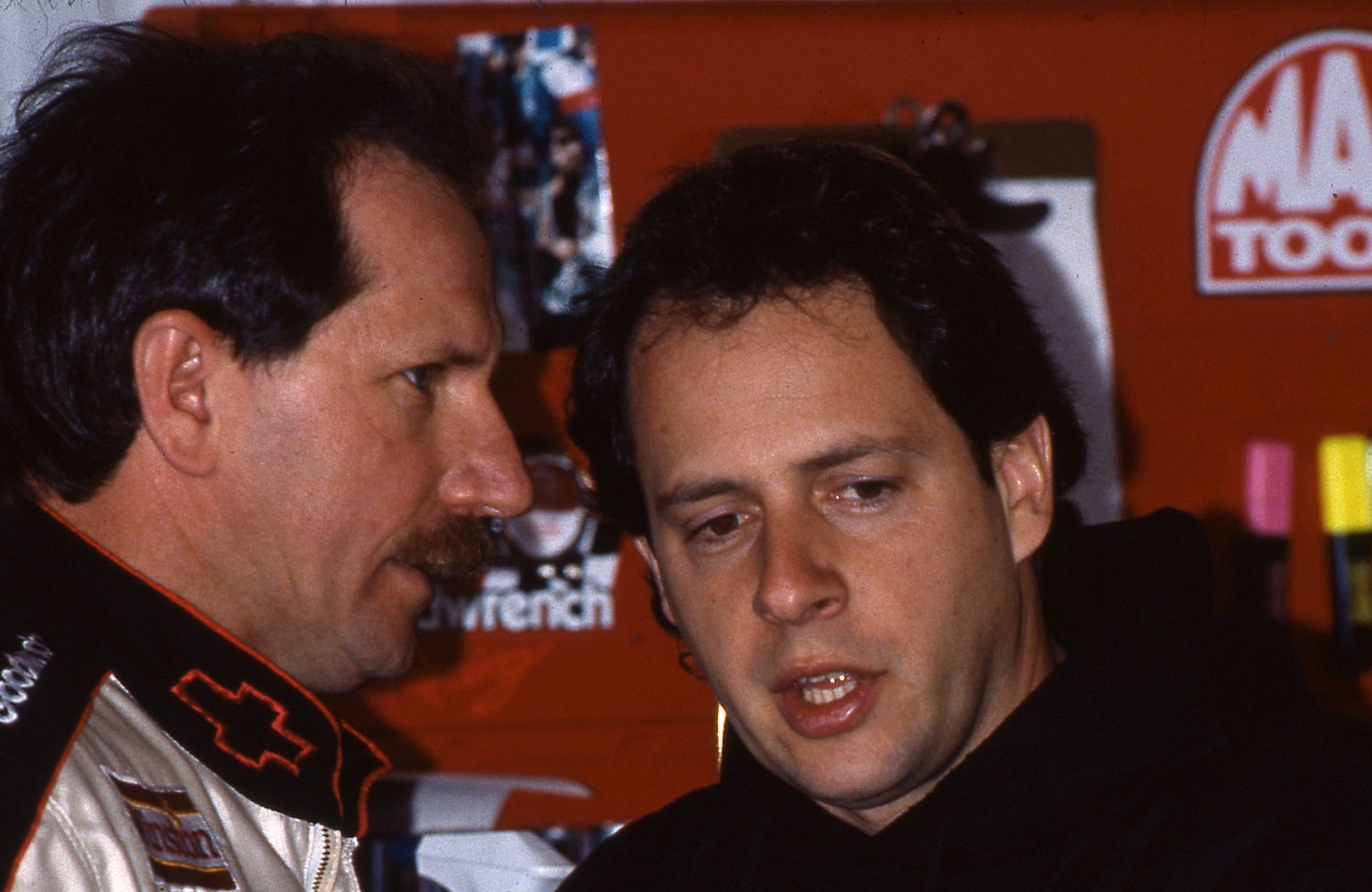 3 Most Notable Snubs From Dale Earnhardt Jr.'s NASCAR Hall of Fame Induction Class
Kirk Shelmerdine is one of the candidates that the NASCAR Hall of Fame's selection committee overlooked in balloting that culminated in Dale Earnhardt Jr.'s induction.
After a decade of inducting five candidates per year into the NASCAR Hall of Fame, the selection committee has begun recognizing just three at a time. Ensuring that selection remains an honor will result in only Dale Earnhardt Jr., Red Farmer, and Mike Stefanik entering the hall Friday night in Charlotte, North Carolina.
Though NASCAR has the right idea about preserving the importance of the honor by becoming more selective, its HOF committee left credible candidates behind this year.
Here are the three most notable snubs:
Jeff Burton lost out to Dale Earnhardt Jr. and Mike Stefanik
The voting for Friday's NASCAR Hall of Fame induction class took place in 2020. The ceremony was delayed a year because of the pandemic, and the selection committee decided to sit idle in the interim.
Skipping a year was the right call. The pool of drivers worthy of consideration is shallow, making Dale Earnhardt Jr. and Mike Stefanik easy picks over eight others. Jeff Burton, who retired after the 2014 season to go into broadcasting, has the best resume of the bunch, narrowly topping Neil Bonnett, Carl Edwards, and Harry Gant.
Burton, on the ballot for the first time, scored 21 Cup Series victories in 695 starts and 27 more wins in the Xfinity Series. However, he never finished in the top two in points and only made it into the top four twice. Burton placed second in the 2000 Daytona 500 and third in 2007, though he did capture the Coca-Cola 600 twice and the Southern 500 once.
With two candidates a year earning enshrinement from the main pool, Burton stands a chance when voting resumes this spring.
Kirk Shelmerdine formed a dynamic team with Dale Earnhardt
The NASCAR Hall of Fame committee picks one person per year from a list of five in the Pioneer category. Evidence suggests that isn't enough at the moment for a sport that has been around so long and only began honoring its greats in 2010.
Exhibit A is Kirk Shelmerdine, who went the unconventional route by transitioning from crew chief to driver. Shelmerdine never fared better than 20th in 24 starts from 2002-06, but his prior accomplishments as a crew chief, primarily with Dale Earnhardt Sr., were impressive.
After starting as an engineer for James Hylton, he worked his way up to chief for 78 races from 1977-79 before taking on the same role for Richard Childress for two seasons. Two years on Ricky Rudd's car netted Shelmerdine his first two checkered flags, and his career took off from there.
In 1984, Shelmerdine took over as Earnhardt's crew chief. Earnhardt was fearless in the car, and Shelmerdine was superb operating the crew. In nine seasons together, they won 46 races and finished in the top five in 96 others on the way the Cup Series crowns in 1986, '87, '90, and '91.
At just 28 years old, Shelmerdine set a record as the youngest championship crew chief in the Cup Series. Earnhardt captured one season title before Shelmerdine and two more after he left to try driving, but the crew chief's impact with the Richard Childress team was undeniable.
'Suitcase Jake' made it onto the ballot for the first time
You could write a book about the antics of Jake Elder, and Peter Golenbeck came close in 1998 with The Last Lap, a collection of vignettes about and reflections from many of the great NASCAR characters. There were references to "Suitcase Jake" sprinkled across the 400 pages.
Elder began in the 1960s in the Petty Enterprises garage and rose to fame as the crew chief for the incomparable David Pearson during his 1968 and '69 championship seasons. He went on to work with a young Darrell Waltrip and then Dale Earnhardt Sr. in his NASCAR Rookie of the Year season and part of Earnhardt's first championship year.
In later years, Elder worked as the crew chief for Terry Labonte and Davey Allison.
The "Suitcase Jake" nickname reflected Elder's nomadic nature. Easily angered when he didn't get his way, Elder became the ultimate free agent as he hopped from team to team in a 25-year career. He earned accolades for his mechanical skills each step of the way.
All stats courtesy of Racing Reference.