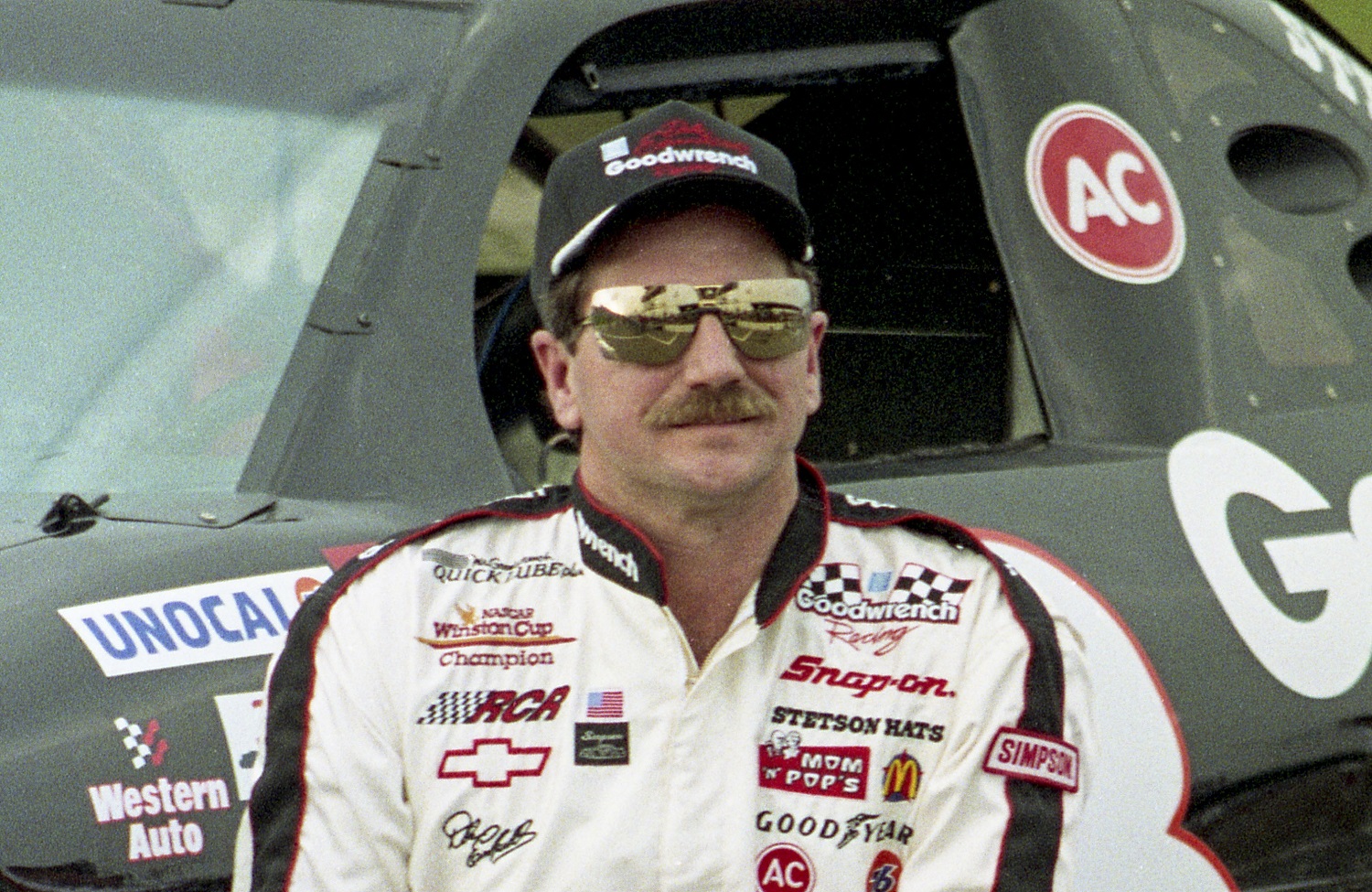 Dale Earnhardt's Real-Life Rivalry Made 'Days of Thunder' More Believable
A major character in 'Days of Thunder' was built around real-life episodes in Dale Earnhardt's NASCAR Cup Series career, including a huge feud with Hendrick Motorsports pioneer Geoff Bodine.
Tom Cruise was the hottest star in Hollywood in 1990. However, he alone couldn't make Days of Thunder succeed. Cruise and producer Jerry Bruckheimer used a real-life Dale Earnhardt feud and NASCAR's help to make the movie a box-office winner that the motorsports community could embrace.
Tom Cruise pushed hard to make 'Days of Thunder'
The was no actor in Hollywood in the mid-1980s on more of a roll than Tom Cruise. Risky Business and All the Right Moves had established him as bankable, and then Cruise added Top Gun, the Oscar-winning Rain Man, and The Color of Money to his credits. While those movies were racking up big money at the box office, Cruise had racing on his mind.
Cruise caught the bug while filming The Color of Money with Paul Newman, a legitimately good driver. Cruise was introduced to Rick Hendrick, who put the actor into an Xfinity car during a testing weekend at Daytona.
"I think I hit 175 mph," Cruise told ESPN. "The second I climbed out of that car on pit road, I said, 'We have to make a movie about this!'"
Cruise dined that night with Newman, Hendrick, driver Geoff Bodine, and crew members, who entertained the actor with stories of life on NASCAR tracks.
"This was the most famous guy in the world, and he barely said anything," Bodine recalled. "He was just listening and smiling the whole time."
Cruise formulated a storyline for Days of Thunder but knew the first draft lacked pizazz. When a couple of other big-name screenwriters couldn't find the right touch, Cruise and producer Jerry Bruckheimer enlisted Robert Towne, an Oscar winner for Chinatown.
Cruise and Towne traveled to Watkins Glen in August 1989 for the NASCAR weekend. Towne talked to everyone he could and recorded everything. He squirreled away tidbits to weave into the screenplay and absorbing the lingo.
Dale Earnhardt's real-life rivalry made 'Days of Thunder' more realistic
The heart of Days of Thunder was the bitter rivalry between Cole Trickle (Tom Cruise) and Rowdy Burns (Michael Rooker).  Even casual NASCAR fans recognized that it was a thinly disguised rehash of the real-life feud between Dale Earnhardt and Geoff Bodine, who was the original Hendrick Motorsports driver.
Earnhardt and Bodine went after each hard, and at times recklessly, in 1987 and '88. Finally, NASCAR czar Bill France Jr. hauled everyone from the two teams, including Hendrick crew chief Harry Hyde, into a room and demanded a truce, which held up until Earnhardt's death.
"Every big disagreement between Robert Duvall and Tom Cruise, that was 100 percent a story about Harry Hyde disagreeing with either me or my teammate, Tim Richmond," Bodine told ESPN. "And the feud between the drivers, the one that got so bad they had to be brought in front of NASCAR to be told to chill out — that was me and Dale Earnhardt."
Added Rick Hendrick: "After his speech, (the France character in the movie) said that we were all going to dinner. When Rowdy says he couldn't go because he had plans, that's exactly what Dale said, too. Bill pointed to the phone and said, "Cancel them."
Was Dale Earnhardt asked to play the villain?
Racing scenes in Days of Thunder were filmed during actual NASCAR races. That required a huge assist from Rick Hendrick, who supplied the cars and support. "He gave us the keys to the kingdom," producer Jerry Bruckheimer said. "We don't make Days of Thunder without Rick Hendrick's cooperation, plain and simple."
That and the research by screenwriter Robert Towne helped get the movie to the finish line.
"When Harry says to Cole, 'I want you to go out and hit the pace car … because you hit everything else out there and I want you to be perfect,' that was Harry Hyde and Buddy Baker at Martinsville," said Dr. Jerry Punch. "The scene when Cole wants to pit but Harry says he can't because the crew is eating ice cream? Harry Hyde did that to Benny Parsons at Pocono."
One more element could have given Days of Thunder added authenticity: Unconfirmed reports said that the producers of the movie approached Dale Earnhardt – as close to a real-life racing villain as there was — about playing Rowdy Burns opposite Tom Cruise's character. Dale Earnhardt Jr. suggested to USA Today that the speculation was plausible.
"I don't know if that's true. He never said that, but that was kind of the rumor that went around," Earnhardt Jr. said. "I was only a little kid, so I was going to believe that."
Like Sportscasting on Facebook. Follow us on Twitter @sportscasting19.