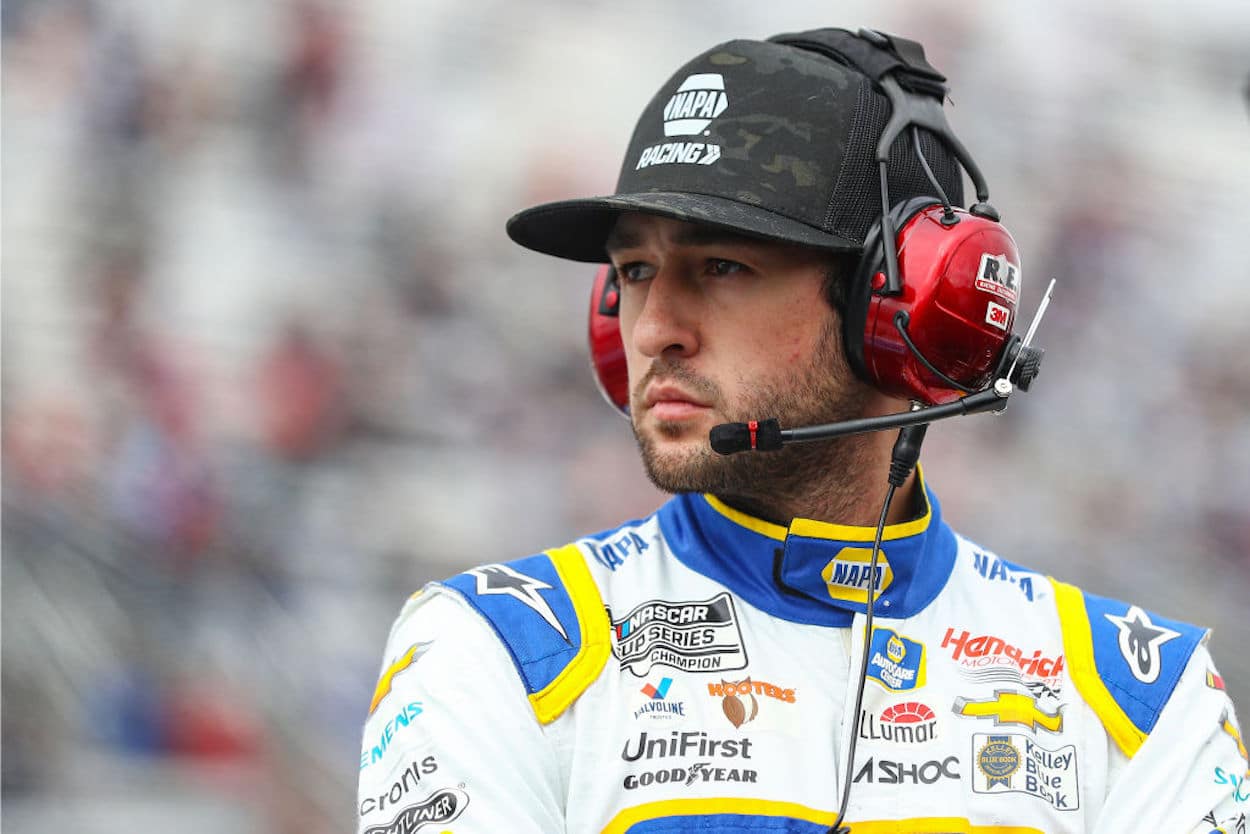 3 Reasons Why Chase Elliott Will Win the Cup Series Championship — And 1 Reason He Won't
Chase Elliott has had a strong year on the NASCAR Cup Series circuit. Can he cap the campaign off by winning the whole thing?
In some ways, this has been Chase Elliott's best season as a NASCAR Cup Series driver. In other ways, it's been a bit of a disappointment.
So what is the world to expect from NASCAR's perennial most popular driver in Sunday's 2022 Cup Series finale at Phoenix Raceway, where he'll be one of four drivers with an equal shot at the championship?
In truth, it all depends on which version of Chase Elliott shows up in the Arizona desert this weekend. 
With this in mind, let's take a look at three reasons the Hendrick Motorsports driver will leave Phoenix with his second title at NASCAR's highest level — and one reason he's most likely to come up short.
Pound for pound, Chase Elliott has been the best driver of 2022
When considering the 2022 Cup Series season as a whole, it's hard to make a convincing case that anyone has been better than Chase Elliott. The second-generation driver and son of 1988 Cup champion Bill Elliott leads NASCAR's top division in wins (5), top-10s (he and Ross Chastain are tied with 20 apiece), and laps led (857).
Elliott also won the regular season championship by a landslide and led the standings almost the entire regular season. Surprisingly, all of Elliott's victories have come on oval tracks, unlike in past seasons when road courses have traditionally been his bread and butter.
All this certainly bodes well for Elliott leading up to Phoenix, a 1-mile track where the driver who finishes best among Elliott, Chastain, Joey Logano, and Christopher Bell will walk away with the title.
"We're ready to go," Elliott said per a postrace transcript from Team Chevy last weekend at Martinsville.
Chase Elliott is no stranger to the big stage
As a NASCAR Xfinity Series driver, Chase Elliott won a championship in 2014 and finished runner-up in the standings in 2015. 
Since joining the Cup Series in 2016, Elliott has made two Championship 4 appearances, winning the title in 2020 and finishing fourth a season ago.
His previous exposure to the bright lights can only help him this weekend — a weekend when nerves and jitters tend to play a role, especially for those who've never been so deep into the playoffs. For Ross Chastain and Christopher Bell — two of the drivers racing for the title on Sunday — this is their first time in the Championship 4.
"The one-race championship is a different feel, different setup," Elliott's crew chief, Alan Gustafson, who, like his driver, is experiencing the Championship 4 for the third year in a row, said in a news release from Team Chevy PR. "Once you're here, anything can happen. Our goal is always to just give ourselves this opportunity. That's what you want to do."
Chase Elliott knows how to win at Phoenix
Among the quartet of Championship 4 participants, only Chase Elliott and Joey Logano have been to Victory Lane at Phoenix. While Logano has a 2-1 edge over Elliott when it comes to their respective number of wins here, Elliott's victory in the Valley of the Sun is more recent than either of Logano's and came in a Championship 4 race — unlike Logano's, which came during the regular season and earlier in the playoffs, respectively. 
Being one of only two Championship 4 drivers who's a past winner at Phoenix, and being the most recent Phoenix winner from the Championship 4 group could signal that Elliott is the championship contender who is the most capable of going to Victory Lane this weekend. 
"I know Phoenix is a really good track for us, and we had a good car there in the spring," crew chief Alan Gustafson said, referring to the March race in which Elliott led 50 laps and finished 11th. "I feel really good about going back there, having fun with it and just cutting it loose and letting it rip. I think that suits our team well and all things are good."
Chase Elliott is lacking in the momentum and consistency departments
Despite all his success in 2022, including times when he's been downright dominant, Chase Elliott has struggled to find the consistency often needed to win a championship.
Take, for example, one three-race stretch during the regular season when he failed to record a single top-20 finish. Even more concerning, perhaps, is the fact that Elliott has finished in the top 10 just three times in the last 10 races, leading him to even question his capability of running up front. In fact, Elliott was so frustrated after the Round of 12 elimination race on the Charlotte ROVAL that he pushed a camera away while having a postrace conversation with teammate William Byron.
If momentum matters at Phoenix, Elliott is in real trouble because he has less momentum than his fellow championship finalists. Team owner Rick Hendrick doesn't seem worried about Elliott's up-and-down performance, however.
"He's won five races and he's had some situations where the car wasn't as good as we thought it would be, and he was frustrated," Hendrick said on a Zoom call with reporters earlier this week. "But it's one of those deals that you just put all that behind you. You run good at Phoenix, you've won that race [before], you've won the championship there. So just go back — the car is going to be good — and do your job.
"He's excited. He's ready. We'll just put any of the bad luck or inconsistencies we've had leading up to this race behind us, because it's all about Sunday."
Indeed it is.
Have thoughts on this topic? Keep the conversation rolling in our comments section below.