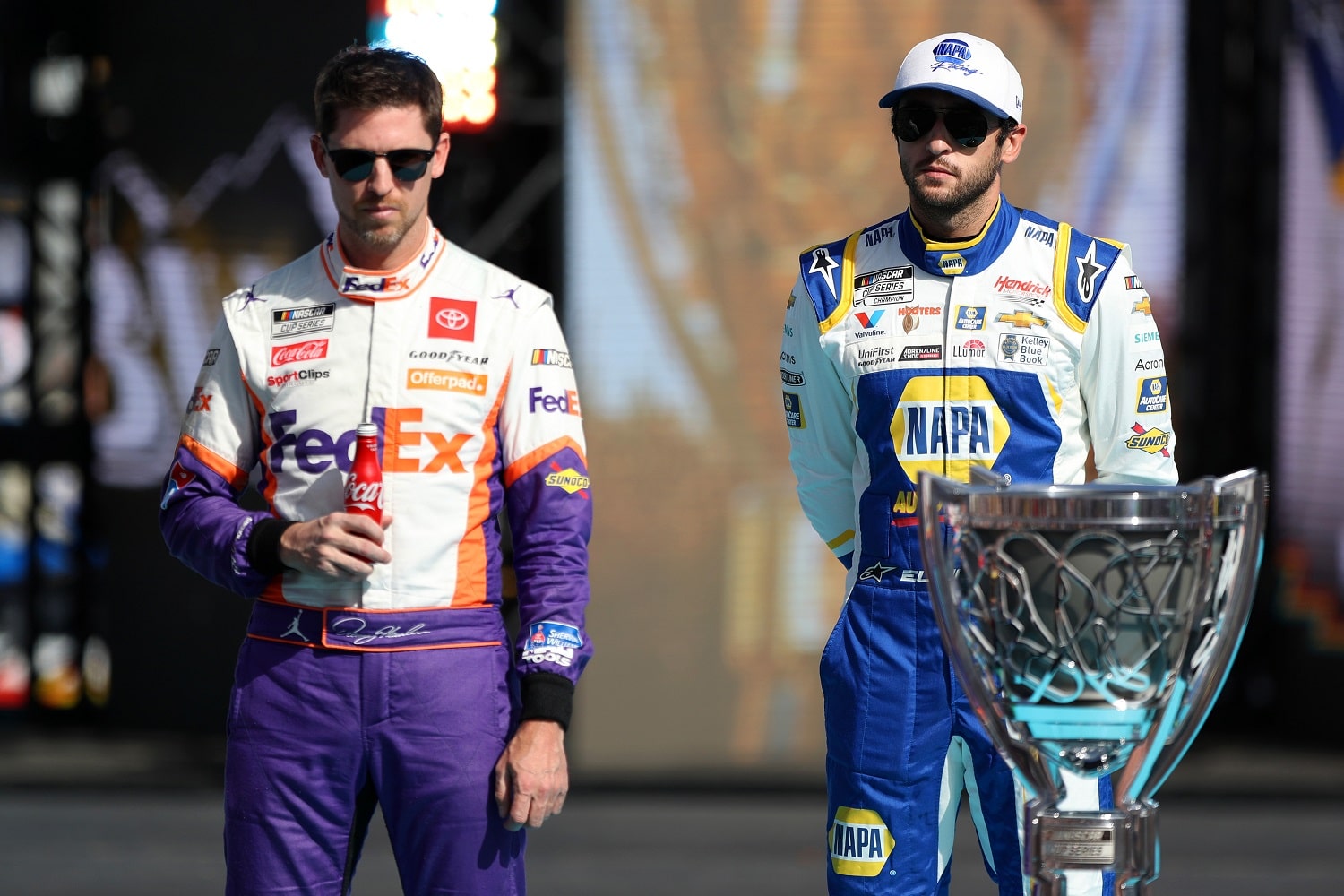 3 Regular-Season Races Shaped the Championship 4, and 1 of Them Was Huge
In retrospect, Denny Hamlin's disqualification at Pocono turned out to be a much bigger deal than anyone could know at the time.
The only times Pocono gets mentioned lately is in discussions of Kurt Busch's qualifying-lap crash. Busch eventually bowed out of the NASCAR playoffs because of lingering concussion effects, but that didn't shake up the playoffs nearly as much as a Pocono development affecting Chase Elliott and Denny Hamlin did.
Looking back on the regular season, there are three moments in particular that shaped the Championship 4 field. Race day at Pocono was the big one.
Denny Hamlin's disqualification gave Chase Elliott a crucial boost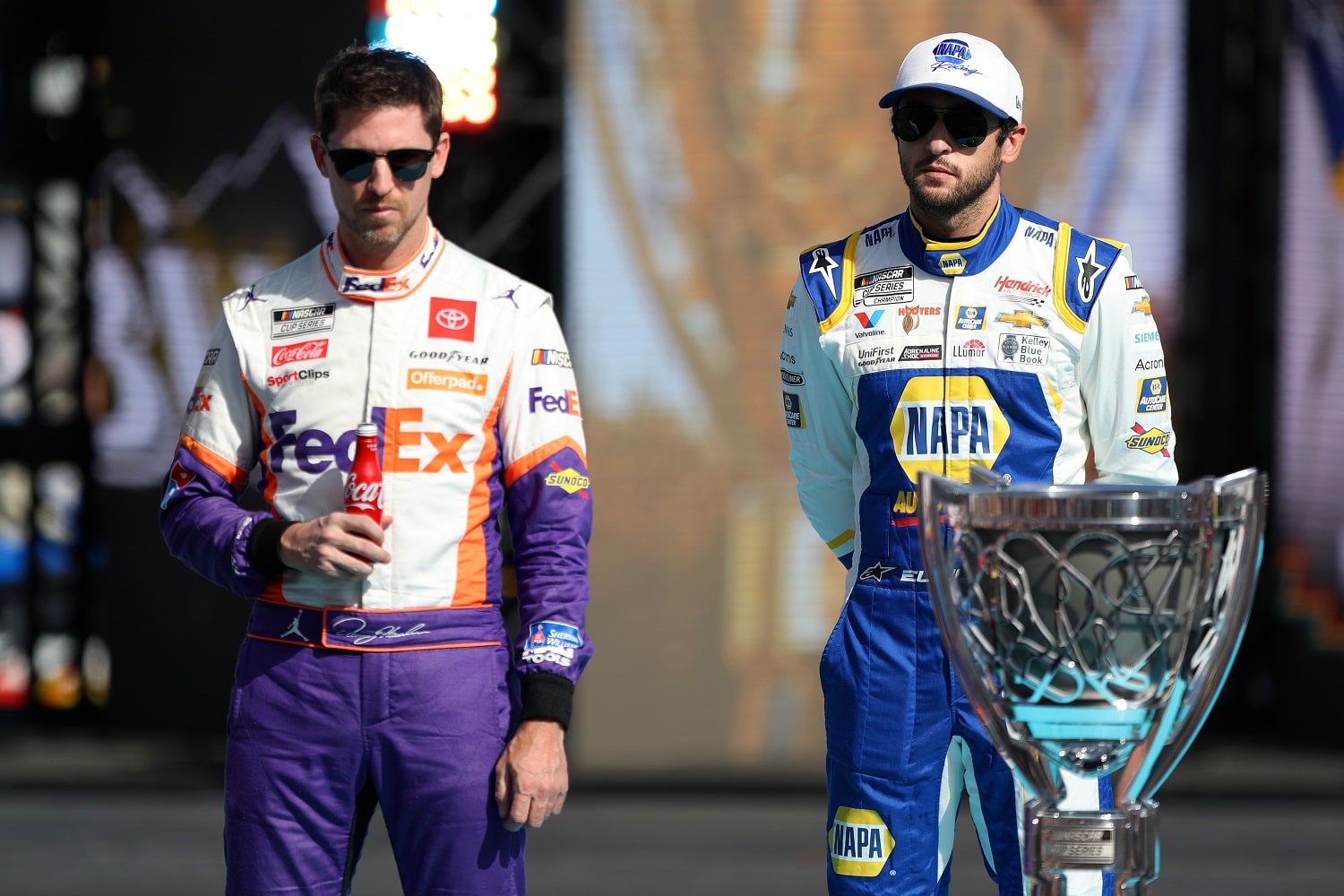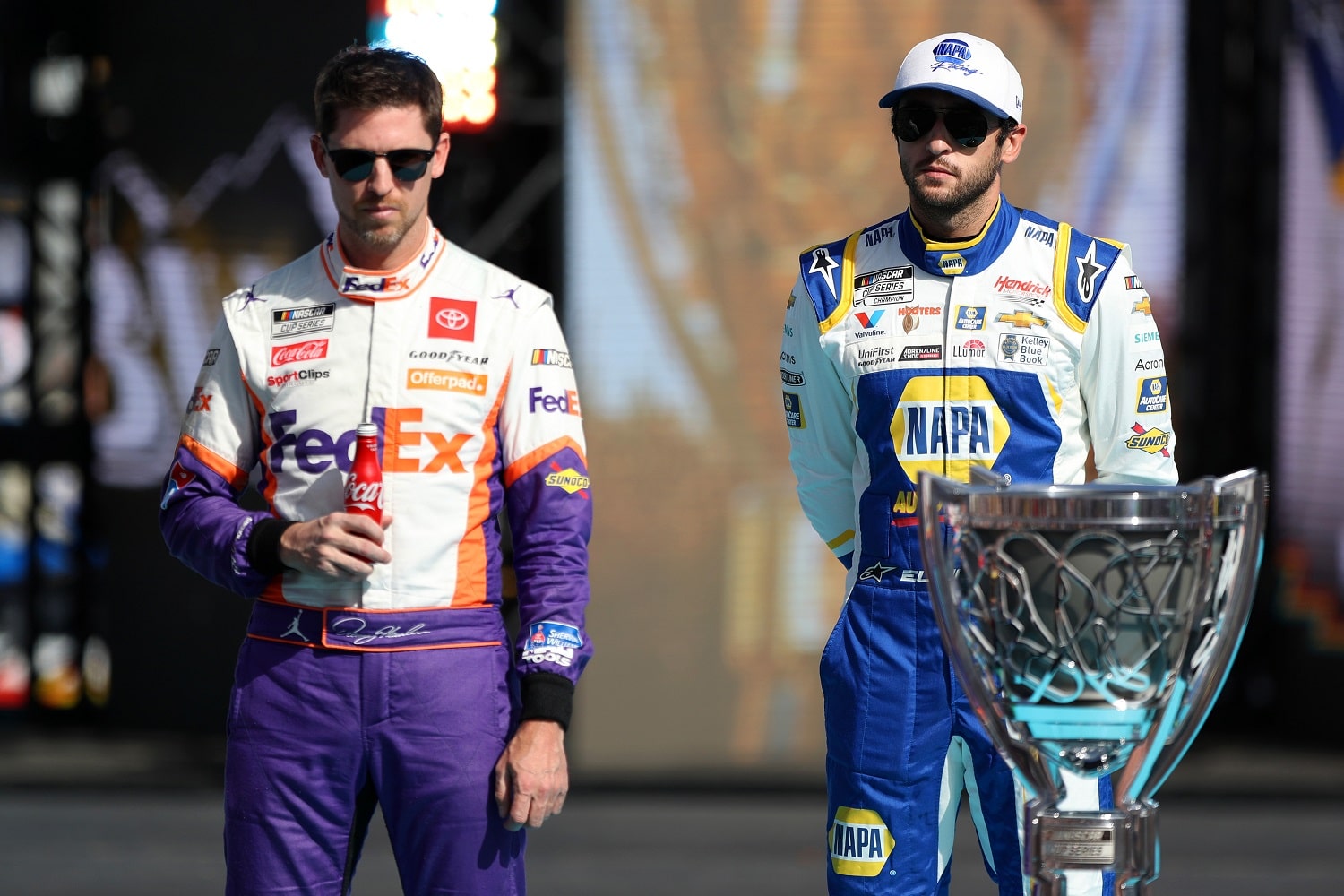 You can forget a lot in three months, even one of the strangest NASCAR Cup Series stories of the year not involving Ross Chastain or Kyle Busch. July 24, 2022, was one of those days that faded from memory but resonates loudly now.
Nearly everyone had left Pocono Raceway in Long Pond, Pennsylvania, thinking Denny Hamlin had won the M&Ms Fan Appreciation 400. However, the post-race inspection uncovered problems with the Toyotas of Joe Gibbs Racing teammates Hamlin and Kyle Busch, and NASCAR disqualified both. Chase Elliott was elevated to first place for the last of his four regular-season victories.
The trophy and the check were nice, but winning carried another significant bonus: five playoff points that would carry over for each reset as long as Elliott continued to advance. Little did anyone realize at the time just how crucial those points might be.
All eyes in the late going Sunday at Martinsville were on Hamlin and Ross Chastain battling. If Christopher Bell or any other playoff driver besides Joey Logano won, then Hamlin vs. Chastain shaped up as the battle for the last Championship 4 berth. Little did we know, it could just as easily have been Chastain or Hamlin vs. Elliott.
Logano and Bell advanced by virtue of winning in the round of eight. The final points tally behind them:
Chastain 4,140
Elliott, 4,138
Hamlin, 4,134
How badly do you think Hamlin would like those five Pocono points that went to Elliott instead?
Christopher Bell's clutch October started at Loudon
Sixteen drivers won regular-season races, which should have locked non-winners out of the NASCAR Cup series playoffs. Kurt Busch's withdrawal on the eve of the playoffs opened a spot for one qualifier based on points, and that spot went to Ryan Blaney, third in the standings. That left Martin Truex Jr. (fourth in points) frozen out.
Further down, Christopher Bell finished seventh in points. Fortunately, he had a victory on his resume. But he's the only Championship 4 competitor who began the playoffs without multiple wins.
Bell's triumph came at New Hampshire Motor Speedway on July 17. He took his first lead of the day on Lap 260 of the scheduled 301 and held on for the remainder of the day.
Finishing fourth? Truex, who led the first 95 laps after starting from the pole and a dominating 172 overall. That's how close Bell could have come to not making it to the race that will decide the championship.
Kyle Busch in the hunt would have made a fun Championship 4
It would have been asking too much for Kyle Busch to make it to the Championship 4 in the season he's leaving Joe Gibbs Racing. Unfortunately, his contract status and JGR's early struggles finding the Next Gen sweet spot were a lot to overcome. Throw in some issues in the pits and late mechanical issues with the No. 18, and making it to the final 12 was all Busch could manage. He fell short of the round of eight by two points.
One race in particular may gnaw at him as he reflects on 2022 and prepares for the move to Richard Childress Racing. Busch appeared to be heading for a victory in Las Vegas on March 6 until a late caution set up an overtime finish. Alex Bowman's crew went with a two-tire pit strategy, the No. 48 Chevy subsequently won the race, and Busch delivered one of the year's unforgettable quotes:
"The same f****** guy that backs into every f****** win that he ever f****** gets backs into another f****** win," he said on the team radio.
It turns out Bowman needed that win to make the playoffs, but it's also true that the five playoff points could easily have been enough to get Busch into the round of eight, where perhaps he could have worked some Ross Chastain-style magic of his own.
Got a question or observation about racing? Sportscasting's John Moriello does a mailbag column each Friday. Write to him at [email protected].
Have thoughts on this topic? Keep the conversation rolling in our comments section below.