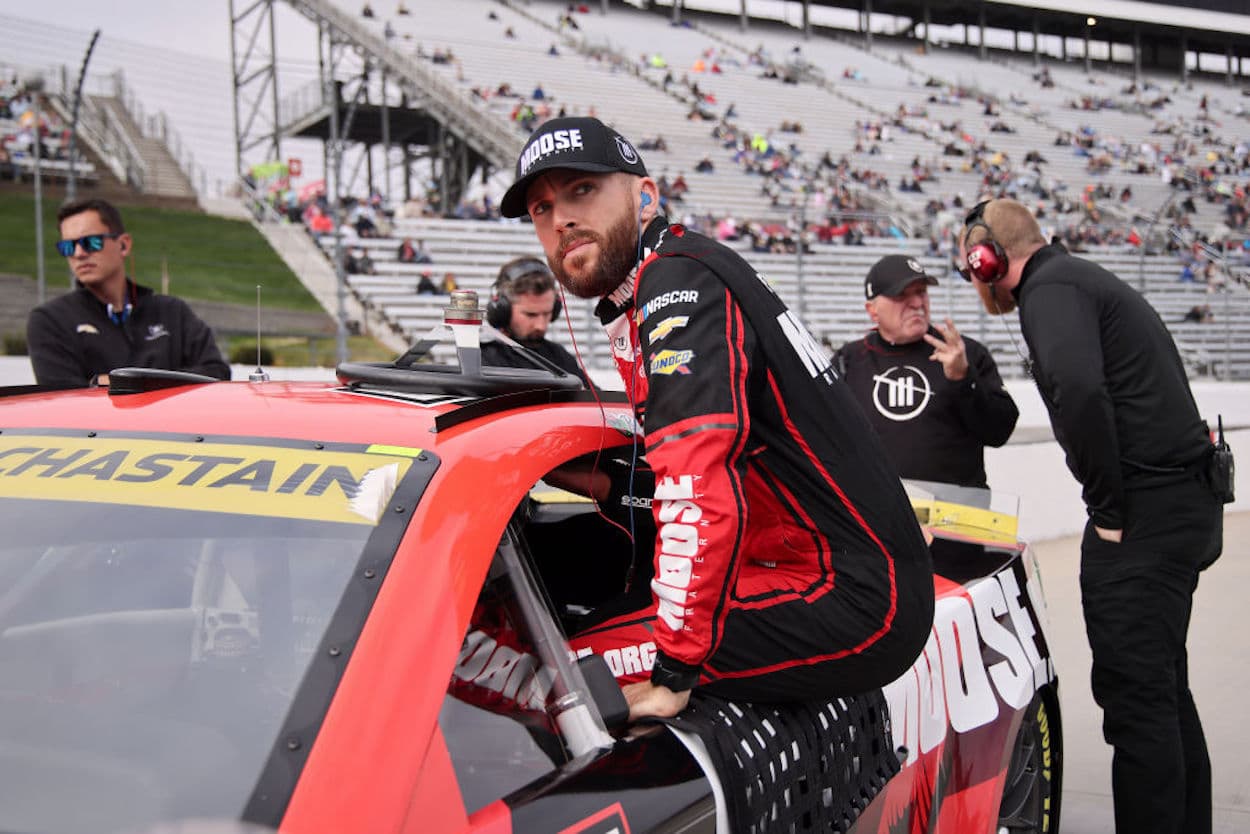 3 Reasons Why Ross Chastain Will Win the Cup Series Championship — And 1 Reason He Won't
Ross Chastain rolled the dice at Martinsville, and it paid off. Can he seal the deal and clinch the Cup Series crown in Phoenix?
Who knew Ross Chastain was so good at driving up against a concrete wall? Still the buzz of the sports world for his Championship 4-clinching, video game-style move on the final lap of last Sunday's Round of 8 elimination race at Martinsville Speedway, Chastain is now preparing to race Christopher Bell, Joey Logano, and Chase Elliott straight up for the NASCAR Cup Series title.
Whether the Trackhouse Racing driver ultimately comes out on top Sunday at Phoenix Raceway is anyone's best guess, but it never hurts to speculate on his chances and consider why he may — or may not — leave the Arizona desert with the champion's hardware in hand.
Up next, we'll look at three reasons why Chastain will win the championship and one reason he's in danger of falling short.
Ross Chastain will stop at nothing to accomplish his goals
If the championship was awarded based on sheer desire, Ross Chastain would already have the trophy. To floor it hammer down as Chastain did in turns 3 and 4 on the last lap at Martinsville because he knew he needed to pass two cars to advance shows tremendous heart and a refuse-to-lose attitude.
The move certainly could have gone awry for Chastain, but in that moment, he wasn't thinking about the embarrassment he might face if it did. It was all about going for broke and letting the proverbial chips fall where they may. Thankfully for Chastain, the move paid off as he managed to gain five positions and punch a ticket to the Championship 4 while his allies and rivals alike watched in wonder and amazement at the feat they'd just witnessed. But Chastain's primary reward isn't all the attention he's received over the last few days — it's having the chance to race for a championship. 
"I wish I would've had five more points throughout the playoffs, and I could've just cruised in 10th and been out of sight, out of mind," Chastain said in press release from Team Chevy PR. "Those weren't the cards we were dealt, though. This means the world. This is a life achievement, a career achievement, this is what we work for and dream about. 
"Just getting the opportunity is all I could ever ask for. Then to do it, make the decision I did down the backstretch is wild enough. The fact that it worked is truly unbelievable. I still watch the video and it doesn't look real."
Ross Chastain has been fast throughout the playoffs
Unlike some drivers who've had to lean on playoff points they amassed in the regular season to advance from one round to the next, Ross Chastain has been fast throughout the playoffs — not just on the final lap at Martinsville when his refusal to lift off the throttle in the third and fourth turn resulted in a new track record.
Sure, he may have needed a Hail-Mary move to reach the Championship 4, but it wasn't due to a dearth of his speed in his No. 1 Trackhouse Racing Chevrolet since the playoffs commenced on Labor Day weekend.
Chastain has finished seventh or better in six of the nine playoff races held so far, ripping off four top-fives in his last five starts. So it's fair to say the eighth-generation watermelon farmer is trending in the right direction heading to Phoenix for Sunday's season finale.
"This is going to be the hardest race of his life," team owner Justin Marks said on a Zoom call with reporters earlier this week. "It's going to be the most pressure-filled race of his life. But we can do it. We have the talent. We have the tools. We have the passion and the hunger to do it. 
"It's going to be incredibly difficult, but it's 100 percent possible. We just have to go execute. We just have to execute perfectly and leave it all out there."
Ross Chastain has enjoyed recent success at Phoenix
Although winless in eight career Cup Series starts at Phoenix, Ross Chastain has fond memories from the March race in the Valley of The Sun — where he finished second, 12 spots better than his previous result at the 1-mile track.
Chastain has still never led a lap at Phoenix — something he'll likely have to do this weekend to capture the championship — but just knowing he performed so well in his last trip to the Arizona desert should only boost his confidence for this weekend. 
It's worth noting that Chastain's runner-up finish at Phoenix came in the only race that's been contested here in the Next Generation Cup Series car that debuted this year. So while Chastain might not have the most impressive record at Phoenix among the four championship finalists, he owns the best finish here with the Next Gen car. And that has to count for something.
Ross Chastain is still on several drivers' bad side
Although Ross Chastain has enjoyed a career season in 2022, it's come at a cost. The cost of a clean reputation.
Among the drivers Chastain has infuriated on at least one occasion with his aggressive, no-holds-barred approach are fellow Championship 4 driver Chase Elliott, Denny Hamlin, Kyle Busch, and Martin Truex Jr. 
Busch even joked after the fall Richmond race — where a bump from the Trackhouse Racing driver sent his No. 18 Toyota for a spin — that he'd been "Chastain'd." Meanwhile, Busch and Hamlin have both hinted that Chastain could have some payback awaiting him in the playoffs. It hasn't happened yet, but are Chastain's rivals waiting until the biggest race of all to stick it to him for wrecking them earlier in the year?
We'll find out soon enough, but suffice to say that Chastain's enemies aren't going to go out of their way to help him win a championship — and they might even try to stop him from winning one.