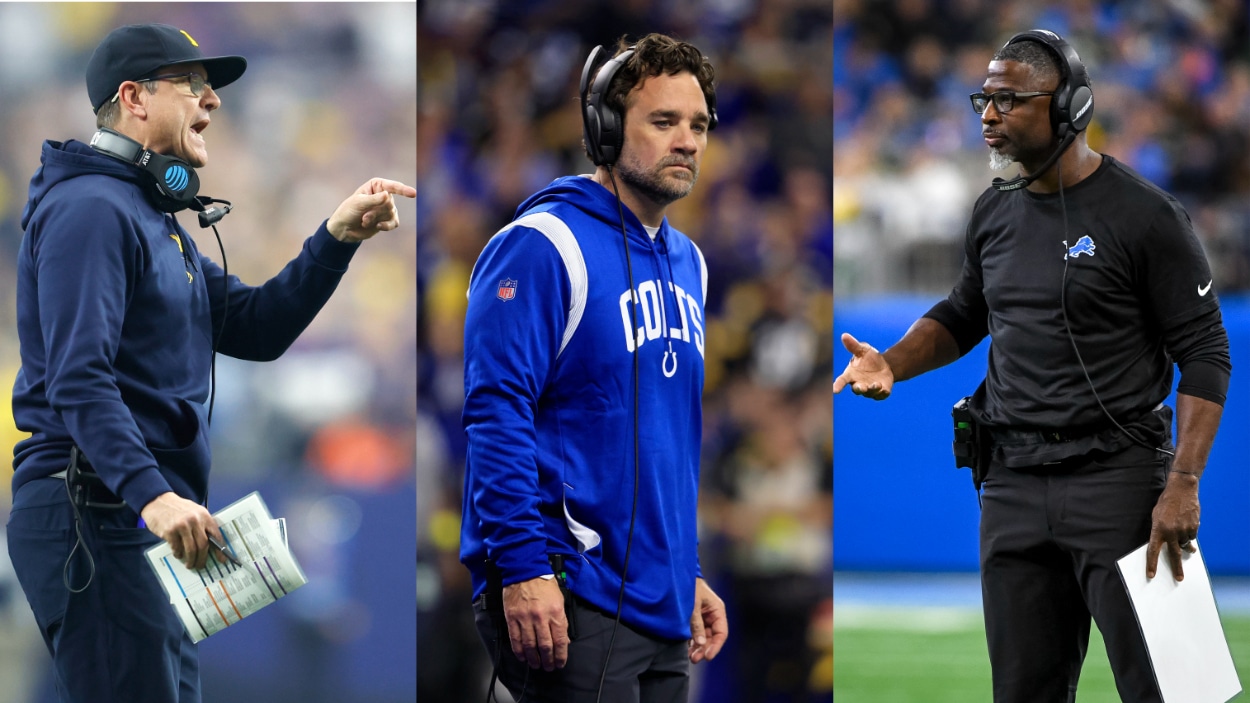 4 Best Colts Head Coach Candidates, Ranked
Here are the four best Colts head coach candidates in 2023, what should become of Jeff Saturday, and the Colts head coach history.
The Indianapolis Colts are one of the five NFL teams (for now) heading into the 2023 offseason without a head coach. The team has already announced owner Jim Irsay, and general manager Chris Ballard will interview interim coach Jeff Saturday, but is he one of the four best Colts head coach candidates? Here we will look at the top contenders for the Indy job and the Colts head coach history.
How Jeff Saturday fared after taking over for Frank Reich
Jim Irsay shocked the NFL world when he hired ESPN analyst and former high school football coach Jeff Saturday as interim head coach. Saturday is also a Colts legend as a player, but there were several more qualified former head coaches and ex-players already on staff.
As the Colts head coach, Saturday started fast out of the gates, beating the Las Vegas Raiders 25-20 in his inaugural game. Unfortunately for Saturday and the team, it was all downhill from there.
The Colts went 0-7 down the home stretch with some notably embarrassing losses.
The Dallas Cowboys put up 33 points in the fourth quarter of a 54-19 Week 13 win, falling just one point shy of the NFL record for a single period. Two weeks later, the Minnesota Vikings did get a record, completing a 33-point comeback, the biggest in NFL history.
Finally, with every incentive to lose in order to get the No. 1 overall pick, the Houston Texans beat the Colts in Week 18, completing a 4th-and-20 and a two-point conversion in the final minute of the game to do so.
The Jeff Saturday experiment was a bold, if ill-conceived, one from the Colts. While he will get an interview, he should join the Colts head coach history, not become the team's 18th full-time coach.
Best Colts head coach candidates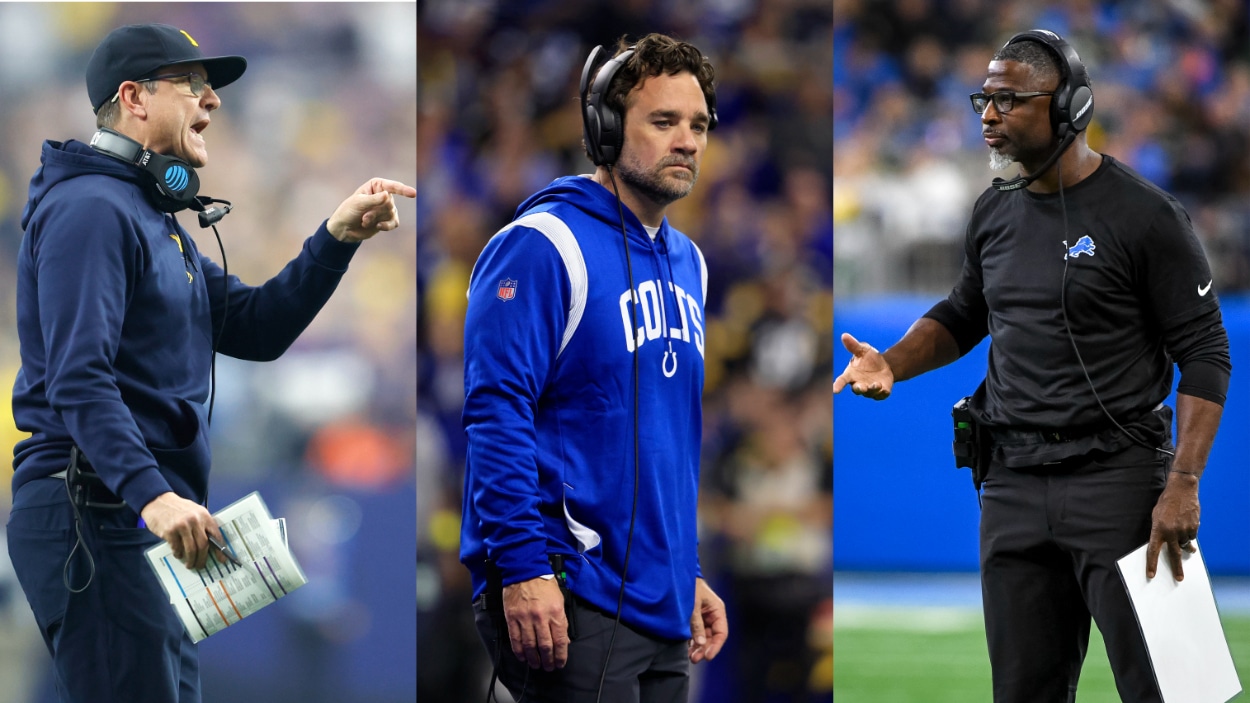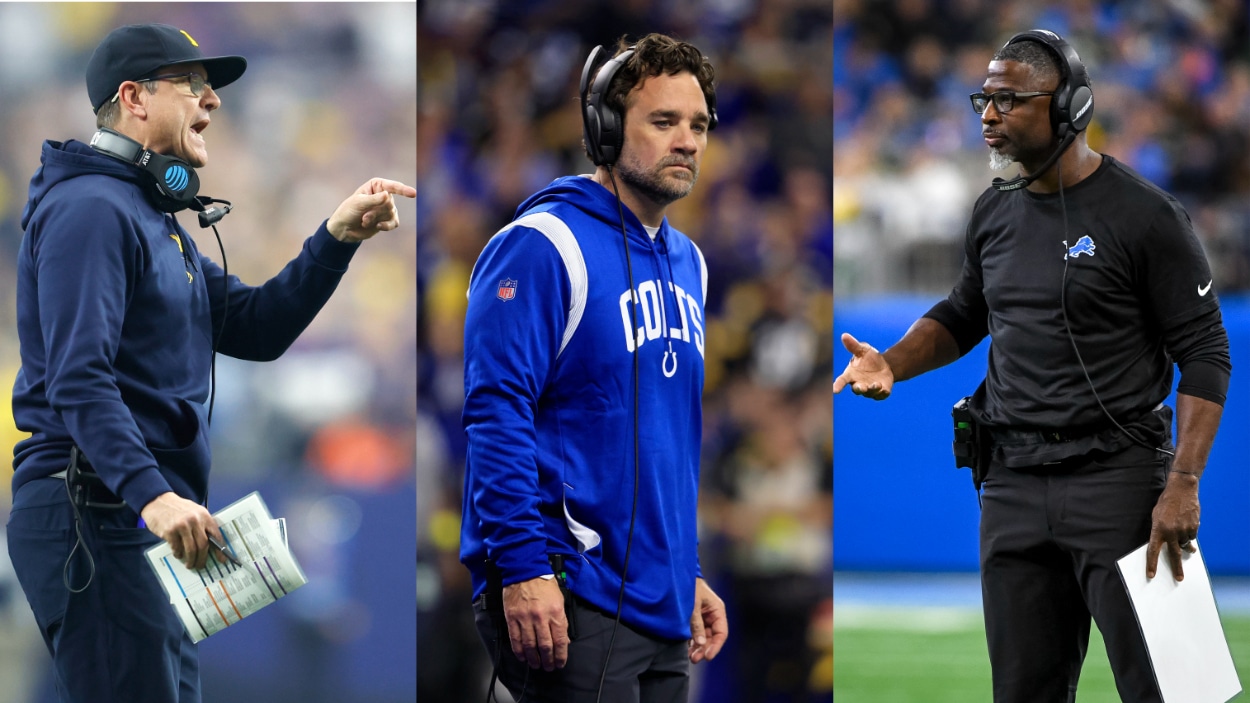 Indianapolis is a relatively blank slate for a new Colts head coach. They have some nice pieces on defense, some good (but aging) pieces on offense, and no quarterback to speak of. Whichever of the Colts head coach candidates gets the job, they will have an uphill battle ahead of them unless they figure out how to shock the roster and the franchise into action from Day 1. Here are the Colts' best options, in order from "worst" (of the four best) to best.
4. Raheem Morris, defensive coordinator, Los Angeles Rams
After hiring the OC of the moment, Frank Reich, back in 2018, the next Colts head coach might be from the defensive side of the ball. Plus, if the Colts win in 2023, it will likely be on the back of the D. Rams DC Raheem Morris as head coaching experience, and he will likely be able to bring a young Sean McVay disciple with him to run the offense.
3. Aaron Glenn, defensive coordinator, Detroit Lions
Like Morris, Aaron Glenn is a successful DC. However, (for better or worse) he doesn't have the failure on his resume that Morris has. Glenn also led a constantly improving Lions defense throughout the year, and as a long-time former NFL player like his current boss, Dan Campbell, maybe Glenn can win over the locker room like Campbell did.
2. Ben Johnson, offensive coordinator, Detroit Lions
Lions OC Ben Johnson is one of the hottest names on the coaching circuit in 2023. He helped turn Jared Goff and the Lions into one of the most exciting offenses in the league. If the Colts plan on picking a quarterback at No. 4 (or trading up even higher), Johnson might be the best pick.
1. Jim Harbaugh, head coach, Michigan Wolverines
As Jeff Saturday proved, Jim Irsay likes former players, and he thinks (maybe too far) outside the box. Jim Harbaugh, who played four of his 14 NFL seasons in Indy, fits both these categories. Harbaugh has a reputation for being tough to deal with, but so does Irsay on many levels. Maybe that will be the perfect match. Also, Harbaugh is 44-19-1 as an NFL head coach, and you can't argue with that success.
Colts head coach history 
The NFL franchise that we know as the Colts today started as the Baltimore Colts in 1953. From 1953 to 1983, the team had eight full-time head coaches and two interim head coaches. Frank Kush made the transition with the team to Indianapolis and is one of 10 full-time and four interim head coaches for Indy. Here is the full Colts head coach history:
Baltimore Colts head coaches
Keith Molesworth, 1953
Weeb Ewbank, 1954–1962 — member of the Pro Football Hall of Fame
Don Shula, 1963–1969 — member of the Pro Football Hall of Fame
Don McCafferty, 1970–1972  
John Sandusky, 1972 — interim head coach
Howard Schnellenberger, 1973–1974           
Joe Thomas, 1974 — interim head coach
Ted Marchibroda, 1975–1979 
Mike McCormack, 1980–1981*
Frank Kush, 1982–1983
Indianapolis Colts head coaches 
Frank Kush, 1984
Hal Hunter 1984 — interim head coach
Rod Dowhower, 1985–1986
Ron Meyer, 1986–1991**
Rick Venturi, 1991 — interim head coach
Ted Marchibroda, 1992–1995
Lindy Infante, 1996–1997
Jim Mora, 1998–2001
Tony Dungy, 2002–2008 — member of the Pro Football Hall of Fame
Jim Caldwell, 2009–2011
Bruce Arians, 2012*** — interim head coach
Chuck Pagano, 2012–2017
Frank Reich, 2018–2022
Jeff Saturday, 2022 — interim head coach
A few notes on the Colts head coach history: Mike McCormack (*) is in the Pro Football Hall of Fame, but as a defensive tackle for the Cleveland Browns. Ron Meyer (**) was interim head coach for the final three games of the 1986 season before getting the Colts head coach job. And Bruce Arians (***) was the interim head coach in 2012 for 12 game while Chuck Pagano underwent treatment for leukemia. Arians won Coach of the Year with a 9-3 record, but those wins are credited to Pagano.