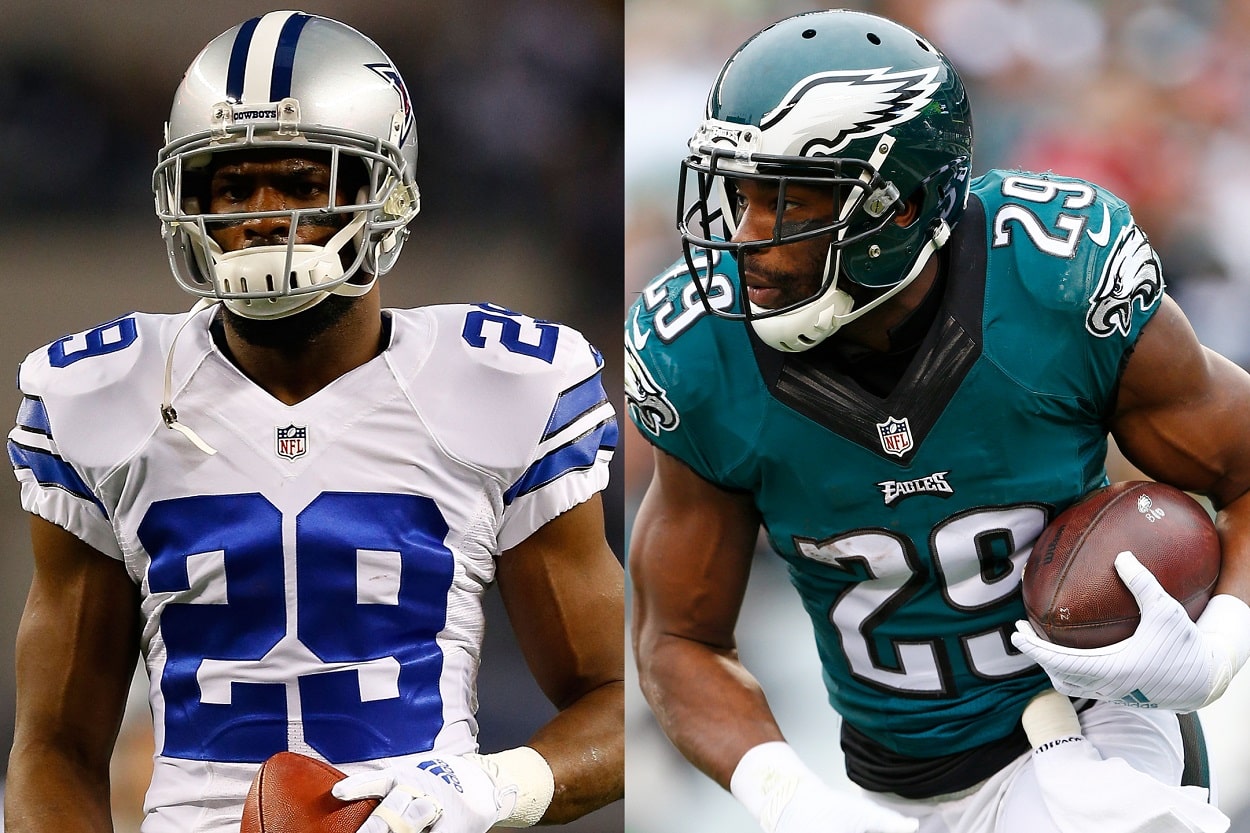 5 Dynamic Dallas Cowboys Who Flopped as Philadelphia Eagles
A look at five NFL players who played well for the Dallas Cowboys but not so well with the Philadelphia Eagles.
For more than 60 years now, the Dallas Cowboys and Philadelphia Eagles have engaged in one of the fiercest rivalries in the NFL.
When you play for the Cowboys, you hate the Eagles. And when you play for the Eagles, you hate the Cowboys. That's just how it goes with these longtime NFC East foes. But that hatred sometimes has to be tossed aside in the business that is professional sports.
While there are NFL players who spend their entire career wearing just one uniform, the percentage is relatively low. And there have certainly been plenty who have worn the colors of both the Cowboys and Eagles, some of whom played well for each team, the best example arguably being Terrell Owens.
In Owens' case, he was an Eagle first, playing two years in Philly before spending three years with America's Team. And he was a Pro Bowler with each.
But then you've got the cases of the following five individuals, all of whom played solid football for the Cowboys but went the other way when they put on an Eagles uniform. And here they are in alphabetical order.
Miles Austin
Undrafted out of Monmouth in 2006, Miles Austin signed with the Cowboys and was mainly used on special teams his first few years.
He finally got his chance as a starting wide receiver and made the most of it, earning a trip to the Pro Bowl by catching 81 passes for 1,320 yards, good for third in the NFL behind only Andre Johnson and Wes Welker, with 11 touchdowns. He made a second consecutive Pro Bowl appearance following the Cowboys' 2010 campaign, catching 69 passes for 1,041 yards with seven scores.
Austin's tenure in Dallas ended following the 2013 season, and after one season with the Browns, he signed a one-year/$2.3 million contract. But he didn't even make it through that one year. In 11 games with Philadelphia, he caught just 13 passes for 224 yards and a lone score before being released. Austin never played in the NFL again.
Chris Boniol
Signed as an undrafted free agent out of Louisiana Tech in 1994, Chris Boniol was one of the most accurate kickers in the NFL while wearing a Cowboys uniform.
After struggling a bit as a rookie, Boniol made 96.4% of his field goals (27-for-28) in 1995, at the time the highest percentage in league history, helping Dallas win a third Super Bowl in four years. After another solid season in 1996, during which he made 88.9% of his field goals, he was offered a big contract by the Eagles, which Jerry Jones refused to match.
But Boniol forgot to take his accuracy to the City of Brotherly Love. In 1997, his field goal percentage dropped to 71%. It dipped even further to 66.7% in 1998, and Philadelphia had seen enough, releasing him ahead of the '99 season. He appeared in 10 games for the Bears that year, making just 61.1% of his field goals, and never kicked in the NFL again.
Felix Jones
While rarely the guy in the backfield for the Cowboys, running back Felix Jones was a vital piece of the Dallas offense for several years after being selected in the first round of the 2008 NFL Draft out of Alabama.
In 2009, he ran for 685 yards on 116 carries, averaging a league-best 5.9 yards, at the time the 10th-highest since the NFL-AFL merger in 1970. During a wild-card win over none other than the Eagles that season, the Cowboys' first playoff win since 1996, Jones rushed for 148 yards, the third-highest postseason total in playoff history. The performance included a franchise playoff-record 73-yard touchdown run.
He split time with DeMarco Murray (more on him in a moment) over the next few years, but when it became clear that Murray was becoming a star, the Cowboys chose not to re-sign Jones following the 2013 season, at which point he signed a one-year contract with the Eagles to back up LeSean McCoy.
But he didn't even make it through the preseason. After being passed on the depth chart by multiple backs, Jones was traded to the Steelers before the regular season began. He rushed for just 184 yards for Pittsburgh in 2013, wasn't re-signed, and never played in the NFL again.
DeMarco Murray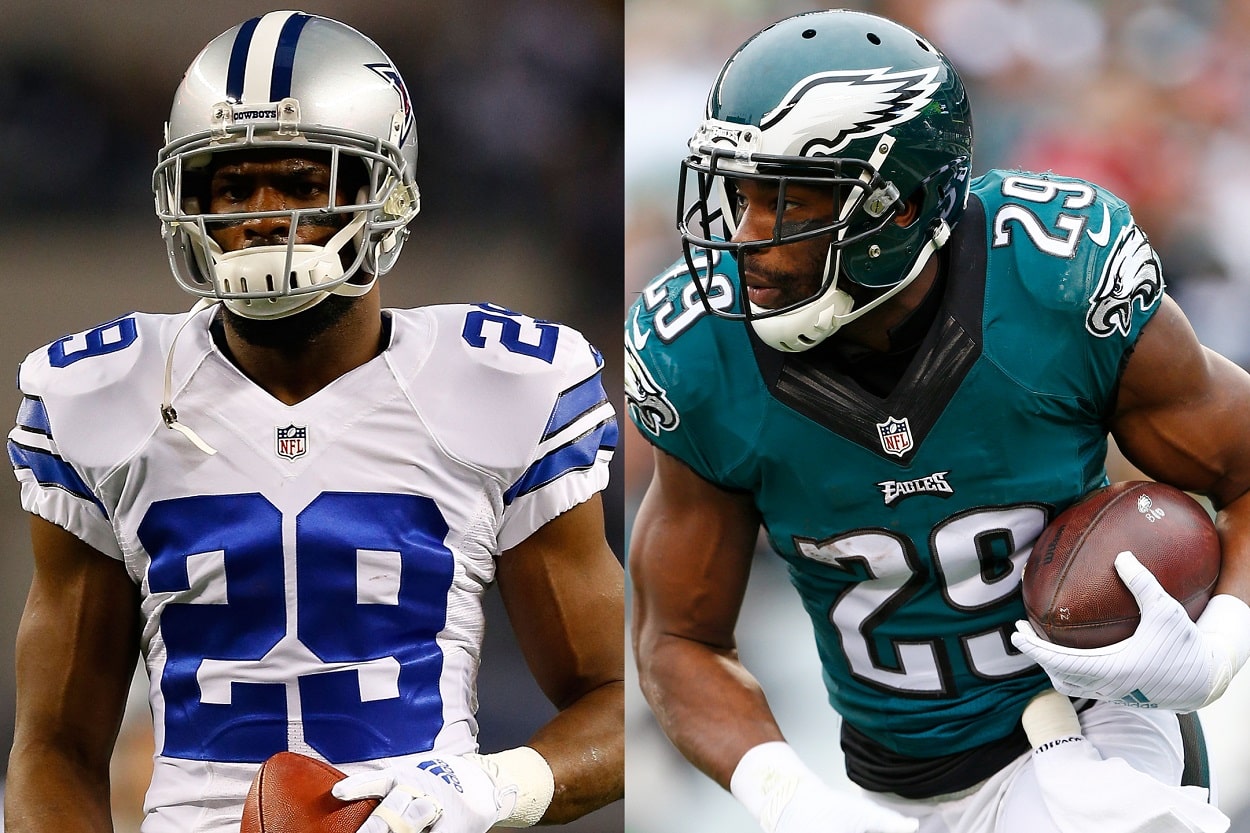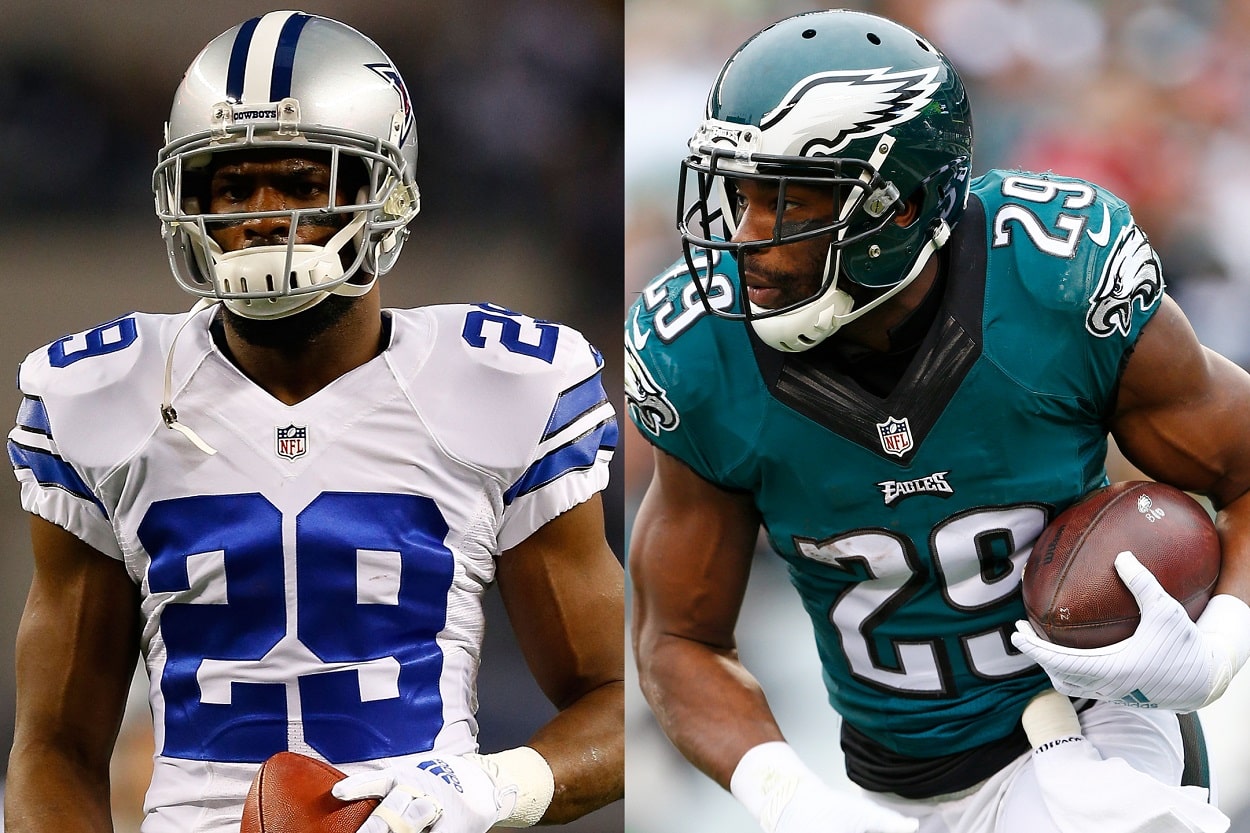 Easily the most high-profile player on our list is running back DeMarco Murray, who Dallas selected in the third round of the 2011 NFL Draft out of Oklahoma.
As a rookie, Murray came off the bench and broke the Cowboys' single-game rushing record with a 253-yard performance against the Rams. Just one week later, he made his first NFL start against — yep, you guessed it — the Philadelphia Eagles.
When Jerry Jones chose not to bring back Felix Jones ahead of the 2013 season, Murray's workload increased considerably, and he earned his first trip to the Pro Bowl, rushing for 1,121 yards and nine touchdowns.
The following season, the former Sooner won the rushing title and earned First-Team All-Pro and Offensive Player of the Year honors by rushing for 1,845 yards and a league-best 13 touchdowns.
Ahead of the 2015 season, the Eagles traded LeSean McCoy to the Bills and were seemingly set to sign Frank Gore, who instead signed with the Colts. With Jerry Jones apparently not wanting to commit to Murray, Philly swooped in and inked him to a five-year/$40 million contract.
But Murray played just one of those five years with the Eagles. He had just one 100-yard game in 2015 and ran for more than a thousand yards less than he had a season earlier, rushing for 702 yards and six touchdowns.
He lost his starting job to Darren Sproles and was traded the following March to the Titans, with whom he earned his third trip to the Pro Bowl in his first season, rushing for 1,287 yards and nine touchdowns.
Orlando Scandrick
Overall, defensive back Orlando Scandrick certainly wasn't the most talented player on this list. But the odd thing about that is that he had the longest NFL career of the five names here. And to Eagles fans, he's probably the most hated of the five names here as well.
Taken in the fifth round of the 2008 NFL Draft out of Boise State, Scandrick played 10 years (he missed the entire 2015 season) with the Cowboys, recording 406 tackles, eight interceptions, one of which he returned for a touchdown, 11.5 sacks, and seven forced fumbles.
With the Dallas defense going younger, he was released ahead of the 2018 season, and after spending one year with the Chiefs, Scandrick signed with the Eagles in 2019 but was released during final roster cuts in the preseason.
However, Philly brought him back a few weeks into the season, and it seemed like a wise move as he recorded two sacks against the Jets in his debut. But just two weeks later, after getting burned several times in a 37-10 loss to — yep, you guessed it — the Dallas Cowboys, Scandrick was released, and he never played in the NFL again.
But his story doesn't end there like most of the others.
A few days after being released, Scandrick took to the airwaves to rip the Eagles. Speaking with Skip Bayless and Shannon Sharpe, he tore into the Philly franchise as a whole, insulting GM Howie Roseman and even some of his short-time teammates, including highly-respected fellow defensive back Malcolm Jenkins, calling him a poor leader.
Remember how we discussed putting aside that hatred when putting on a new uniform? Seems like that never happened in this last case.
Have thoughts on this topic? Keep the conversation rolling in our comments section below.