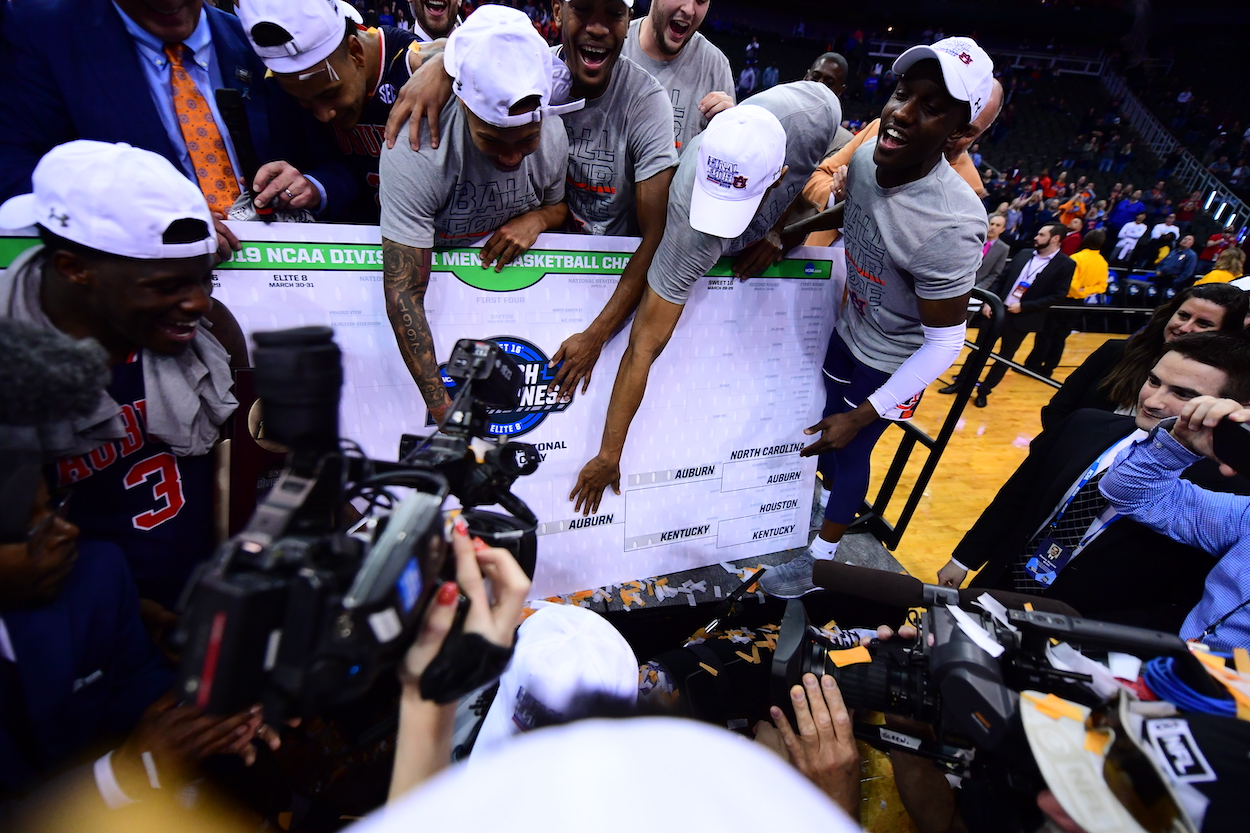 5 NCAA Tournament Bracket Tips That Will Help You Dominate Your March Madness Pool
The NCAA Tournament is finally back, which means it's time to get you ready with helpful tips to dominate your March Madness bracket pool.
Ah, March Madness. How we've missed you so.
After being canceled last year due to COVID-19, the NCAA Tournament is back in 2021, and it's time to dust off those brackets. But before filling out your entry this year, check out our five crucial tips to help you create a winning bracket and dominate your friends and co-workers this March.
1. Make sure you have up-to-date information before filling out your bracket
We know, we know. You're excited that March Madness is back and you can't wait to jump in and start making your winning picks. But not so fast.
Before even making a single selection on your 2021 bracket, make sure you're in-the-know on every major injury, COVID-19 update, or anything else that could be affecting a team heading into the first round of the NCAA Tournament.
Did you know Georgia Tech will be without their best player, Moses Wright, against Loyola-Chicago due to a positive COVID-19 test? Or what about how Oklahoma will be missing its second-leading scorer, De'Vion Harmon, for the same reason? Oh, and we still don't even know who's suiting up for Virginia on Saturday.
If you can show just a little patience, that extra bit of research is going to give you a huge advantage over your friends or colleagues who make their picks without any background knowledge. Study up!
2. Pick at least one 11 seed and one 12 seed to advance
OK, now that we got the housekeeping out of the way, let's get to the good stuff. Anyone in for some upsets to start?
Everyone loves picking upsets in the first round, but it's important to know which matchups to target before blindly picking a 15 seed to advance because you like their mascot. Historically, 11 seeds and 12 seeds have been successful upset picks if you're looking for a first-round stunner.
Over the last 40 years, there have been 52 11-over-6 upsets and 50 12-over-5 upsets. By comparison, there have been only 55 10-over-7 upsets over the same span.
In 2019, the last time we saw an NCAA Tournament bracket, THREE 12 seeds upset 5 seeds in the round of 64. Two years before that, three 11 seeds triumphed over 6 seeds in the same round.
Make sure to advance at least one 11 seed and one 12 seed in your bracket.
3. Don't go too crazy with your upset picks
So, we do want to pick upsets in our brackets, but just not TOO many upsets. Since the NCAA Tournament field expanded to 64 teams in 1985, there has been an average of 12.7 upsets per year (defined by when a team defeats a seed two or more lines better than them, Ex: 3 seed over 1 seed). But the frequency of upsets drops significantly as the tournament progresses.
The average of 6.1 upsets in the first round drops to 3.6 in the second round and just 1.7 in the third round. Translation: underdogs can pull some shockers up until the Sweet 16, but that's normally where the tournament stabilizes and higher seeds start to impose their will.
It's OK to move a few double-digit seeds to the Sweet 16, but just don't get too crazy after that.
4. Stick to chalk in the Final Four
Alright, we've carefully selected our upsets and moved a few Cinderellas into the Sweet 16, but now it's time for the important part. Typical bracket contests utilize a 1-2-4-8-16-32 point system (as in, one point for a correct first-round selection, two points for a correct second-round selection, etc.), so it's imperative that we get most of our Elite Eight and Final Four teams nailed down.
And, as boring as it may be, chalk is the way to go as we get further into the bracket.
Since 1985, 1 seeds have dominated the late stages of the tournament with 57 Final Four appearances and 34 trips to the title game. Comparatively, 2 seeds have reached the Final Four 29 times in the last 35 tournaments. Seeds 5-16 have only reached the Final Four 24 times combined over the same span.
Correctly picking the George Mason's or Loyola-Chicago's to the Final Four is a hell of a rush, but it's a foolish strategy if you're trying to win your bracket pool.
5. 1 seeds are kings
Looking for a champion for your 2021 March Madness bracket pool? Look no further than the four No. 1 seeds.
Since 1985, 22 of the last 35 national champions have been a 1 seed, including 10 of the last 13. We're not telling you to pick every 1 seed to win their region (it's only happened once), but you should have at least one or two top seeds in your Final Four. Considering 1 seeds are far more likely to reach the national title game than any other seed, it's wise to choose one as your 2021 champion, especially this season with the top four teams being a step above the rest of the field.
Gonzaga, Baylor, Illinois, and Michigan are your four championship options this March.
Good luck!
All stats courtesy of NCAA