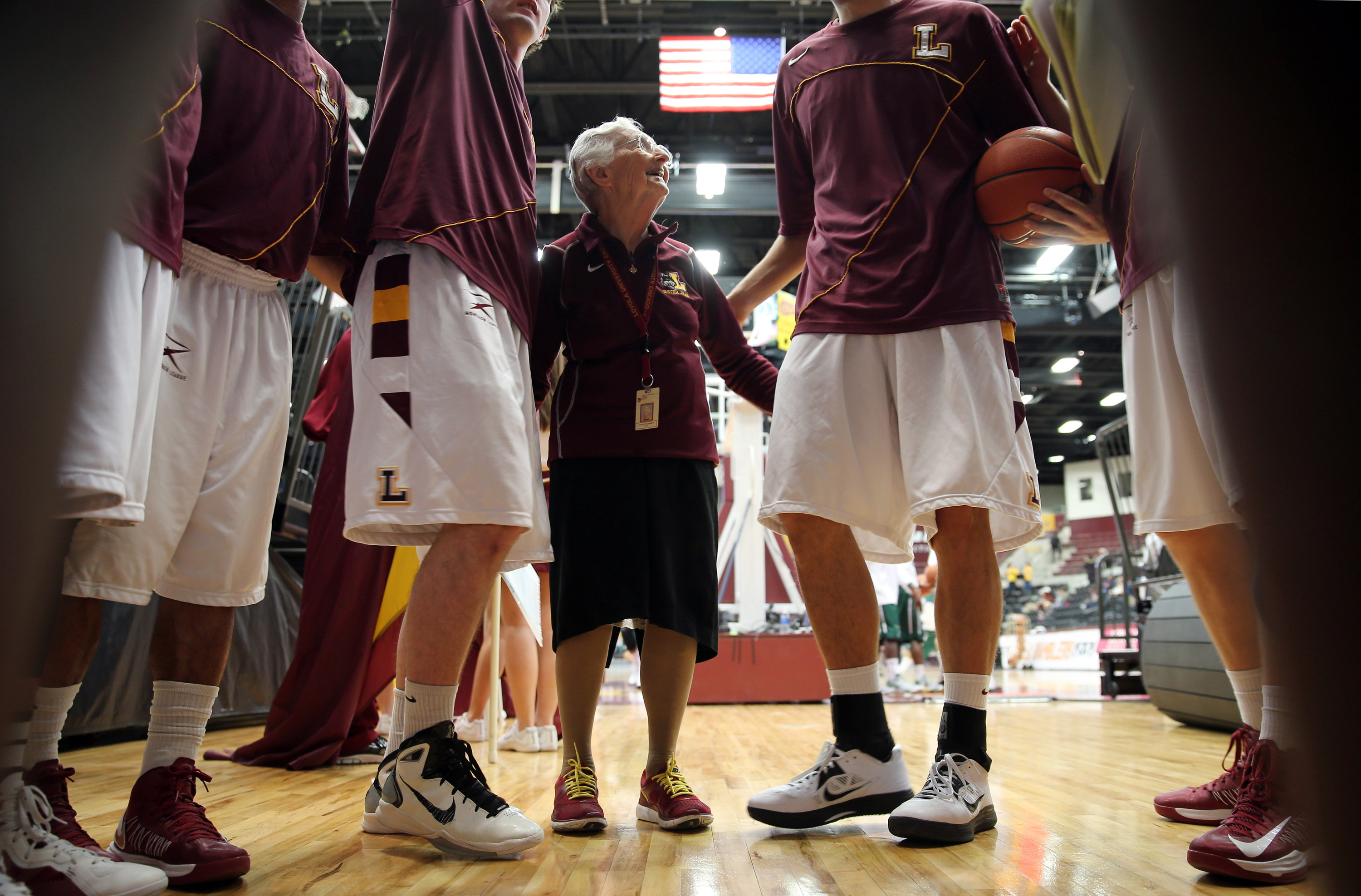 Sister Jean Trolls Kentucky After Given the OK to Attend March Madness
Sister Jean is headed to Indianapolis to see her Loyola Ramblers play. Before heading out, she took a little dig at Kentucky.
Persistence has paid off for Sister Jean. The ever-popular 101-year-old nun who is the team chaplain for the Loyola Chicago men's basketball team got her wish. She will be heading to March Madness in Indianapolis to see if her Ramblers can replicate their Cinderella run from 2018. While she was elated with the news, she also took a little dig at the University of Kentucky.
Sister Jean gets her wish to attend March Madness
Get ready to see a whole lot more of Sister Jean Dolores Schmidt. Basketball's most popular nun will likely be back in the spotlight after given the green light to attend Loyola Chicago's game against Georgia Tech in Indianapolis on Friday. Because of the COVID-19 pandemic and the fact Sister Jean is 101 years old, there were questions about whether or not she'd be allowed to attend.
Sister Jean was America's darling back in 2018 when her Loyola Ramblers were the talk of March Madness. Loyola made an improbable run to the Final Four, and with each victory, her popularity soared. She was always seen cheering on the players and hugging them before each game. As she prepares for Loyola's 2021 run, she knows there are restrictions. The hugging has to stop. The cheering certainly won't.
"What they wanted to do was be sure that all the safety factors were taken into consideration," Sister Jean said Tuesday, according to ESPN. "Sometimes people who haven't gone to the games or to the NCAA or even to March Madness, they're not sure exactly what goes on there. Sometimes they think it's like a teenage concert, where everybody's going to surround me and might not have any breathing space. If I'm not supposed to go on the court, I'm not going to go. And I'm not going to cause any disturbance."
An international star in 2018
While Loyola Chicago was making a name for itself on the basketball court three years ago, Sister Jean became a familiar face. As the Ramblers made their way to the Final Four after winning three games by a combined four points, Sister Jean's popularity grew outside the United States. Everyone knew Sister Jean.
"In 2018, Loyola got on the map and everybody was happy," Sister Jean said, according to ESPN. "We also made people happy. I got letters from Germany and France, different kinds of people, saying, 'You brought great joy to our country.' Now we need something to make us happy even more than we did in 2018."
The Ramblers are ready to make another run at an NCAA title. They no longer will be considered a Cinderella team like they were in 2018. Loyola won the Missouri Valley Conference championship and sport a 24-4 record. They enter as a No. 8 seed and are a three-point favorite in the opener against ninth-seeded Georgia Tech.
Sister Jean trolls Kentucky
Sister Jean is more than a popular figure. She's also more than Loyola's team chaplain. She also knows her basketball. Sister Jean wasn't thrilled with her team's draw and was puzzled by the logic that came with possibly putting two Illinois teams together for a second-round meeting. Should Loyola win, it would likely meet top-seeded Illinois. "It amazes me that they put two Illinois schools together to go against each other rather than support each other," she said, according to ESPN.
She has already filled out her NCAA bracket but said it's not yet set in stone. Sister Jean noted there are a lot of unfamiliar teams in the field of 68. She also noted there were some big-name schools that weren't in the field, singling out one in particular.
"I don't see Kentucky any place," she said. Get ready for a whole lot more of Sister Jean.