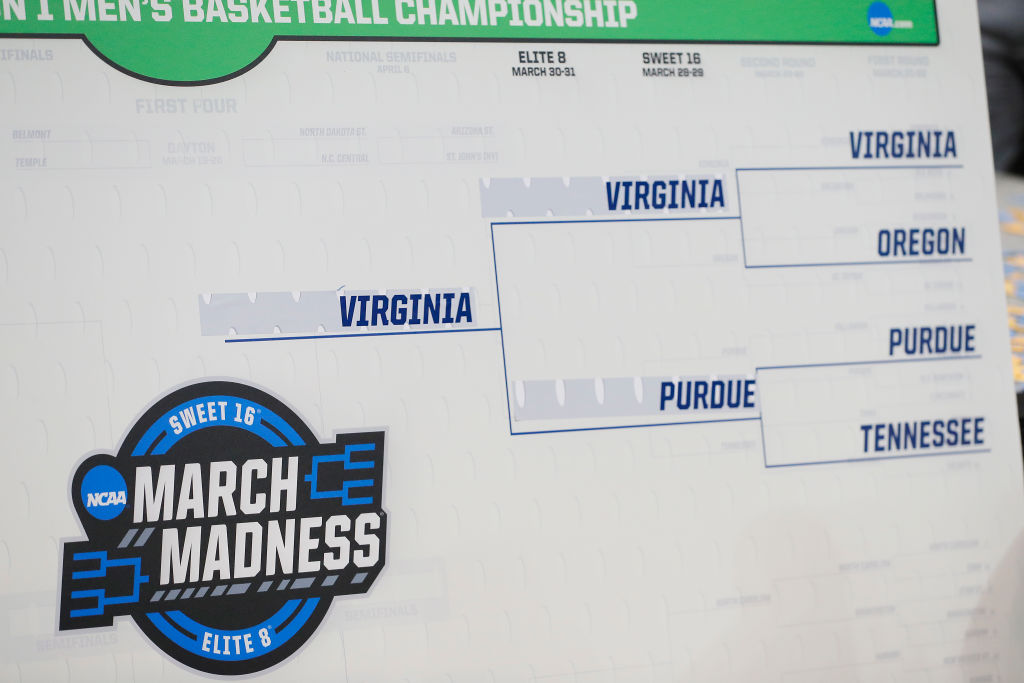 Who Is ESPN's Joe Lunardi and Do NCAA Bracketogists Matter?
Joe Lunardi is the best known of the NCAA Tournament bracketologists who try to project the 68 teams in the field and where they will be seeded.
Some TV personalities are inextricably linked to specific sports or events. Jim Nantz and The Masters is one pairing that comes to mind and Dick Vitale and college basketball is another. But for two weeks each March, Joe Lunardi and bracketology go together like peanut butter and jelly, Tom and Gisele, and balls and strikes.
Who is Joe Lunardi and what is bracketology?
Joe Lunardi is a college basketball analyst for ESPN who specializes in projecting at any given time which teams will make the NCAA Men's Basketball Tournament and where they will be seeded. The prognostication even has a name: bracketology, which Lunardi is credited with coining.
When not working for ESPN, Lunardi is the color analyst on Saint Joseph's men's basketball broadcasts and the school's vice president for marketing and communications. He previously edited a college basketball guide previewing the NCAA season and in 1995 it to release a postseason preview on the eve of the tournament selection announcement, which required projecting which teams were in or out.
ESPN began linking to his work online and in 2002 gave him a full-time presence on the network's website to go along with frequent broadcast interviews.
Numerous bracketologists are already regularly updating their projections by early January each season, but Lunardi's work is among the most frequently cited because he has been doing it for so long and because of the network's prominence in college basketball coverage.
There are 32 automatic berths awarded to conference champions each March. Bracketologists focus on the criteria used by the tournament selection committee to select the 36 other teams receiving bids and then seed the field of 68 teams.
Do bracketologists influence the tournament committee's selections?
Bracketology in February and early March is as inescapable as NFL mock drafts from February to April. The website BracketMatrix.com tracks the projections of more than 100 websites and blogs from around the country specializing in projecting which teams will make it into the NCAA Tournament.
By late March it's nearly impossible to sit through a major-college telecast and not hear a discussion of which teams are "on the bubble," meaning that they are both tantalizingly close to accumulating the credentials to make it into the field and dangerously close to missing it if they suffer an unexpected loss.
That sort of chatter and the popular bracketology device of highlighting the "last four teams in and first four out" become a media narrative, particularly during two weekends in March in which conference tournaments determine automatic qualifiers and leave other teams needing to wait for at-large bids.
However, the tournament committee has rigid criteria to follow and works independently of the bracketologists to assess so-called good wins and bad losses. As such, it's hard to imagine that the committee could be swayed by outsiders
One reason why Joe Lunardi has his detractors
Coaches whose teams are on the bubble or close to it have been critical of bracketologists in general and Lunardi specifically because of concern that the projections do in fact work their way into the subconscious of selection committee members.
The latest instance came Saturday when Indiana coach Archie Miller wondered whether Lunardi had an ulterior motive in having Indiana projected lower than nearly all the other bracketologists.
Even with Saturday's loss to Wisconsin dropping Indiana to 9-11 in the Big Ten, the Hoosiers have a strong overall resume and a 19-12 overall record. Still, a portion of ESPN's analysis throughout the day focused on speculation that Indiana ranked no better than one of the last four in.
Miller was having none of that.
"When I was at Dayton, Joe Lunardi was my best friend. Now he needs to crap on Indiana so everyone will watch Sesame Street. Go back in the trash can you came from."

Indiana coach Archie Miller