7 Reasons You Can Give Your Family and Friends to Convince Them That the Thanksgiving Day Lions vs. Bears Game is Actually Interesting
At 12 PM EST on Thanksgiving Day, the 3-7 Chicago Bears will kick it off against the 0-9-1 Detroit Lions. This presents a problem for NFL fans around the country. At first glance, this game is so bad that your parent/sibling/significant other/child/friend may try to convince you to engage in some other form of Thanksgiving revelry than watching football.
Obviously, this won't do.
You can't watch football all day on Thursday unless you start with the early game. That's why it is of the utmost importance that you are able to defend your desire — nay, need! — to watch the Bears and Lions battle it out in this (completely meaningless, shhh!) NFC North game.
To help in your fight to watch this game, here are seven reasons you can give your family and friends to help convince them that the Thanksgiving Day Bears vs. Lions game is interesting.
7. The History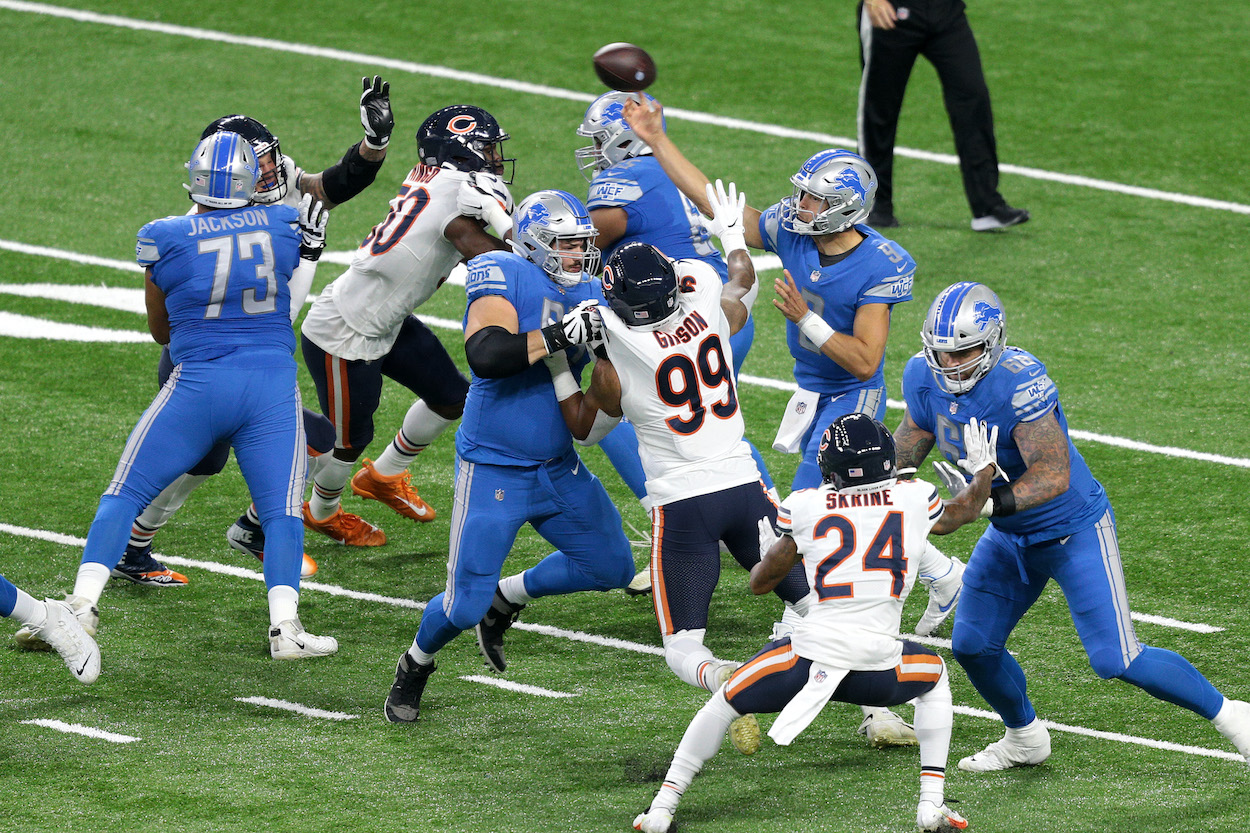 This game is a double-whammy from a historical perspective.
On the one hand, you have a classic NFC North rivalry that goes back to Oct. 22, 1930, when the Portsmouth Spartans beat the Chicago Bears 7-6. Four years later, those Spartans would become the Detroit Lions, and, in the first game the clubs played against each other with the names we know them by now, the Bears prevailed 19-16.
After 91 years and 183 meetings, the Bears own the series lead, 103-75-5.
On the other hand, you also have the Detroit Lions hosting a Thanksgiving Day game, which they've done every year (save for 1939-44 during WWII) since 1934, according to ESPN.
The Lions have a losing record in these games (37-42-2), but it isn't that uncommon for a bad Detroit squad to rise up and pull an upset on Turkey Day, like they did in 2003, upsetting the division-rival Green Bay Packers 22-14.
6. Detroit Lions backup QB Tim Boyle has an interesting story
This game was a hard-enough sell when the quarterback matchup was Bears rookie Justin Fields vs. the Lions' Jared Goff.
Now, there's a good chance it will be Andy Dalton vs. Tim Doyle. Yikes.
The selling point here is that Doyle — possibly starting for Goff due to an oblique injury — has an interesting backstory.
The Connecticut native started his college career at UConn (where he threw one touchdown and 13 interceptions in 275 attempts) before transferring to Eastern Kentucky (where he threw 11 TDs and 13 INTs on 327 attempts).
Despite these brutal stats, the 6-foot-4, 227-pound passer caught on with the Packers as an undrafted free agent. After two years at Lambeau, Detroit saw enough to sign him as their backup.
Now he's (possibly) starting on national TV in a Thanksgiving Day game. Sort of interesting, right?
5. Lions RB D'Andre Swift and TE T.J. Hockenson
There are a few real, positive reasons to watch the Bears vs. Lions on Thanksgiving. One real reason is that there are some truly incredible NFL talents on these teams, despite their 2021 performances.
For Detroit, the stars are on the offensive side of the ball.
Second-year running back D'Andre Swift out of Georgia is a stunning talent when he gets the chance to shine. Maurice Jones-Drew calls him one of his favorite young RBs in the league. He's got 975 scrimmage yards and six touchdowns this season. He's also capable of highlight-reel runs.
Third-year tight end T.J. Hockenson is a stud as well. The Iowa product has 54 catches already this season for 499 yards and two TDs. While his production might not be on par with the Travis Kelce's and George Kittle's of the world yet, when you watch him, it looks like his talent is.
4. Chicago Bears LB Roquan Smith
For the Chicago Bears, the superstar is, of course, on the defensive side of the ball.
Linebacker Roquan Smith is second in the NFL in solo tackles in 2021 and third in total tackles. He has an interception that he returned 53 yards for a TD and three sacks as well.
Smith, also from Georgia, isn't yet a household NFL name, but he is quickly becoming one of the best linebackers in the league. More importantly, he is becoming the next great Bears linebacker, following in the footsteps of Dick Butkus, Mike Singletary, and Brian Urlacher.
Watch No. 58 on the Bears D on Sunday, and you'll be impressed.
3. The Lions could actually win a game 
The Detroit Lions are currently 0-9-1.
Here's the good news. In an NFL season that features 17 games for the first time ever, the Lions were on pace to put up a historic 0-17 record. With the team's tie against the Pittsburgh Steelers in Week 10, that's no longer on the table!
The other good news for Lions fans is they have some real talent on offense (see above) and a motivational head coach (see below). Also, the Chicago Bears are not a good team (see their 2021 season).
If head coach Dan Campbell can get a great effort out of his team and Chicago mails it in a bit and the Lions find some of that Thanksgiving Day magic… you never know.
Compelling stuff, huh?
2. Bears head coach Matt Nagy might be fired before the leftovers are gone
As we start Week 12 of the 2021 NFL season, there are plenty of coaches on the hot seat. Matt Nagy's seat is on fire.
A report that broke Tuesday has the fourth-year head coach out of a job as soon as Friday. Nagy says the report is "not true," according to ESPN. However, he also says he hasn't spoken to the owner, team president, or GM this week.
Interestingly, this group meets each week, but this week's meeting was canceled. The reason Nagy gave was a short week for preparation ahead of the Thanksgiving Day game, but that can't be a good sign, right?
If the Lions go on to win this game (or even if it's close), you may be watching an NFL coach lose his job in real-time, which may not be fun, but you won't be able to look away.
1. Lions head coach Dan Campbell is must-see TV 
On the home sideline, across from Nagy, is first-year Detroit Lions head coach Dan Campbell. He is the best show in town on Thanksgiving.
Whether it was talking about biting kneecaps in his introductory press conference or shedding tears after yet another loss, Campbell is the most interesting man in football.
It also seems like he's a good coach.
With the season the Lions are having, 99% of NFL teams would have quit on their coach by this point. Not Campbell's squad. They are still playing hard and fighting for a win, as evidenced by their gritty tie against the Steelers in Week 10.
If the Lions can pull off a win, you really don't know what Campbell is capable of. That alone should help you glue some eyeballs to the TV for the early Thanksgiving Day game on Thursday.
All stats courtesy of Pro Football Reference