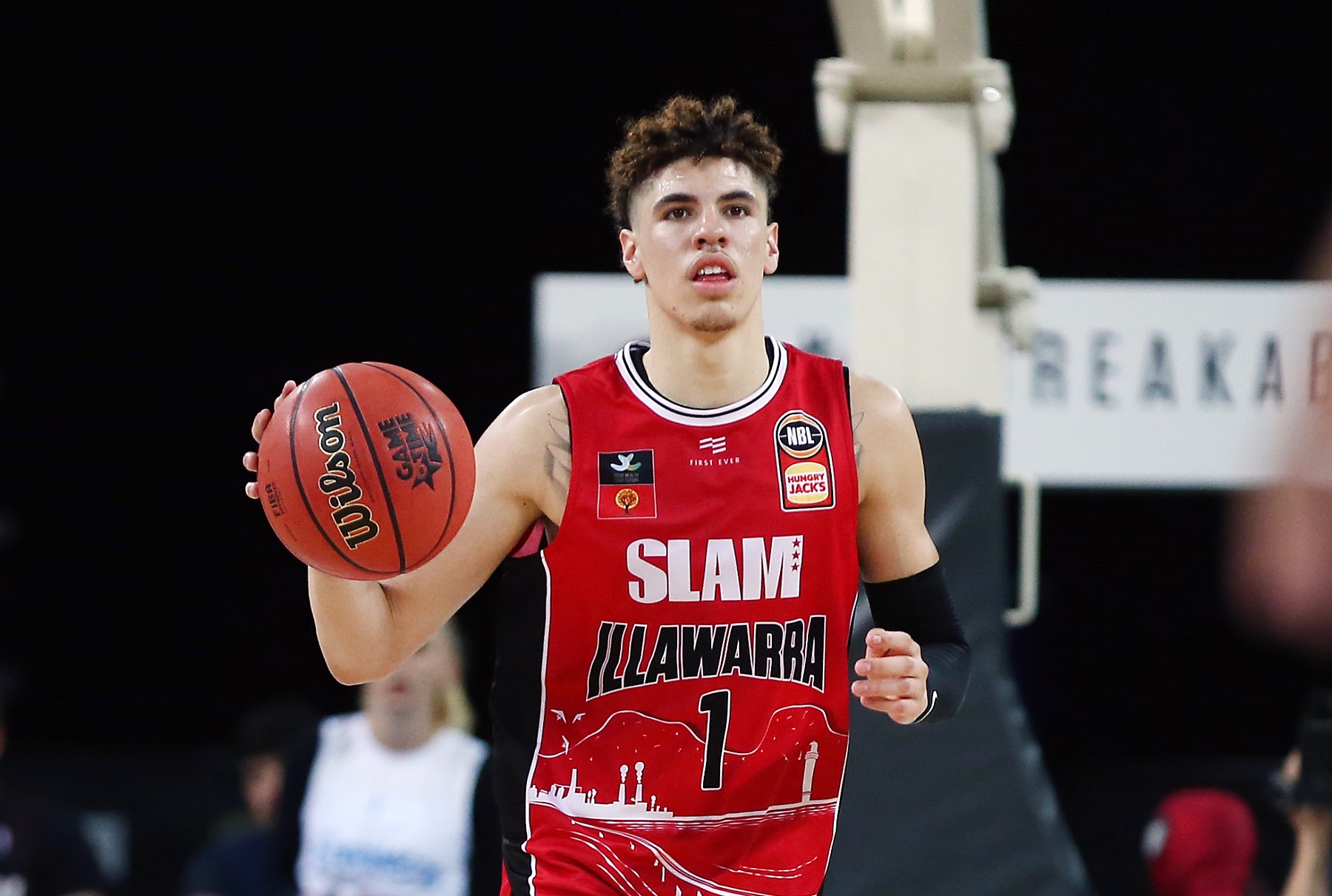 A Big Concern About LaMelo Ball Resurfaced Hours Before the NBA Draft
LaMelo Ball will go early in the 2020 NBA draft. The team selecting him will have to deal with the antics of LaVar Ball, the promising point guard's father.
There's plenty to like about LaMelo Ball heading into the 2020 NBA draft. For starters, a 6-foot-7 guard running the offense can be a powerful weapon. While his perimeter shooting is not yet consistent, scouts like his court vision when it comes to distributing the ball and believe he can be a pest on defense once he adjusts to the NBA game.
On the minus side, a reservation that league general managers have had about Ball's older brothers has reared its head once again just in time for the draft.
LaMelo Ball is going into the family business
LaMelo Ball will be the third brother in the basketball-playing family to suit up professionally when the 2020-21 NBA season starts shortly before Christmas. He has been mentioned frequently as a potential top pick in the NBA draft.
Lonzo Ball played at UCLA and went to the Los Angeles Lakers in 2017 as the No. 2 overall pick. He played 99 games at point guard over two injury-plagued seasons for the Lakers. Though his assist-to-turnover ratio was adequate and he showed himself to be an asset on the boards, Lonzo lacked a shooting touch. His 43.7% accuracy at the free-throw line was only slightly better than his 38% work from the field.
The Lakers traded Lonzo to the New Orleans Pelicans, where his game showed growth last season as he averaged 11.8 points and 7.0 assists per game. At just 23 years old, he remains more "prospect" than "suspect."
LiAngelo Ball came out of high school as a 6-foot-5 shooting guard who lacked Lonzo's all-around game but had major-college potential. He signed with UCLA, but things went sideways in a hurry before his regular-season debut in 2017. During a team trip to China, Ball and two teammates were arrested on a shoplifting charge that became an international story. UCLA suspended LiAngelo indefinitely, and he withdrew from school.
LiAngelo played professionally in Lithuania alongside his brother LaMelo before signing with the Oklahoma City Blue of the NBA G League. The COVID-19 pandemic shut down the season before he could get on the court.
A big concern resurfaces about LaMelo Ball ahead of the NBA draft
As has become his habit since Lonzo Ball rose to prominence as a prospect, family patriarch LaVar Ball is once again making headlines. A relentless promoter of the Big Baller brand that he has built with mixed success, LaVar has never met a radio microphone or TV camera that he didn't like.
He's said some outlandish stuff about himself, his sons, and the NBA along the way. Those words should only reflect upon himself, but NBA executives understandably worried in the past about LaVar's influence over sons LiAngelo and Lonzo. Now that LaMelo is entering the league as a high NBA draft pick, the concerns start anew.
Saying Lonzo Ball would lead the Lakers to the playoffs as a rookie was pretty innocuous, though silly given how little talent the roster had at the time.  LaVar then doubled down by projecting Lonzo as the NBA Rookie of the Year; he wasn't even better than teammate Kyle Kuzma, let alone Donovan Mitchell or Jayson Tatum.
And then there was this gem:
"Back in my heyday, I would kill Michael Jordan one-on-one."

LaVar Ball
Obviously, there's no need to explain the flaw in that theory.
Coupled with trying to leverage his sons' names into selling $495 Big Baller footwear, LaVar Ball has proven to be a walking, talking red flag for NBA general managers. Someone will select LaMelo Ball at or near the top of the 2020 NBA draft, but they will do so while praying Papa Ball won't embarrass the franchise.
LaVar Ball has done it again
LaMelo Ball is about to find fame and fortune in pro basketball. He will learn his destination early in the 2020 NBA draft. What he won't find during his playing days, however, is a good woman – at least not according to LaVar Ball, the point guard's outlandish father.
LaVar Ball appeared on Bro Bible's Endless Hustle podcast recently and said he has warned his basketball-playing sons that they will not find a good wife or girlfriend while playing in the NBA.
"You're never going to meet a nice woman, especially in basketball. If you're in this profession, when you have all this fame and notoriety, how are you going to meet a good girl? You're not because, what you're going to meet are in that restaurant where you eat, or are you going to go to a club where you dance or you're going to meet her at the arena? So, I hate to tell you, you're going to meet a h*e."

LaVar Ball
Who knew that women of high character never eat in restaurants or attend NBA games?
Like Sportscasting on Facebook. Follow us on Twitter @sportscasting19.