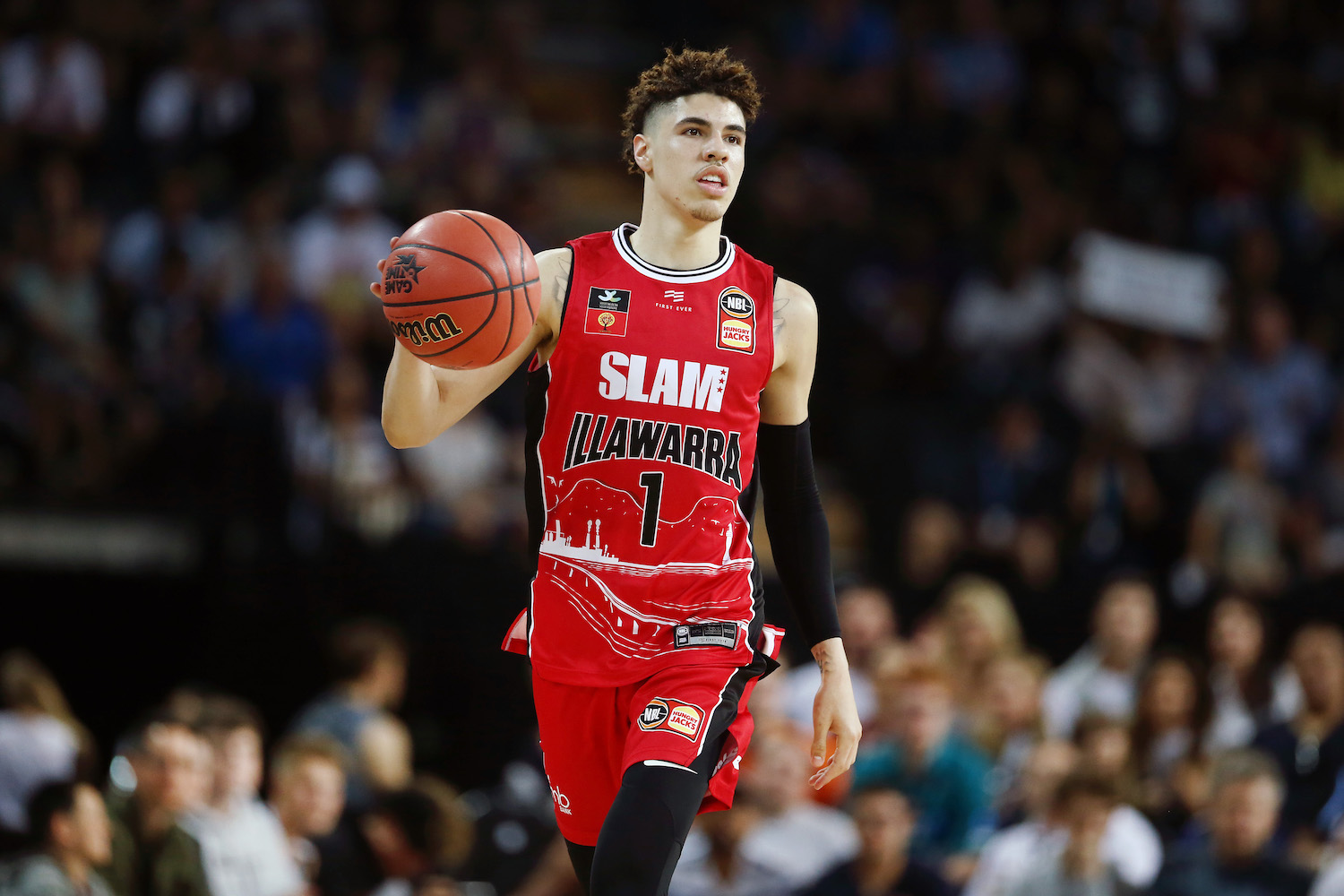 LaMelo Ball Surprising Top Teams in NBA Draft and Not in a Good Way
LaMelo Ball has long been considered a top draft pick in the 2020 NBA Draft. That, however, might be changing as Ball has underperformed in the pre-draft process according to several sources.
LaMelo Ball has long been considered one of the top picks in the 2020 NBA Draft despite having never played a single minute of college basketball. The resume of the former five-star recruit, however, does include playing professionally overseas. Now, with the draft just weeks away, the 19-year-old Ball is meeting with teams like the Golden State Warriors and Minnesota Timberwolves who are conducting interviews with top prospects. According to some reports, it's not going well and could potentially affect his position in the upcoming draft. 
LaMelo Ball makes pro debut
At just 19 years old, LaMelo Ball has had an intriguing start to his young basketball career. After attaining early success in high school as a freshman, which included a state championship in California with his brothers Lonzo and LiAngelo on the team, the youngest Ball brother headed overseas.
In January 2018, he made his professional debut with Prienai of the Lithuanian Basketball League. During his four months in Lithuania, Ball averaged 6.5 points and 2.4 assists in 12.8 minutes per game. His father removed him from the league due to his perceived lack of playing time.
Several months later, Ball debuted in his second professional league with the LA Ballers of the Junior Basketball Association, a league founded by his father as an alternative to college basketball. In eight games, he averaged a triple-double with 39.6 points, 14.6 rebounds, and 11.5 assists.
LaMelo Ball returned to high school basketball for a brief time during his senior year before he once again headed overseas, this time to Australia. With the Illawarra Hawks of the National Basketball League, Ball averaged 17 points, 7.4 rebounds, and 6.8 assists per game. He was named the NBL Rookie of the Year. 
Jay Bilas gives mixed reviews on LaMelo Ball
In August, the Charlotte Observer interviewed ESPN basketball analyst Jay Bilas about the upcoming draft and the top prospects. In that conversation, Bilas acknowledged LaMelo Ball was a special talent.  
"Ball has positional size. He's a legitimate 6-7 or 6-8. He's insanely creative with the Ball. He's ridiculously talented. Just a fabulous passer; every bit the passer his brother (Lonzo, a point guard for the New Orleans Pelicans) is."
While Bilas praised Ball and his upside, he said there were some notable flaws in his game. 
"He just doesn't shoot it (well). He's going to have to really work on it. He's got an odd release. And worse than the odd release? It doesn't go in. I think he can improve upon (his shooting) and become more consistent. But is he going to be like one of the Warriors guys that knocked shots down? I don't see that. One thing the NBA has proven is they can take a below-average shooter and make you into a competent shooter. But I don't know that many below-average shooters that become excellent shooters."
In addition, Bilas said the youngster has to defend better. 
"Everything got better while he was in Australia. He became a more focused player and really matured. But he's another guy where he's only played at one end of the floor. He's capable of defending. He's just got to knuckle under and do it."
Ball not impressive in pre-draft interviews
With the 2020 NBA Draft just weeks away, LaMelo Ball and other top prospects are making the rounds visiting those teams with the top picks. Rick Bonnell of the Charlotte Observer said in a recent radio interview that Ball has struggled in both interviews and workouts, according to his sources.
"Here is what I'm hearing from the league at large: LaMelo Ball is not performing very well at job interviews. I've heard that from multiple sources. He is not improving his perception via job interview," Bonnell said on Sports Radio WFNZ. "There are people drafting later in the top ten who were not preparing for the possibility of Ball still being around and, I'm not saying that he will be a top three pick, I am saying that I know for a fact that there are teams later in the top ten who are doing more research on him because they no longer think it's a given he will."
Whether or not LaMelo Ball's draft status is affected by his interviews or the whole pre-draft process, we'll likely never know. All we will know for sure is what team selects him on November 18. After that, it's up to him to prove any of his doubters wrong.