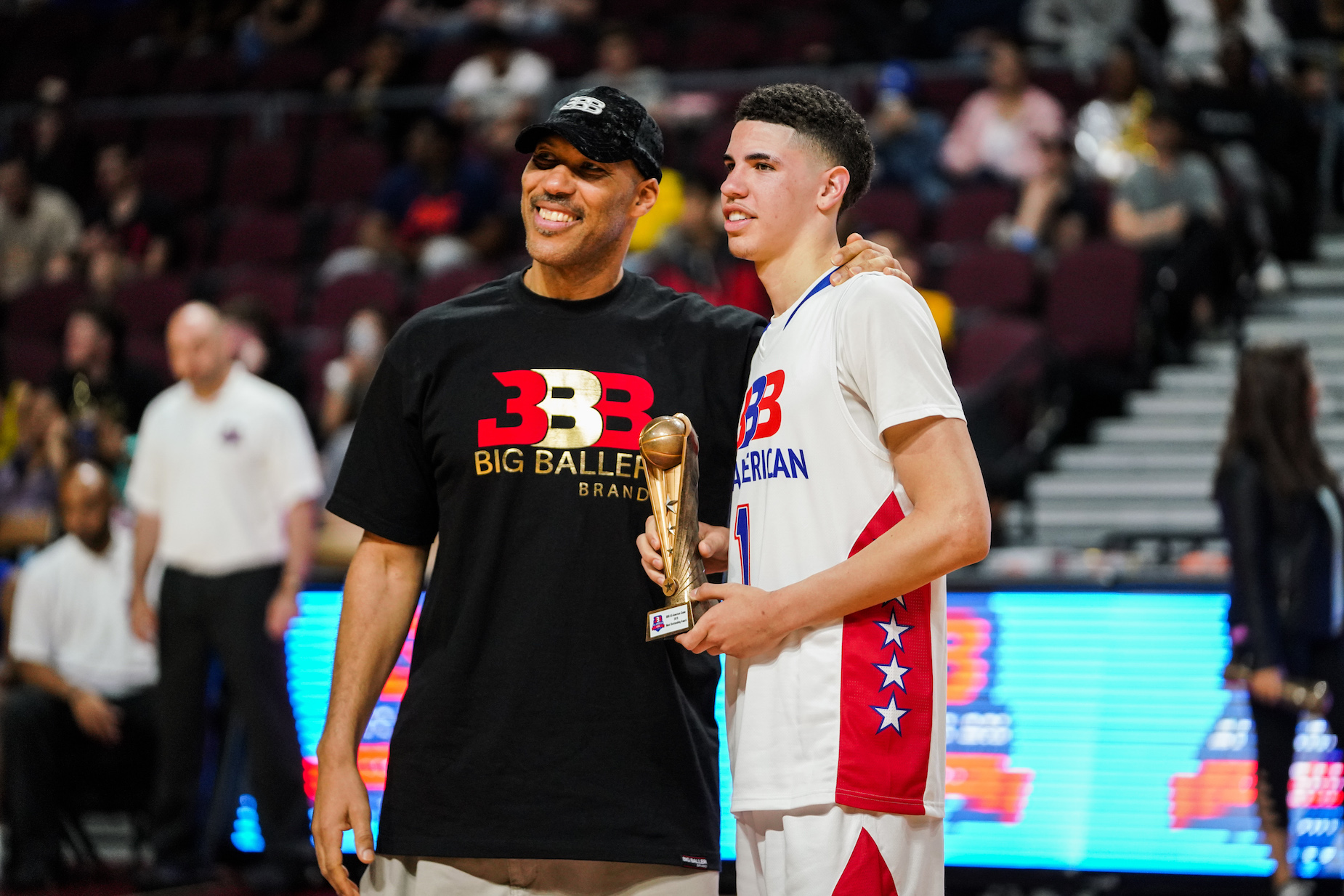 LaMelo Ball Could Make His Father, Lavar's Nightmare Scenario a Reality at the NBA Draft
While LaMelo Ball is his own man, he could still give his father, LaVar Ball, quite the headache once the 2020 NBA draft arrives.
The world of sports is filled with plenty of father-son units, ranging from Rick Barry and his five sons to the two Ken Griffeys. Few groups, however, are as colorful as the Ball clan. Whether you love LaVar, Lonzo, LaMelo, and LiAngelo, or can't stand anything affiliated with the Big Baller Brand, the family is almost impossible to ignore.
With the 2020 NBA draft rapidly approaching, LaMelo Ball seems destined to become a lottery pick. While that would make any parent proud, the teenager could land in LaVar's nightmare scenario.
LaMelo Ball took an unconventional road to the NBA draft
Most NBA players followed the standard road to the pros, heading from high school to college before entering the draft; a select few jumped straight to the show before the one-and-done rule was created. LaMelo Ball, however, did things his own way.
Ball started his athletic career at Chino Hills High School, playing with his older brothers. After two seasons on the team, however, the teenager left the school; his bizarre basketball odyssey was beginning.
LaMelo and LiAngelo then headed to Europe, joining BC Prienai in the Lithuanian Basketball League. While that move made plenty of headlines, it didn't exactly work out from a sporting perspective; LaMelo didn't receive much playing time and, when he saw the court, he didn't exactly dominate the competition.
After a brief stint in his father's Junior Basketball Association, LaMelo enrolled in SPIRE Academy, where he played his final season of high school ball.
Rather than heading to college after graduation, Ball headed abroad again, this time moving to Australia and joining the Illawarra Hawks of the Australian National Basketball League. Similar to his time in Europe, LaMelo didn't see much action; he still impressed in that time, though, and returned to the United States to enter the 2020 NBA draft.
The Golden State Warriors could be interested in LaMelo Ball
Despite LaMelo Ball's unconventional road to the NBA draft, he's still expected to be a lottery pick once the big night finally arrives.
In the spring, Connor Letourneau of the San Francisco Chronicle reported that the Golden State Warriors, who hold the second-overall pick, weren't too high on Ball or James Wiseman. Since then, however, it seems like something has changed behind the scenes.
On October 23, Marcus Thompson II of The Athletic wrote that Ball "piques the Warriors' interest." Thompson also noted that "[he knows] a couple of people in the organization think [Ball] is super talented."
While there's only so much the Warriors can do—the Timberwolves matter of factly hold the top pick so, if they want Ball, he's their man—their uptick in interesting could be notable. According to ESPN's Eric Woodyard, Minnesota doesn't see a consensus first-choice player on the big board; that, combined with Golden State's potential interest, could make LaMelo Ball the third Splash Brother by the time the 2020-21 season begins.
LaVar Ball doesn't want his son to join the Golden State Warriors
On paper, joining the Warriors might seem like a golden ticket; if you believe that 2019-20 was a perfect storm, the club should be back to old habits in 2020-21. LaVar Ball, however, wouldn't be thrilled to see LaMelo heading to the Bay Area.
"That's the part I don't like about Golden State," LaVar said in June on the "Say Less with Kaz" podcast, according to NBC Sports. "They got Klay and the other guys, and now you want to put Melo in that mix to say you got to follow these guys. Melo ain't no follower. He don't need to do what they do, let them do they thing."
Based on everything we know of LaVar Ball, he wants LaMelo to land somewhere where he could be the marquee attraction night-in and night-out; that's more likely when Steph Curry and Klay Thompson aren't on the roster.
At the end of the day, though, LaVar can't really affect the draft process; NBA teams will select whoever they want, and LaMelo has already said that he'd have no problem joining the Warriors. At this point, all we can do is wait and see what happens.
From a basketball perspective, LaMelo Ball would be pretty lucky to join the Golden State Warriors. From a marketing perspective, though, seeing his son be the third biggest name on the roster would be LaVar's worst nightmare.