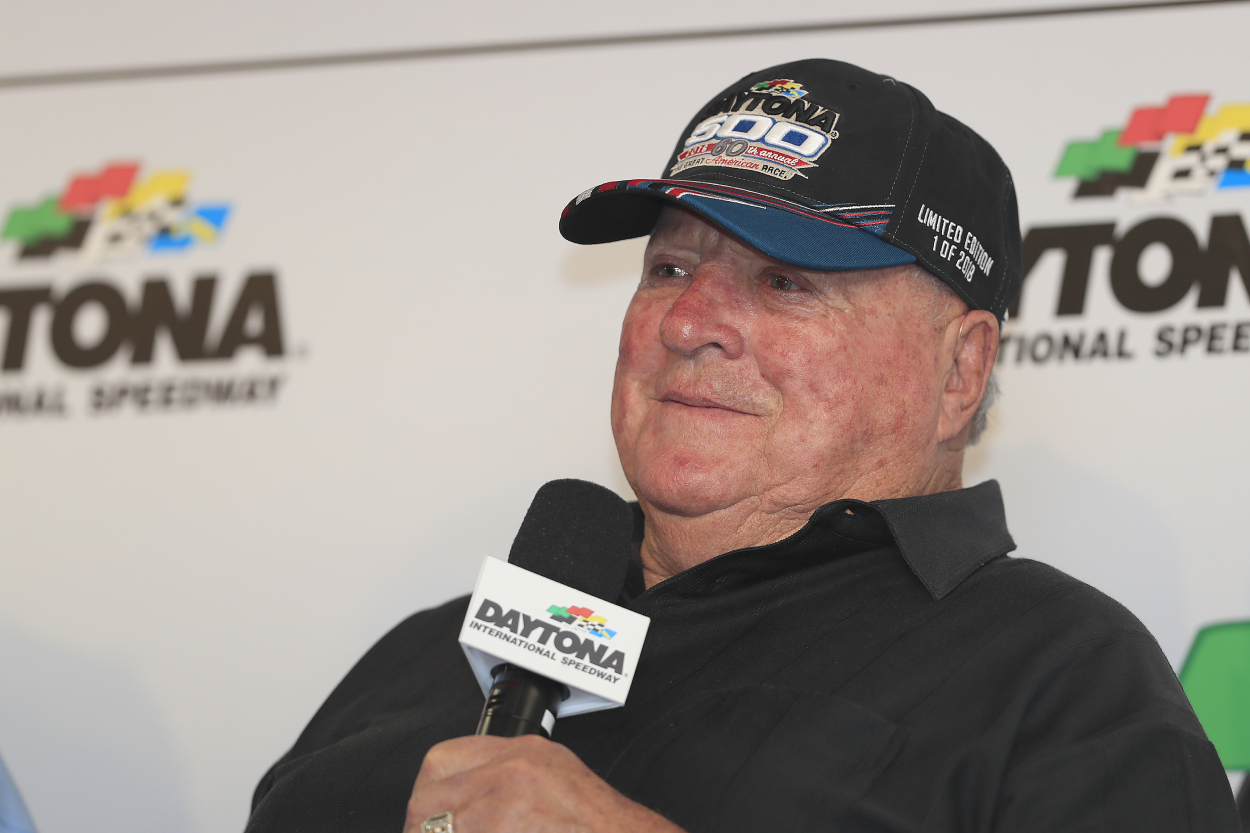 A.J. Foyt Was Scarred for Life After Witnessing the Horrific Death of His Friend in Fiery Indy 500 Crash
When he was a rookie, A.J. Foyt witnessed the horrific death of his friend Pat O'Connor during the first lap of the race.
A.J. Foyt is no stranger to crashes. Foyt, who raced in several different genres of motorsports and is a member of several Halls of Fame, was involved in many wrecks. Named one of NASCAR's 50 Greatest Drivers in 1998, Foyt witnessed one tragic crash as a rookie back in 1958 when his good friend was killed at the Indianapolis 500.
A.J. Foyt's first Indy 500 was one to forget
A.J. Foyt has won four Indianapolis 500 races during his illustrious racing career. He's the only driver to win the Indy 500, Daytona 500, the 24 Hours of Daytona, the 24 Hours of Le Mans, and the 12 Hours of Sebring. Foyt is an experienced driver in all genres of racing, but back in 1958, he was 23 years old and trying to soak in the atmosphere his first Indy 500.
Things turned deadly during Lap 1. Dick Rathmann and Ed Elisian went wheel-to-wheel in the first lap of the race. When they went into Turn 3, Elisian spun, collected Rathmann and sent them both into the wall, starting a 15-car pileup, according to Indymotorspeedway.com. During the chaos, Pat O'Connor, a veteran driver, flipped his car which caught fire.
O'Connor's Sumar Special burned but race officials believe O'Connor died instantly from a fractured skull. O'Connor was one of two veterans who helped Foyt get to where he was. In his 1983 book "A.J.: My Life as America's Greatest Racecar Driver," Foyt said O'Connor gave him tips and showed him the best lines around the speedway. Foyt was crushed.
Foyt recalled the accident in his 1983 book
In his 1983 book "A.J.: My Life as America's Greatest Racecar Driver," Foyt recalled the terrifying scene that took place at his first Indy 500. "They got to the turn. (Dick) Rathmann backed off slightly, and (Ed) Elisian, who was in the groove – that's the only reason Rathmann backed off; there was no place for him to go. Well, Elisian was in too deep and too fast. I saw Elisian's car bobble slightly. He slammed into Rathmann and the force took both cars into the concrete retainer wall. Rathmann's car was chopped in two; parts from Elisian's car were sailing everywhere.
"I saw Reece slow down, and then Bob Veith hit him, sending Reece's car directly into the path of Pat O'Connor. Son of a bitch. O'Connor's car went up and over and sailed fifty feet in the air, and when it hit the track on the other side, upside down, it burst into flames."
Foyt said he went unscathed and said as he drove around, he looked over at O'Connor's car and wished he hadn't. "When I got back around to the crash scene, I counted 15 cars that were involved. O'Connor's car was still burning. I tried hard not to look at it. Goddamn it, I didn't want to look at it.
The next time I came around, the fire was out, but it was still smoking. I looked. S–t. Why did I look? Pat's arm was frozen in midair. Everything was black. His car, helmet, uniform, everything. Son of a bitch, I thought. I wasn't sure I was tough enough for Indianapolis."
Foyt said he never got close to any other driver because of O'Connor
When A.J. Foyt took that extra look at his friend Pat O'Connor post-crash, it scarred him for life. "When I turned around to see the car burning and his arm hanging out, I figured maybe I better go back to Texas," Foyt said to The Indianapolis Star in 2016. "It's a little bit too rough for A.J. Foyt. … I (had) come from little racetracks, nothing like this. My biggest dream was to qualify for the race. Here I qualified in 1958 (for the first time) and all of a sudden, it turned into a major disaster. I decided I don't know about this."
Because of O'Connor's horrific death, Foyt said he never wanted to get close to another driver. It hurt too much and he never wanted to feel that pain again. "It was (hard to block out)," Foyt said of the crash. "When someone helps you, and then you see them burn …  you know, it's hard. I don't care who you are.
"After that, I had a lot of close friends, but I never really did get close with anybody after that. I mean, I run with some of them, but mainly I did a lot of work on my race car myself. So I was always ostracized quite a bit."