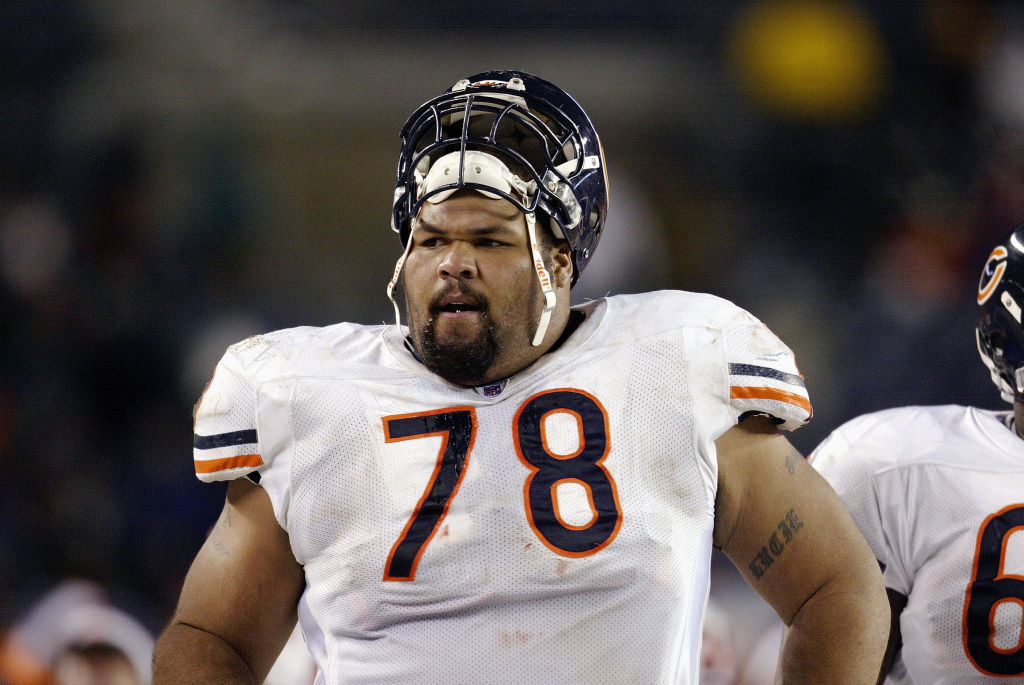 Aaron Gibson Was the NFL's Heaviest Player, but That Didn't Translate Into Success or Happiness
Aaron Gibson still holds the title of the NFL's heaviest player, but that size didn't translate into stardom on the football field.
In the football world, it's tempting to say that bigger is better. That's especially true when you're looking at offensive linemen; given the nature of their job, every NFL team is looking for players who possess the perfect blend of size and athleticism. Based on that reality, Aaron Gibson looked like a head coach's dream.
While Gibson was the heaviest man to ever suit up for NFL action, that didn't guarantee him a successful career. In fact, his life has been anything but a walk in the park.
Specialization has made NFL linemen bigger and bigger
When you picture an NFL lineman, you probably imagine a massive mountain of a man. While that may be true in 2020, it wasn't always the case.
In the earliest days of professional football, the sport was neither high-paying nor specialized. Since players didn't receive massive salaries and had to play on both sides of the ball, you wouldn't see a massive man build his life around playing on the offensive line. Furthermore, everyone had to be fit enough to play multiple positions without subbing out of the game and work a civilian job.
Over time, however, things began to change. College football helped groom young men to be football players; higher salaries eventually allowed them to focus entirely on their sport rather than reporting to a day job. World War II-era player shortages forced the NFL to allow substitutions. That decision, coupled with increased roster sizes, gave rise to the specialization we have today.
While that reality has affected virtually the entire roster—kickers and punters, for example, have one job—the changes are incredibly apparent on the offensive and defensive line. As explained on NFL.com, Wilbur "Pete" Henry, who stood 5-foot-11 inches and weighed 245 pounds, was a star in the 1920s; these days, his size would be a nonstarter.
Aaron Gibson holds the title of the heaviest NFL player
Clocking in at 410 pounds, Aaron Gibson holds the title of the NFL's heaviest player. Neither his life nor his pro career, however, was a walk in the park.
As chronicled in a Bleacher Report feature by Joon Lee, Gibson had an incredibly difficult childhood; he moved roughly 30 times during his teenage years, spent time in a homeless shelter, and rarely found food in the fridge. Despite those challenges, though, he proved to be a football star, thanks to a fortunate blend of size and talent.
During high school, Gibson clocked in at 6-foot-6inches tall and weighed roughly 420 pounds. At the University of Wisconsin, he was finally able to eat his fill, but that didn't slow him down on the field. The offensive lineman developed into an All-American with the Badgers; in the 1999 NFL draft, the Detroit Lions selected him at the end of the first round.
Becoming a first-round pick, however, wasn't a guaranteed ticket to success. Gibson has trouble staying healthy and bounced between NFL teams; for all his talent, he played 38 games over five professional seasons. He also spent some time in the Arena Football League, before calling it a career in 2010.
After a tough stretch, Aaron Gibson has found happiness
Despite being the NFL's heaviest player, Aaron Gibson's professional career didn't go plan. After football, however, the lineman's life didn't get any easier.
As Lee explained in his feature, Gibson found himself alone and in pain. He lived primarily on fast food, and his weight peaked at 480 pounds; he spent roughly $1,400 a month on painkillers. He eventually found himself in a psychiatric hospital, contemplating suicide.
Gibson, however, managed to turn his life around. He began a relationship with a woman named Brigitte; they became a couple, and she helped improve both his life and diet. While there have been some setbacks along the way—Aaron lost a toe after suffering a spider bite and still has pain and mobility issues—the former lineman is happier than he ever was in the NFL.
He also has a pretty solid set of abs; not too shabby for pro football's heaviest man.
Stats courtesy of Pro-Football-Reference