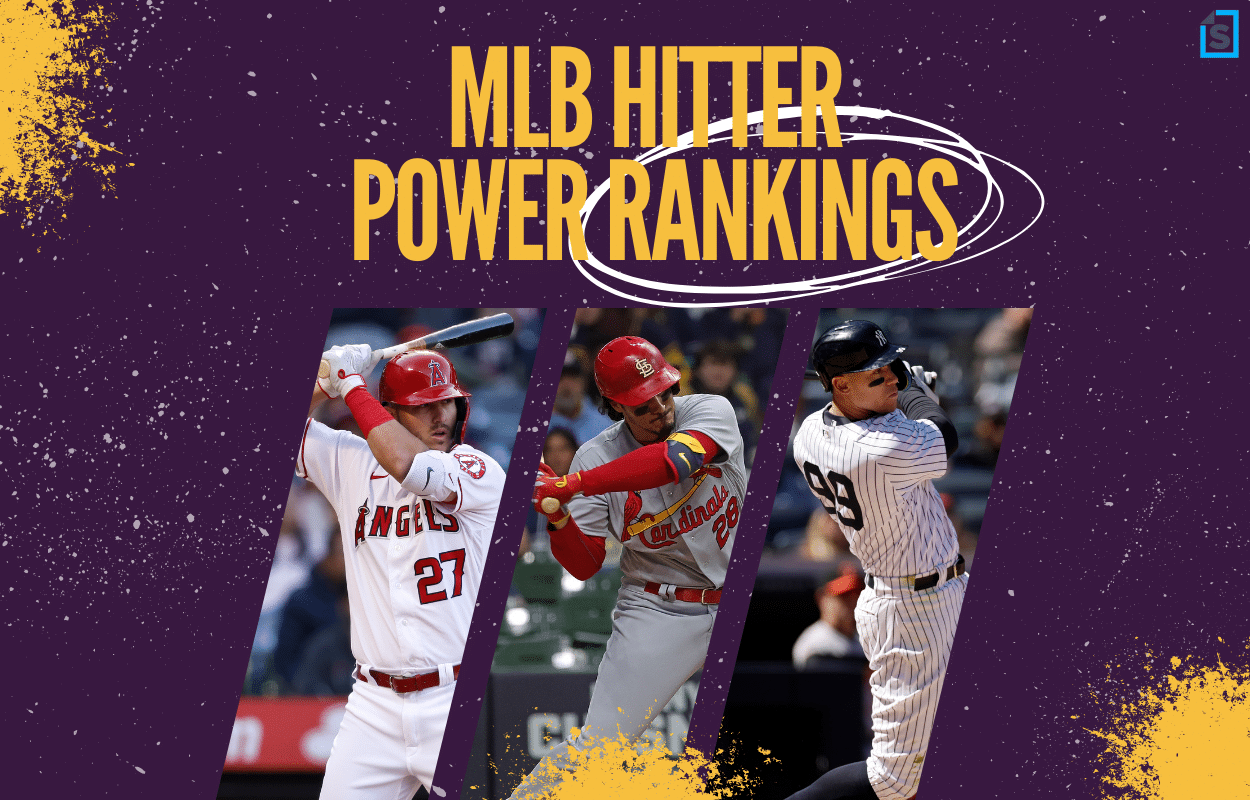 Aaron Judge Won't Stop Hitting Homers and Rising in MLB Hitter Power Rankings
Aaron Judge is on fire for the New York Yankees, but is that enough for him to claim the No. 1 spot in Sportscasting's inaugural MLB Hitter Power Rankings?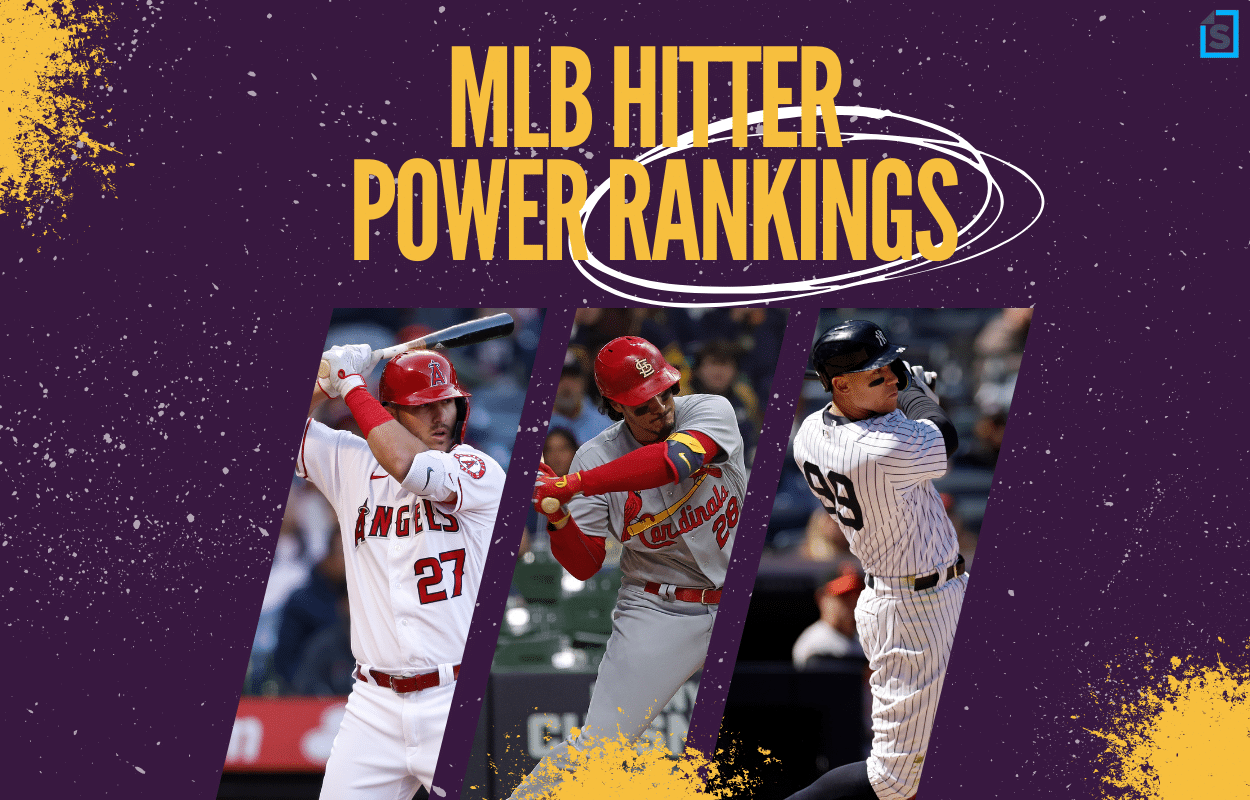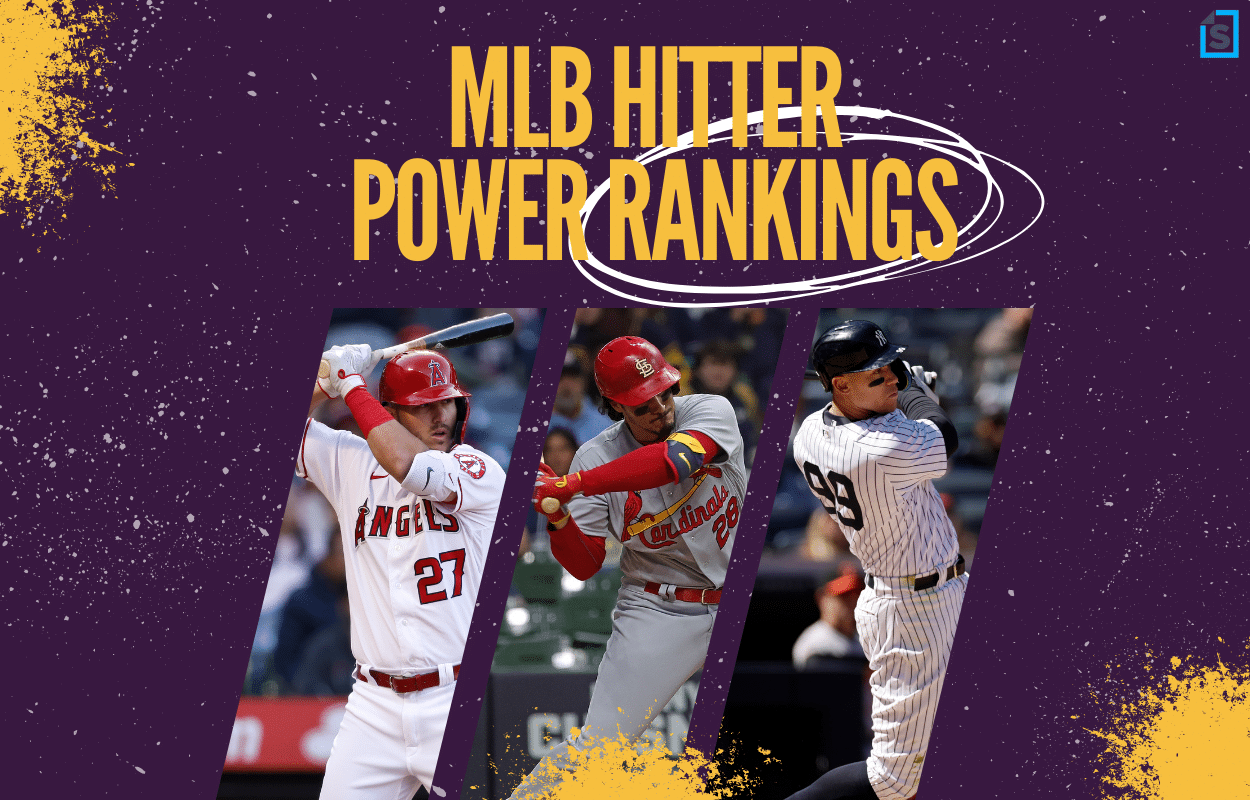 Aaron Judge seems to want baseballs to make their permanent residences in the New York Yankees crowd. Mike Trout is off to another strong start for the Los Angeles Angels, who are actually pacing the American League West even as Shohei Ohtani, fresh off a stellar, MVP-winning campaign, struggles to find his groove at the plate. Nolan Arenado has been arguably the best all-around player in MLB given his defensive excellence at the hot corner in a St. Louis Cardinals uniform.
But which of them rises to the top of the inaugural MLB Hitter Power Rankings? Could another challenger claim the No. 1 spot?
Using data provided by MLB Math, we're turning to rolling player ratings, which use offensive value over average (OVOA) to evaluate how each player has performed over his last 20 appearances, accounting for baserunning and production at the plate. The higher the number, the better the performance.
Players must have suited up at least once in the last week and have no fewer than 20 total appearances in 2022 to be eligible for our top-25 countdown, which begins now.
Nos. 25-21: Ke'Bryan Hayes, Nick Castellanos, Yandy Diaz, Xander Bogaerts, Bryce Harper
25. Ke'Bryan Hayes, Pittsburgh Pirates: 0.725
24. Nick Castellanos, Philadelphia Phillies: 0.744
23. Yandy Diaz, Tampa Bay Rays: 0.745
22. Xander Bogaerts, Boston Red Sox: 0.836
21. Bryce Harper, Philadelphia Phillies: 0.850
Yandy Diaz was known more for the size of his biceps than his production at the plate early in his career, even if the former seemed to indicate that he could make the most of his considerable power potential. Nevertheless, he's continuously developed and entered the 2022 campaign on the heels of three consecutive seasons worth at least 1.0 WAR.
Now, Diaz is showing off a more careful eye at the plate, refusing to swing at pitches outside the zone, and making contact almost every time the bat leaves his shoulders. He's not chasing the home run each time but rather using a more calculated approach.
As a result, the 30-year-old is slashing .318/.451/.455 with three doubles and two homers in his first 20 appearances for the Tampa Bay Rays, and his .301 xBA and .443 xSLG indicate that he might actually be putting together a sustainable performance.
Nos. 20-16: Andrew Benintendi, Max Kepler, Freddie Freeman, Tommy Edman, Austin Riley
20. Andrew Benintendi, Kansas City Royals: 0.872
19. Max Kepler, Minnesota Twins: 0.916
18. Freddie Freeman, Los Angeles Dodgers: 0.930
17. Tommy Edman, St. Louis Cardinals: 1.004
16. Austin Riley, Atlanta Braves: 1.017
After two straight seasons hitting at a below-average level (aside from the occasional dinger) to start his career, Austin Riley exploded in 2021. While hitting .303/.367/.531, he launched 33 homers to make his first All-Star Game appearance and finish seventh in the National League MVP voting.
Was it a fluke? Not if Riley's blistering start to 2022 tells us anything.
Though the Atlanta Braves have largely struggled to put together a convincing defense of their World Series title, that's been no fault of the slugging third baseman. With seven doubles and seven homers through 25 games while showing a more disciplined eye at the plate, he's slashing .274/.367/.568 and has already accumulated 1.1 WAR. He earned 6.1 WAR last season, and he's on pace to elevate that total to a whopping 6.9 this go-round.
Atlanta fans have to be thrilled about seeing him above Freddie Freeman in the rankings.
Nos. 15-11: Anthony Rizzo, Tim Anderson, Josh Bell, Wander Franco, Jeff McNeil
15. Anthony Rizzo, New York Yankees: 1.025
14. Tim Anderson, Chicago White Sox: 1.045
13. Josh Bell, Washington Nationals: 1.114
12. Wander Franco, Tampa Bay Rays: 1.126
11. Jeff McNeil, New York Mets: 1.133
Wander Franco was unbelievable as a rookie in 2021, somehow reaching base in 42 consecutive appearances for the Tampa Bay Rays. As an encore, he's just … gotten that much better while leading the American League in runs heading into games on May 4.
The bat skills are simply unreal. Franco displays prodigious power and preternatural contact rates, allowing him to launch four homers while racking up eight doubles, a triple, and three steals in his first 22 games of the 2022 campaign. His 174 OPS+ leaves the 128 OPS+ he submitted as a rookie in the dust, and it all feels sustainable.
He almost never strikes out, has a 99th percentile xBA (.356) and a 91st percentile xSLG (.594), and has put together a Statcast profile that will turn your entire screen red. Oh, and he's 21 years old. The future is now and, well, in the future.
Nos. 10-6: Juan Soto, Ty France, Nolan Arenado, J.P. Crawford, Manny Machado
10. Juan Soto, Washington Nationals: 1.262
9. Ty France, Seattle Mariners: 1.363
8. Nolan Arenado, St. Louis Cardinals: 1.373
7. J.P. Crawford, Seattle Mariners: 1.621
6. Manny Machado, San Diego Padres: 1.679
Did anyone see this coming?
We certainly didn't even though J.P. Crawford featured prominently in our preseason sleeper shortstop options for your fantasy baseball team. Even then, the thinking was that he could rack up counting stats — specifically, runs — while batting atop an improved Seattle Mariners lineup.
Well, Crawford has batted in the bottom half of the order in all but one game, which he spent in the 3-slot, but he's ripping the cover off the ball like never before. His .357 batting average, .450 on-base percentage, .595 slugging percentage, 1.045 OPS, and 214 OPS+ would all rather easily be career highs, and he's on pace to shatter his previous high-water mark of nine homers. With four in the Mariners' first 24 games, he's tracking toward 27 dingers.
Crawford is due for a little bit of regression, both in terms of average and power, but the underlying metrics support a big overall upswing. With a better eye and more patience at the plate, a newfound ability to turn around on heaters, and the same joy that emanates from his body every time he plays, he's a legitimate breakout candidate in his age-27 season.
Nos. 5-1: Eric Hosmer, Aaron Judge, C.J. Cron, Jose Ramirez, Mike Trout
5. Eric Hosmer, San Diego Padres: 1.689
4. Aaron Judge, New York Yankees: 1.713
3. C.J. Cron, Colorado Rockies: 1.759
2. Jose Ramirez, Cleveland Guardians: 2.177
1. Mike Trout, Los Angeles Angels: 2.326
Aaron Judge had compiled 11 previous plate appearances against young Toronto Blue Jays starting pitcher Alek Manoah, and the results were ugly aside from a lone walk. With four strikeouts and zero hits on the ledger, it seemed like the rising ace had his number.
But then Judge remembered just how on-fire he's been throughout the 2022 campaign for the scorching New York Yankees and blasted a homer off Manoah to tie Tuesday night's game up at one run apiece with two outs and a full count in the sixth inning.
That made eight homers in 10 games for Judge, whose bat is so hot that he might soon start striding to the plate with oven mitts on. During that stretch, he's slashed .357/.386/.976, employing an all-or-nothing approach with 14 strikeouts and two doubles alongside the eight long-balls. It's clearly working for him as he seems rather motivated to perform prior to an offseason in which he could ink one more massive contract.
All rise for Judge.
All stats, unless otherwise indicated, courtesy of Baseball Reference, Fangraphs, and Baseball Savant and accurate heading into games on May 4.