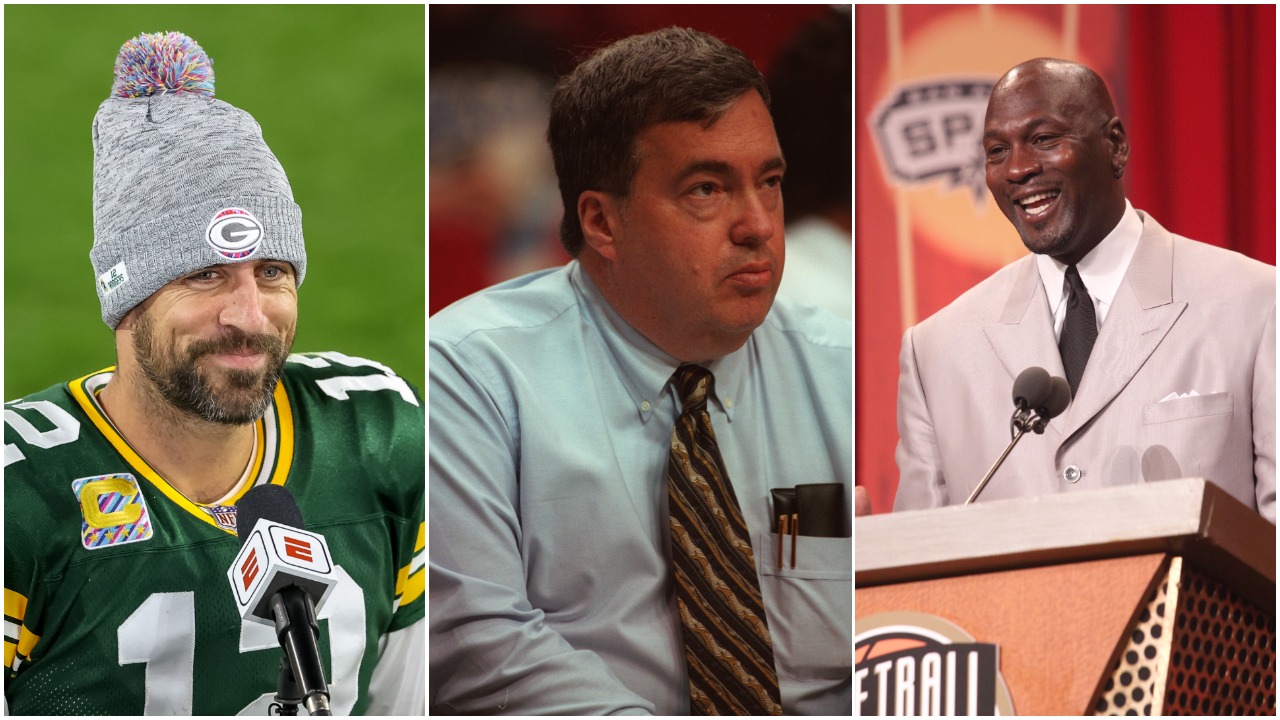 Aaron Rodgers Brought Jerry Krause Into His War With the Packers and Looks as Foolish as Michael Jordan Did in Slamming Krause During His Dreadful Hall of Fame Speech
Aaron Rodgers foolishly compared Packers GM Brian Gutekunst to former Bulls GM Jerry Krause, just as Michael Jordan looked foolish in knocking his boss for years.
The drama between Aaron Rodgers and the Green Bay Packers isn't going away anytime soon. There's no need to revisit all of the different things that have gone down since it was reported that the three-time NFL MVP refuses to play another down for the organization that drafted him 16 years ago. But we do want to target the latest chapter in the saga, in which Rodgers reportedly mocked Packers general manager Brian Gutekunst by comparing him to longtime Chicago Bulls GM Jerry Krause, with whom Michael Jordan clashed for years and even berated during his Hall of Fame speech.
But here's the thing.
Rodgers comparing Gutekunst to Krause is supposed to be an insult, right?
But how is it an insult when Krause was one of the most successful general managers in the history of sports? It didn't make sense for Jordan to unload on him during that embarrassing Hall of Fame speech, and Rodgers just looks even more foolish than he already has during this fiasco by making the comparison.
Aaron Rodgers reportedly mocked Packers GM Brian Gutekunst by comparing him to Jerry Krause
So here's the gist on Rodgers. He clearly isn't a fan of Gutekunst, who took over as Packers GM ahead of the 2018 season when Ted Thompson took a reduced role with the team after being diagnosed with a neurodegenerative disorder, and seems to want him fired.
So helping construct a team that's made two consecutive appearances in the NFC Championship Game is doing a bad job? OK, cool.
On Wednesday, it was reported that Rodgers mocked Gutekunst in group texts with his Packers teammates by comparing him to Krause, making it crystal clear that Rodgers watched The Last Dance, which saw Jordan repeatedly bash his Bulls boss. But nothing we saw in the ESPN doc compares to how MJ went at Krause during his Hall of Fame speech in 2009.
Michael Jordan slammed his former GM during his embarrassing Hall of Fame speech
While Jordan tried to embarrass a lot of people during his Hall of Fame speech, he embarrassed himself most with all of his petty comments, including those directed at Krause.
Jordan famously clashed with Krause on numerous occasions over the course of his 13 seasons with the Bulls and took no issue with slamming him on the HOF stage in Springfield. MJ unnecessarily joked about how Krause wasn't invited before going on a little rant about how organizations don't win championships, players do. He said that he didn't see Krause playing with the flu in Utah (Jordan didn't have the flu but was instead dealing with food poisoning and knew that) or playing with a bad ankle.
Jordan did try to backtrack for a moment by saying organizations put teams together but then shifted back to his stance by continuing on about how players win titles, not executives. And while he's technically correct, it obviously matters which players the GM brings in, and Krause was brilliant in that department.
It's funny how MJ didn't mention his miserable failures as an executive with the Washington Wizards.
Krause constructed six championship teams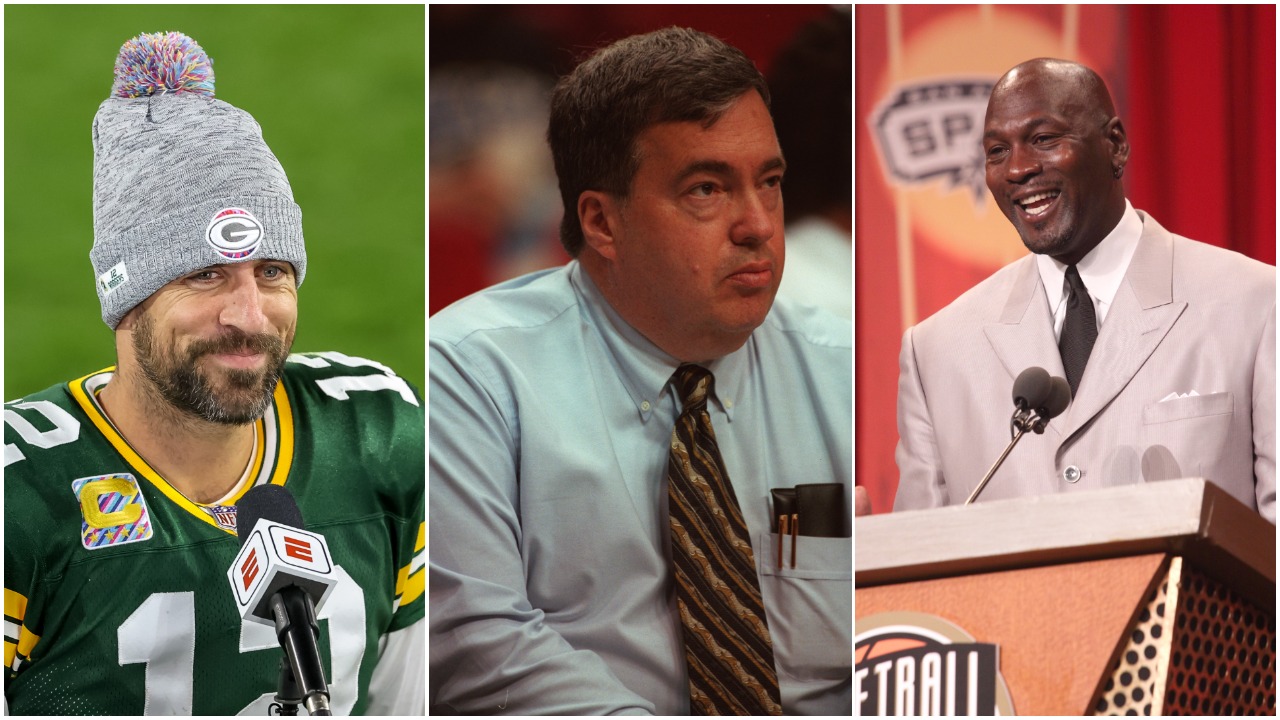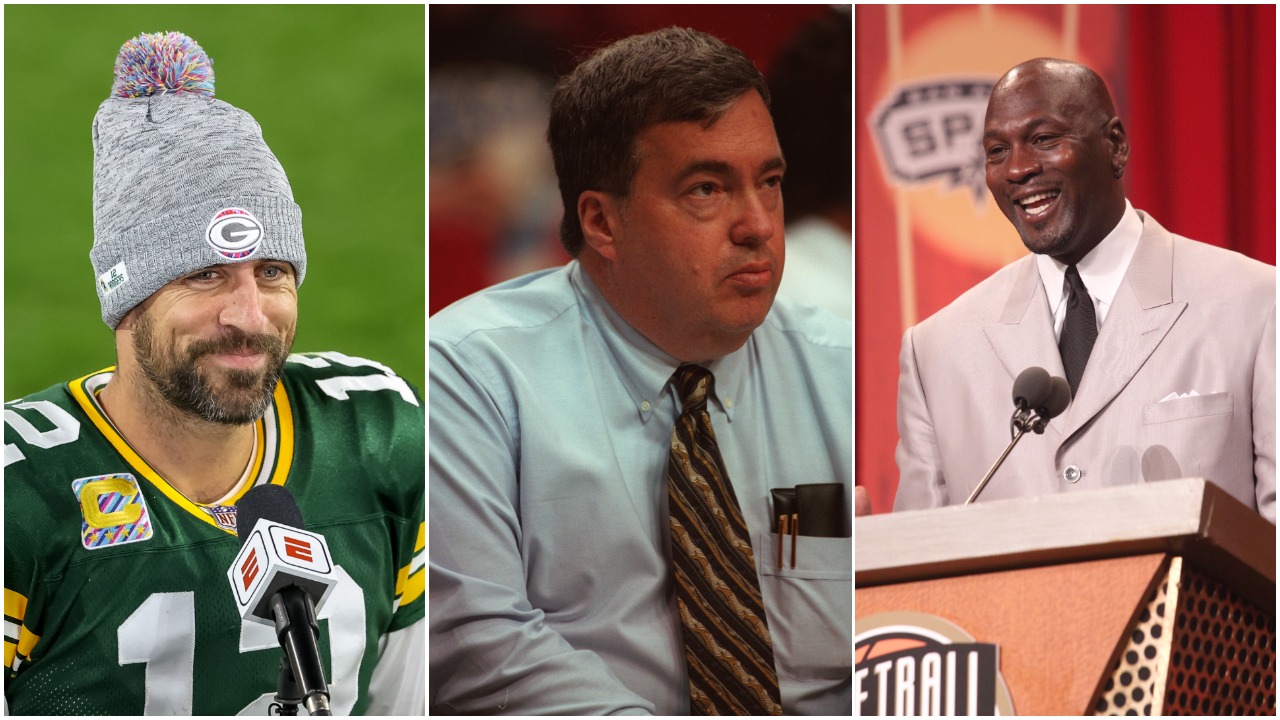 Rodgers comparing Gutekunst to Krause shouldn't be seen as an insult but as a compliment.
Did Krause make some mistakes at the end of the Bulls dynasty? Sure. There's no getting around that. But he never deserved all the hate he got from Jordan because without Krause, MJ doesn't win six titles — and maybe never wins even one.
Who brought in Scottie Pippen and Horace Grant? Who brought in Dennis Rodman, Toni Kukoc, and Steve Kerr? And let's not forget that Krause was the man who lobbied for Phil Jackson to come to the Windy City. Without those guys, Jordan simply becomes Dominique Wilkins, a guy who can score but never wins. There's a reason Krause himself was inducted into the Hall of Fame. It's just a shame he died 10 days before his class of 2017 was announced.
Yes, Rodgers was likely trying to make a joke when referencing Krause. But if the reports about those texts are true, he just made himself look foolish, just as Jordan did during that speech in '09.
But Rodgers has looked foolish during this entire vendetta with the Packers. Why stop now?