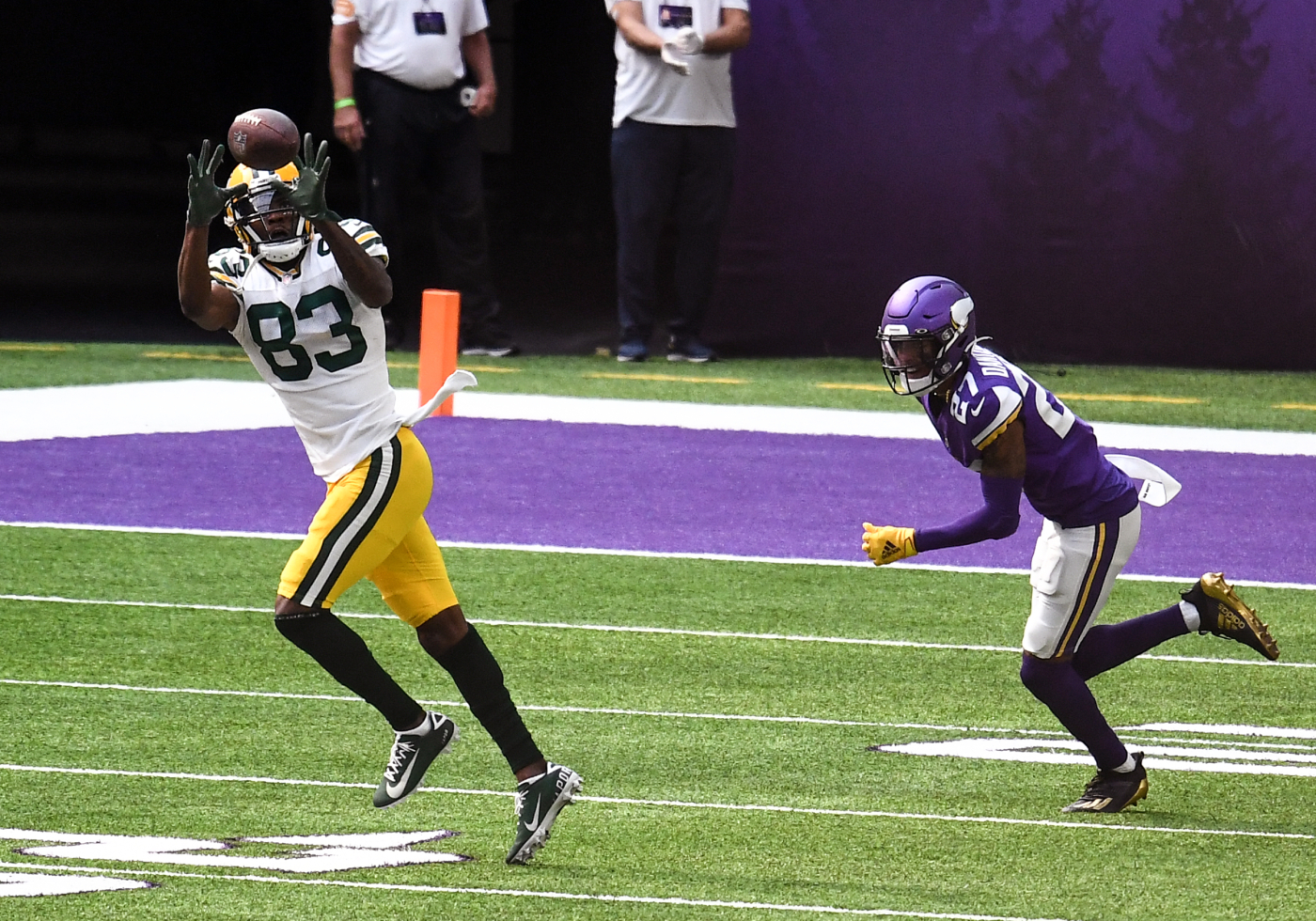 Aaron Rodgers Is Being Very Careful With What He Says About His Receivers
Green Bay Packers quarterback Aaron Rodgers is being very careful with what he says about his wide receivers.
Aaron Rodgers doesn't have a lot of big names to throw to outside of Davante Adams. Adams is considered one of the best wide receivers in the game. The Green Bay Packers failed to draft a receiver in 2020, but that hasn't seemed to affect Rodgers so far. Rodgers said he trusts his receivers but is hesitant to say much more about them.
Aaron Rodgers and the Green Bay Packers were sharp in Week 1
There were many questions surrounding Aaron Rodgers heading into Week 1 of the 2020 NFL season. How would he react after the Packers selected his eventual replacement, quarterback Jordan Love, in the first round of the draft? Would he be extra motivated? Would his age start to show?
If Week 1 is any indication, Rodgers will be just fine. The Green Bay Packers led all teams in scoring last Sunday. The Packers outlasted the Minnesota Vikings 43-34. Rodgers showed no signs of slowing down as he threw for 364 yards and four touchdowns in the win.
The Packers' passing game was especially sharp. Rodgers completed 32 of his 44 passes. He had a strong connection with Davante Adams, who finished with 14 catches for 156 yards and a pair of touchdowns.
Rodgers and the Packers capitalized without the fans
Normally, the Green Bay Packers would have a difficult time playing a season opener on the road against a division rival. The Pack headed to Minnesota last weekend to face the Vikings, but the atmosphere wasn't quite what the Packers were used to. With no fans in the stadium, the Packers' offense cruised.
In his four trips to play at Minnesota's relatively new U.S. Bank Stadium, Aaron Rodgers had combined to throw just three touchdown passes. He beat that mark with his four-touchdown effort Sunday. "It was one of the strangest experiences I've had in the NFL, being in a stadium like this to have memories of some really rocking times," said Rodgers, according to ESPN.
Davante Adams' 14 catches tied Don Hutson's record for receptions in a single game. Adams had his way with the Minnesota cornerbacks. "It was just locking in and tapping into getting ready to play here in front of zero thousand fans," Adams said.
Rodgers is afraid to say anything about his wide receivers
Davante Adams had the biggest day for a wide receiver in Week 1, but he wasn't the only member of the Green Bay Packers' receiving corps to shine. Marquez Valdes-Scantling and Allen Lazard also caught touchdown passes in the victory. Rodgers was happy with the way all three played but was hesitant to praise them all.
Before the season began, Rodgers raved about the play of wide receiver Jake Kumerow. Shortly after Rodgers praised Kumerow, the Packers released him. Rodgers sarcastically said he didn't want that to happen again.
"I do have a lot of trust about our top three," Rodgers said, according to Packers reporter Rob Demovsky. " I said what I said about Jake (Kumerow) and he got released, so I'm not going to go too in-depth."