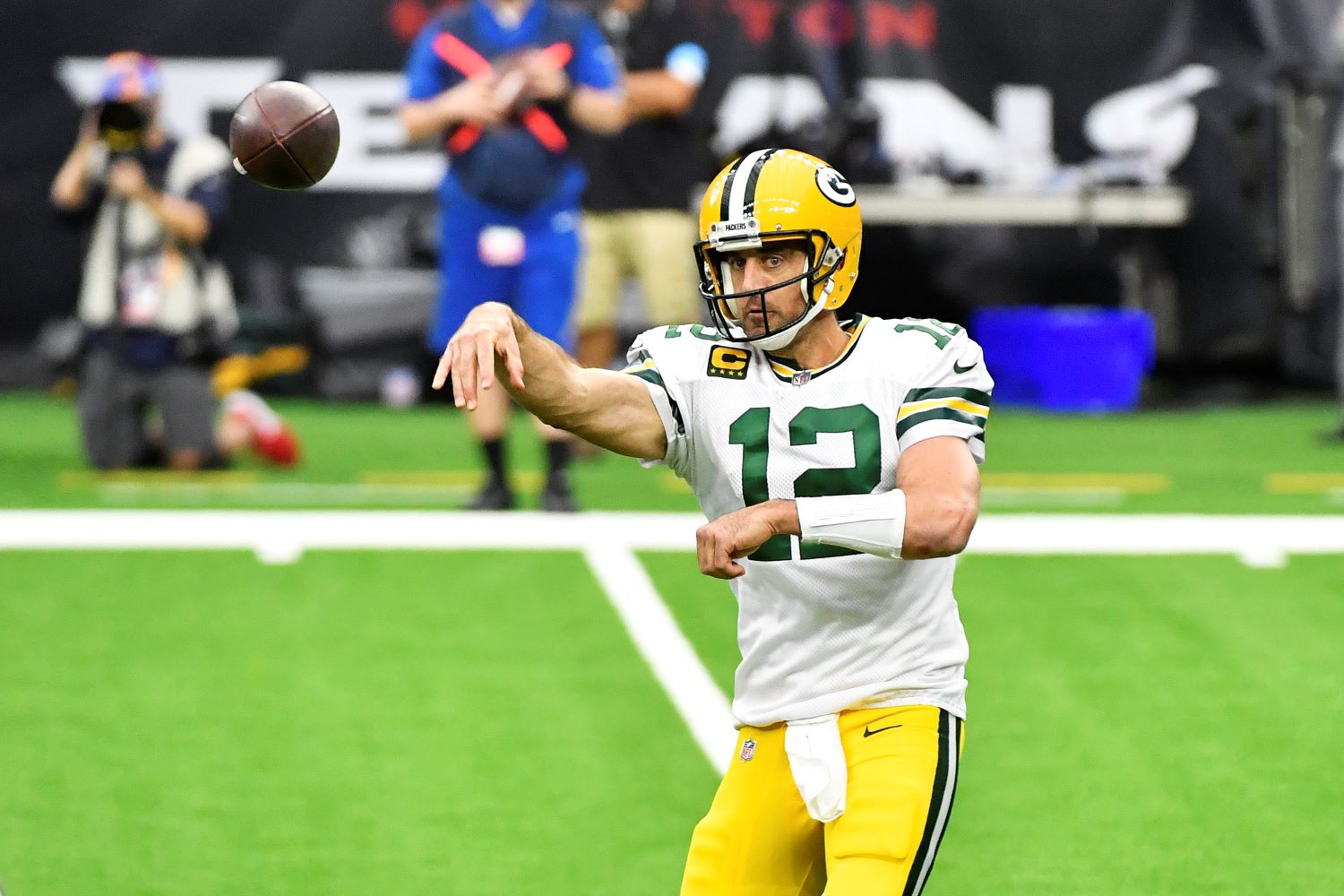 The Packers are Pursuing a $10 Million Weapon for Aaron Rodgers
Aaron Rodgers could certainly use some help at wide receiver. The Packers may soon add a new $10 million weapon in the form of Will Fuller.
In the midst of an MVP-caliber campaign, Aaron Rodgers continues to prove the Green Bay Packers wrong for spending a first-round pick on his potential successor. However, while the Packers do sit in first place in the NFC North, the team could use a boost in the passing game. After all, Green Bay has suffered a number of critical injury blows at the wide receiver and tight end positions.
Luckily for Rodgers, the Packers may soon add a $10 million weapon that will put their offense over the top.
Aaron Rodgers looks like an MVP candidate despite the Packers' injury problems
Although he may turn 37 in December, Aaron Rodgers has shown no signs of slowing down. In fact, he looks like a top candidate to take home NFL MVP honors for the third time in his career.
Even with Davante Adams missing extended time with a hamstring ailment, Rodgers has still managed to put up terrific numbers. Through six games, the eight-time Pro Bowler has completed 65.9% of his passes for 1,657 yards, 17 touchdowns, and only two interceptions. Rodgers' 113.4 quarterback rating would qualify as his best mark since he won MVP honors in 2011.
Of course, his hot start has been even more impressive considering he has not had all of his weapons available. Green Bay lost Allen Lazard to a core muscle injury after he enjoyed a breakout performance against the New Orleans Saints. Rookie tight end Josh Deguara tore his ACL in Week 5. Plus, Equanimeous St. Brown spent the first four games of the season on injured reserve with a knee issue.
Still, Rodgers has the Packers off to a 5-1 start thanks to his elite level of play.
Rodgers may soon have a new $10 million weapon
Despite having the league's No. 2 scoring offense, the Packers want to add more firepower. According to The Athletic's Aaron Reiss, Aaron Rodgers could soon have a new $10 million weapon in the form of Will Fuller.

On Wednesday, Reiss reported that the Packers have inquired about trading for the speedy receiver from the Houston Texans. And while a deal may not be imminent, the idea of Rodgers getting an elite downfield threat like Fuller should terrify opposing defenses.
Although the 26-year-old wideout has struggled to stay healthy since entering the league in 2016, he does bring a dangerous element to the mix: big-play ability.
In 49 career games, Fuller has caught 21 touchdowns. This season, the former first-round pick has already caught five TD passes while averaging 15.8 yards per catch.
In April 2019, Houston exercised Fuller's fifth-year option, which allowed him to secure a $10.1 million salary for the 2020 season. Given the uncertainty surrounding the future of the franchise, the Texans could look to sell high on a player who will likely walk in free agency.
Should Green Bay trade for Will Fuller?
As a legitimate Super Bowl contender, the Packers shouldn't hesitate to make a bold move to increase their chances of winning the Lombardi Trophy. So when it comes to the possibility of giving Aaron Rodgers another weapon, it makes sense that Green Bay has expressed interest in trading for Will Fuller.
General manager Brian Gutekunst has to make a tough decision. Given Fuller's extensive injury history, he carries plenty of risk from a durability and availability standpoint. Would the Packers be willing to part with a mid-round draft pick for a player who has never played 16 games in a season?
On the other hand, trading for Fuller would give Rodgers an elite vertical threat. Defenses would have to provide safety help over the top to account for the receiver's ability to make big plays down the field. Plus, given Rodgers' penchant for making magic happen outside of the pocket, a player with Fuller's speed could shine on scramble plays.
Ultimately, it shouldn't take much more than a mid-round pick to acquire the fifth-year pro. If the Packers want to ensure their best player has all the tools necessary to succeed, then they shouldn't hesitate to trade for Will Fuller.
All contract data courtesy of Spotrac. All statistics courtesy of Pro Football Reference.