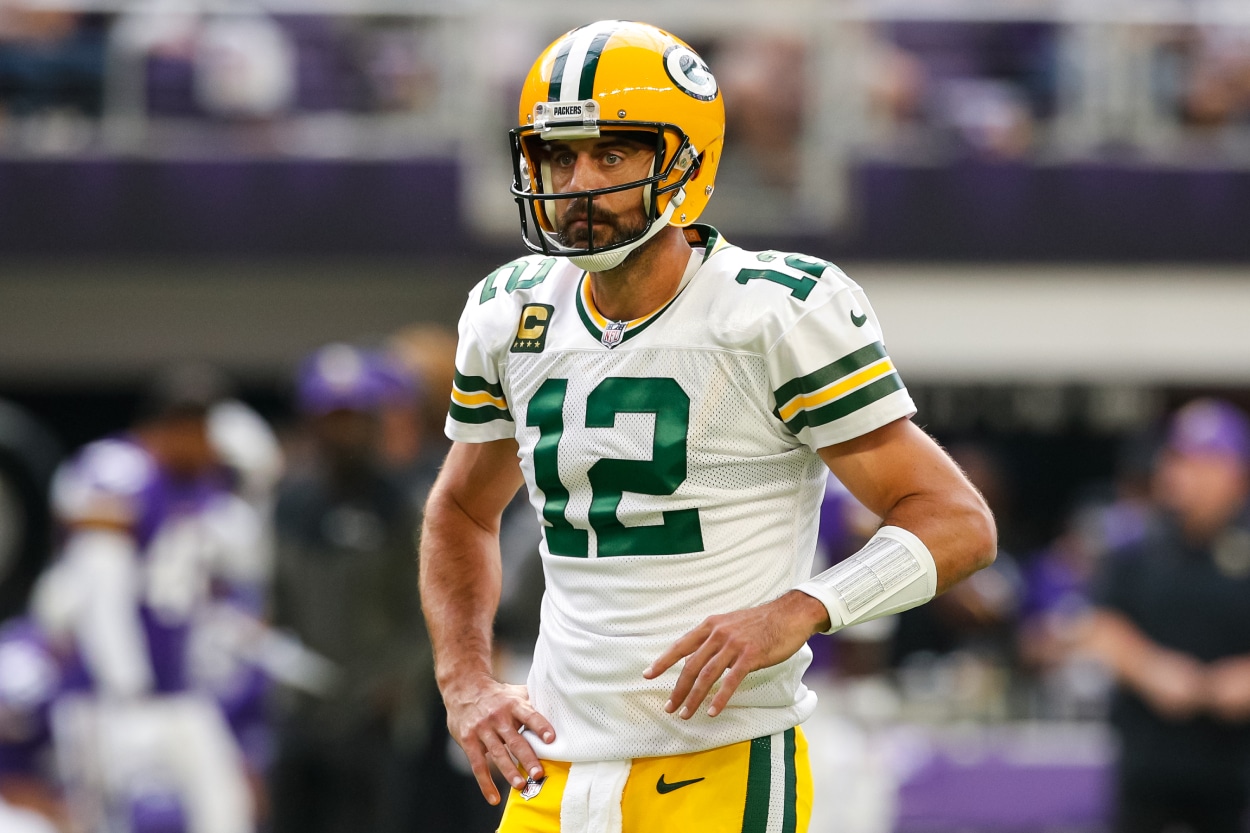 Aaron Rodgers Says a Lot Without Saying Much
Green Bay Packers quarterback Aaron Rodgers said a lot about wideout Amari Rodgers without saying much at all.
After Week 1's embarrassing loss to the Minnesota Vikings, the Green Bay Packers went back to work to prepare for another meeting with a division rival, the Chicago Bears. The Packers struggled mightily on offense as quarterback Aaron Rodgers tries to find the right mix with his wide receivers.
The stats in Week 1 were staggering. Running back AJ Dillon led the team in catches and receiving yardage. Rookie receiver Christian Watson dropped what likely would have been a long touchdown pass on Green Bay's first series. The loss of Davante Adams hurts, but the young receivers have to step up. One of those receivers appears to be in the doghouse based on Rodgers' short, but telling, comment.
Aaron Rodgers and the Packers offense are a work in progress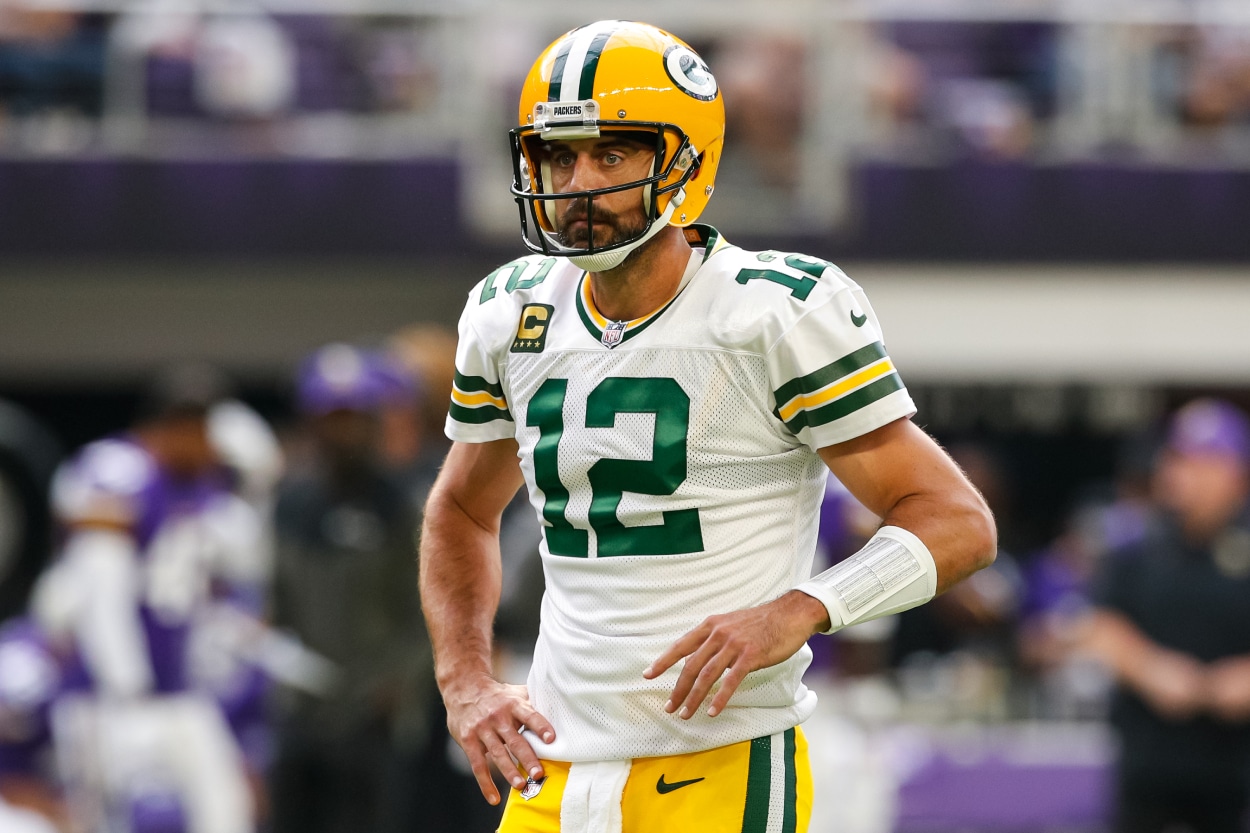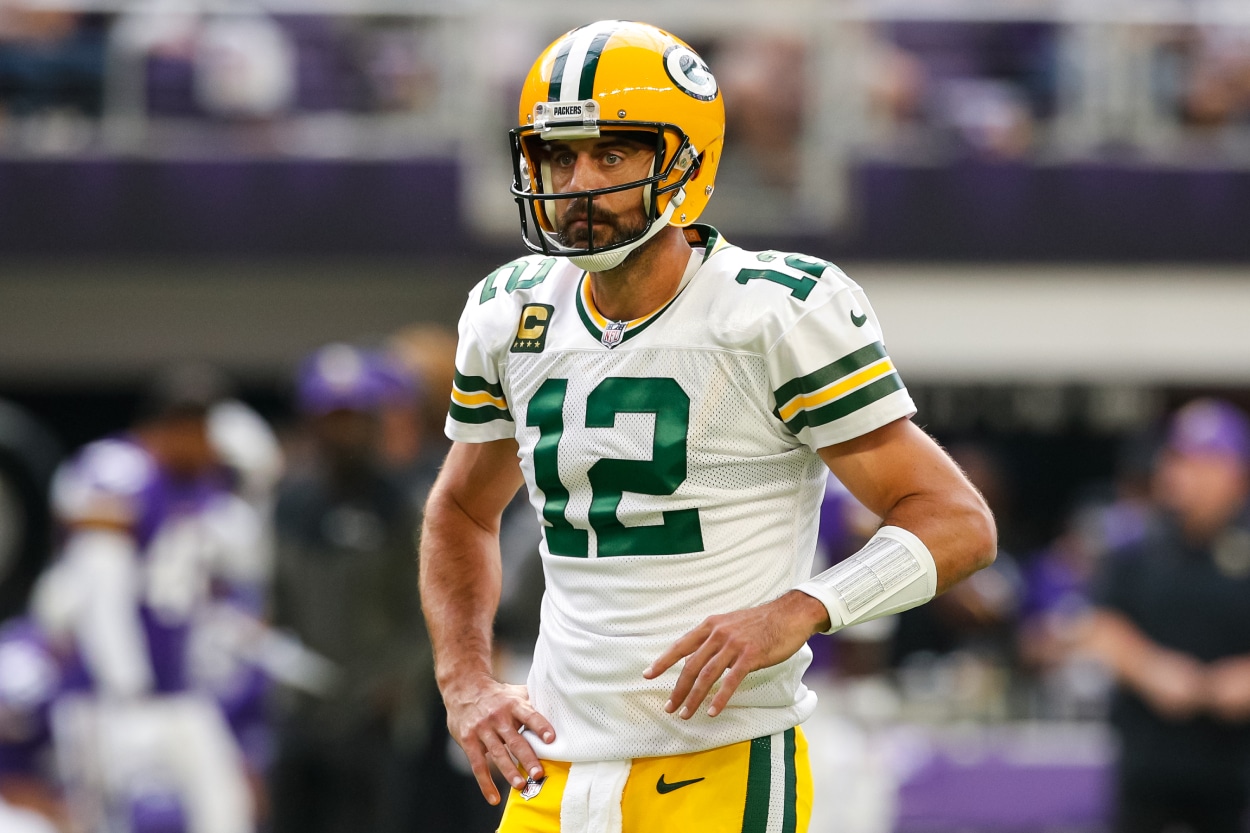 Packers fans will say R-E-L-A-X after the Week 1 debacle, especially after last year's season opener. A year ago, Rodgers and the Pack had a similar outing in a 38-3 loss to the New Orleans Saints. Green Bay Bounced back by putting up 35 points with the help of four Rodgers touchdown passes in a win over the Detroit Lions.
Last year, they had Adams to fall back on. This year, the offense is a work in progress. While they have two top running backs in Dillon and Aaron Jones, the Packers are forced to go with a youth movement in their passing game.
They have veteran Randall Cobb and brought in Sammy Watkins to add experience to a young group of receivers. Allen Lazard, who's entering his fifth season, was expected to be Rodgers' top target despite never catching more than 40 passes in a season, but missed Week 1 with an ankle injury.
Rodgers is forced to rely on guys like Watson, Romeo Doubs, and Amari Rodgers, who have very little NFL experience. During the preseason, the quarterback went public with their struggles during camp.
"A lot of mental errors, a lot of pre-snap penalties," he said, per The New York Post.. "Kind of been the theme of camp. Simple, simple plays we're messing up.
"You keep dropping the ball, you're not going to be out there. It's going to be the most reliable guys that are out there. The preparation and the job responsibility is most important."
Rodgers says a lot about Amari Rodgers without saying much
Frustration clearly set in with the Packers after the loss to the Vikings. Doubs led the wide receivers in catches with four. Watson was next with two. It wasn't a good outing for the young group.
One of their receivers, Amari Rodgers, didn't log a single snap on offense. He was a third-round pick in the 2021 NFL Draft. Instead, the former Clemson wide receiver played on special teams, returning a kickoff for 14 yards and a punt for 12.
When reporter Kyle Malzhan of WFRV Local 5 asked Aaron Rodgers about Amari Rodgers, the quarterback didn't give an overly promising report on the second-year receiver.
Malzhan asked what the outlook on Amari Rodgers was and how he fits into the offense.
"Last year, he was pretty non-existent on offense, and then last week he didn't get out there for an offensive snap," Malzhan said.
Rodgers didn't offer much.
"Yeah, he's returning for us right now," the quarterback said. "That's all I got on that."
Aaron Rodgers didn't blast Amari Rodgers, but he said quite a bit without saying much.
Like Sportscasting on Facebook. Follow us on Twitter @sportscasting19 and subscribe to our YouTube channel.