Aaron Rodgers Trade Rumors: Ranking the 5 Teams That Give the Packers Icon the Best Chance to Win a Second Super Bowl Ring
Where will Aaron Rodgers play football in 2023? As much as Green Bay Packers fans may want to see No. 12 win a second Super Bowl ring starring for their beloved team, the odds of that happening look dire. 
After all, it seems more likely than not that the future Pro Football Hall of Famer will don a different uniform for the first time in his decorated NFL career.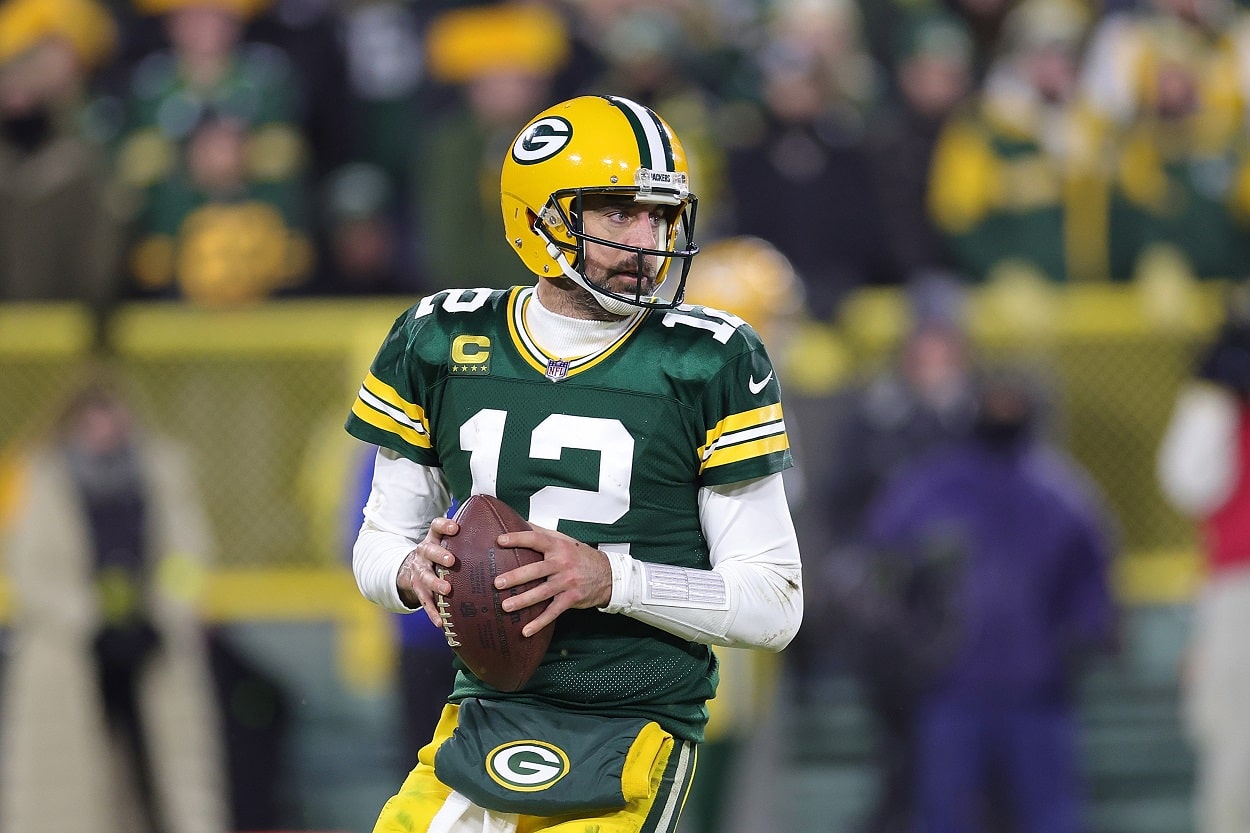 While Rodgers' exorbitant salary and the cost of acquiring a player with his credentials will undoubtedly factor into his trade market, it's also fair to wonder which potential landing spots would provide him with the best chance of becoming a two-time champion.
Although several teams seem like logical fits, here's my breakdown of which viable trade partners would give the longtime Packers star his best shot at adding another ring before he retires. 
5. Indianapolis Colts
It's no secret the Colts need to find a long-term answer at the quarterback position. But if general manager Chris Ballard wants to swing for the fences and go the veteran route again, how can he not consider trading picks and players for an all-time great? 
Obviously, Indianapolis would be in a much stronger position to contend in the crowded AFC with Rodgers leading the huddle. Putting the uber-accurate passer in charge of a unit that includes dynamic running back Jonathan Taylor, big-bodied wideout Michael Pittman Jr., and promising 2022 second-round pick Alec Pierce would instantly make the Colts a threat to take the division back from Trevor Lawrence and the Jacksonville Jaguars. 
But for Rodgers, there may be better moves than relocating from Green Bay to Indy in terms of trying to win another ring. Sure, the Colts have some intriguing young skill players, but their offensive line isn't anything close to elite anymore. But how can he have much faith in a franchise that still doesn't have a head coach? Better yet, why should Rodgers feel confident about taking his talents to a team that finished 28th in points allowed in 2022? 
A year or two ago, this would have been an excellent fit for both parties. In 2023, though, Rodgers would be better served playing for a more complete team with an established head coach.
4. Las Vegas Raiders
The Derek Carr era is officially over, which leaves the Raiders in a precarious situation. Unless Josh McDaniels truly believes he can turn Jarrett Stidham into something special, Las Vegas will need to find a competent starter who can turn a losing team into a playoff contender in 2023. While Jimmy Garoppolo could reunite with his former offensive coordinator in Las Vegas, reuniting one of the NFL's best quarterbacks with one of the league's most dominant receivers has to be enticing, too. 
A year after acquiring Davante Adams, the Raiders could make another blockbuster deal with the Packers. Trading for Rodgers would undoubtedly cost the franchise precious draft capital and cap space, but it's easy to see the appeal of going all-in to import another star from Green Bay. 
For Rodgers, getting to throw to Adams again would undoubtedly make his life easier. And the upside of a healthy version of Darren Waller should be attractive for a quarterback who hasn't worked with a top-tier tight end in a while. 
However, it's fair to say the Raiders wouldn't give Rodgers the best chance of winning Super Bowl ring No. 2. After all, they play in the same division as Patrick Mahomes and Justin Herbert, and even the Broncos have to be taken seriously with Sean Payton running the show in Denver. Ultimately, winning a title would be substantially more difficult playing in a stacked AFC West division.
3. Tennessee Titans
Unlike the other AFC South squad on this list, the Titans enter the offseason with zero doubt about who's in charge. In a league that's seen so many head coaches make critical mistakes in big moments, Mike Vrabel deserves credit for being consistently good at his job. And when you're talking about trading for a player with as big of an ego as Rodgers, having a coach who commands widespread respect like the former New England Patriots linebacker is a huge plus. 
From a roster standpoint, though, it's difficult to get overly excited about the prospect of the Packers icon taking over an offense that's largely devoid of proven playmakers outside of Derrick Henry. Sure, 2022 first-round wideout Treylon Burks has untapped upside, but will Rodgers have the patience to wait for his development?
At the very least, the Titans would have to make a move for an established pass catcher–something that could be challenging given they're projected to be nearly $24 million over the salary cap. 
However, don't completely count out Tennessee as a fit for Rodgers. Unlike the Colts, the Titans have the makings of a top-10 defense–especially if edge rusher Harold Landry returns to his pre-injury form and Jeffery Simmons continues to wreak havoc from the interior. A top-five head coach, a top-10(ish) defense, and a very winnable division should at least get Rodgers to consider finishing his career in Nashville.
2. New York Jets
Zach Wilson proved he has no business being atop any team's depth chart with his disastrous 2022 campaign. By failing to live up to expectations for a second straight season, the No. 2 overall pick from the 2021 NFL Draft opened the door for his team to go back to the drawing board. 
Based on the early chatter and the hiring of former Packers offensive coordinator/failed Broncos head coach Nathaniel Hackett, it certainly seems like the Jets are in the driver's seat to make a blockbuster deal for Rodgers. And even though the franchise would have to devote even more draft capital to land a legit QB1, it might be worth the price. 
Anyone who watched Robert Saleh's squad last season could see the team had championship potential. The Jets have a fast, physical defense that features the impressive All-Pro tandem of defensive tackle Quinnen Williams and cornerback Sauce Gardner. If 2022 first-rounder Jermaine Johnson takes a step forward next season, that would make the unit even more dangerous. 
Most importantly–at least for Rodgers' sake–the Jets have young weapons with significant upside in 2022 draft picks Garrett Wilson and Breece Hall. Plus, talented wideout Elijah Moore could finally become a major contributor if he has a chance to work with a legitimate quarterback. While the Jets play in a tough division, a roster bolstered by Rodgers' arrival could put them squarely in the mix to contend for a Super Bowl title in 2023.
1. Miami Dolphins
Tua Tagovailoa's concussion issues should give the Dolphins pause about giving him a contract extension. And as much as the franchise may back him publicly, it's fair to question just how committed the front office is to making him one of the highest-paid players at his position. 
Instead of running it back and taking a chance that the former Alabama standout suffers another head injury, why not double down on last year's uber-aggressive move to acquire and extend Tyreek Hill and make Rodgers the face of the franchise for at least a year or two? 
From the quarterback's perspective, Miami offers plenty of upside thanks to the presence of Hill, Jaylen Waddle, and offensive-minded head coach Mike McDaniel.
Plus, with Vic Fangio taking over a defense that includes dynamic young players like Christian Wilkins, Jaelen Phillips, and Jevon Holland and established veterans like Bradley Chubb and Xavien Howard, the Dolphins should be a tough team to score on in 2023. 
After seeing Miami almost defeat Josh Allen with seventh-round rookie Skylar Thompson under center, how can Aaron Rodgers not envision himself taking a talented roster much further in his quest to become a multiple-time Super Bowl champion?