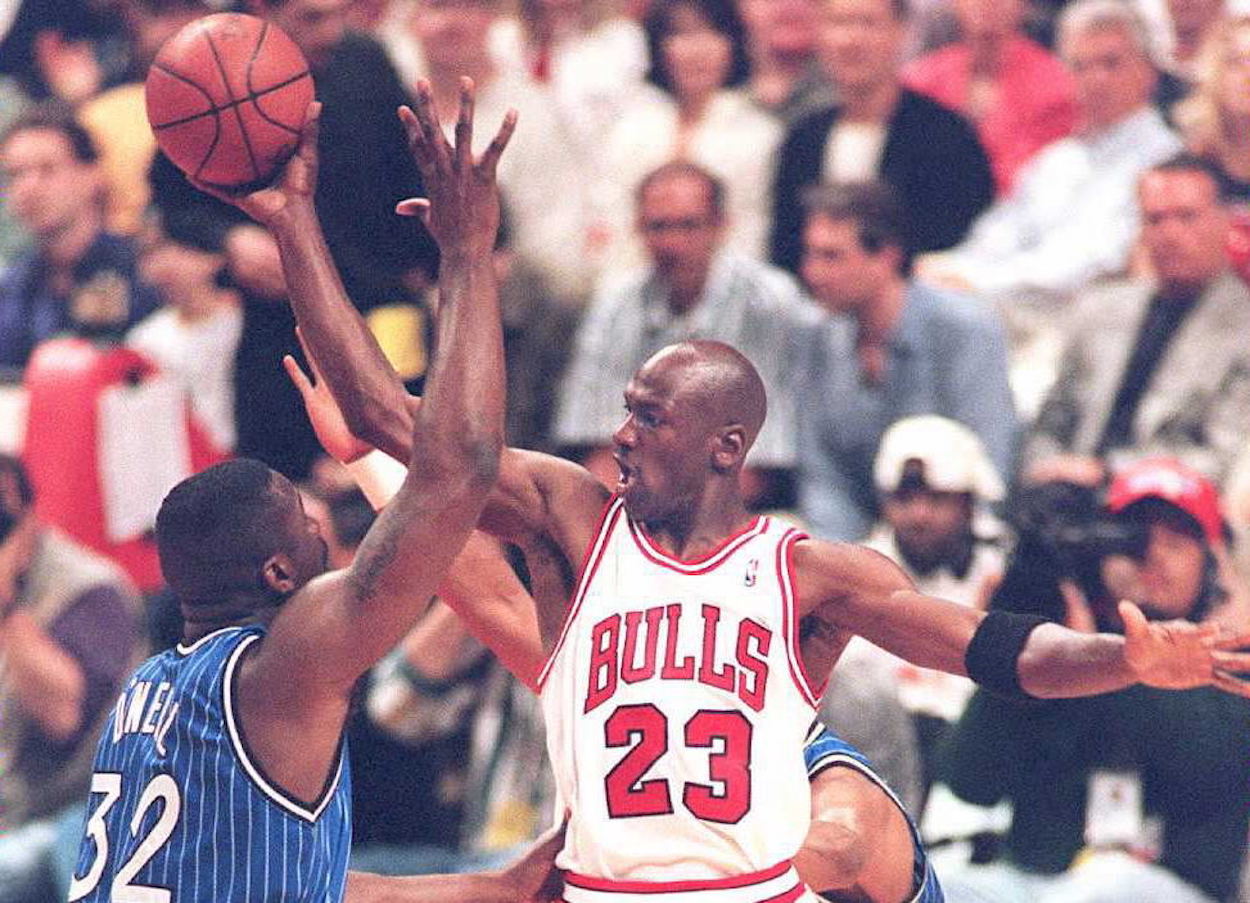 An Act of Kindness From Shaquille O'Neal Convinced Michael Jordan Not to Be Intimidated by Him
Shaquille O'Neal helped Michael Jordan off the ground and was never able to intimidate him afterward.
Michael Jordan was never one to back down from bigger and stronger players in the NBA. He was always the one who did the intimidating, even if his opponent had a distinct physical advantage over him.
But when going up against 7-foot-1, 300-plus-pound Shaquille O'Neal in 1995, Jordan was admittedly a bit intimidated by his enormous frame and physically imposing style of play. Shaq could've grown into the one player Jordan ever feared on the court, but he blew his chance by committing an act of kindness that taught MJ not to be afraid of the gentle giant.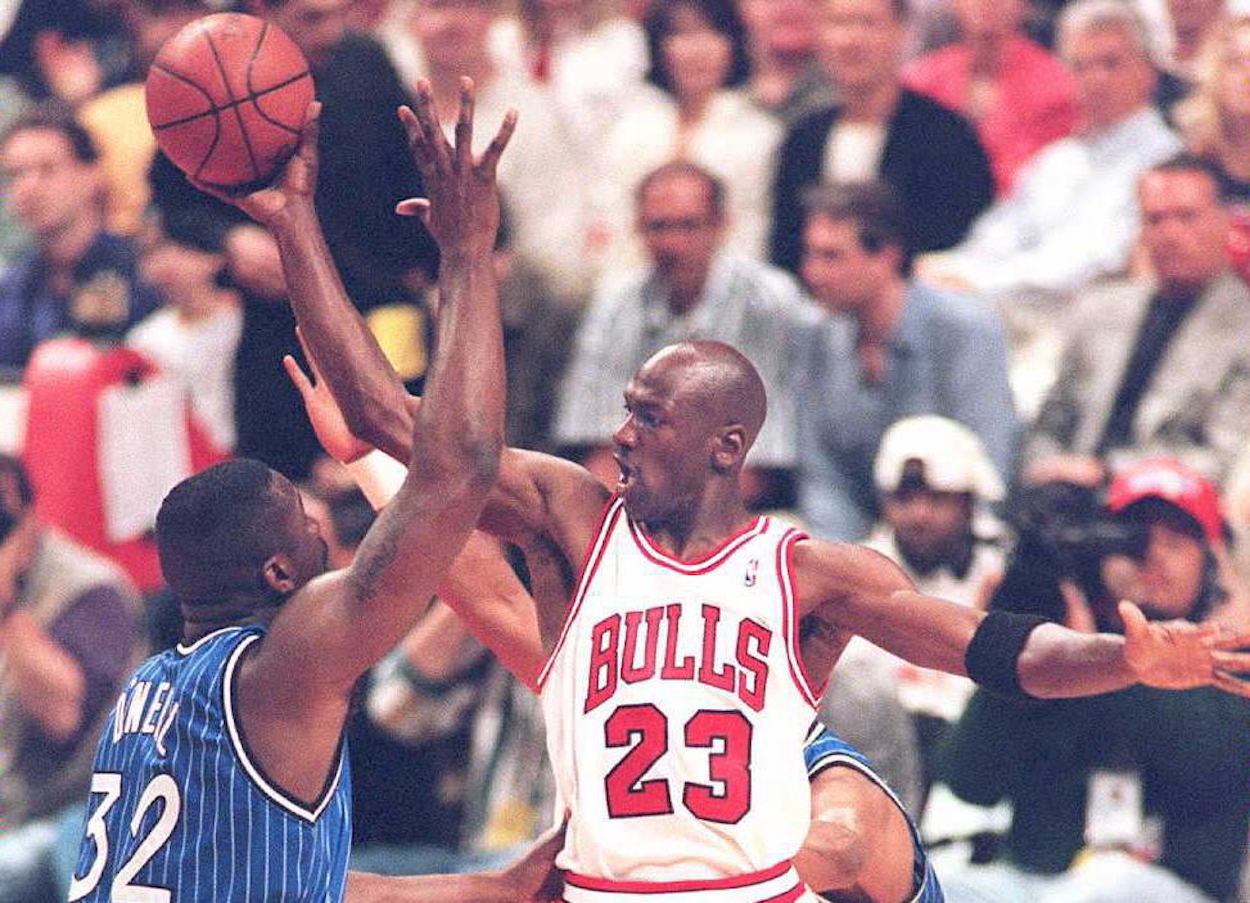 How Michael Jordan learned not to be intimidated by Shaquille O'Neal
After Jordan gave up on his baseball sabbatical to rejoin the Chicago Bulls in 1995, he returned to find an even bigger and stronger Shaq than he remembered. O'Neal was now in his third year in the NBA, and he weighed more than 300 pounds at that point.
In a recent interview with The Ringer's Jackie MacMullan on her Icons Club podcast, Jordan admitted he was a bit scared of going up against such a massive and unstoppable force.
"When I came back from baseball, I don't know if I've ever told anyone this, I'm playing against Shaq," Jordan said. "Shaq's the biggest person I've ever seen play, in terms of physicality. He was this big, massive guy when I came back from baseball, so I was somewhat intimidated."
That intimidation grew when Shaq knocked him to the ground with all his force, but he then committed the cardinal sin when playing against Michael Jordan.
He helped him up.
"I didn't really know how to play against him. Do I go right at him? Do I stop and pull up? Blah blah blah. So I went right at him and he just knocked me straight to the floor, and then he reached down to pick me up.

I said, 'Naw, he didn't mean it, he's a nice guy.' If he'd've left and stepped over me, a la the old school, I would've been somewhat intimidated. But his heart is too good. He's not that type of guy.

It took away some of the intimidation factor."

Michael Jordan
It was at that point Jordan realized there was nothing to be afraid of when it came to Shaq.
"You knew you had him?" MacMullan asked.
"I did, I did," Jordan responded.
Jordan got the best of Shaq throughout his NBA career
In the 1995 playoffs, Jordan's Bulls faced off against O'Neal's Orlando Magic in the Eastern Conference Semifinals. Jordan outscored Shaq in four of the six games in the series, but O'Neal got the last laugh when Orlando won in six.
The following year, the Bulls and Magic met again in the postseason, this time in the Eastern Conference Finals. And this time, Jordan used his new knowledge to dominate O'Neal and exact revenge with a four-game sweep. MJ scored 45 points in the clinching Game 4 to put the Magic away.
In 21 total games played against each other, Jordan won 12 and Shaq won nine. Jordan also got the best of O'Neal in six of their 10 playoff matchups.
Shaq could've had more success against MJ if he never showed weakness by helping up the most competitive basketball player to ever live.
Like Sportscasting on Facebook. Follow us on Twitter @sportscasting19.