After Sweating It Out, Magic Johnson Finally Got His Wish When Kareem Abdul-Jabbar Broke Wilt Chamberlain's Scoring Record
Kareem Abdul-Jabbar's all-time NBA scoring record has stood for 38 years. It's not expected to last much longer as LeBron James inches closer to breaking the mark set in April 1984.
The Los Angeles Lakers center broke the previous record held by Wilt Chamberlain on April 5, 1984, in a 129-115 victory over the Utah Jazz. Although he had to sweat it out, Abdul-Jabbar's teammate, point guard Magic Johnson, got his wish on Kareem's record-setting night.
Magic Johnson had no problem admitting he wanted to play a key role in Kareem Abdul-Jabbar's record-setting night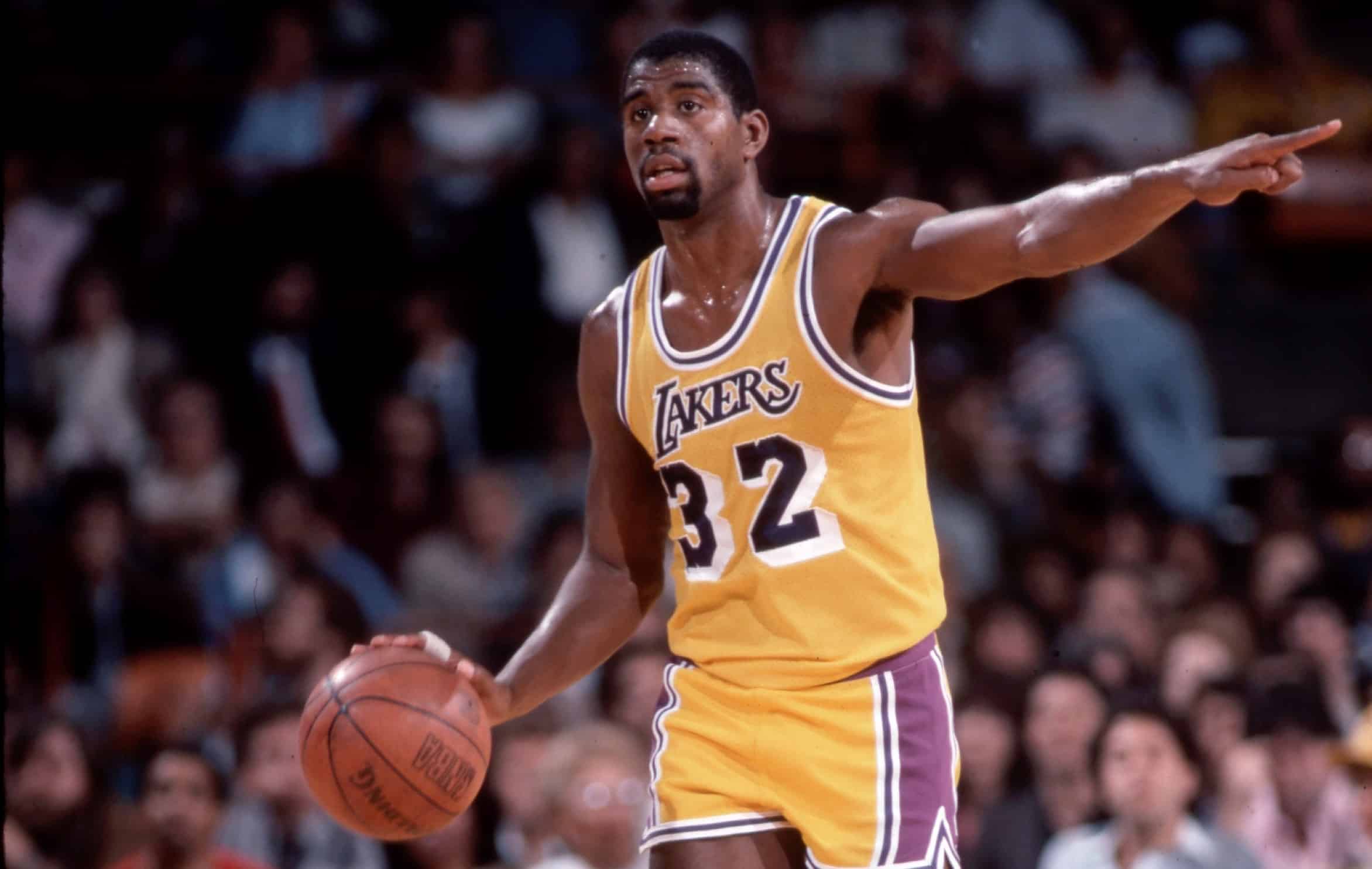 Abdul-Jabbar used his patented skyhook throughout his career, and it came through for him again in record-setting fashion on that April night. Johnson collected a pass from Johnson near the baseline, faked a pass, and then lofted a 10-foot skyhook with 8:53 remaining to break Chamberlain's mark.
Teammates ran over to congratulate him while the sellout crowd rose to its feet. While this took place, Johnson breathed a sigh of relief.
Magic wasn't shy about letting the world know that he wanted to assist on the record-setting basket. James Worthy assisted on Abdul-Jabbar's record-tying basket — a dunk with 10:45 remaining. Bob McAdoo then nearly had an assist on the next possession.
Johnson explained to reporters after the game that his wish almost didn't come true.
"When I got the ball, I waved everybody out," Johnson said postgame, per The Associated Press (h/t The Standard-Times). "The first time, McAdoo threw it to him, but he got triple-teamed, and I said, 'Yeah.'
"He threw it back out, but McAdoo missed. I said, 'OK, now's my chance. I'm going to make sure I give it to him."
Magic and Kareem just missed their chance at a third NBA title of the decade that season
Abdul-Jabbar admitted that breaking Chamberlain's mark was a huge lift off his shoulders. The Lakers were well in control of the game, and head coach Pat Riley asked his center if he wanted to come out.
"Pat asked if I wanted to be taken out," Abdul-Jabbar said, per the AP. "I told him no, I'd rather get it done.
"It was a big burden off my shoulders and a big burden off the team's shoulders. Our goal is to win a world championship. We can focus on that now."
The Lakers reached the NBA Finals in 1980, 1982, and 1983, winning in '80 and '82. They returned in '84 in the first of three NBA Finals matchups of the decade against the Boston Celtics.
The Lakers appeared as if they were on their way to another championship, winning Game 1 in Boston and holding a two-point lead and possession of the ball in the waning seconds of Game 2. Gerald Henderson stole a James Worthy pass and converted it into a game-tying layup. Boston won in overtime.
The Lakers blew out the Celtics in Game 3 at home, but after Kevin McHale clotheslined Kurt Rambis with the Celtics trailing 76-70 in Game 4, Boston stormed back to tie the series with another overtime win.
The Celtics outlasted the Lakers in seven games for their second championship of the decade. Karee and the Lakers got their revenge against the Celtics in the 1985 NBA Finals.