Alert Seattle Kraken Fan Brings Cancer to Vancouver Canucks Staffer's Attention: 'She Saved My Life'
Nadia Popovici is a true lifesaver. Just ask Brian "Red" Hamilton. Hamilton is the assistant equipment manager for the Vancouver Canucks of the NHL, and Popovici, a 22-year-old Seattle Kraken fan. The two recently had a touching encounter after Popovici showed Hamilton a simple note during an October game against the Kraken. That message may have saved his life.
Nadia Popovici may have saved Vancouver Canucks assistant equipment manager Brian Hamilton with one quick look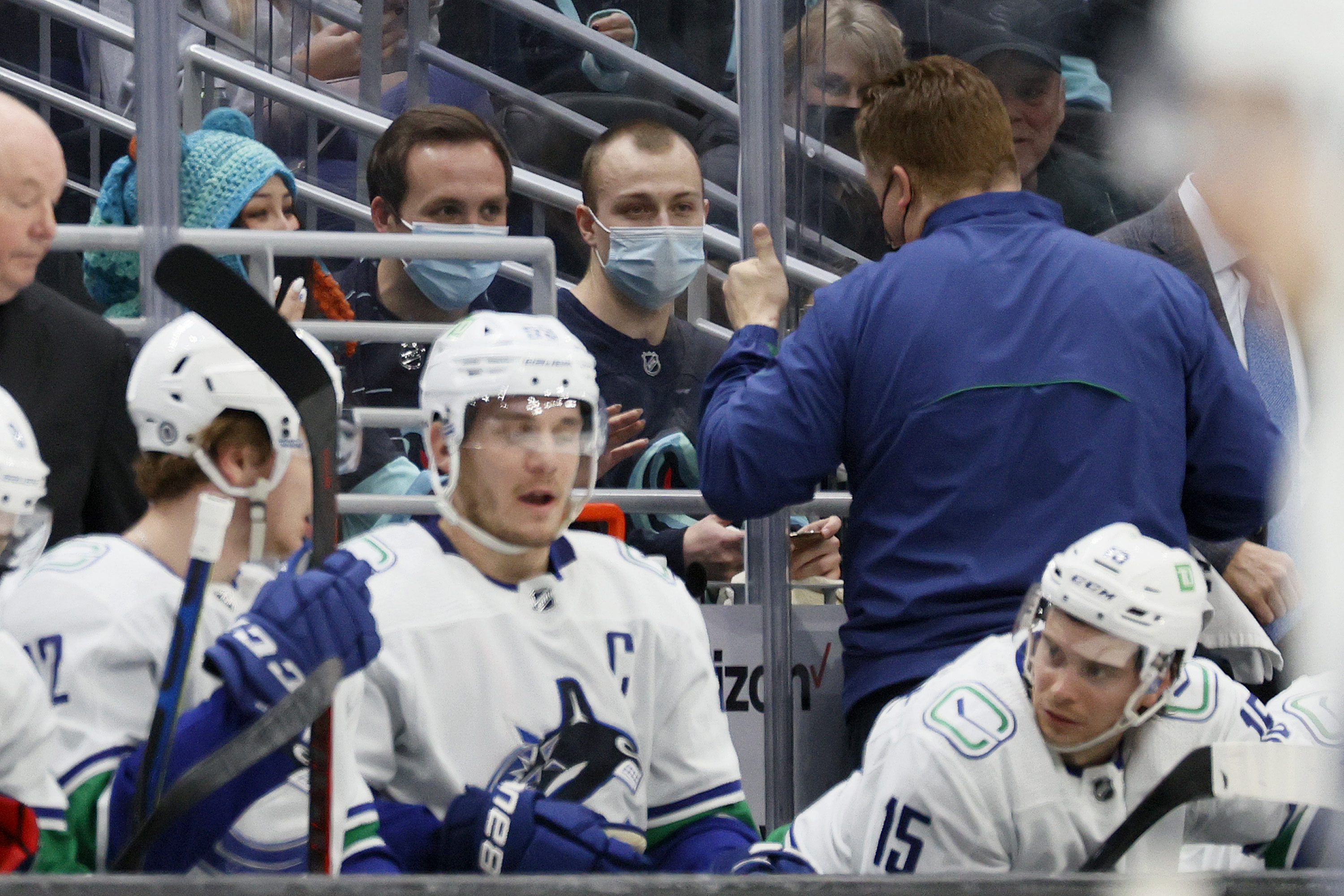 The expansion Kraken were playing their regular-season home opener against the Canucks on Saturday, Oct. 23, 2021. The team had played five straight games on the road and was 1-4. All eyes were on home ice as Seattle kicked off its inaugural season in the NHL.
Two eyes, however, were drawn to the back of the neck of Hamilton, who was on the Vancouver bench. Those eyes belonged to Popovici, a 22-year-old who plans to attend medical school in the fall. Popovici subtly got the attention of Hamilton and pressed her phone against the glass that separated the two.
On her phone was a note she typed. According to The Washington Post, the message read: "The mole on the back of your neck is possibly cancerous. Please go see a doctor!"
Popovici said she realized the mole might be a problem after she spent time volunteering at local hospitals. She said she didn't want to make a big deal out of it in front of so many people.
"I acknowledge that it's so uncomfortable to have something on your body pointed out and so I didn't want to make him feel uncomfortable," she said.
Her short message may have saved Hamilton's life.
Brian Hamilton took Nadia Popovici's advice
Popovici's note made Hamilton think. He thought enough to ask the opinion of a team doctor. Hamilton admitted the doctor didn't like the looks of the mole either and had it removed and tested.
The results of the test showed just what Popovici feared — malignant melanoma.
Luckily for Hamilton, he had the mole removed quickly. Had he waited, it could have been fatal.
"The words out of the doctor's mouth were that if I ignored that for four to five years, I wouldn't be here," Hamilton said, per The Washington Post.
Hamilton said he was impressed with how Popovici diagnosed the irregularity of the mole from a distance. He's also appreciative of her bringing it to his attention.
"You know, I've got a wonderful family. I've got a wonderful daughter, and I just think, like, she extended my life," Hamilton said. "She saved my life."
Hamilton and Popovici got together when the Canucks and Kraken met again last week
The Canucks put out a message on social media to help bring the two together. On Saturday, it happened.
The Canucks traveled to Seattle to play the Kraken on New Year's Day, and Hamilton and Popovici were able to get together in an emotional "reunion."
During a news conference, Hamilton addressed the note Popovici showed him that October night. He admitted it rattled him a little bit.
"(It) threw me off, so I kind of just shrugged and kept going," Hamilton said. "And so … I felt bad because I felt like I didn't really give her the time of day."
Hamilton said his mother even had a message for Popovici.
"My mom wants you to know she loves you," he said.
During Saturday's game, Popovici learned the Canucks and Kraken were awarding her a $10,000 scholarship.
It's been a crazy couple of months for the two, and it's clear Popovici has a future in the medical field.
"What an amazing way to start my journey to med school," Popovici told Hamilton. "It's pretty priceless."