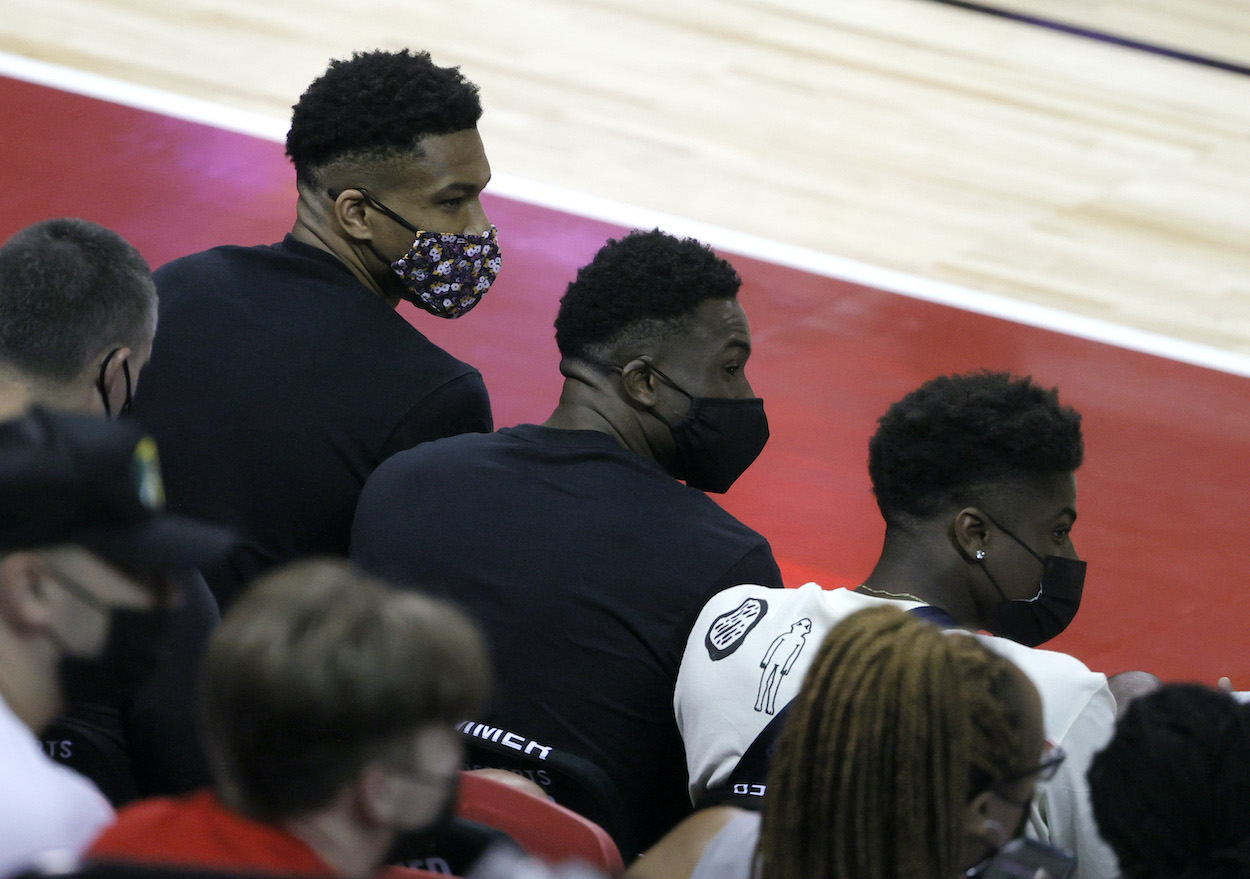 Alex Antetokounmpo Becomes the Latest Antetokounmpo Brother to Win an NBA Title
Even the most casual NBA fan knows all about Giannis Antetokounmpo, the Greek Freak. At just 26, he's a five-time All-Star and All-NBA forward. He's also a four-time All-Defensive team selection, the NBA's Most Improved Player in 2016-17, a Defensive Player of the Year (2019-20), a back-to-back NBA MVP (2018-20), and the reigning NBA Finals MVP. …
Even the most casual NBA fan knows all about Giannis Antetokounmpo, the Greek Freak. At just 26, he's a five-time All-Star and All-NBA forward. He's also a four-time All-Defensive team selection, the NBA's Most Improved Player in 2016-17, a Defensive Player of the Year (2019-20), a back-to-back NBA MVP (2018-20), and the reigning NBA Finals MVP. What you may not know is that his brothers, Thanasis, Kostas, and Alex Antetokounmpo, are all pro basketball players too. 
Giannis wasn't the first brother to win an NBA title either. Kostas already had a championship when Giannis and Thanasis joined him when the Milwaukee Bucks won in 2021. Now, their fourth basketball-playing brother, Alex, has joined the other three in winning an NBA crown. Although, it's not one that is equal to what the others have won. 
Thanasis, Kostas, and Giannis Antetokounmpo have all won NBA titles
The 23-year-old Kostas is actually the first Antetokounmpo brother to win an NBA championship. The 6-foot-10 forward was a late second-round pick for the Philadelphia 76ers in 2018. He never suited up for the team, playing, instead, for the Dallas Mavericks as a rookie.
When Dallas waived Kostas, the Los Angeles Lakers claimed him, and he was on the LA NBA Bubble quad that won the 2019-20 Larry O'Brien Trophy. Although he has a ring, Kostas has only averaged 4.0 minutes per game in his career. 
The Bucks took home the next season's title, with Giannis leading his franchise to the series victory over the Phoenix Suns while averaging 35.1 points per game. 
It was a double victory for the Antetokounmpo family, though, as older brother Thanasis (29) was on Milwaukee as well. He averaged a slightly-better-than-Kostas 9.7 minutes per game and did appear (for short stretches) in 13 2021 playoff games. 
Alex Antetokounmpo is now (kind of) an NBA champion
Of the NBA's four Antetokounmpo brothers, 19-year-old Alex Antetokounmpo was the only one without an NBA title until very recently. 
That all changed when the 2021 undrafted rookie lifted an NBA championship trophy at the 2021 NBA Summer League in Las Vegas. As a member of the Sacramento King's Summer League team, Alex won a title when the team beat the Boston Celtics 100-67.
Alex appeared in three of the team's five Summer League games and did not score in any of his time on the floor. Regardless of his performance, he can now always say that, like his brothers, he is (sort of) an NBA champ.
Alex Antetokounmpo has a lot of developing to do for him to become a legit NBA prospect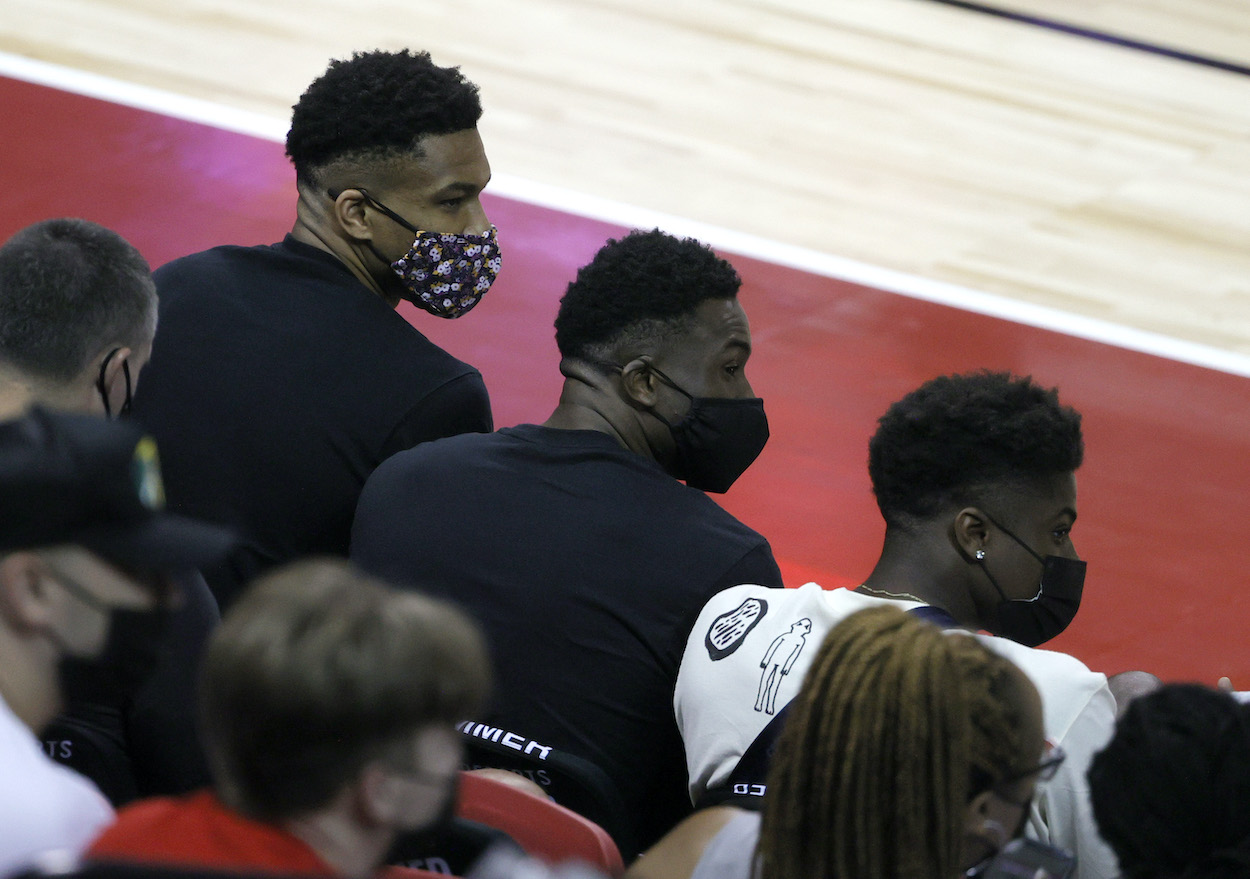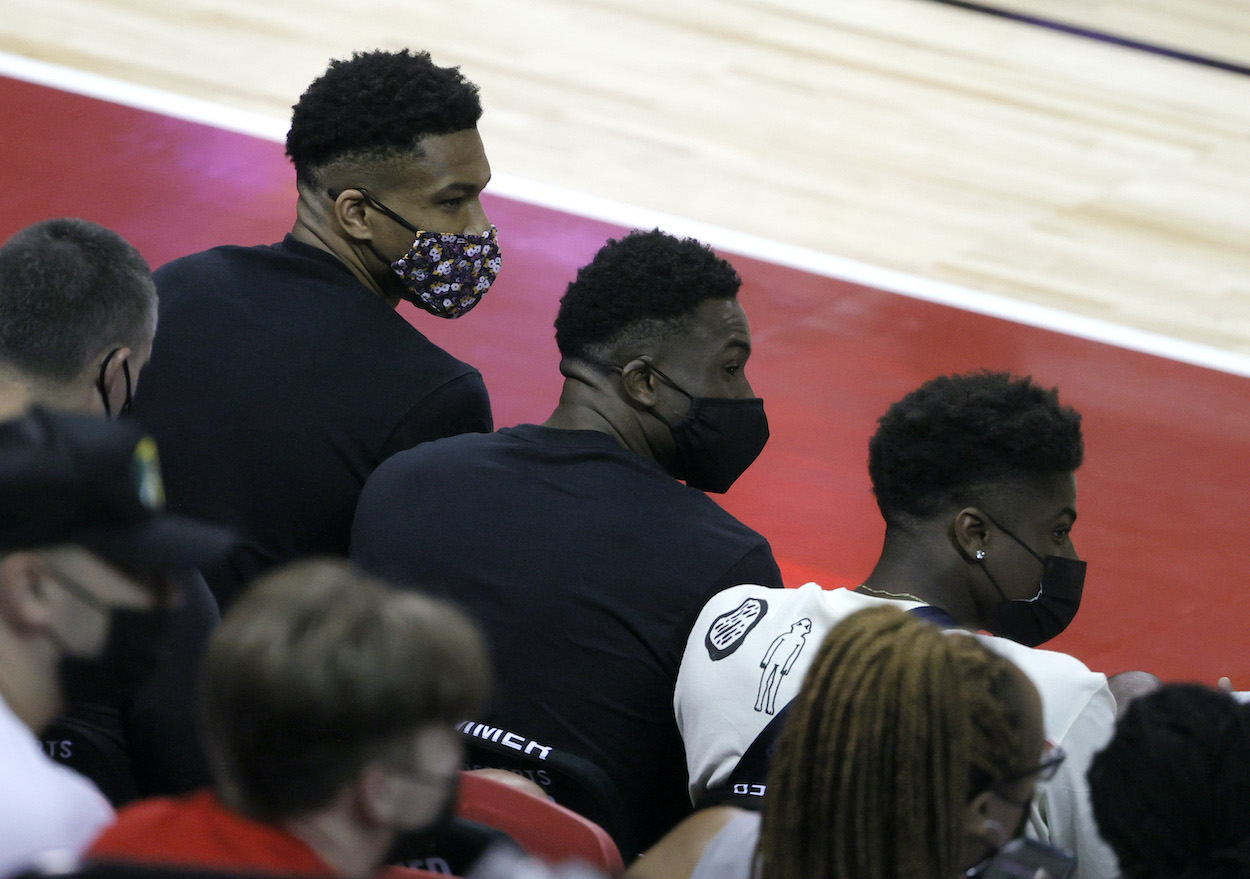 As the youngest Antetokounmpo brother, Alex started his basketball career in the U.S. At Dominican High School in Whitefish Bay, Wisconsin. As a prep player, he made first-team all-state as a junior and a senior. He put up 20 points, 7.3 rebounds, 2.4 assists, and 1.6 blocks per game in his final high school season, per NBA.com. 
A few American college basketball programs had interest in the brother of an NBA star, but Alex decided to play for a year in Spain, singing with UCAM Murcia CB. While he played well for the club's second team, he appeared in just one game for the senior side. 
While his game isn't developed enough for the NBA yet, he does have many of the same physical attributes Giannis and his other brothers do. He is currently 6-foot-8 with a 7-foot-2 wingspan and plus athleticism. 
His on-court shortcoming might spell a premature end for many aspiring NBA players in his position, but the fact that he is an Antetokounmpo means that he will likely get a few bites at the pro basketball apple. If he's like his brothers, he might even end up on a (real) NBA championship roster someday. 
All stats courtesy of Basketball Reference