JJ Redick Calls out Luka Doncic on Twitter Over $1,700 Gambling Debt after the Dallas Mavericks Star Signs $207 Million Contract
Luka Doncic just signed the most lucrative supermax rookie extension in NBA history. His $207 million, five-year deal with the Dallas Mavericks eclipses what any other rookie has ever received at the end of their first contract. This is because of the stunning, historic accomplishments Doncic achieved at just 22-years-old. Now that the silky Slovenian got paid, though, his former teammate JJ Redick wants the money he owes him.
Luka Doncic is making NBA history and just got the contract to back it up
The rookie supermax extension, also known as the Designated Player rule, started with the 2017 collective bargaining agreement. It allows teams to sign a player who meets specific criteria to a contract worth up to 30% of the salary cap.
Until now, no player has qualified for this rookie contract extension. Because Doncic made First-Team All-NBA in two of his first three seasons, he became the first player to become eligible for the rookie supermax.
Making history like this is nothing new for the 6-foot-7 point forward. At Real Madrid, Doncic was the youngest player in EuroLeague history to win the regular season and EuroLeague Final Four MVP, per Mavs.com.
After the Mavericks took him No. 3 in the 2018 NBA Draft, Doncic kept making history. He won Rookie of the year, became one of three players to earn First Team All-NBA at 21 or younger, and was the youngest European-born player to start an All-Star Game.
Averaging 25.7 points, 7.7 assists, and 8.4 rebounds per game in his first three seasons, there is no doubt Doncic will continue to make NBA history as he plays out this supermax extension and likely signs a few more like it down the road.
Now that Doncic got paid, JJ Redick wants his money
There is no question of Doncic's greatness on the court. Off the court, however, his card-playing skills and penchant for prompt payment when it comes to gambling debts are now in question, thanks to his former teammate, JJ Redick.
Reddick was only teammates with Doncic for a short period of time. The New Orleans Pelicans traded the former Duke sharpshooter to Dallas just before the 2021 trade deadline. Due to a heel injury, the 6-foot-3 guard only played 13 regular-season games for the teams and no playoff contests. He ended his time in Dallas to become a free agent averaging just 4.4 points in 11 minutes per game.
That injury didn't stop Redick from hanging out with Doncic and the team and playing cards, apparently. After news of the $207 million rookie supermax extension broke, the 37-year-old vet took to Twitter to call Doncic out:
Still owes me $1700 from cards. Please @CashApp me @luka7doncic

via @jj_redick
Redick's jab at his former teammate was (we think) in good fun, but either way, Doncic can definitely afford that and a whole lot more now.
The Dallas Mavericks are now on the clock to keep their superstar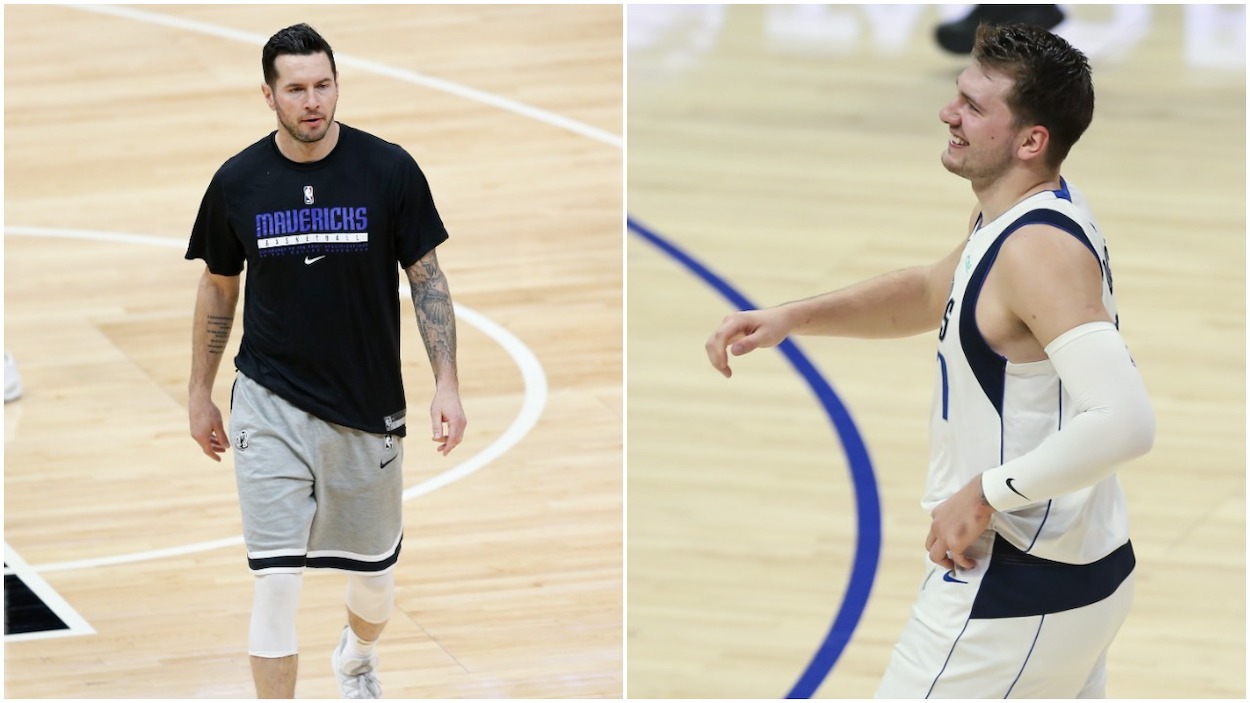 Mavericks governor Mark Cuban, new general manager Nico Harrison, director of player health and performance Casey Smith, and former Mavs players including, new coach Jason Kidd, assistant general manager Michael Finley, and special adviser Dirk Nowitzki, all flew to Slovenia for the triumphant presentation of the contract to the franchise's star.
While the mood now is celebratory, that may not be the case in the near future. This extension starts the clock on the Mavericks organization to build a true contender around Luka Doncic.
The team reached the playoffs the past two seasons but fell to the Los Angeles Clipper each time. This year, Dallas held a 2-0, then a 3-2 series lead but still couldn't advance. Some of this is definitely due to the overall lack of talent around Doncic, and some of it may be due to the contentious relationship between the franchise cornerstone and his teammate Kristaps Porzingis.
The team is already busy this offseason. The new front office, led by Harrison, traded away Josh Richardson, re-signed Tim Hardaway Jr. and Boban Marjanovic, and inked deals with free agents such as Sterling Brown and Reggie Bullock. The organization did, however, miss out on their top target, Kyle Lowry.
The real offseason test in Dallas will be if the Mavs can find a trade partner for Porzingis. If they can't, it might mean their $207 million star may look elsewhere for his next extension.
All stats courtesy of Basketball Reference and contract information courtesy of spotrac