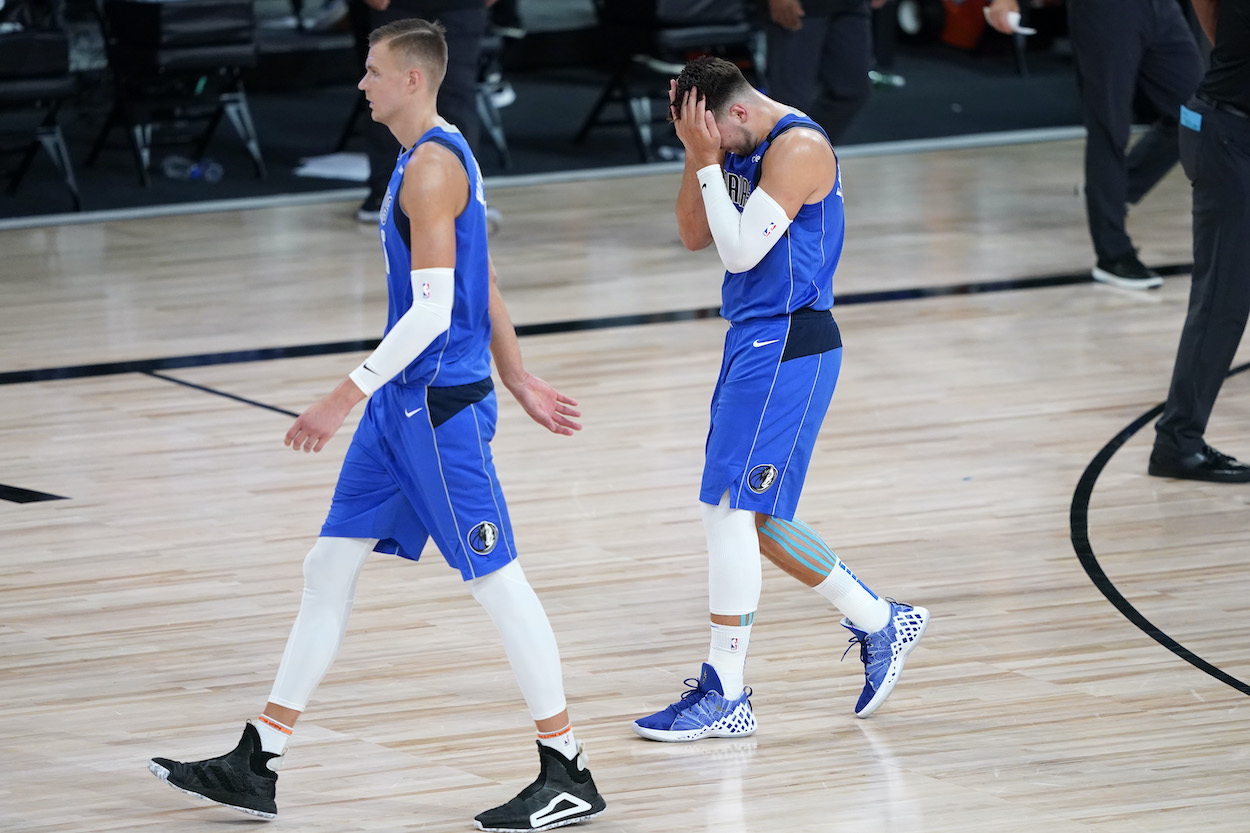 Kristaps Porzingis Snuck out to a Strip Club During the Playoffs, and Luka Doncic Wasn't Happy About It
The Luka Doncic Kristaps Porzingis Era may be coming to an end in Dallas, especially after new reports emerged about Doncic being unhappy with Porzingis' playoff trip to an LA strip club. Now the question becomes, not if the Mavericks will trade Porzingis, but what they can get back for him in a deal.
The history of the NBA is littered with star teammates that didn't get along. Shaq and Kobe, Ray Allen and Rajon Rondo, and Jason Kidd and Jimmy Jackson are a few of the most well-known feuds. Even Michael Jordan and Scottie Pippen apparently had more problems than we knew about. Now, another pair of Dallas Mavericks teammates are joining this list: Luka Doncic and Kristaps Porzingis.
More details are emerging about the relationship between the team's two stars following Dallas' second consecutive playoff loss to the Los Angeles Clippers. This includes a story about Doncic being upset about an unauthorized trip Porzingis took to a strip club during this year's series.  
The Luka Doncic/Kristaps Porzingis relationship isn't good
Ahead of the 2019 NBA trade deadline, the Mavericks seemingly fleeced the New York Knicks. It traded two (projected late) first-round picks and a pupu platter of role players for Porzingis, Tim Hardaway Jr., Trey Burke, and Courtney Lee.
The then-23-year-old floor-stretching Latvian seemed like the perfect complement to the Mavs' young Slovenian superstar.
The Luka Doncic/Kristaps Porzingis duo never quite clicked on the floor like many people thought. However, off the floor, the two seem to have even more issues.
Mark Cuban first confirmed the rumors of a rift when he acknowledged "dust-ups" between the two to a local radio show. Then, after the season, reports emerged that Porzingis feels "more like an afterthought than a co-star," playing with Doncic.
Now, as trade rumors swirl around Porzingis, another damning story is coming out about the Doncic/Porzingis relationship.  
Doncic was more upset with Porzingis' playoff strip club visit than the Mavs let on
The day after a Game 1 win over the Clippers, Porzingis reportedly visited a local LA strip club, per ESPN. The outing violated the NBA's COVID-19 protocols about players going out to bars and clubs. The league promptly fined Porzingis $50,000.
Because Porzingis was fully vaccinated at the time, he did not miss any games. But, reports now say that his All-NBA teammate was not happy with the violation.
Dallas-based analyst Mike Fisher recently tweeted that, following the incident, "The Mavs pretended to laugh it off; privately, Doncic wasn't chuckling."
Doncic has stayed quiet publically about his relationship with Porzingis, but this fits with the speculation about the beef between the two. It seems like, from the Doncic side, the issues stem from the fact that Luka doesn't like Porzingis' commitment.
Doncic became a pro basketball player at the age of 13 and gives off the vibe of a basketball-only obsessive. Porzingis, on the other hand, is known to enjoy a good time away from the court. So it is easy to see how this (perceived?) lack of dedication, especially when it manifests in injuries, could seriously irk the Mavs best player.
What can the Mavs get in a Porzingis trade?
Porzingis is an injury-prone big who's missed 179 games in his six-year career. There are also two years and a player option left on his $101.5 million contract. While he hasn't officially requested a trade, NBA teams know the Mavs have to move him this offseason.
At first glance, it seems like the Mavs will struggle to get a true star haul back for the 7-foot-3 "Unicorn." However, there should be a lot of player movement in the 2021 offseason, and if Dallas can create a bidding war or a superstar explicitly demands a trade to Dallas, the organization could get more than expected.
Most hypothetical deals center around aging veterans or second-tier prospects. Some potential deals for Porzingis include trade packages centered around Charlotte's second-year swingman P.J. Washington, Miami veterans Andre Iguodala and Goran Dragic, Collin Sexton and Kevin Love from Cleveland, or a sign-and-trade with Toronto for Kyle Lowry.
There are two other potential deals, though, that could dramatically improve the Mavs next season. Damian Lillard, who seems increasingly unhappy with Portland, has a personal relationship with Nike-exec-turned-Mavs-GM Nico Harrison. He could end up in Big D if he pushes hard for the move.
The fascinating scenario — that falls under the heading of swapping one problem for another — involves a Porzingis for Ben Simmons trade. Simmons would help dramatically in covering for Doncic's defensive deficiencies and, since Doncic led the league in usage rate in 2020-21, Simmons will have even less offensive responsibility.
A Simmons-Porzingis trade would be a win-win for the Mavericks and the Sixers and mark the much-needed end to the Luka Doncic Kristaps Porzingis Era in Dallas.
Like Sportscasting on Facebook. Follow us on Twitter @sportscasting19