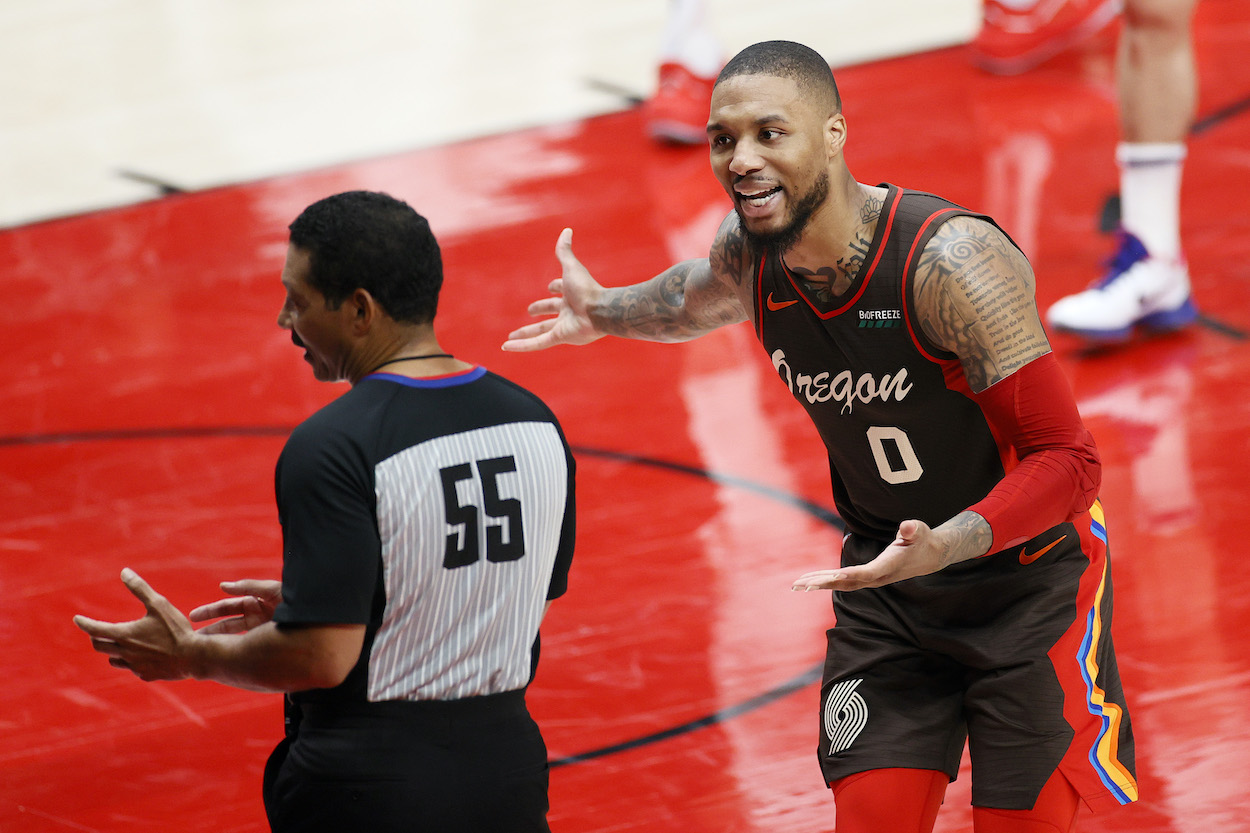 Damian Lillard Pops Off on Twitter at Fans Criticizing Him for Past Endorsements of Chauncey Billups and Jason Kidd
Damian Lillard clapped back at a user on Twitter who said that it was his idea to consider Jason Kidd and Chaunucey Billups for the Portland Trail Blazers next head coach. This is a bad sign for Portland when combined with recent reports of the star's unhappiness may mean he wants out of the Northwest.
The Portland Trail Blazers lost early again in the 2021 NBA Playoffs. Head coach Terry Stotts lost his job as a result, and trade rumors are circling around stars Damian Lillard and CJ McCollum. 
Lilliard will turn 31 on July 15, and the pressure is mounting for him to at least make, and possibly win, the NBA Finals to secure his legacy. The star guard clapped back at a fan on Twitter who criticized his role in the Portland head coach hiring process. This public outburst may be a sign that the heat might be getting to him.
Chauncey Billups and Jason Kidd both have legal issues involving women in their past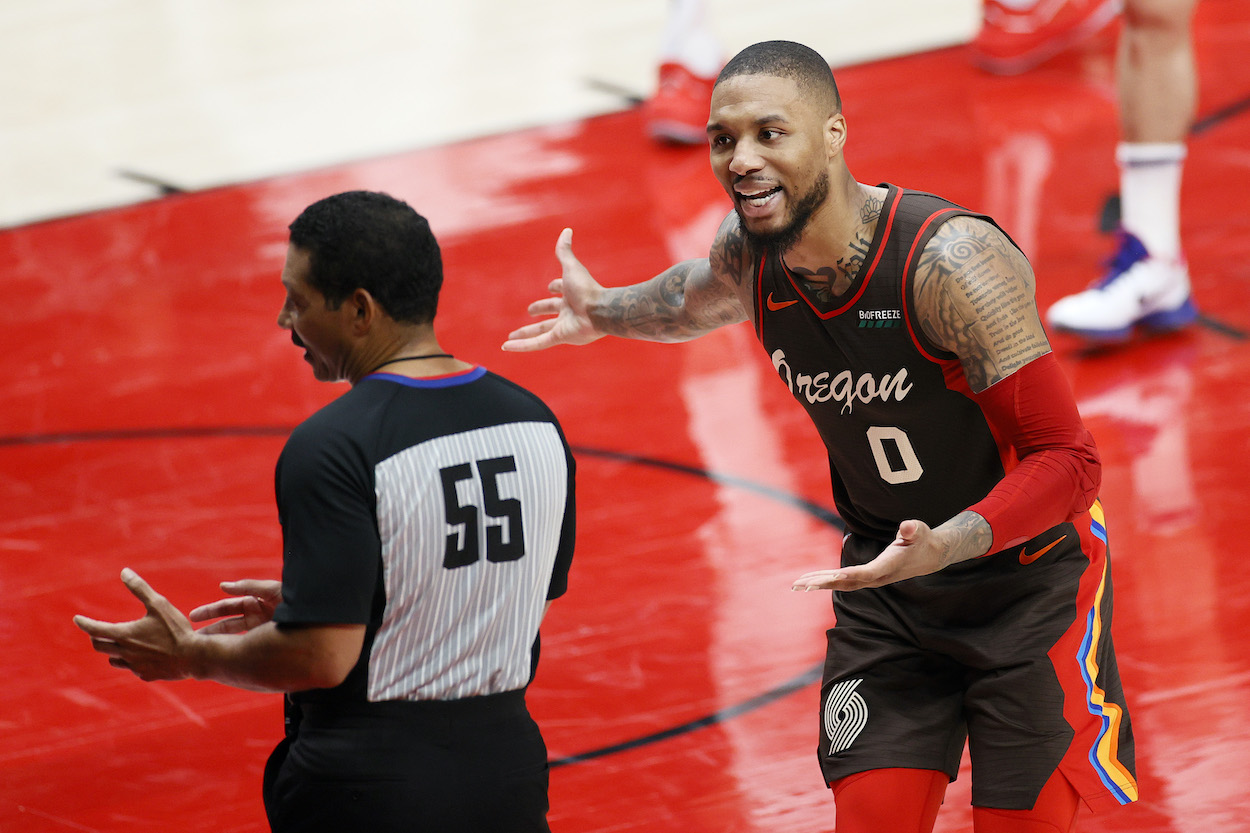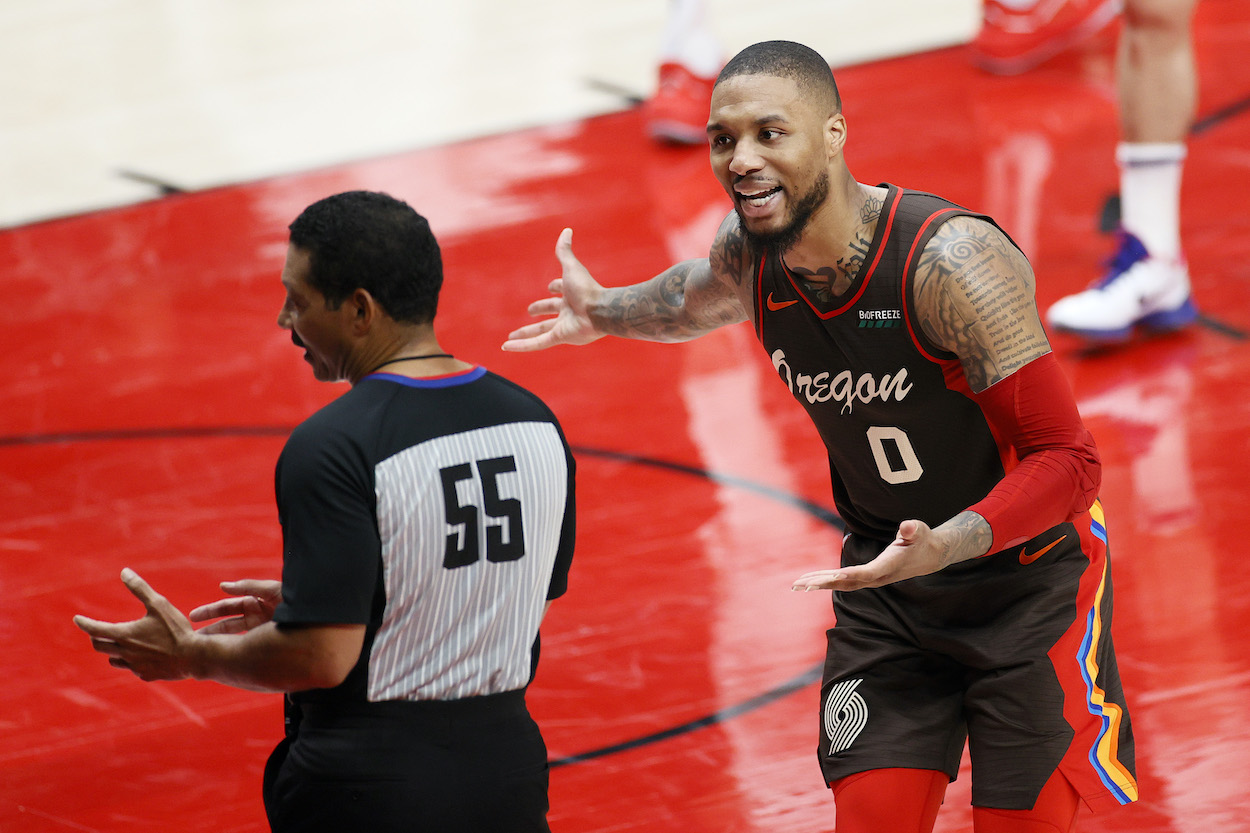 NBA guards-turned-head coaches have a solid track record of success, especially in recent years. Steve Kerr, Rick Carlisle, and Doc Rivers are all long-term success stories, and Tyronn Lue, Steve Nash, and Nate McMillan's more recent triumphs have only accentuated this trend. 
Therefore, it's no surprise that former star NBA point guards Jason Kidd and Chauncey Billups were at the top of many organizations' lists of new head coaching candidates. The Blazers and Lillard were no exception. 
Sports Illustrated reported that Portland had interest in these championship-winning players, and Lillard publically supported both. Kidd ultimately turned down the job, and the Dallas Mavericks subsequently hired him. The Trail Blazers announced on June 27 that Billups would be their next head coach. 
The Blazers and Lillard have received backlash for considering and hiring these specific candidates because of their history of legal issues involving women.
Kidd pled guilty to spousal abuse related to an incident with his then-wife in 2001, per ESPN. Billups has also faced allegations of violence against a woman. While criminal charges were never filed, according to a 2000 Washington Post report, "Former Celtics players Ron Mercer and Chauncey Billups settled the lawsuit of a woman who said she was raped at the home of Boston F Antoine Walker in 1997."
Damian Lillard set the record straight about his involvement in the coach hiring process
Considering these candidates has led to NBA fan backlash against the Blazers, and people have also spoken out on social media, chastising Lillard for supporting the hiring of these coaches. 
After reading the criticism, Lillard finally spoke out on Twitter. He retweeted a user who said they believed the hiring of Billups and consideration of Kidd was because of the former Weber State star. 
Lillard response was: 
Really? I was asked what coaches I like of the names I "heard" and I named them. Sorry I wasn't aware of their history I didn't read the news when I was 7/8yrs old. I don't support Those things … but if this the route y'all wana come at me… say less
Lillard has a history of (sometimes antagonistically) retweeting and commenting on the social media posts of fans, media, and fellow players, so this isn't a total surprise. However, distancing himself from this coaching search and the Billups hire should turn some heads. 
Will the Billups hire backfire on Portland?
In the player-empowerment era of the NBA, keeping a star player happy so they don't force their way out — like James Harden and Anthony Davis have recently done — is critical. This seems to be at least part of the thought process that went into the Blazers considering Kidd and hiring Billups. 
However, the clumsy way they did it, leaving Lillard to answer for the new coach's past, may have upset the six-time All-Star even more. 
Yahoo! Sports' Chris Haynes quoted "league sources" that sounded an awful lot like someone with intimate knowledge of Lillard's thoughts:
The enormous backlash from the Portland Trail Blazers' process to hire a new coach and his concerns on whether a championship contender can be built have become factors that may push the franchise player — Damian Lillard — out the door.
A shot like this, fired by a star player at their team in the national media, is not a good sign for the Blazers or their fans. If Lillard decides he wants out of Portland, the team may choose to act quickly. While teams that trade away a superstar rarely get the better end of the deal, getting their hands on some extra draft picks in the deep and talented 2021 NBA draft isn't a bad idea for the Trail Blazers. 
Like Sportscasting on Facebook. Follow us on Twitter @sportscasting19